A testament to tradition married to modern elegance and luxury, Waldorf Astoria Shanghai on the Bund is a sanctuary of sophistication. A timeless vibe of fine art, fashion and furnishing make the five-star hotel a legend when it comes to hospitality.
A combination of history and culture, The Shanghai Club Building is currently part of the hotel. The Baroque revival building was once an exclusive scene of society's most elite men. Now, however, the heritage ambiance is intertwined with state-of-the-art amenities of Waldorf Astoria making every experience memorable and distinct. Nestled within the two-building complex are 260 lavish rooms and suites, divine dining options, exceptional banquet facilities with stunning views, indulgent spa, fitness center and more—infinitely grand and gorgeous.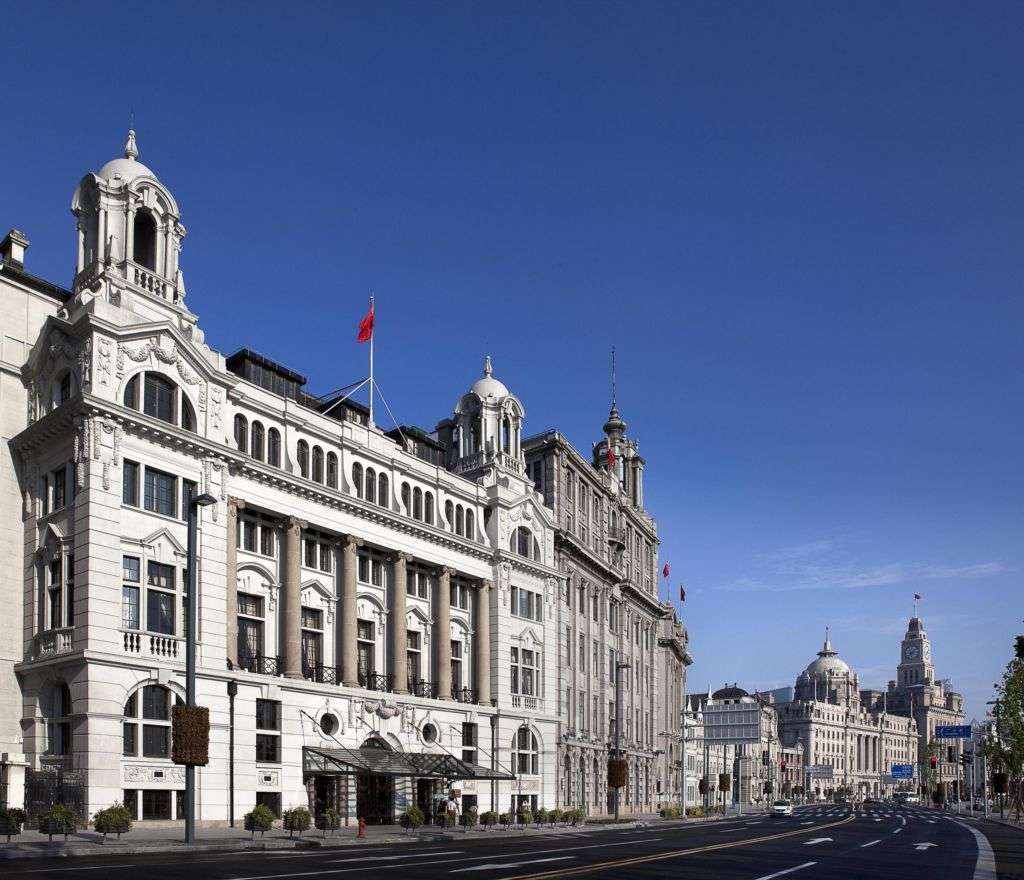 Prime Panorama
You can't get more central than Waldorf Astoria Shanghai. Located in a bustling hub of the city where fantastic places for sightseeing and entertainment are accessible and can easily be explored. Now, just a few minutes away is the renowned fashion spot in Shanghai, Nanjing Road.The famous district is compared to New York City's Fifth Avenue and highlights historic Chinese sculptures. Discover the vibrant Chinese commerce and stroll the area for beautiful brands. Take a walk at the verdant green surroundings of Yuyuan garden that's nearby as well. It is the only surviving Ming Dynasty garden in Shanghai and a must-see for the stunning scenery featuring decorated bridges, colorful pagodas and intimate enclaves divided with dragon decorations on top. And get exploring a few more blocks away at the Shanghai Museum—home to a large collection of rare cultural relics including ancient ceramics, bronzes, sculptures and more that's full of Chinese cultural wealth.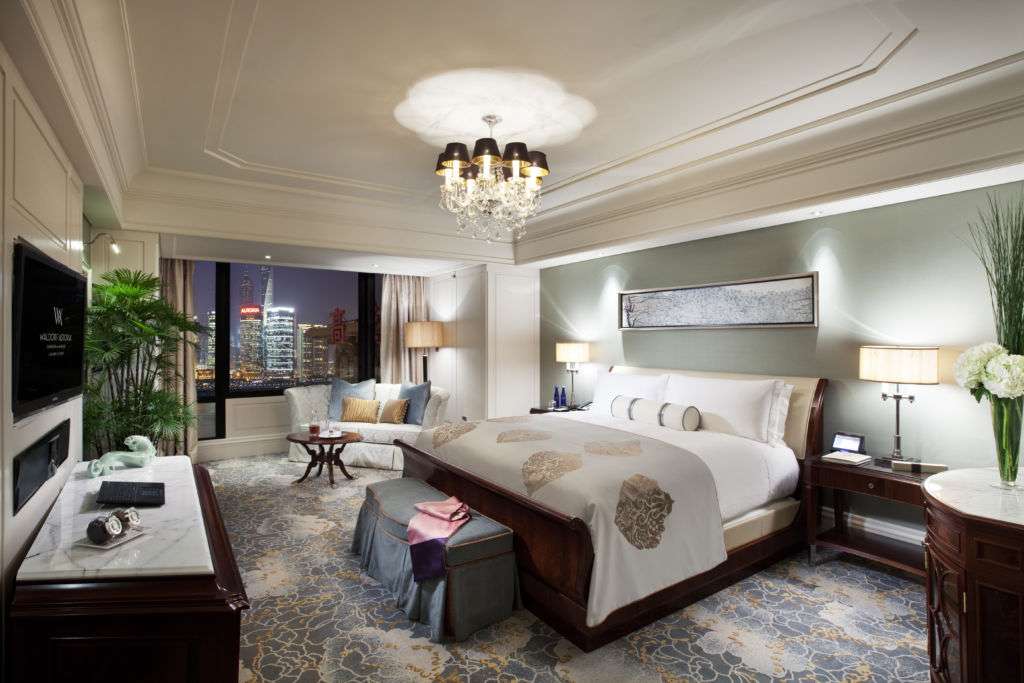 Stylish Suites
As dusk beckons, stop by the Long Bar for some luscious sundowners. Bask in the serene setting of the Huangpu River while sipping cocktails or vintage Champagne and savoring fresh oysters and delightful bites from the bar menu. Then, head to your room for a much-needed beauty sleep after a day of adventure. While the city's bustling scene is literally on your doorstep at Waldorf Astoria, you will be enchanted by the exquisite accommodation. A true gem if you're a fan of art and culture. Choose from any of the six rooms and suites impeccably decorated in rich carpet and elegant interiors and you'll feel revived and refreshed in an instant. When hunger calls, you can opt for room service from the delicious a la carte menu. Better yet, head to The Grand Brasserie for a gourmet buffet serving divine dishes from around the world. Complimenting the stately ambiance of Shanghai's most prestigious hotel, the iconic restaurant stays true to its setting with delightful flavors of the east and west with a fresh and contemporary flair.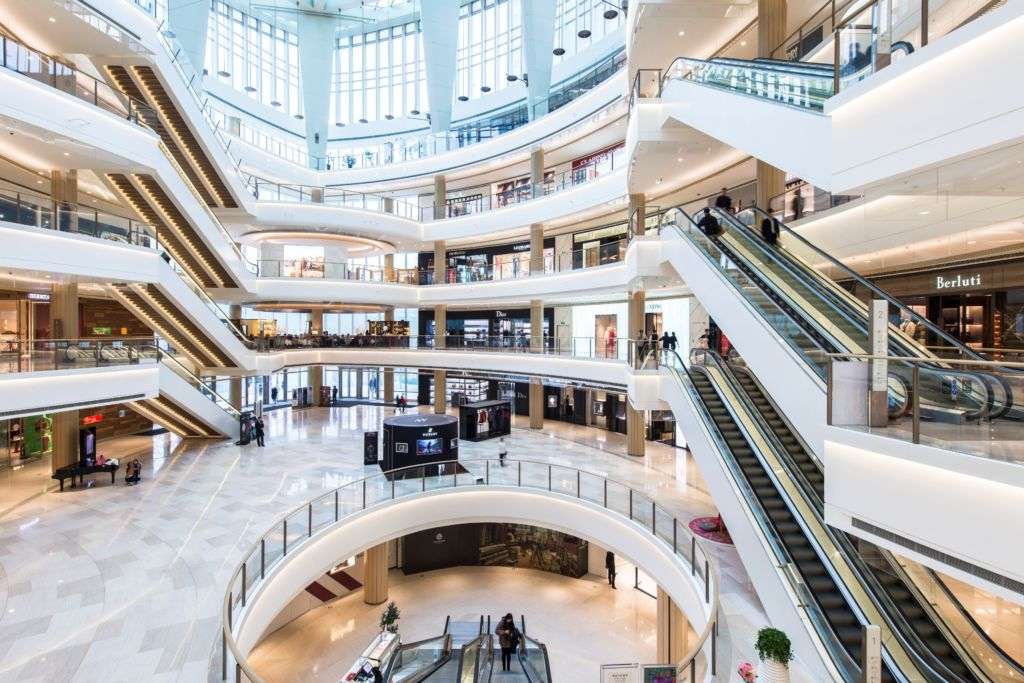 Retail Therapy
Shanghai is a gateway to urban living, fashion, business and more in China. For comfort, culture, and convenience, the best place to be is at Plaza 66. It's the perfect pitstop for shopaholics and stylish travelers. Get shopping, dining, and drinking—an endearing mix for any shopaholic. This December, prepare to be dazzled by lights, luxury and lots of lovely treats at the lifestyle hub.
Plaza 66 is tucked away on the bustling West Nanjing Road in Jing'an District. On the forefront of China's luxury and lifestyle commercial developments, the ultimate destination will feature only the most distinguished luxury brand and tenant list.
Plaza 66 1266 Nanjing Xi Road, Shanghai, China, www.plaza66.com/en
Tags
Related Posts