It's common notion locally that a trip to Seoul could only mean never-ending cosmetic shopping and sight-seeing. Overlooking the fact that the city not only encompasses traditional palaces and little hanok houses, the multinational conglomerate Samsung, food enthusiasts will beg to disagree given the abundance of food options Seoul has to offer. From hawkers and market stalls to all-you-can-eat barbecue restaurants, a trip to Seoul is gastronomically satisfying.
Seoul's culinary scene is perhaps more diverse than the prolific brands making up the shopping streets of Myeongdong. You'd be surprised to know that there's more to Korean food than barbecue, kimchi, and bibimbap, cooked or raw. If you're looking for a better reason than shopping to visit Seoul, satiate your taste buds and unleash the foodie in you with our recommended dishes and where to try them when you visit Seoul.
Gwangjang Market
Start your culinary journey at the Gwangjang Market, formerly Dongdaemun Market and the oldest remaining daily market in Korea, where you are greeted by food stalls boasting of authentic Korean dishes. Persuasive stall owners will sit you down on one of their benches and if they take a particular liking, will feed you down to your throat so don't say we didn't warn you. Nevertheless, the Gwangjang Market is perhaps the ultimate place to savor some of our favorites:

Gimbap/Kimbap
In a nutshell, Gimbap is "Korean Sushi". This quick snack is made of rice wrapped in dried seaweed with various fillings such as beef, eggs, cucumber, carrot, etc. But it differs from its Japanese counterpart in terms of size and how it's meant to be eaten– like a sandwich. Ask for the variety box when buying from any of the stalls selling these on Gwangjang Market without asking what are the filling and you will be in for a delectable surprise.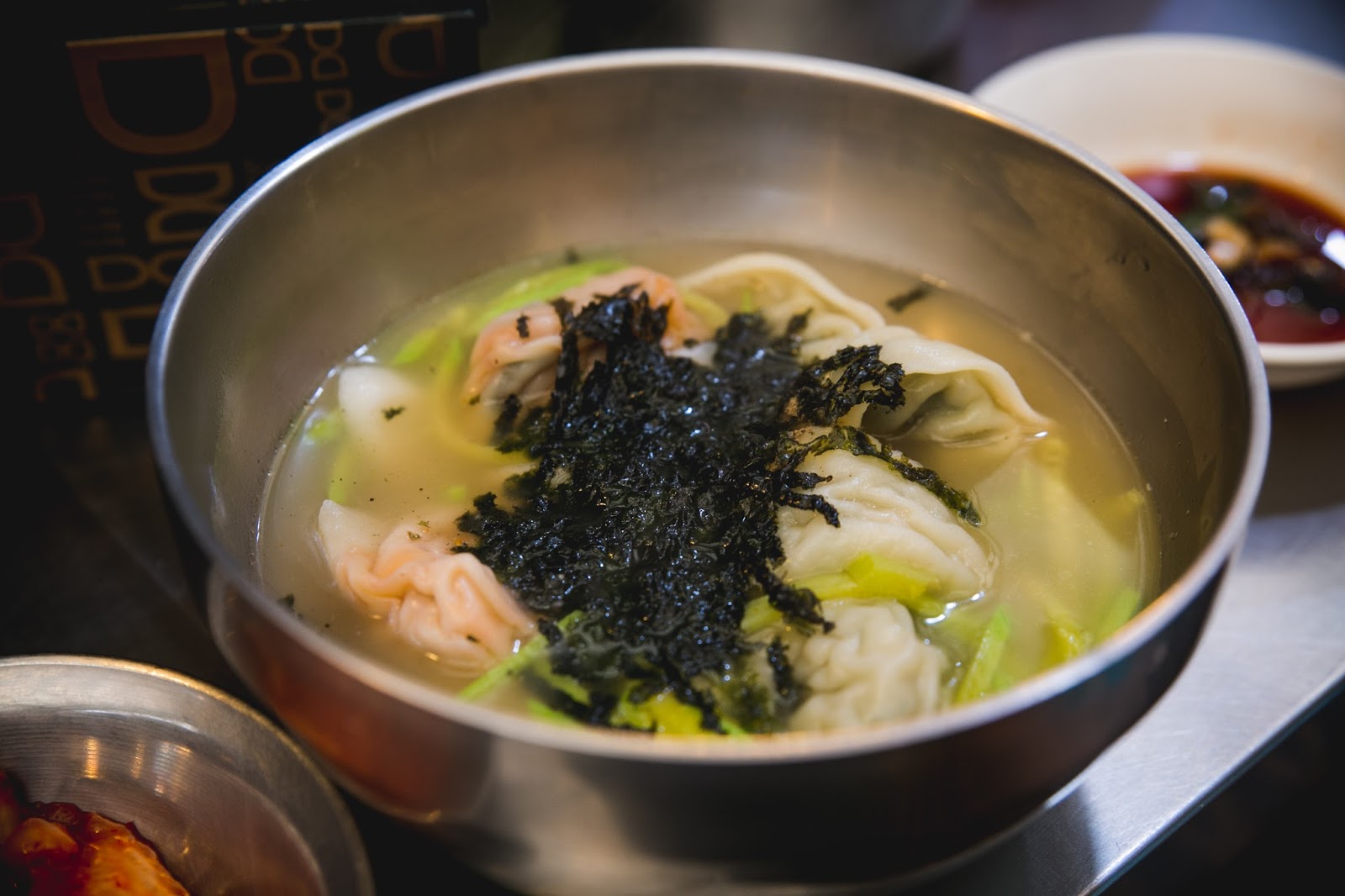 Manduguk
Mandu is the term for Korean dumplings that are either steamed, boiled, pan-fried, or deep-fried, and Manduguk is essentially dumpling soup. We hear this is typically consumed on New Year's Day as part of Korean tradition but thankfully at Gwajang Market, you can sample it any day. Note that this dish can be filling given the size of the dumpling (the soup typically contains about three or four). But if you're hungry, you may add some noodles too.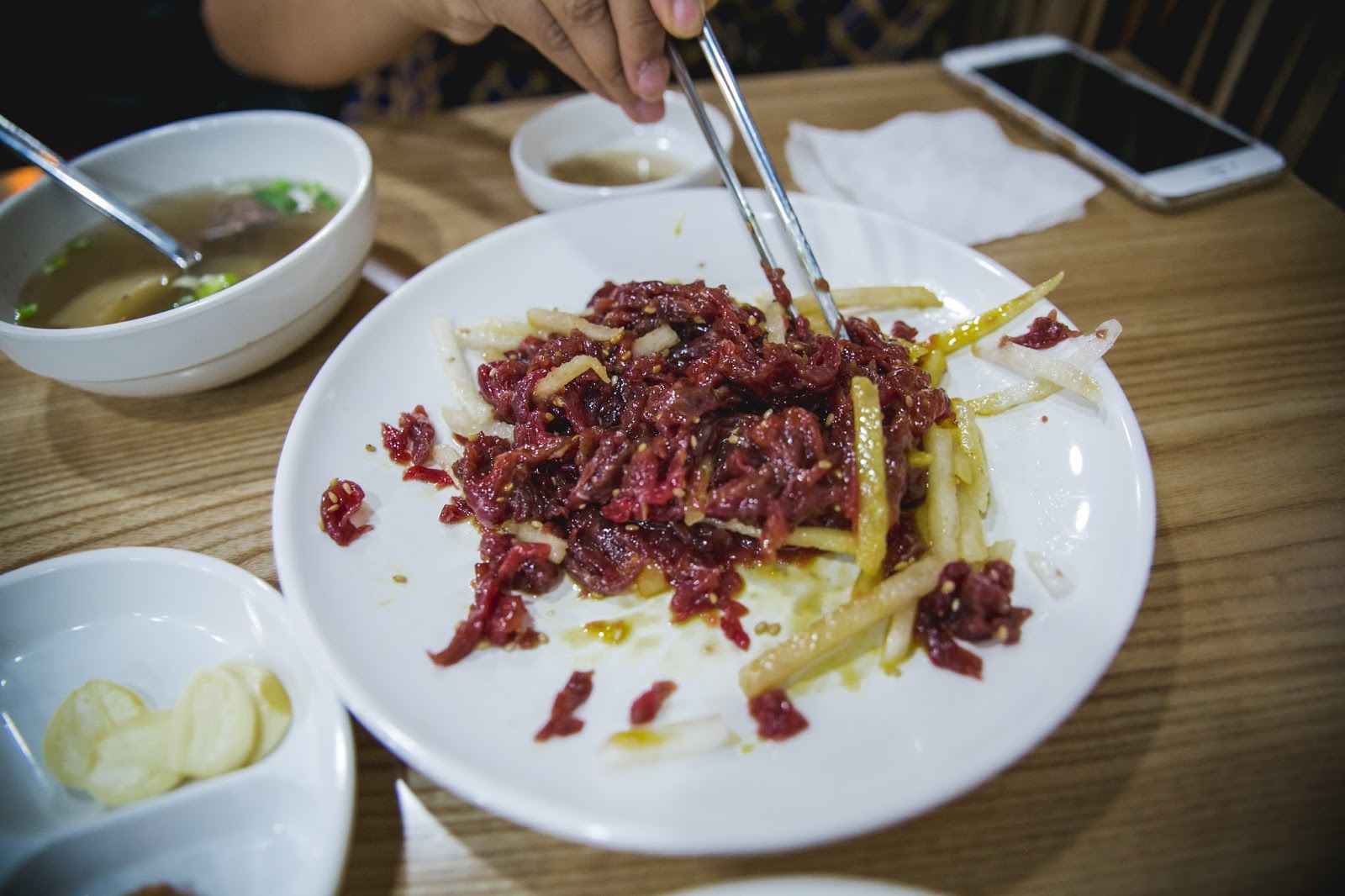 Yukhoe
Ever heard of the French's Steak Tartare? Yukhoe is its Korean equivalent. Nothing more than raw beef mashed with various spices, seasonings, and sauces and a raw egg is also typically added on top or on the side. Perhaps this dish isn't for all types of palates so a tip for first-timers is to try it with rice on the side. For adventure seekers, dig right in and down it with a bowl of soup.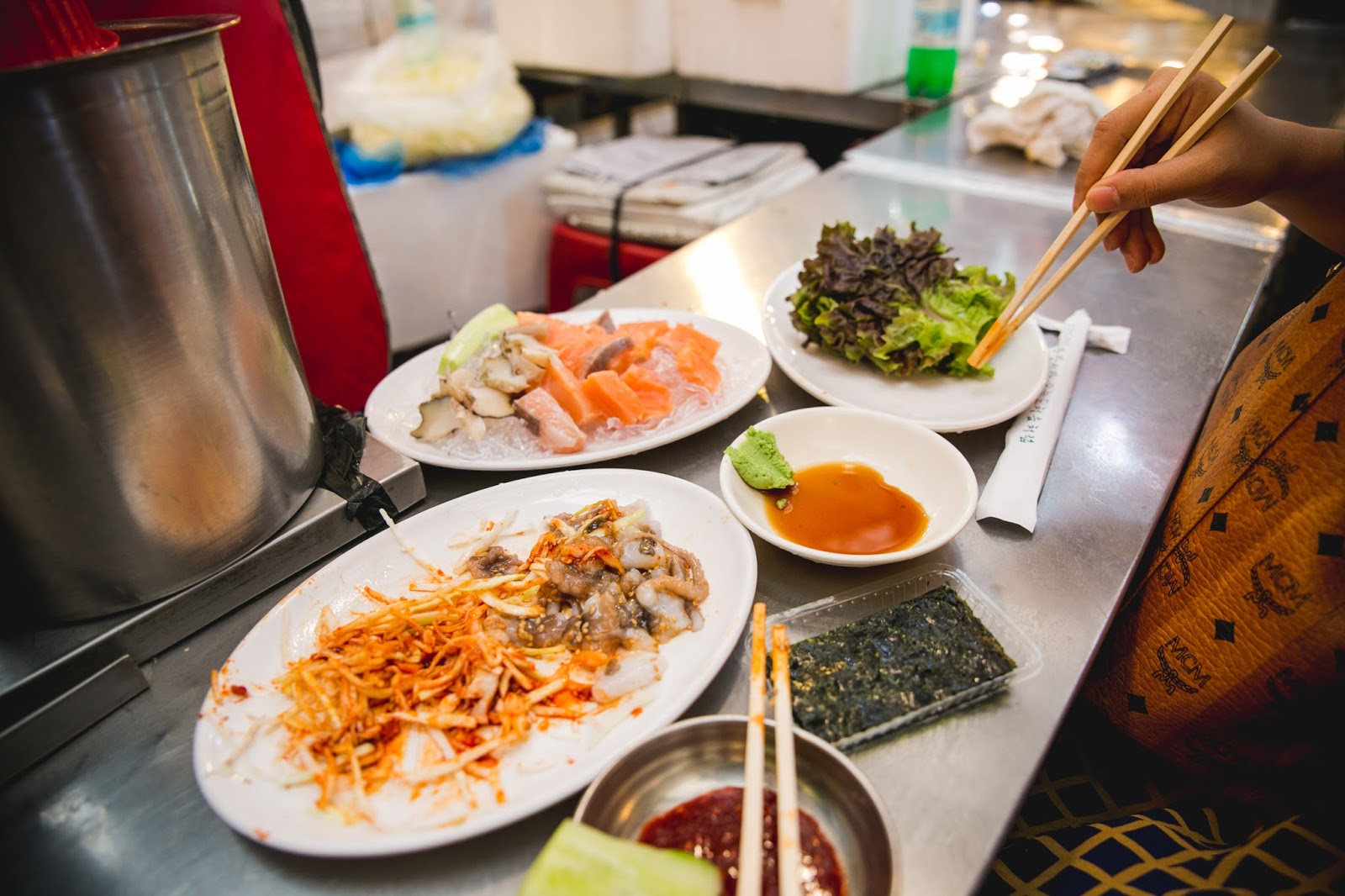 San-nakji
While we're in the raw of things, here's another controversial treat as you've probably already heard of or seen on TV – San-nakji a.k.a live, baby octopus chopped up into small pieces and served as is. Consider this like a sashimi except that it's practically still alive and moving. And like any other sashimi, you dip it in sauces or wrap it with seaweed or vegetables as you please before chewing it down. Most tourists head to Noryangjin Fish Market for a quick bite of San-nakji but in Gwangjang Market, there's also a couple of stalls that readily serve these.
Gwangjang Market 88 Changgyeonggung-ro, Jongno-gu, Seoul
Gongdeok Jokbal Alley
Quite unbelievably true, there's an alley dedicated to pig's feet known as the Gongdeok Jokbal Alley. From Gongdeok MTR station, take exit 5 and head straight until you see a bunch of restaurants openly displaying mammoth plates of pig's trotters. Venture into the alley and you'll know you've found the place. Gongdeok Jokbal Alley, as the name suggests, houses a network of the best Jokbal restaurants in Seoul. Where else would you rather try a mountain pile of Jokbal?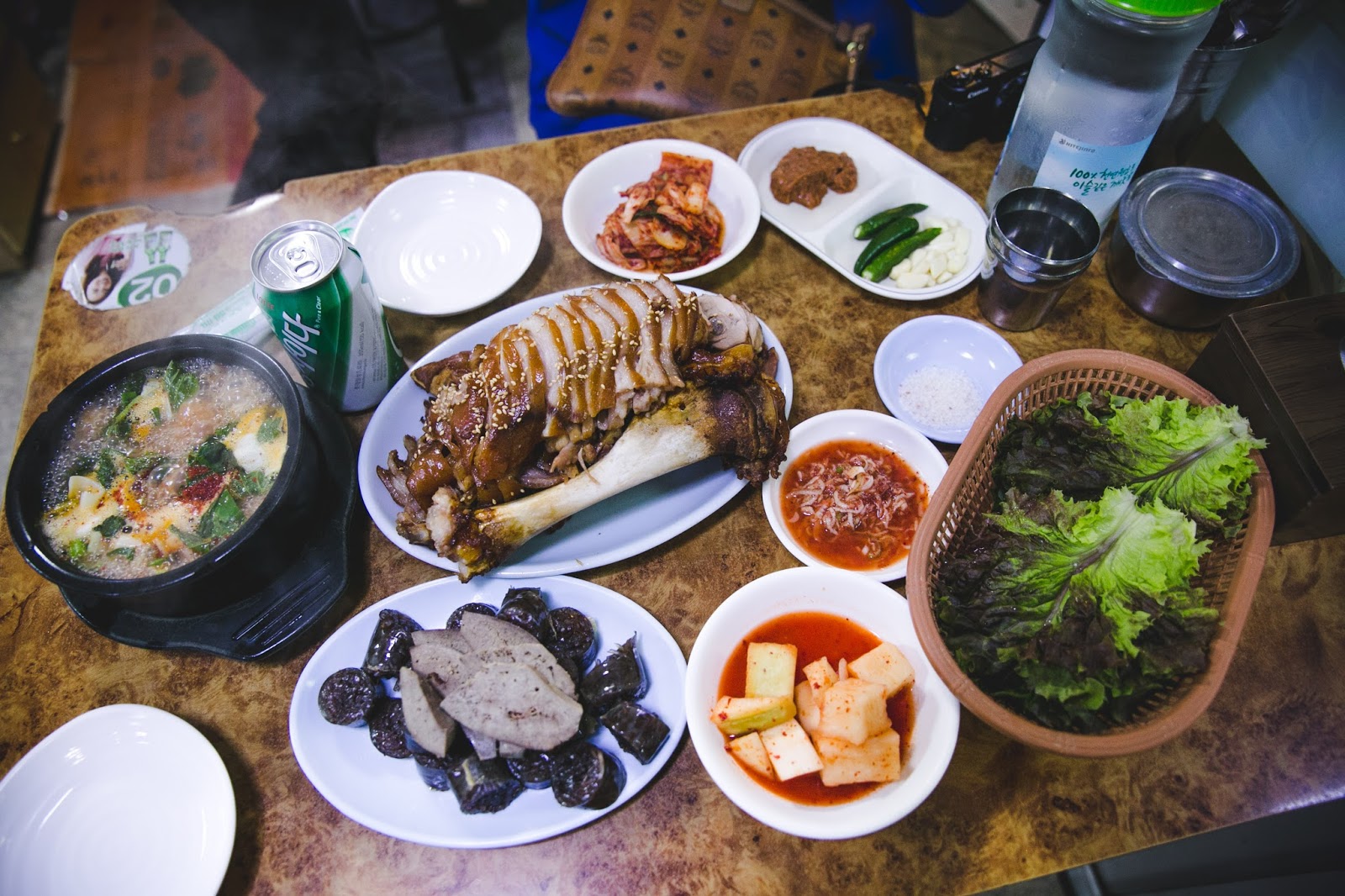 Jokbal
Jokbal is a pork dish boiled in soy sauce and spices, sprinkled with sesame seeds and served with a bowl of spicy pork broth and salty shrimp called saeujeot. Since the restaurants all specialize in Jokbal, there's really no need for a menu and the only question waitstaffs will ask you is whether you want a small portion or large portion. But they don't joke around here when it comes to portions and a small is still fit for a king. Best to come in a group or with a buddy.
Soondae
While Soondae is a dish that can be enjoyed on its own, it is also served to accompany Jokbal. Soondae is a type of sausage, blood sausage to be precise, made by boiling or steaming pork blood, stuffed with various ingredients and glass noodles. Don't be put off by how nasty it might sound, Soondae has a mild taste you won't even realize you're eating blood.
Gongdeok Jokbal Alley Near Gongdeok Station, Exit 5
Hongdae
Moving on to more popular albeit typical Korean food, we're looking no further than Hongdae to savor these all-time favorites.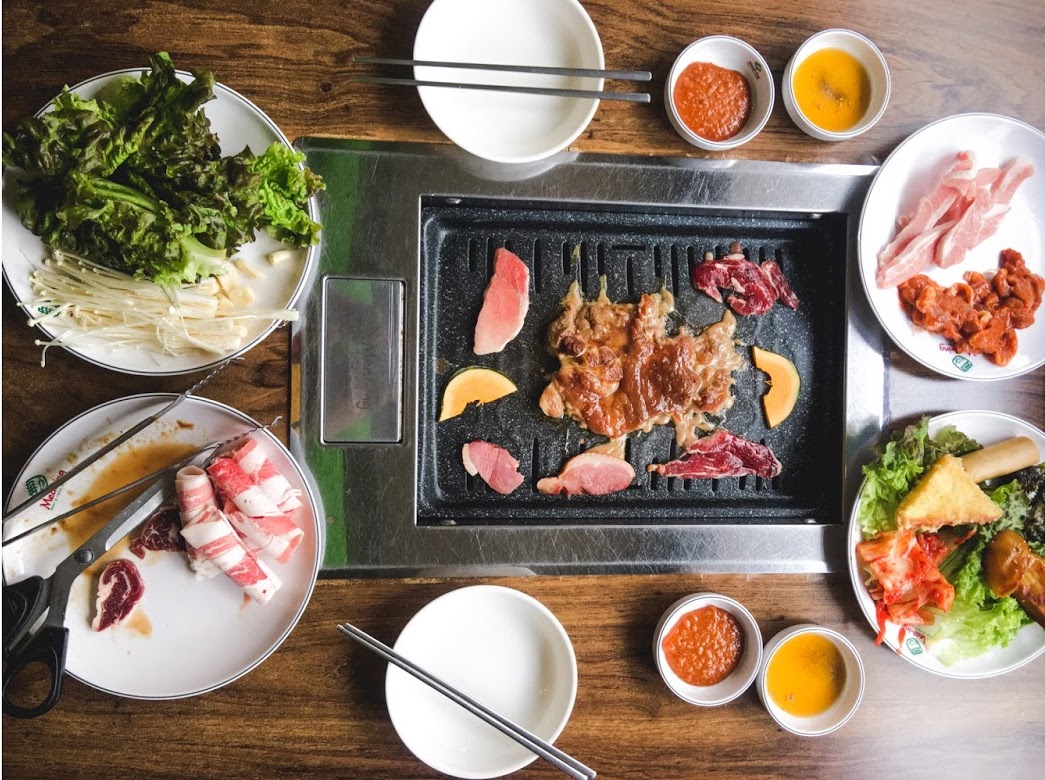 Gogigui at Meat-ing
Gogigui is Korean barbecue as we know it and is pretty much self-explanatory. We're pretty sure no trip to Seoul is complete without dining at one of the many Korean barbecue restaurants lined up along the streets of shopping districts the likes of Myeongdong, Dongdaemun, and Hongdae and options are clearly endless. So while you ponder, allow us to narrow it down to our go-to restaurant in Hongdae, at All-you-can-eat Korean barbecue restaurant called Meat-ing.
Like a typical buffet setting, food options are laid out for diners on a buffet table only in Meat-ing, your options consist of assorted raw meats including beef, chicken, pork, and in different marinades. For starters, there's soup, gimbap, and a myriad of deep-fried goodies.
The best part of this restaurant, knowing how expensive Korean barbecue can be in Macau, is that this won't kill your wallet. Pricer per head starts from KRW 13,000 which is approximately MOP $100 only. But there's no room for leftovers or you get fined.
Meat-ing 750-1 Naebalsan-dong, Gangseo-gu, Seoul
Chimaek at KyoChon
Last but not the least, we have Chimaek or as we call this combination in English, Chicken, and Beer. This is a no-brainer given and sure enough, there isn't a lack of fried chicken restaurants where you can sample this wondrous combo in Seoul. However, this one seems to stand out above the rest.
KyoChon is seemingly a fast-food chain but don't judge a book by its cover. They guarantee only using quality ingredients, no MSG, less grease, and chickens free of growth hormones, resulting in arguably the best fried chicken you'll find in Seoul.
The menu has four types of chicken series–the original/garlic soy series, honey series, red series, and the salsal series. The honey series seems to be well-received by fans but if you'd like a taste of each flavor, we recommend ordering the combination platter. And of course, don't forget to order a pint of beer to drown all that chicken.
There are KyoChon branches scattered across Seoul but perhaps the easiest to find are the ones in the popular districts below:
KyoChon 294 Jong-ro, Changsin-dong, Seoul
KyoChon 6 Yanghwa-ro 16-gil, Seogyo-dong, Mapo-gu, Seoul
Tags
Related Posts