Diptyque recently re-opened a slick, inviting and oh-so-nice smelling store in IFC, Hong Kong. The shop features warm bronze tones and chicly unique materials like brass, with a shiny exclusive centerpiece art screen by French artist Nicolas Lefeuvre, commissioned by the brand especially for the store. The colorful bespoke piece stands out in contrast to the rest of the neutral tones of the store, and is something that, the artist says, portrays the Diptyque fragrance ritual and contains inspiration from Hong Kong. The fragrances presented in the store are also stored in a unique chest which sits in front of the colorful wall mural designed by the artist – these two elements of the store complement each other perfectly. We got the chance to find out about Nicolas' creative process, what it was like working with the store, and whether he would be up for doing a collaboration with Macau Lifestyle!
Can you tell us about yourself, your background and how you came to be in Asia/Hong Kong?
After studying at Beaux-Arts in Rennes (France) and architecture/ product design at Camondo in Paris, I left Paris in 2000 and went for a "inspirational trip" around Asia (including Nepal, South East Asia, and more). I traveled for almost a year to sketch and "see" the world. Everything from the morning light to old ceramic tiles was inspiration. I finally settled down in Singapore and opened a showroom and gallery. I then became a Creative Director for a French luxury brand which sent me to Tokyo in 2008, then to Hong Kong in 2013, where I also set up an independent music label in China.
What type of art materials do you usually work with? 
I work mostly with ink, on a thick cotton textured photo paper, using objects which surround me (kimonos, Japanese wooden shoes, mahjong pieces, stamps, ink rollers from printing warehouses in China, wooden blocks, and more). The culture I am in has an influence on my work.
What is a typical working day like for you?
I always wake up early and start with a quick meditation – I then read a lot about fashion, photography, architecture, and such. I mostly paint in the morning and at night, keeping the afternoon for the rest! But I also need to go out and travel, as I find inspiration everywhere – in people, music, objects, buildings, electrical lines, scents, memories from childhood, cities, all places.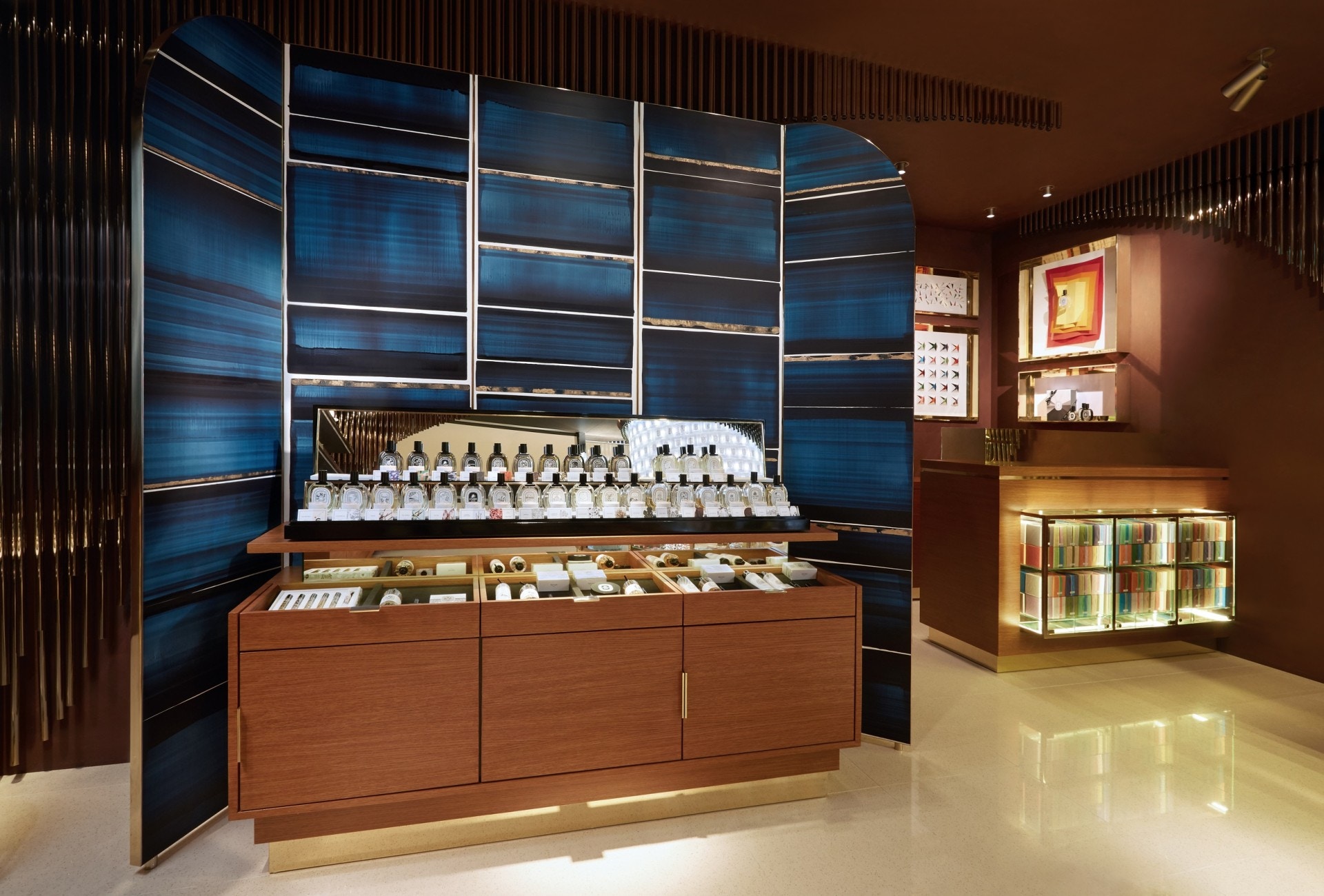 What was it like to collaborate with a brand like Diptyque?  How did that come about?
It was very moving and personal. I remember my mother burning the Diptyque Aubépine (hawthorn) candle at home when I was younger. Also, I have been working with the Lavender Leaf candle for almost 10 years I think! Besides, I really love the story of the brand – traveling and bringing back treasures, scents, memories. This matches my work and my personal experiences. The Diptyque team saw my work in an exhibition I had last year. I then went to Paris to the "Diptyque kingdom" to discover their magical universe. That is when we realized "Landscape" was a common word/language between us. Diptyque elaborates their fragrances this way, imagining "olfactive landscapes" – I then knew exactly what I wanted to bring, to build, and to represent with this fresco, and they gave me total freedom to create my art for them.
For those who haven't been to the shop yet, can you tell us a little bit more about the fresco you created? 
This artwork is a "Landscape" part of my series "LAND(E)SCAPES". It is a mental photograph made combining images, memories, sounds, but also scents I had in Hong Kong. We often see the city in its verticality, so I wanted to come up with horizontal lines in order to contrast with this verticality, and remind people that Hong Kong is not only buildings and skies – the sea has an important role here. I have almost always lived by the sea (from France to Hong Kong, Singapore, Japan), so of course this is reflected here. Also, I mostly work early in the morning or at night, and I always loved Hong Kong by night – that's why these gold lines in the piece are imaginary horizons of city lights from the evening. I am not an artist with political messages or strong claims. I am just traveling through a quest of aestheticism.
What do you hope people think or feel when they visit the shop?
I hope they will feel more than think! This new shop is for you to open your senses from your nose to your eyes – I hope they can dive right in and lose themselves in this landscape.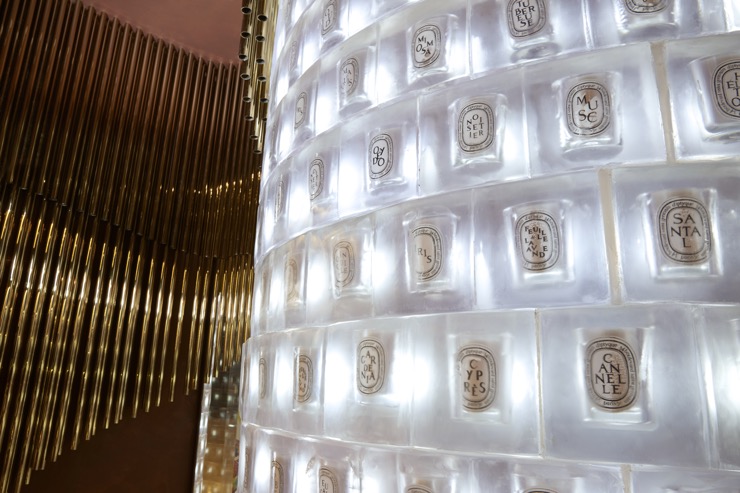 Do you have any favorite places to bring visitors to in Hong Kong?
Yes of course! I usually start by a ride on a Star Ferry, then we go to Mido Cafe in Jordan, and hang around all the side lanes. I also love Shek O village – visitors are quite surprised to see this side of Hong Kong.
Have you been to Macau? How would you describe it to someone who's never been?
Many times! Especially since I also lived in Portugal and I had to go to their consulate there. I would compare Macau to a couple – an exuberant modern Hong Kong woman married to a traditional Portuguese man!
What's a mantra that you live by?
All good things must not come to an end, they must be followed up! Happiness is made of simple things.
What's coming up next for you? Any exciting new collaborations you can share?
How about we work on a collaboration with Macau Lifestyle?! I also currently have an exhibition in Paris up to mid October, and one coming in Hong Kong in the beginning of November.
---
T Galleria by DFS, City of Dreams The Shops at The Boulevard, City of Dreams, Cotai, +853 8791 8400
Diptyque Shop 1083, 8 Finance Street, Central, Hong Kong, +852 2521 6799
Tags
Related Posts