It may come as a surprise for many to learn that Grand Lisboa and Hotel Lisboa is home to Asia's largest wine collection. With more than 17,000 labels on offer across its award-winning restaurants, the impressive feat is partly attributed to Paul Lo, Food and Beverage Director at Grand Lisboa Hotel.
Robuchon au Dôme has received three Michelin stars for twelve consecutive years and it is arguably Macau's finest dining venue but we all know no meal is truly complete without the right wine. Apart from the most recent accolade from China's Wine List of the Year, Wine Spectator has also awarded Robuchon au Dôme and Casa Don Alfonso with its highest honor of the "Grand Award". It's important to note that in 2018, there were only 91 restaurants around the world to receive this distinction, and two of them were given to restaurants at Grand Lisboa. Garnering consistent accolades and the highest of honors when it comes to wine, the man behind the myriad of wine enjoyed in Macau tells us how it all started.
Set at the city's iconic gastronomic venue Robuchon au Dôme, Paul Lo shared great tips for enthusiastic wine lovers and collectors amidst the enchanting atmosphere. Our impression that culinary artistry in all forms is executed with superb standards at the stunning property has been sealed and affirmed.
Tell us about yourself and how you started out in the industry.
I came from Hong Kong and I've worked here for almost 18 years. It seems like such a long time and it wasn't too long ago that Macau has just opened up its borders to foreigners. During that time Grand Lisboa was a football field and Hotel Lisboa at that time had more than a thousand labels of wine which was still pretty impressive.
Bit by bit, we started to collect wines, and now we have 17,000 labels. We currently have over half a million bottles across the two properties. We even had to renovate the cellars several times to accommodate more and more. If the walls of these cellars could talk, they would spin interesting stories that have transcended through the years. we have invested a great deal of time searching the world over not only to build Asia's if not, the world's largest wine collection but to also find wines that are of the highest quality. One of the most expensive bottles in our collection is the vintage 1825 Château d'Yquem which is valued over MOP $400,000. We house the world's largest collection of wines and spirits and we've come a long way.
How often do you go to the cellar?
I don't go very often. (laughs) We have a great inventory. Our store team is comprised of around 15 people. They don't just look after wines but they multi-task among other roles. Our wines are not something you just come here to buy. It has to be paired with the quintessential dining experience. Our mark-up of the price here is relatively low and we truly value the essence of our guests coming here to enjoy food and wine at a low price but with great quality.
We do keep a watchful eye over all 23 cellars across both Grand Lisboa Hotel and Hotel Lisboa at Lisboa Complex. One of the most significant parts of the complex is the newly refurbished French wine cellar, where over 100,000 bottles amongst the total 245,000 French bottles of wine are kept in–many of which are from eight of the most renowned Châteaus in France. The eight Châteaus include Cheval Blanc, D'Yquem, Haut-Brion; Lafite de Rothschild; Latour; Margaux; Mouton Rothschild and Pétrus.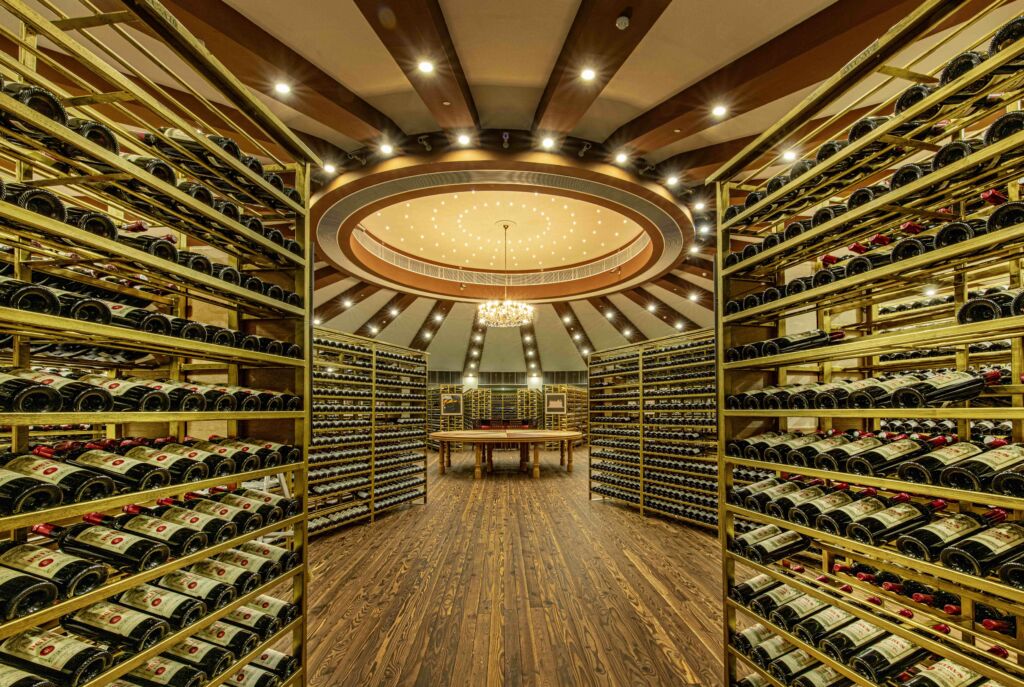 From a small cellar to one of the biggest in the world, how did it grow?
Macau was growing immensely and the hotel industry continued to develop. We started buying more and my boss Mr. Ho is a great connoisseur of wine. He was personally invested in it. As to our expansion, we had reliable sources from Europe. We've been working with these entities for a long time. Our communication is constant and we interact with them regularly. We analyze if its worth to buy and it's a series of steps and deliberation before a final decision is made.
What's the biggest quantity of wine in here?
We have nearly half a million bottles of wine and many of them are from France. We keep buying and accumulating them. If a certain vintage has been declared a great vintage of the famous chateau then we will have at least 100 bottles. Mr. Ho is a real wine lover.
Our German collection is also strong in the wine list. Our German wine collection is definitely number one in Asia and probably number one in the whole world. The reason is that Mr. Ho feels that German wine's texture and taste are so natural with Chinese food. His vision is that the Chinese will understand more about food and wine and they will notice that German wine matches the food very well. If you dine at The 8, I personally recommend the German Riesling as the perfect pairing with Chinese cuisine as the sweetness and acidity of the wine balances beautifully with the flavors of Cantonese dishes.
How about Chinese wine?
Indeed, it's something we foresee in the next few decades. Chinese wine is still being developed and cultivated. It's certainly something to watch out for.
How do you manage the labels of the wine and present a variety of winelist?
We have a seven-kilogram book list and it's updated all the time. It has 582 pages and we also have a digital version of it that can be browsed on the iPad. We keep details updated such as the regions and versions of each wine. It's accurate and meticulously curated and organized.
What's the secret to a good wine list? How should you start a collection?
Besides financial restriction, if it's for personal use, I think, begin according to your personal favorites. If you like burgundy wine go in that direction. Pay attention to your purchase and try to buy three or four bottles in a row. If you're going to collect the same wine of the same year, you should buy half a case. Soon you will open one bottle and you start to taste the notes of the wine. I guess the rest you intend to store and after two years later open another one. You will definitely find the interesting glow of the wine after that period of time. And after four years, open another bottle and see the change that has happened through the years. For me, people like to collect wines based on their interests.
Tell us why wine makes a dining experience complete?
It's simple, it's like having a meal without dessert and you feel like you're missing something. Wine goes beyond that because it blends with food. The taste of food changes dramatically with wine and the right pairing, of course. And the more that you sip wine, the more you learn and find the right direction for the taste. Eventually, you acquire a personal sense of style and be able to choose the one that suits your palates.
What are your plans for the future in terms of Macau's huge wine collection?
We're very proud of our extensive French wine collection and we're expanding prominently our Spanish collection. We want to spread our prestige through word of mouth and real-life experiences and hopefully, someday guests will come solely to experience the finest wine collection in Asia. We are working on developing an authentic experience for wine enthusiasts and connoisseurs in terms of experiential dining.
Also read: Robuchon au Dôme: A Tale of Legacy and Exceptional Cuisine
---
Robuchon au Dôme Grand Lisboa, Avenida de Lisboa, Macau, +853 8803 7878, www.grandlisboahotel.com
Tags
Related Posts