Originally from Malaysia, Macau is now home to Chief Concierge Mark Chang, who is the destination-guru if you are staying at Sheraton Grand Macao. He knows Macau like the back of his hand and is ready to recommend an adventure to remember. With a devoted expert team making over 1,000 recommendations for guests monthly, Sheraton Grand Macao provides an experience like no other. We get face to face with the explorer himself and discuss the passion he has in discovering the bits and pieces of Macau and how he was able to put them together to provide an itinerary—one that you don't see every day in a regular travel guide. Read on and find out about some of his suggestions, and also his partnership together with Macau Creations in creating their package provided for guests—"Uniquely Macao".
How long have you been staying in Macau? What brought you here? What is your personal favorite spot in Macau?
I am celebrating my fifth year here in Macau now!  Sheraton Grand Macao brought me here back in 2012.  My personal favorite spot is Taipa Village. I love Taipa Village because of all the different kinds of cuisine you can find there—Portuguese, Macanese, Chinese, Thai, Italian—you name it!
What attracted you to discover the ins and outs of Macau? How did that happen?
Whenever I have free time, I like to walk and look around. I consider myself to be an explorer always in search of new things. The history of Macau is fascinating. There is so much rich heritage here.  The fact that we have so many UNESCO World Heritage sites in such a small city is remarkable. That is what attracted me most. Where else in the world do you have such a unique blend of Chinese and European cultures?  It's still mind-boggling to me how so many ancient Chinese temples stand right next door to old European churches.
What's the idea and concept behind Sheraton's package "Uniquely Macao?"
The idea for Uniquely Macao came about because we wanted to partner with local, creative artists to promote Macau as a destination. No one knows a destination better than a local! Macau Creations is the creator of the Soda Panda character, which is hugely popular. We have a lot of families who stay at Sheraton Grand Macao, so Soda Panda resonates with them. We hope that when guests come to Macau, they can really experience our city in a fun and unique way.
For guests staying at Sheraton Macao and are on a tight schedule what would you suggest?
We recommend what we call "One Hour Gem" tours of Macau to guests—most often business travelers—who do not have much time to spend in the city but want to explore places nearby. Taipa Village and Coloane Village are perfect One Hour Gems, as they are just minutes away and are wonderful experiences!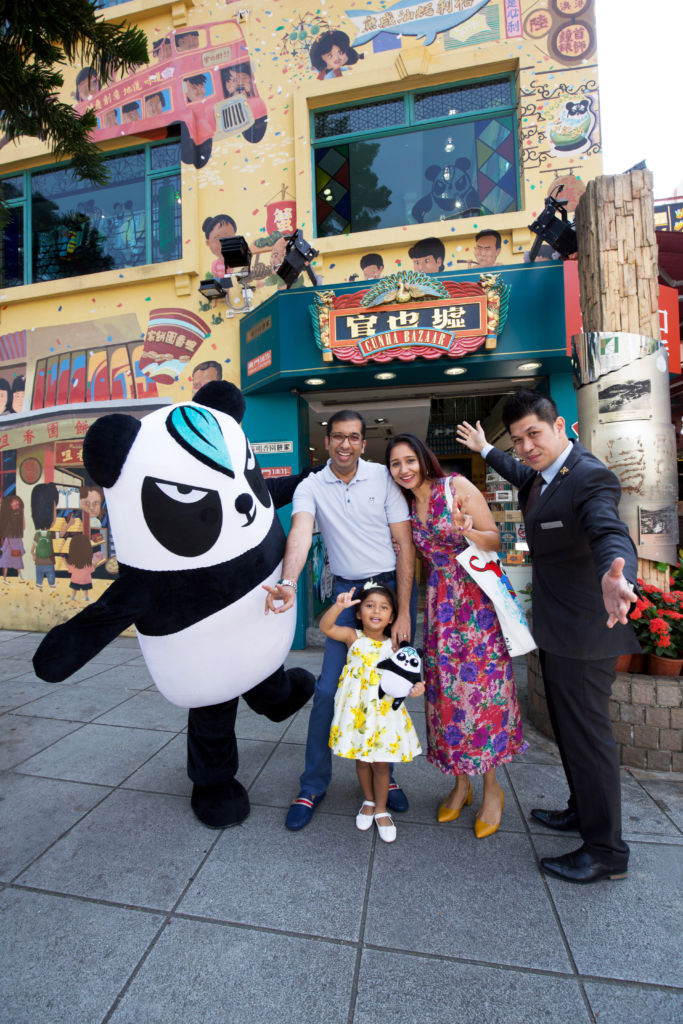 Do you have any recommendations for kids aged 2–7 years old?
Yes, I would recommend our new kids activities at Sands Cotai Central—Thomas Friendship Breakfast with The Little Big Club ALL STARS and also the daily parade at 4:00pm. The character breakfast is perfect for families because they can actually interact with the cartoon characters and take pictures with them!
If they wish to go out and about exploring Macau as a family, I would recommend the Macao Science Center. It's a wonderful place for children to interact with the exhibits and learn by playing!
Can you give us your top three locations for recommendations?
Ruins of St. Paul's–This is a signature World heritage landmark of Macau. Guests may visit the Macao Museum next to the ruins to discover more about the history of Macau.
Taipa Village–Full of delicious authentic Portuguese cuisine, pork chop buns, Portuguese egg tarts and signature Chinese crab congee. The architectural design of the buildings and the atmosphere within Taipa Village makes you feel like you are walking in the local Portuguese streets.
Coloane Village–This is Macau's most unique destination of all, where time stands still.  You can stroll through the village which is filled with beautiful, pastel-colored houses and an old chapel on St. Francis Xavier square. It's also the location of the original Lord Stow's bakery!
How many days would that be broken down if a guest were to be interested in going to them all?
I recommend at least 2 days to be able to explore all of Macau.  Guests can spend one full day in Macau and a morning exploring Coloane and the afternoon in Taipa Village.
Aside from your top 3 locations, are there any other locations you'd recommend for guests staying for a longer period of time?
Senado Square–While standing on this wavy-patterned square, you can witness the remarkable mix of Chinese and Portuguese cultures in one location on the Macau peninsula.
Tap Seac Square–This is a beautifully designed square, which much like Senado Square, is pedestrian-friendly. As you weave in and out of Portuguese-style buildings, you can explore art exhibits, purchase local arts and crafts or sip on an espresso in a cozy café.  At Chinese New Year, this square comes alive with a colorful outdoor market selling all kinds of gifts for the Lunar New Year.
The Red Market–For a truly local experience, I recommend walking through the Red Market to watch as residents buy their fresh fish, meat and vegetables. It's a really colorful wet market and right next door is an old tea house, where you can enjoy dim sum.
---
Uniquely Macao Winter Package at Sheraton Grand Macao Hotel is valid for stays from now to February 15, 2018. Guests staying for another night will receive an additional MOP $300 credit redeemable at Shine Spa and the hotel's dining outlets or Planet J Theme Park admission.
Sheraton Grand Macao Hotel Estrada do Istmo. s/n, Cotai, www.sheratongrandmacao.com, +853 2880 2000
Brought to you in partnership with Sheraton Grand Macao Hotel, Cotai Central
Tags
Related Posts