You are what you eat. Do you agree? Our food choices influence our health and daily life greatly. Apart from that, it is crucial to make responsible shopping choices to reduce your carbon footprint. These days, the variety of food in shops and markets* is so rich that it is easy to get lost and often hard to make the right choice. When the environment is compromised, and not all farmers and food companies are equally trustworthy, information is an essential tool. Where do you go for organic, vegetarian, vegan, and fairtrade products in Macau? To learn about sustainable grocery shopping in Macau, check our guide out!
ParknShop
Selling both Asian and Western products, ParknShop might be the most well-known supermarket chain among the Macau expat community. It is an ideal shopping spot where you can find most of the items on your grocery list. With the most extensive range of organic and sustainable food, the outlet in Taipa is also the most spacious and properly merchandised. Walking between well-organized retail rows, you will see shelves filled with organic rice, beans, and grains, a substantial plant-based milk section, organic stocks and canned food, vegetable pasta, and much more.
A lot of fresh fruit and vegetables, as well as meat and seafood, are imported. Furthermore, you can often trace them to the exact farm they came from. 
ParknShop Flower City (Edificio Lei Tou), 181 R. de Évora, Taipa, +853 2884 0161, www.parknshop.com
Supreme Food Market
A part of Macau's largest supermarket chain called Royal Supermarket, Supreme Food Market mainly sells imported goods. That's where you find all the ingredients you need for an Italian, Spanish, or Mexican home-cooked dinner. 
Overall, Supreme Food Market has an abundance of healthy products. When it comes to vegan groceries, it might be the best offline shopping destination. In their freezers, you will find Omnipork ground "pork", Beyond Meat burger patties, The Meatless Farm Co mince, and Gardein fishless filets. Vegan cheese made of coconut milk is sitting on the shelf next to a wide selection of top-quality Italian mozzarella and parmesan. There is also plenty of frozen veggies and a satisfying variety of frozen fruit and berries for your smoothies. 
Going grocery shopping here is a little bit of a lottery. Not all the products you bought the last time will be there when you visit next. At times, you'll be lucky to grab some fresh herbs in a pot. Other times you might not be, but there will be pink peppercorns that you won't get ahold of anywhere else in the city. 
Supreme Food Market Avenida Dr. Sun Yat Sen, Taipa, www.facebook.com/Supreme-Food-Market
Concept H
"H" in the name of this little shop in central Macau stands for healthy, honest, and home. Providing raw cooking classes, health, and fairtrade talks and courses, Concept H is not just a shop, but a philosophy. They carefully source products making sure all of them answer to the principles of sustainability and fairtrade. Their stock includes beans, grains, sauces, seasonings, snacks, drinks, and pasta. You can bring glass bottles and shopping bags to the store to put on shelves for everybody to use. What is especially notable is that Concept H encourages customers to come with containers and buy in bulk. 
If you want to get fruit and vegetables from a certified organic farm, try Concept H's basket. Each week, they collect orders from Macau residents and send them to Hong Kong. There, local certified organic farmers harvest seasonal veggies and ship them to Macau. The whole delivery process takes three days from the moment the shipment reaches Macau. Choosing local and seasonable groceries reduces the carbon footprint significantly. 
Concept H Rua de Henrique de Macedo 10A, www.facebook.com/ConceptHMacau
Also read: Sustainable Shopping in Macau

The Blissful Carrot*
This vegetarian and healthy food haven hardly needs an introduction for Macau locals. This small cozy spot has been a popular spot for delicious plant-based meals since 2014. Worthy to mention, that The Blissful Carrot is Macau's famous producer of Blissful Bombooch. You can stock on it there or check our list of other retailers and cafes that sell it. They also make their own sauerkraut and coconut yogurt. To buy in bulk quantities, message them on WhatsApp.
*The Blissful Carrot is no longer operating as a shop. However, they still sell vegetarian and vegan dishes, as well as their in-house-made pantry items such as coconut yogurt and kombucha via Aomi and MFood. If you have any questions, hit them up on Facebook and WhatsApp, but orders are to be placed via the delivery applications. For their Juice Detox program and private catering, contact The Blissful Carrot on Facebook or WhatsApp.
The Blissful Carrot 79 Rua Direita Carlos Eugénio, Taipa Village, +853 6298 8433, www.instagram.com/theblissfulcarrot
Goodees Market
Great news! No need to get out of the house to search for healthy groceries around Macau. All you need is to go online and make an order at goodees.market. The local online market claims to focus on good food. Indeed, browsing through their selection, you will find "Organic, Vegan & Vegetarian" and "Dietary" categories with enough products for healthy breakfast, lunch, or dinner. 
You can order some açai pulp for a breakfast smoothie bowl, greek yogurt with granola, or vegan cheese with gluten-free toast bread. There are all kinds of plant-based meat, healthier alternatives to pasta, such as edamame spaghetti. Try not to get lost among all those tempting organic snacks and vegan desserts too! Besides, they collaborate with a local producer of microgreens and herbs, Mighty Greens, that provide the shop with super green wheatgrass shots. 
As you can see, Goodees gives online shoppers an excellent example of how healthy food doesn't need to be boring. 
Goodees Market goodees.market
Inda Quality Food 
Located on the second floor over Daiso shop, Inda Quality Food offers enough space so you don't have to bump your cart into other shoppers' carts and some products that are not that common in Macau. First of all, if you need different types of rice than jasmine, here you have plenty of them. There is Japanese rice perfect for homemade sushi, basmati for your biryani, wild rice, and brown rice for your Buddha bowls. All the trendy superfoods such as maca, quinoa, chia are here. Generally, the selection of organic and gluten-free flour, cereals, pancake mixes by Red Mill is huge. For lazy evenings at home when you don't feel like spending hours in the kitchen, grab some gluten-free pizza or kimchi pancakes.
Inda Quality Food 6-52 Praca da Amizade www.indaqualityfood.com
New Yaohan Supermarket 
One of Macau's most visited malls, New Yaohan also features a large supermarket with some of the most abundant assortment in town, with Asian and Western products. Here you will find shelves filled with fresh organic juices and freezers packed with bags of frozen fruit, berries, and vegetables. Several brands and types of plant-based milk, even the lesser common pistachio milk, reside next to organic snacks and a huge assortment of nuts, including almonds packaged in packaging over a kilo. New Yaohan has everything you need for a healthy breakfast and lunch. That includes organic breakfast cereals, granola, muesli, healthy grains such as bulgur and quinoa.
It's often not easy to trace where some products come from, especially meat. If you eat meat and want to be aware of where it comes from, New Yaohan is one of the best places to buy it. There is pork from Spain and Belgium, beef from Canada and Australia. Those who are searching for plant-based meat and vegan cheese can find everything in this store.
New Yaohan 90, Avenida Doutor Mário Soares, Macau, +853 8791 8888, www.newyaohan.com
Organic Plus
A small shop on Rua da Barca in St. Antony, Organic Plus will help you fill up your pantry with healthy products. From guilt-free snacks to natural condiments, the shop owners carefully selected the food that is cruelty-free, complies with the standards of organic farming and fair trade. Browse through their shelves and you will find drinks to substitute cow milk with, such as hemp and coconut beverages. There are grains and superfoods, organic apple cider, and broth. The local shop attendants will be happy to guide you through the assortment and give some recommendations.
Organic Plus Edificio Va Tong, 2-4 Rua da Barca,+853 2855 3207, www.facebook.com/OrganicPlus.Macau

Pure New Zealand Product Shop
Whether you are a Kiwi or simply like high-quality groceries, you should check Pure New Zealand Product Shop. They have two shops in Macau where they offer a wide range of gluten-free and organic items such as sauces, chutneys, vegan kinds of butter, and more. You can also find plenty of New Zealand honey and bee products. If you are too busy to visit their stores, there is an online shopping option.
Pure New Zealand Product Shop 6A Rua do Almirante Costa Cabral, Macau, +853 2837 0177, www.purenewzealandproductshop.com
742 Avenida Praia Grande, China Plaza RC Shop A, Macau

New Green Box Pavillion
New Green Box Pavillion at Centro Commercial Praia Grande is a great place to stock up your pantry with healthy items. Convenient location in the city center makes it so easy to grab your favorite plant-based milk or rice crackers when running errands in the area. There are muesli, granola, oats, healthy snacks, jars, cans, condiments, organic pasta and noodles, vegetable spreads, a sizeable herbal tea selection, and more.
New Green Box Pavillion Avenida da Praia Grande, no. 417-425, Centro Commercial Praia Grande, Cave B, Macau, +853 2835 7717, www.facebook.com/newgreenbox

Mofy Zero Waste Store
Packaging can be so annoying when it comes to grocery shopping. You try to be a responsible shopper aiming for the products that will be as little harmful to the environment as possible but constantly stumble upon small plastic bags and containers your favorite foods are packed in. Luckily, there are a couple of shops in Macau where you can bring your jars, bags, and boxes and buy groceries package-free. One of them is Mofy Zero Waste Store, a shop to buy dry food, spices, herbs. Besides, they sell a wide range of household items, eco-friendly cleaning supplies, containers, and other practical items.
Mofy Zero Waste Store 67 Patio da Papaia, Macau, www.facebook.com/mofyzerowastestore
Also read: How to Live a Zero Waste Lifestyle in Macau

Less is More 
Another Macau store that helps you to live a zero-waste life is Less is More. It's the only shop in town to offer such a vast oil and vinegar selection that you can buy in bulk. Pumpkin seed, wild rosehip, olive oil, honey balsamic vinegar, and other aromatic dressings are stored in large ceramic jars. Just bring your glass bottles to refill them. Apart from that, you can buy legumes, spices, and herbs here.
Less is More Rua Nova a Guia, 269, Macau, www.facebook.com/lessismoremacau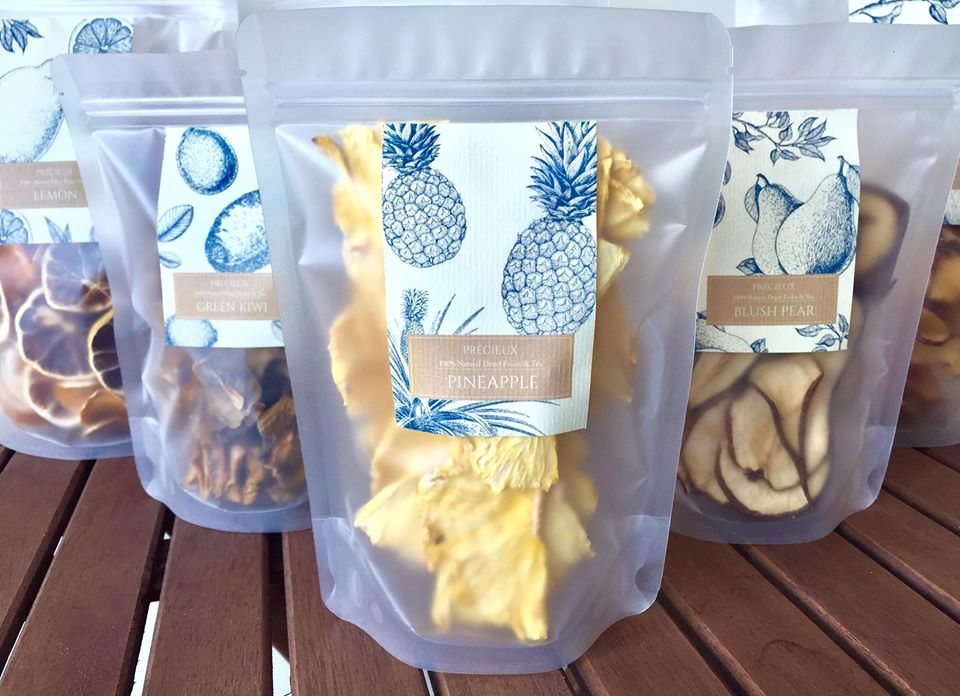 Précieux 
A local brand, Précieux takes care of those of us who can't get through the day without munching on something. Essentially, there is nothing wrong with snacking as long as your snack of choice is something that is good for you. To get ahold of this kind of snacks and support local SMEs, contact Précieux via WeChat or Whatsapp and order some of their yummy dried fruits, with no added sugars, preservatives, artificial flavorings, or additives.
Précieux +853 66867414, www.facebook.com/precieuxallnatural
iHerb
If you are embarking on the journey of healthy eating, there is a big chance you are familiar with this ultra-popular platform. iHerb is well-known for its vitamins and supplements, but they also offer a diverse range for your pantry. The assortment on iHerb is similar to the one on Goodees but much more comprehensive. Any superfood you can think of is available for ordering here. Trendy ingredients like spirulina and maca powder to add to a morning milkshake or a smoothie sustainably caught sardines, and even rare finds such as kefir starter kits will be at your door in no more than 10 days. 
Another reason to choose iHerb is its eco-initiatives. They recycle the packaging received from the suppliers, and their boxes are 100% recyclable. Watch out for regular discounts and promos! 
iHerb www.iherb.com
Vitacost
In case iHerb fails to deliver your favorite organic brands or doesn't have them in stock at that moment, check out Vitacost as they also ship to Macau. Just like its popular competitor, it sells health and sports supplements, as well as groceries. The food & drinks categories are similar to iHerb's. However, the assortment differs. You have breakfast items, oils and vinegar, snacks, and more.
Vitacost www.vitacost.com
*Local Macau wet markets and vegetable stalls are not included in this list as most of the origins of the food cannot be easily traced and vary from vendor to vendor. Talk to your local vendors to learn where their fresh produce comes from.
Tags
Related Posts