Kefir and yogurt, sauerkraut and kimchi—none of these foods are exactly new, but most of them have become very trendy in the past decade. Thanks to the latest research on gut health, people began to discover the potential health benefits of fermented products. Among these products is kombucha that has occupied supermarket shelves all over the world, gained a significant fan base even in Macau. If you are part of the kombucha fan army already or just curious to give it a try, we've prepared a list of places of where to find kombucha in Macau.
What's all the fizz?
Kombucha is a fermented tea made with scoby (syntrophic mixed culture of yeast and bacteria). Consumed for centuries, it recently started trending in the last 10 years. A quick Google search will leave you with thousands of links about why you should add this slightly sour and fizzy drink to your diet. Normally, the list of pros includes digestion help, prevention of heart disease and digestion problems, a source of probiotics, antioxidants and more. Although to this day there is not enough research to support all the claims, we can be certain that kombucha delivers at least the same health benefits as the tea it's made of. It tastes great as well, adds an original note to cocktails and can be a healthier substitute to beer.
The Blissful Carrot
(See featured image)
Ironically or not, a tiny vegetarian eatery in Taipa Village is the biggest local producer of kombucha in Macau. Apart from selling their Blissful Bombooch at The Blissful Carrot, they also make it for several other properties, including luxury hotels, and at times it's sold at city markets and festivals. They have a line of flavors such as pineapple lemongrass ginger, turmeric bliss, blueberry hibiscus, and others. Occasionally, the Blissful Carrot introduces new brews and make limited editions. Besides the flavor combinations that can turn you into a kombucha fan, The Blissful Carrot delivers a product that is consistent with sustainability principles. Blissful Bombooch is brewed with organic and fair-trade sourced teas, fresh juices, unrefined cane sugar, and artisan blended herbs. You can also bring in your empty kombucha bottles for recycling. Way to go!
The Blissful Carrot 79 Rua Direita Carlos Eugénio, Taipa Village, +853 6298 8433, www.facebook.com/blissfulcarrot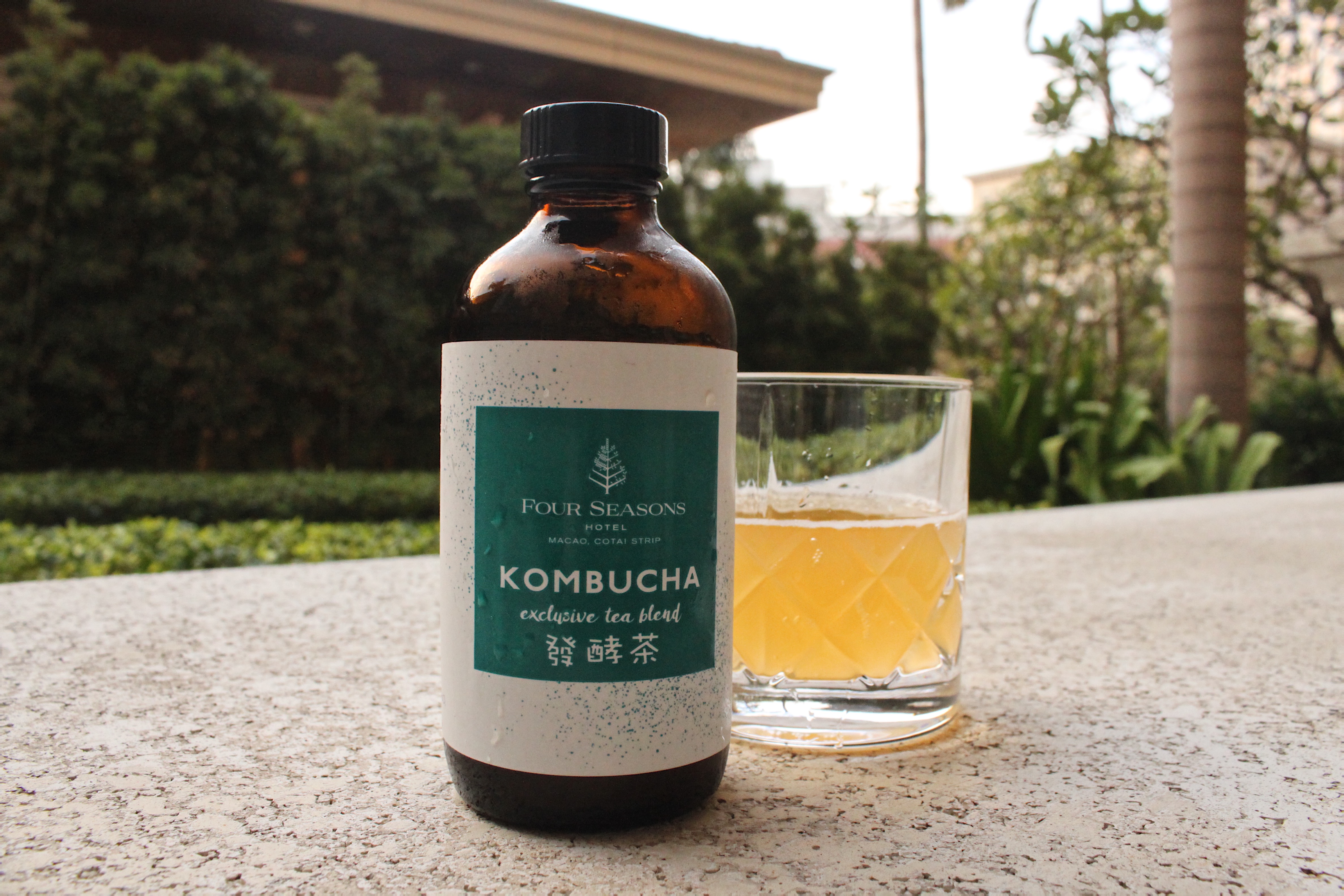 Windows Restaurant
Windows Restaurant at Four Seasons Hotel Macao, Cotai Strip is a hotel lounge with exceptional service and a relatively small, but diverse menu. Wagyu and Impossible burgers, quinoa salad and BBQ tacos–you would find something appealing whether you are on a vegetarian diet or crave some succulent meat. Windows is also a great spot to stop for an afternoon tea or a drink. As for their kombucha selection, you can find Blissful Bombooch, a local Macau kombucha brand that comes in several flavors (turmeric, pineapple lemongrass ginger, lavender lemonade). One of them is an exclusive Four Seasons blend with green sencha tea, white peony flower, jasmine, osmanthus, dried peach, and passionfruit. It's worthy to stop by Windows just to savor this exclusive delicate blend.
Windows Restaurant Four Seasons Hotel Macao, Cotai Strip, Estrada da Baía de N. Senhora da Esperança, S/N, Cotai, +853 2881 8888, www.fourseasons.com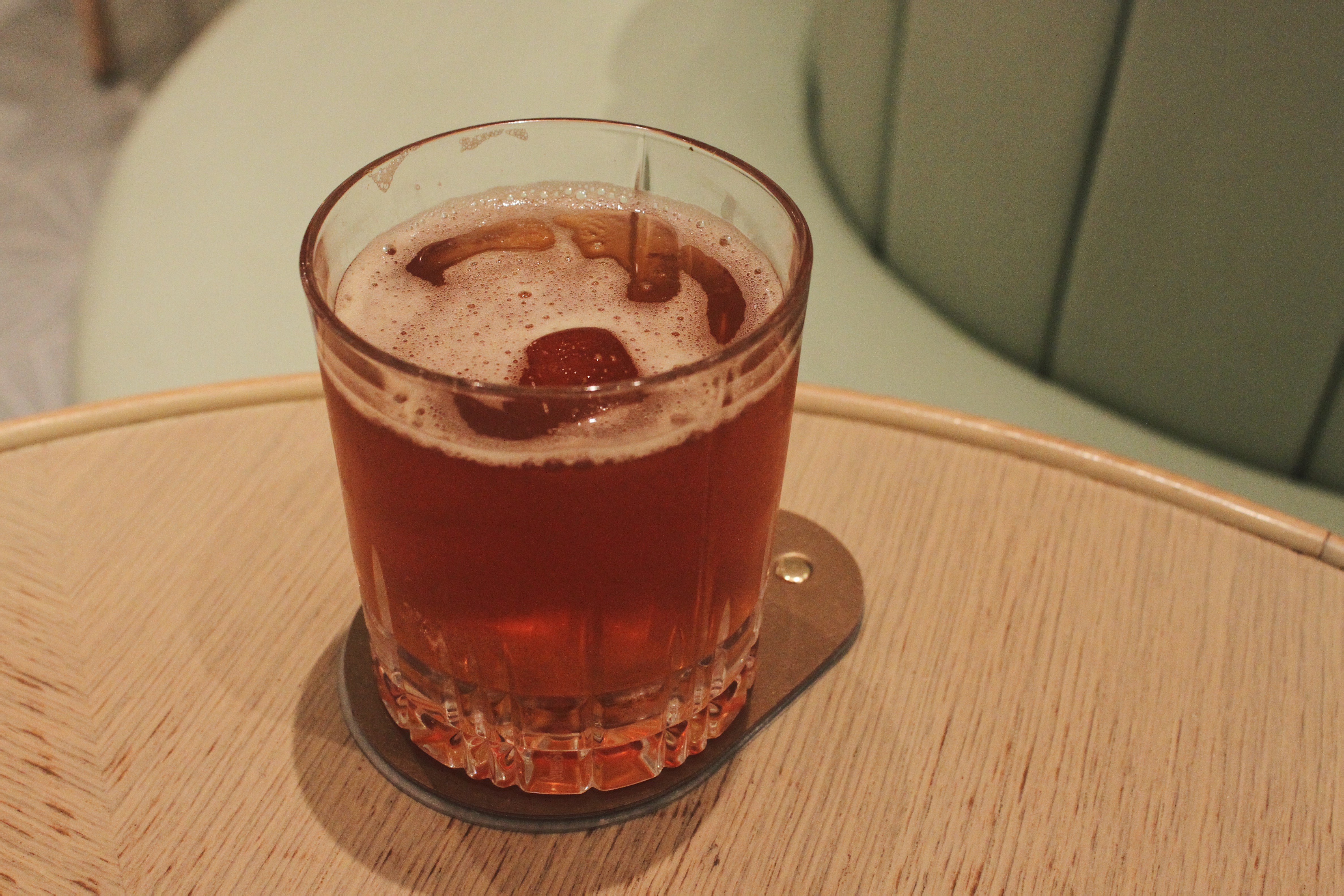 Cha Bei 
CHA BEI is famous for its charming, straight from your Pinterest bookmarks design that attracts visitors with a sophisticated taste from all over Macau. Apart from cute interiors and a marvelous collection of teacups, you can find a lot of healthy food and drinks such as salads and poke bowls. Being a spot founded by and for tea lovers, it's only natural that besides a large variety of tea (hot or iced, green or herbal), they served tea-based drinks like kombucha. The brand of kombucha that CHA BEI has on its menu is Tabbocha, a company created by two passionate entrepreneurs from Hong Kong, Patricia, and Lisa Lam. Here, they serve two types of Tabbocha on tap, passionfruit turmeric, and a special CHA BEI flavor, a chrysanthemum kombucha.
CHA BEI 1047, 1/F, Galaxy Macau, Estrada da Baia de Nossa Senhora da Esperanca, Cotai, +853 8883 2221, www.galaxymacau.com

Larry's Place
Larry is the owner of a little takeaway shop that sells fresh salads, cold-pressed juices, delicious smoothies, and overall hearty food. It is conveniently located in the very center of Macau, just meters away from the busy Senado Square in a narrow quiet street. That makes it a perfect pit spot for a quick lunch. Pair your healthy choice with a bottle of tangy kombucha by local favorite, Blissful Bombooch.
Larry's Place 2 Beco do Gonçalo, Macau, +853 6528 9786, www.facebook.com/larrysplacemacau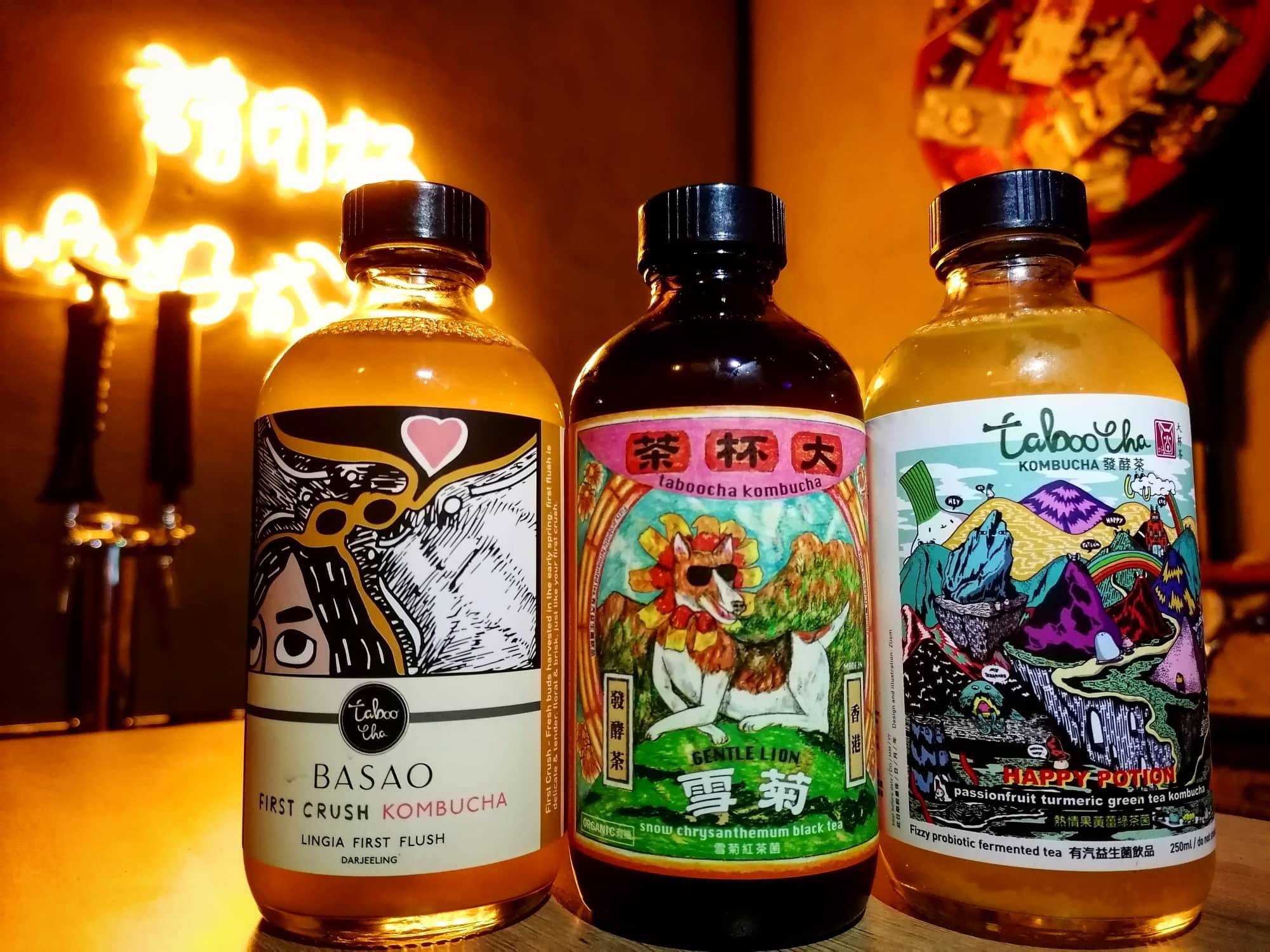 Beer Pro
Beer Pro is a shop in Fai Chi Kei focused on craft beer and cider. It is a paradise for those who are crazy about ales, lagers, and stouts and curious to try craft beer from around the world. For those who prefer virgin drinks, there is, of course, kombucha. Their supplier is Tabbocha and on a good day, you will find 10 types of colorful bottles in the fridge, waiting to be tasted!
Beer Pro 497 Rua do Comandante Joao Belo, Fai Chi Kei, Macau, +853 6358 6572, www.facebook.com/BeerPro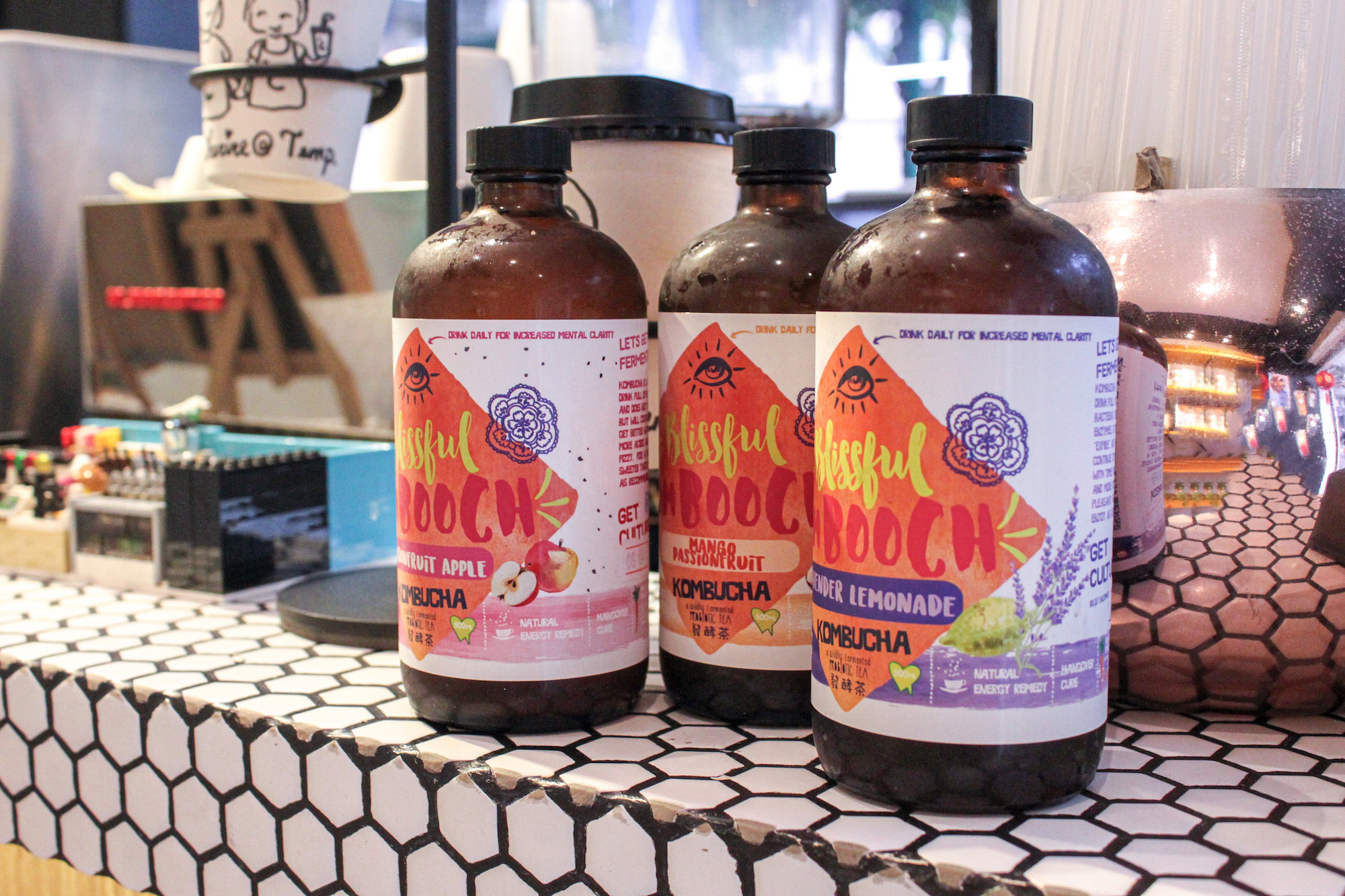 Macau Temp
A small spot decorated with plant pots and cute little toys is a charming place to stop by for a quick bite and a drink. Their menu is mainly tea and coffee, as well as simple food such as salads and sandwiches. Luckily, they also store that chilled fizzy drink in the fridge. Ask which flavors they currently have, as normally the selection of Blissful Bombooch they sell is rather wide.
Macau Temp 55 Rotunda do Alm. Costa Cabral, www.facebook.com/Temp.macau

How to make your own kombucha at home 
Making your own kombucha is not rocket science. If you're in Macau, The Blissful Carrot occasionally organizes kombucha brewing workshops where you can learn some secrets and get your own scoby. You can also ask your brewing enthusiast friend for a piece. Once you get a hold of the "tea mushroom", the process is easy and just requires patience and hygiene. Firstly, make some tea, green or black, and dissolve some sugar in it. Even if you don't drink your tea sweet, sugar is essential for the brewing process. Let the tea cool and add in the scoby. Pour everything in a jar, cover with a tight-weave cloth and secure it with a band or rope. Let it rest for at least a week. Don't place the jar in a spot with direct sunlight, but some indirect light would be good.
As you are dealing with the fermenting process, it's important to be careful and not let your drink get contaminated. If you spot mold or the scoby turning black, it is not safe to drink and you must discard the whole batch straight away. Consuming contaminated kombucha can cause dangerous health effects.
After a week or more, your kombucha is probably ready. Taste it and do note that it should be less sweet and more vinegary. Bottle it, retain the scoby with a little bit of liquid for the next batch. You can add some more ingredients to your kombucha (lemongrass, ginger, fruit) or leave it as it is. Place the bottle in the fridge and let it stay there for some more time. The more it stays there, the fizzier it gets. Enjoy!
However, if you fail as a kombucha homebrewer, you can always order some chilled bottles of the Blissful Bombooch delivered right to your door by Goodees, an online market with a large variety of options, including organic, vegetarian and rare to find products. Besides, they offer free delivery on orders over MOP $600.
Tags
Related Posts