Having been in Macau for just barely a year, Chef Chananya Chawengcote has already embraced the place wholeheartedly. The formidable woman behind Banyan Tree's signature restaurant Saffron is a remarkable woman whose inspiration originates naturally from her heritage. Her cooking prowess has once garnered her the coveted prominence of being the winner of Thailand's Ultimate Chef competition.
It is no wonder that Chef Chananya's discipline and skills are as illustrious as Banyan Tree's reputation for setting the benchmark for authentic Thai cuisine. Renowned worldwide for the sensory journey it evokes, Saffron enables one to savor Thai flavours in a contemporary yet classically elegant setting. Traditional cooking methods reminiscent of the techniques passed down from generation to generation are sharp and prominent in Saffron's culinary presentation. Located to the right of the main lobby of the hotel, Saffron offers a serene setting with oriental interiors that provides a warm atmosphere.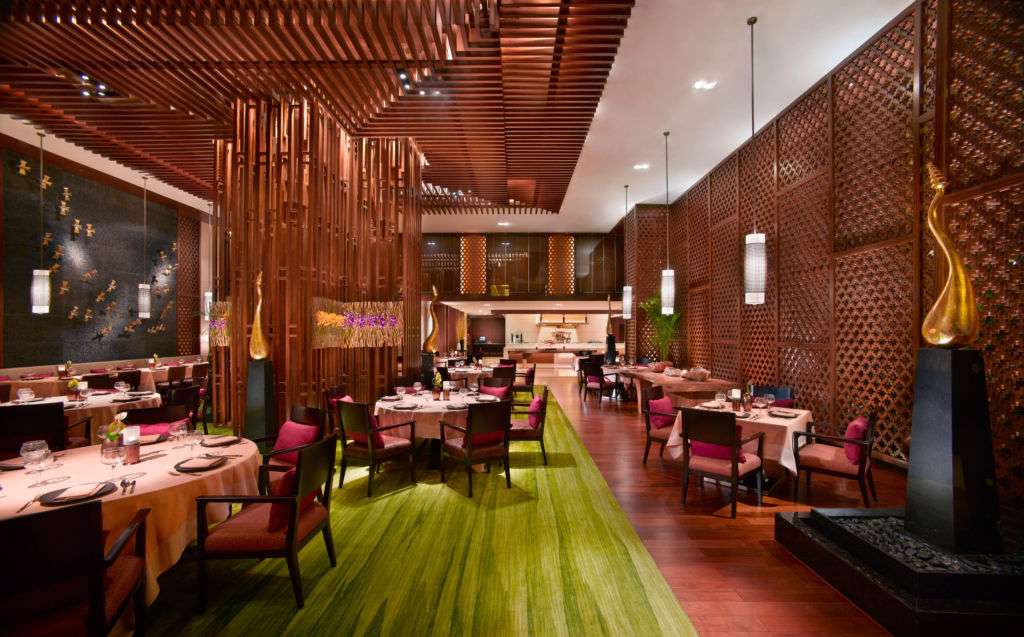 What was your first impression of Macau when you first arrived?
Eight Months may seem like a short time since I arrived but Macau has quite the peace and order than other Asian countries. A mix of Asian cuisines in one city is truly an amazing exploration.
What's your personal favorite on the menu? Or the first dish you would recommend to anyone visiting Saffron for the very first time?
I would say the classic Tom Yum Goong with spicy river prawns. It is a rich and flavorful dish but then everything on our menu are fantastic dishes that should be tried and tasted.
What did you want to do when you were young? Did you envision the path that you are in right now?
I have always imagined myself as a Chef. I can truly see the best of myself in this role. You put your emotions and effort into cooking and it extends to the dishes that you create and that's very fulfilling for me.
Who had the most influence in your life whilst growing up?
My grandmother was a great influence. I was very young when she taught me how to cook. I would constantly watch her move with such grace and agility in the kitchen. She worked in the grand palace and cooked for the Thai royal family. I was inspired to follow the same path and my love for food evolved because of a mighty woman.
If you could cook or invite anyone famous to your dining table, who would it be? Why?
It would definitely be the Thai royal family. They would have the most discerning palates in terms of Thai food in the world. It would be a great privilege to cook for them.
What motivates you in the kitchen (workplace)?
Start your day with a smile first and foremost. I am motivated by my team working together. It is only with a hardworking team that I can truly create innovative dishes and authentic Thai cuisine and serve them to the guests and that is a motivation for me.
What's the pivotal moment of your life/career? Something you feel truly proud of?
Every day is a great day to be a chef. I'm proud to be a chef because it's my true passion. It conveys everything from stories, culture and heritage. It is a form of expression for me.
What's the best thing about being a Chef? Any unpleasant sides that you wish you could change though?
Being a chef makes me learn a lot of new things and meet new friends and guests every day. Chefs work under intense pressure. To perform the rest of your responsibility, you need patience, you need to be tough in terms of mental and physique, of course mostly importantly you must truly love what you do.
What's inside your fridge that you can't be without? Why?
The indispensable ingredient which is always stored in our refrigerator all the time is chili, fish sauce, lime, and sugar because these are all the basic ingredients of Thai Cuisine.
What's the secret behind a successful kitchen? Do you have any special rituals in the kitchen that you observe as part of your daily routine?
Teamwork is the most important thing if you are working in the kitchen. It is easier to get everything to run smoothly if we are a good team and complement each other. We have a task briefing before we start to work on a daily basis. We talk about the plan and schedule and share ideas with each other in order to improve our work.
Find out what it truly means to dine at Banyan Tree's Saffron and explore the flavors of Thailand.
Saffron at Banyan Tree Hotel Galaxy Macau, Avenida Marginal Flor De Lotus, Cotai, Macau, +853 8883 6061
Tags
Related Posts