Macau's St. Lawrence District is full of many highly regarded restaurants that don't need to spend money on marketing to generate buzz. There are many street style eateries here which focus on good old hearty comfort food. These are mostly free of frills and gain attraction from locals and tourists alike simply because of the taste. Although often overlooked, these humble eateries are all great within their own right. Their owners dedicate their lives to creating dishes that are delicious and affordable so here is our pick of the best. Get ready to dig in!

St. Lawrence Wet Market
Although the St. Lawrence Wet Market is an unlikely place to start a dining guide to a district, it actually makes perfect sense. Macau's markets are like Singapore's hawker centers–the Lion City is famed for their stalls which offer truly authentic, delicious, and (best of all) cheap dishes and Macau's markets have similar kinds of offerings. Located on the top floor of the St. Lawrence Wet Market, you will find why it makes sense to house a food court in a market. On all floors, vendors hawk fresh ingredients and the restaurants on the top floor use these fresh ingredients in their dishes. At the humble eateries, the fresh ingredients are transformed into an oasis of amazing local dishes.
Diners can choose from large meals, refreshments, or desserts–there is a myriad of choices that will tempt you to spend a whole day sampling the food. A popular stall here which attracts long queues is called "Ngau Zap Lou Mei Sik 牛雜佬美食". When ordered, the noodles here are quickly cooked in a flavorful beef broth topped with the diner's choice of protein. Starting at MOP $19 and being extremely tasty, this is almost too good to be true. Local favorites are the typical ngau lam min (beef brisket in noodle soup) and the extreme beef offal noodles (which include intestines, tripe, and other beef entrails). To give your bowl of noodles a little more zest, request for a bit more spice and they will ladle in a dollop of hot curry before serving.
To complete your meal, order a sweet, cold drink like red bean ice or iced milk tea to complement the hot bowl of noodles. There are numerous outlets here which do drinks as well and no one cares if you mix and match from different stalls–in fact, it is encouraged!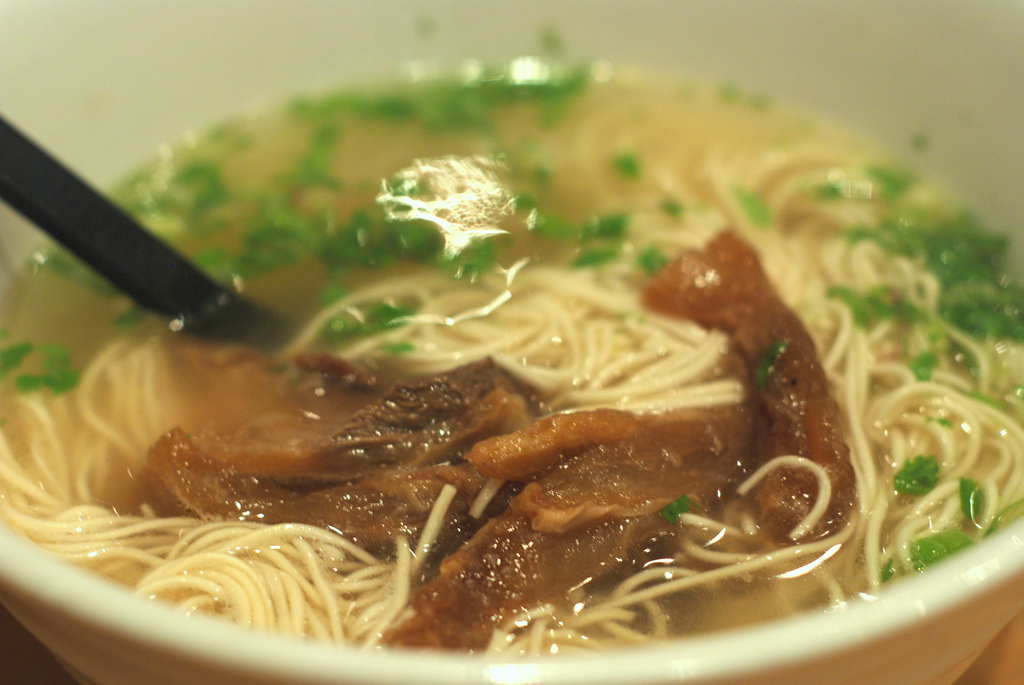 Street Stalls
For an afternoon snack, simply head to the main road where you can enjoy steaming rice noodle rolls amidst the bustle of Macau's daily life. Walk along the sidewalks of Rua do Almirante Sergio and you'll find street stalls lined up next to each other. Just pick one and sit down–most of them sell similar dishes anyway. Cheung fun or rice noodle rolls are the main choice for breakfast, snacks, and small meals. Best eaten fresh out of the steamer, these normally come flavored with seasoned soy sauce after serving and there is a medley of different fillings diners can choose from (shrimp, char siu barbecued meat, and more). Or just opt for the always delicious, plain option with no filling, drizzled with peanut sauce, sweetened soy sauce, hot sauce, and a little bit of mustard. Yum!
Also, don't forget to try some steamed turnip cake with pork (lo bak go), the stir-fried beef vermicelli noodles (gon chau ngau ho), and pork congee with century egg (pei tan sau yuk chuk)–all popular classics.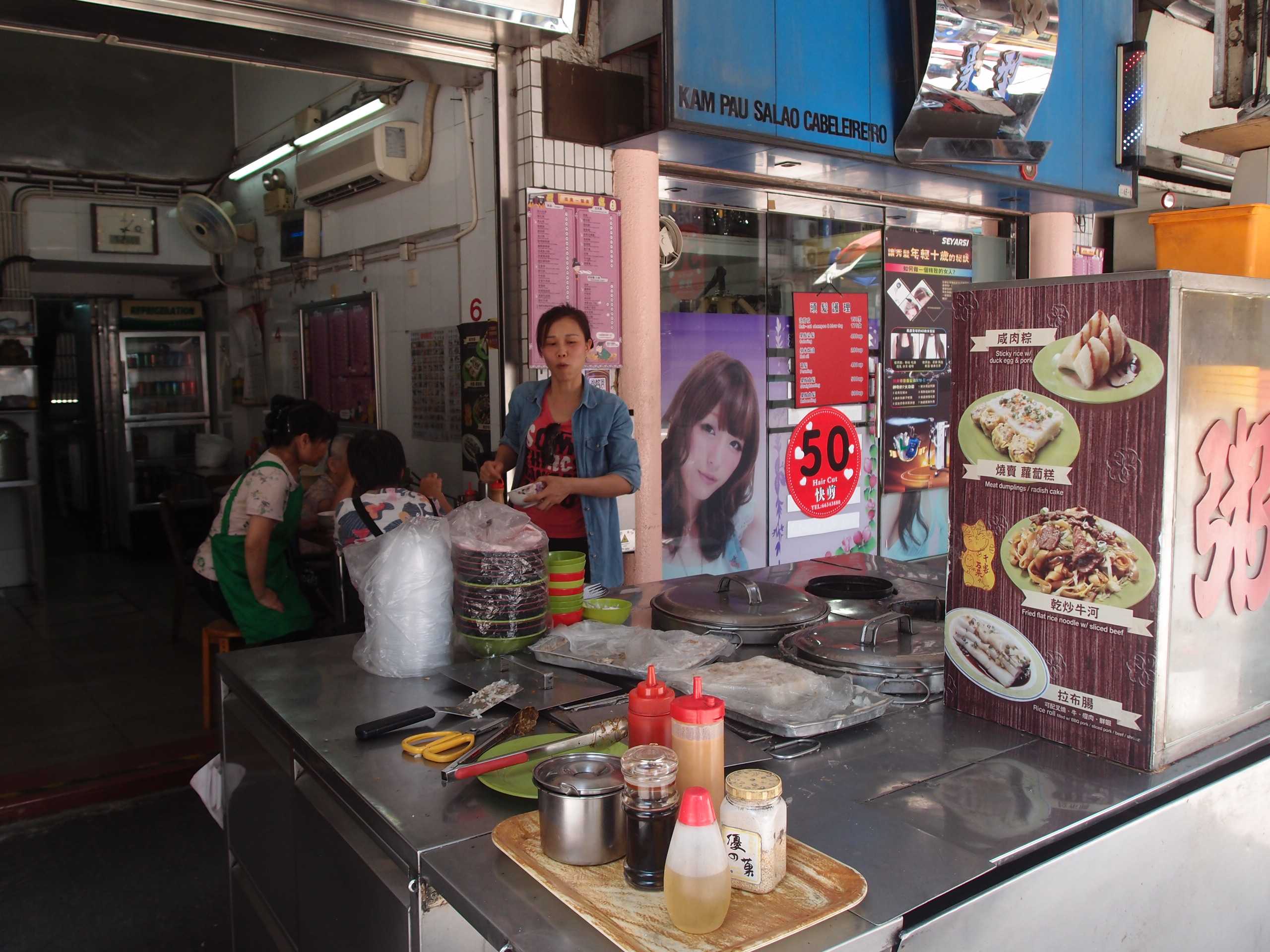 Cha Chaan Tengs
The number one cha chaan teng ("casual tea restaurant") in this area is Cidade Cafe. Operating for nearly three decades, this family-run establishment receives patrons who have been eating here since their childhood and are still loyal customers today. Although they call themselves a cafe and serve snacks, coffee, and pastries they actually have a bit of everything. Their menu is extensive and may be overwhelming to newbies, but don't worry as they also have an English menu.
Despite having two levels of seating, this place is usually packed on both floors, so don't be surprised if you have to share a table. Puzzled about Macau local's approach to personal space? Click here to see our article on how to act like a local! Cidade Cafe (see featured image) serves what typical cha chaan tengs serve and a lot more – think along the lines of delicious Macanese dishes like African chicken and curries balancing Portuguese and Asian spices and flavors. Fried rice, noodles (whether stir-fried or in soup), and hearty cooked-dishes usually found in dai pai dongs (like sweet-and-sour pork) are offered here as well.
St Lawrence Market Food Hall 2/F, Complexo Municipal do Mercado de S. Lourenço, 16 R. de Joao Lecaros, Sao Lourenco
Street Stalls Rua do Almirante Sérgio, Sao Lourenco
Cidade Cafe +853 2893 7782
Tags
Related Posts