If you want to get together with family or friends and share a meal, there is no better option than hot pot, especially when it's cold outside. Dipping slices of food in boiling soup is both a gastronomic pleasure and a fun pastime. One of the most remarkable restaurants to experience this ultimate Chinese soul food is Lotus Palace at The Parisian Macao, a truly royal place that offers a diverse world of hot pot. And if you are new to hot pot, you might need some how-to tips and a guide to walk you through that massive menu. Let us be your guide on how to eat Lotus Palace's hot pot like a pro!
Best in town
Lotus Palace describes its food as smart-casual, but their presentation says black-tie elevating the experience all the way up. However, the atmosphere is rather laid back. The interior is casual, with red accents and thoughtful branding–lotus chandelier in the center of the hall, lotuses on the menus and plates. Offering eight menus that, among others, include two hot pot menus, dim sum, and degustation, there is something for any foodie. The man behind the menu creation, mindblowing exquisite presentation, and, of course, delectable dishes is executive chef Hew Choong Yew. The chef humbly mentions that basic cooking skills are his strongest suit. For everyone who has tasted his creations, it becomes obvious that his deep expertise in Cantonese cooking traditions, the meticulous selection of ingredients, precision and the artsy approach to the presentation are also among his strong sides. Chef Hew Choong Yew and his team manage to deliver both hearty and elevated hot pot, making Lotus Palace one of the best spots in Macau for it.

Choose your soup
For starters, you need to choose a soup base. Lotus Palace's selection of seven bases ranges from traditional herbal chicken to more exotic pigeon with fresh cordyceps flower and matsutake mushroom. You can also go with two as we did. We opted for signature white pepper and pork bone with sweet corn base and Sichuan spicy base. The former is a rich, slightly sweet broth. The latter is an explosive combination of Sichuan peppercorns, chilis, ginger, and other aromatic spices. This perfect combination of comforting and bold bases would give whatever you dip into the soup two drastically different types of flavors. 
Pick the ingredients
As for the goodies you want to put in your soup, Lotus Palace has a long list of options. First of all, there is hot pot a la carte so you can assemble your own combination of seafood, meat, and vegetables. There you have crustaceans and fish from all around the world, wonton, pastes, humble chicken and extravagant Kagoshima Kobe beef, priced at MOP $1,988. With so many locations mentioned on the menu, it's like going on a round the world trip without the hefty price tag. That is not a surprise as one of Chef Hew's strengths is his skill to source the best of the best ingredients for his dishes. It's hard to argue how important carefully selected ingredients are for hot pot.  
For those of us who prefer someone else do the assembling, there are four set menus with a fusion of different ingredients. However, you still get to select what kind of noodles you want—egg, rice, udon, and others. We went for set menu B that had thinly-sliced meat (Australian beef and lamb) and seafood beautifully laid out on the ice like a contemporary art installation. The vegetable basket looked like a gorgeous flower bouquet of mushrooms, lettuce, cabbage, and herbs. 

Mix your own sauce
While we were waiting for the food, our waitress parked a sauce station near our table. That cart had 16 bowls with 16 condiments that can go to your sauce, just choose the ones you prefer. Lost in the variety? We were as well, so we kindly asked the waitress to mix a sauce to her liking. That's how we got a cocktail of XO sauce, Chaozhou chili oil, preserved radish chili sauce, deep-fried and fresh garlic, Thai chili, garlic, green and red chili, coriander, spring onion, and soy sauce. Explosive!
If like us, you ordered a spicy and non-spicy soup base, you might want to make a couple of different sauces. Unless you like to put extra heat on your already spicy food. 
Mind the timing
One of the most important factors for a successful hot pot operation is timing. Each ingredient requires a different time to cook. While you enjoy a nice chat with your friends, don't forget about those crustaceans floating in the pot. Otherwise, you are risking to end up with rubbery seafood and disappointment. 
Let's start with the quickest of them all. Finely sliced pieces of geoduck only need three-four dips to get ready. Shrimps and veggies will be good to go in 30 seconds. Cabbage and razor clams will take around three minutes and abalone should spend one more minute in the pot. As for the scallops and lobsters, you should observe their color–when lobster is red and scallops are white, fish them out. The meat is so finely sliced that it doesn't take more than ten seconds to cook it. Cooking time for noodles depends on the type, so it's better to ask the waitress. In fact, you can always ask the staff to help you out at any stage of this complex process. They are extremely helpful, knowledgeable, and will take good care of you, refill the soup, guide you through timing and make sure you always have tea in your cup.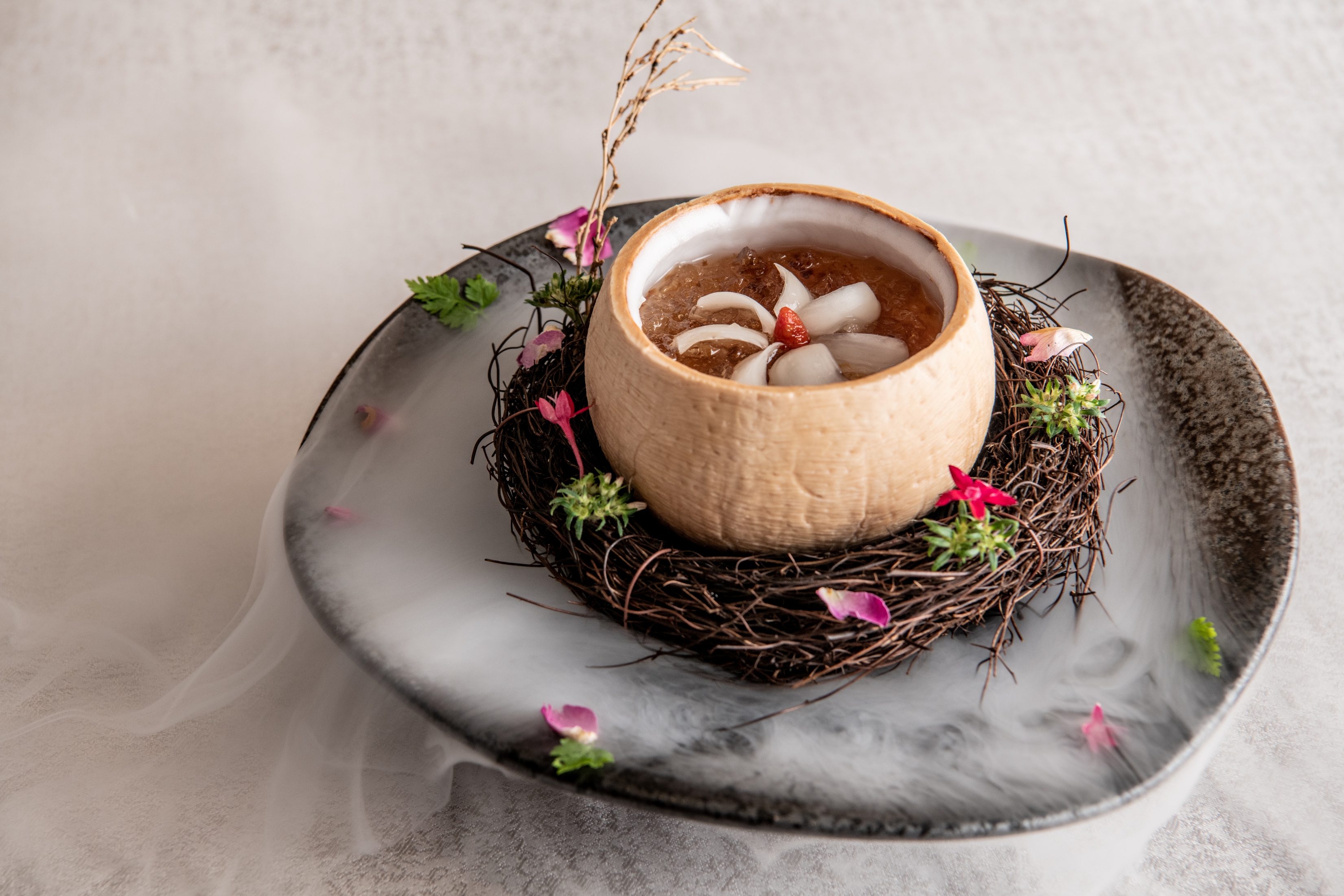 Leave some space for a dessert
After that abundant feast, you might want to lay down and not see any food for the rest of the day and the following day, too. But we recommend you take it slowly to save some space for dessert. The a la carte menu features a tempting list of traditional Chinese desserts. And all the set menus come with one too. As we chose set B, the dessert offered to us was double-boiled peach gum and lily bulbs with rock sugar in coconut. The sweet soup is served in a fresh coconut on bird's nest with flowers and green leaves. So stunning! Besides spectacular presentation, it is a guilt-free dessert that has many vitamins and minerals in it.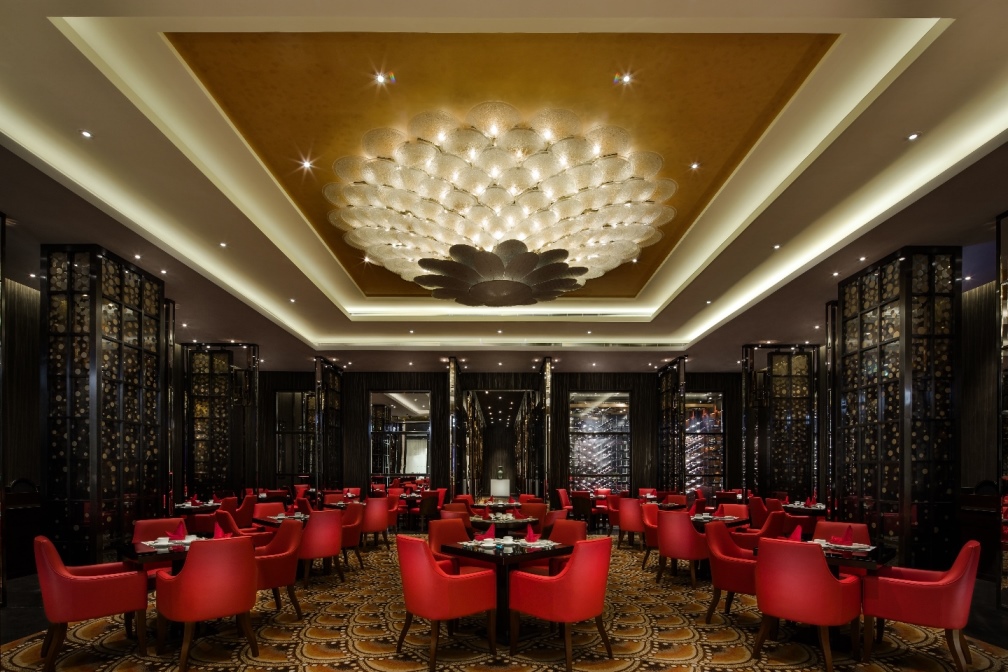 ---
Lotus Palace Shop 3316, Level 3, The Parisian Macao, Estrada do Istmo, Lote 3, Cotai Strip,  +853 8118 9260, www.parisianmacao.com
Brought to you in partnership with Sands China Ltd.
Tags
Related Posts