Great news for visitors and residents! According to the Forbes Travel Guide 2020, Macau leads the list of places with the largest number of five-star spas. With such high praise from an influential inspection committee, there is no point in questioning your experience at Macau's wellness sanctuaries. But which one would become your personal favorite? We inspected the most indulgent treatments, reveled in different aromatic oils, drank herbal tea, and sweated in various saunas to come up with our own ultimate list of Macau's best spas for you to choose where to unwind and relax. Read on and find out more!
Banyan Tree Spa 
(See featured image)
How do you imagine your ideal retreat? Tranquility, nature, eco-concept, and excellent yet unobtrusive service–if these are the criteria, add an extensive list of mind-blowing treatments and experienced spa therapists to culminate in Banyan Tree Spa Macau. The relaxation journey starts as soon as you set foot on its premises. Although it is located inside Galaxy Macau, it is easy to forget that you are still in the city and inside a building, because the spa feels like an exotic coastal resort somewhere in Phuket. The main contributing factor to that illusion is its fantastic and holistic design inspired by nature: bamboo groves reflecting in an indoor pond, stone garden, live orchids, wooden floors, and calming natural colors. That perfection could not have gone unnoticed by the Forbes Travel Guide that awarded Banyan Tree Spa with five stars for six consecutive years.
Notably, Banyan Tree originated in Thailand, and it's well-known that wellness and massage are also important parts of their culture. Everyone who has ever had an authentic Thai massage would easily confirm this! Even so, Banyan Tree's focus lies not only in just Thai but in Asian wellness. That is reflected in their menu of time-honored traditions that include treatments like Chinese, Thai, Indonesian, and Indian traditions. Generally, the spa's forte is body treatments–massages and complex 120 to 150-minute rituals with exfoliation, body wraps, baths, and more. However, facials aimed to address the needs and concerns of your skin are available as well.
If you choose one of those extended, indulgent body packages, prepare for a pleasant voyage to restoration and zen. That effect is achieved with the help of ancient techniques performed by experienced therapists and products made in-house with natural ingredients. Among their signatures are Tropical Rainmist (Banyan Tree's innovation) and Master Therapist Experience. The latter is a tailored treatment with a thorough consultation and body workup to determine what techniques would best serve a guest.
Opening hours: Daily, 1:00pm–9:00pm
Banyan Tree Spa Banyan Tree Macau, Galaxy Macau, Estrada da Baia de Nossa da Esperança, Cotai, +853 8883 6688, www.banyantree.com
Also read: Best Facial Treatments in Macau

The Ritz-Carlton Spa, Macau
Another distinguished recipient of the five stars by Forbes Travel Guide and other prestigious awards is The Ritz-Carlton Spa, Macau. And once you visit it, it will be hard to argue that these awards are not well-deserved! Located at the world-renowned The Ritz-Carlton, Macau, the spa represents what we love about the hotel–flawless service and the highest level of comfort. But there are many more reasons to become their loyal guest. Reason number one is the luxurious facilities: a steam room, sauna, ice fountain, a vitality pool with lounge chairs hanging above the water, aqua massage, and the list goes on. To take advantage of the facilities and get your body ready for the treatment, come at least half an hour prior to your booking.
The friendly staff will guide you every step of the way, starting from the registration to checking out. Sometimes you wouldn't see them there, but they will be around to help you out the moment you need something. It's The Ritz magic! Then, five minutes before your reservation, they will escort you to a relaxation room with lounge chairs and sofas for some bale fruit tea. After, a therapist will meet you and bring you to a treatment room. Choose from their massages or package treatments, or get yourself a rejuvenating facial. Combining traditional techniques (Chinese medicine, acupressure, reflexology) and the latest technologies, spa therapists will work their magic to satisfy your needs. For an ultimate royal treatment, check out their caviar and pearl experience. The origins of this ritual go back to the time when only emperors and empresses could afford it.
Opening hours: Thursday–Tuesday, 1:00pm–9:00pm; closed on Wednesdays
The Ritz-Carlton Spa, Macau The Ritz-Carlton, Macau Galaxy Macau, Estrada da Baia da Nossa Senhora da Esperança, Cotai, +853 8886 6868, www.ritzcarlton.com
Also read: Wake Up Here: The Ritz-Carlton, Macau

The Spa at Four Seasons Hotel Macao, Cotai Strip
Located on the fourth floor of one of Macau's most awarded hotels, Four Seasons, The Spa is distinguished by its high level of service, attention to detail, and state-of-the-art facilities. Apart from various treatments, spa-goers can enjoy a Finnish sauna, steam room, scented experience showers, and vitality pool available both at female and male lounge areas. The property's gem is its VIP suites with two massage beds, a private vitality pool, aka jacuzzi, and an experience shower with steam. We especially love the floor-to-ceiling panoramic windows that fill up the suite with natural light, a rare feature for most spas in the city.
Combining Western and Oriental knowledge and techniques, the treatment menu includes rituals that aim to target individual needs and concerns. If you are suffering from muscle pain or tension, there is a therapeutic massage. When planning an active day or a long hike, the Blissful Sensations signature treatment with herbs, sea salt, and Portuguese Port wine would hit the spot. Even if you opt for any other option that includes a back or full body massage, your therapist will make sure to work on the tight knots. Expect the weight of the long hours of desk work to vanish at the end of the appointment. Among the spa's best offers are the seasonal highlights, treatments that would help you cope with seasonal changes and challenges.
Four Seasons Hotel Macao guests can have an in-room massage but do note that you'll pay 30% extra.
Opening hours: Spa Facilities: Daily, 9:00am–10:00pm; Treatments: Monday–Thursday, 12:30pm–9:30pm, Friday–Sunday, 11:00am–10:00pm
The Spa Four Seasons Hotel Macao, Cotai Strip Estrada da Baía de N. Senhora da Esperança, S/N, Taipa, +853 8112 8080, www.fourseasons.com/macau/spa
Also read: Wake Up Here: The Grand Suites at Four Seasons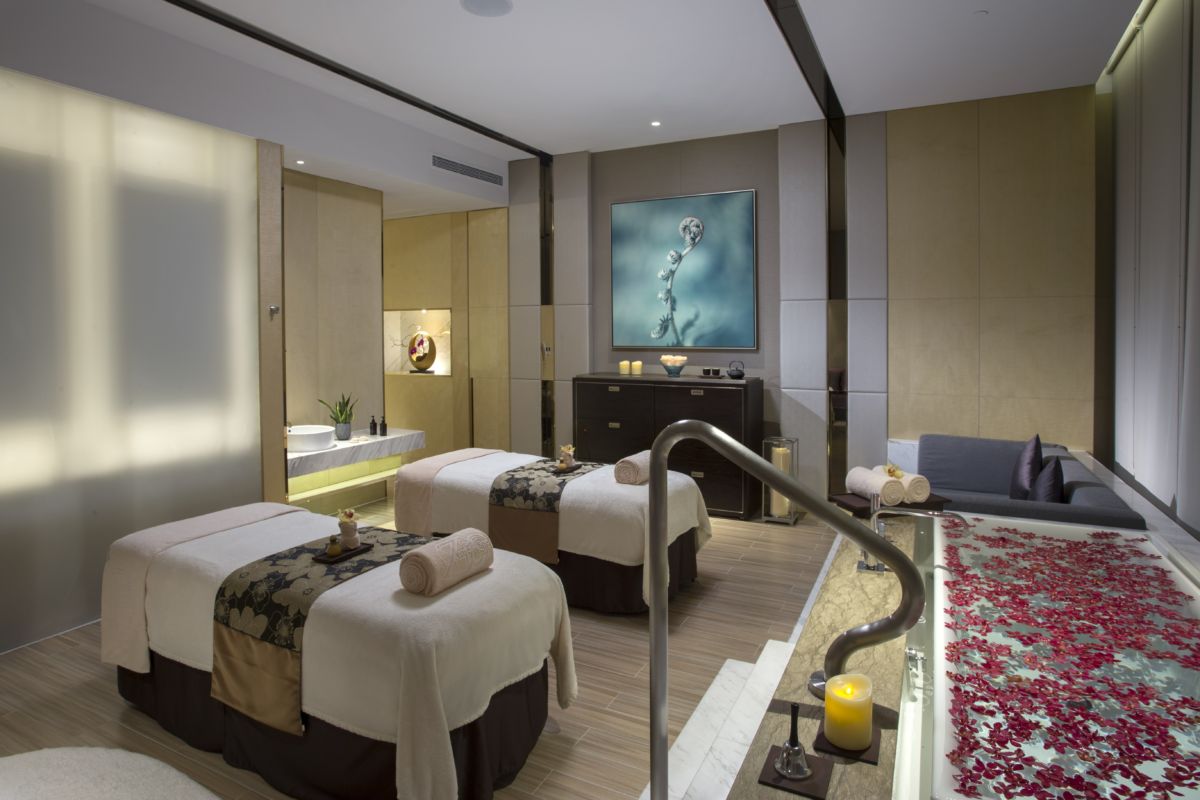 Zensa Spa at Studio City, Macau
When you think of a spa, you probably picture a masseuse available to ease your stress on a massage bed. Maybe some flowers, a specific scent in the air, fluffy hotel towels, and a plush robe. Well, Zensa Spa takes all this to the next level: before starting the treatment of your choosing–which can be for the body or face–you'll be guided into a closed, women-only locker room, with several options to pamper yourself before the treatment commences. Besides a sauna and a steam room, they've included a snow room–probably the only time in Macau where you'll ever witness snow and ice–vitality pools and little cute amenities like a robe and a pair of slippers, towels, and disposable underwear so you can enjoy these facilities.
After this, someone will come and lead you to the treatment room, where a specialist is waiting until you're ready: each massage room is equipped with a bathroom, so you can take a shower before starting your treatment. Once you're done, the masseuse washes your feet and starts. Whether it's a soft, tender, and free of pressure massage or, in contrast, something powerful and energizing, with just the right amount of pressure, it's up to you. Between their signature recovery journey to the Zensa retreat, to synchronize your body, or activate your mind, there's an array of choices! Call them and let the relaxation begin by selecting one of their treatments from this menu.
Opening hours: Daily, 12:00pm–09:00pm
Zensa Spa Studio City, Macau, Estrada do Istmo, Cotai, +853 8865-6868, www.studiocity-macau.com
Also read: Wake Up Here: Studio City Macau

Iridium Spa
The St. Regis Macao's wellness haven, Iridium Spa, takes you to the next level of relaxation in every way possible. Located on the 38th floor, it is the highest spa in the city. Hence, if you like gazing into beautiful urbanscapes through the floor-to-ceiling windows while enjoying a massage, this is your kind of place. Besides stunning views, Iridium Spa offers bespoke treatments in a stylish and luxurious interior. There are 10 spacious suites, two of them for couples. Each one includes a jacuzzi and a stunning marble bathroom.
As soon as you enter the premises, the welcoming staff here ensures you feel taken care of and relaxed. While you sip on warm tea, a specialist will ask you about individual requests and wishes to guarantee your journey fits your expectations. Remarkably, the consultation concludes with a questionnaire to identify your gemstone. That will determine which gemstone-infused oil your therapist will use for your treatment. Signature to the Iridium Spa, Gemstone treatment is believed to have healing properties and can help to draw out negative energy. You can also buy gemstone massage oils at the spa boutique.
To dive into the profound wellness expertise of Iridium Spa, choose one of their signature offers. One is the Iridium Personalized Gemstone full-body massage with gemstone-infused oil and heated gemstones. You can select 80-minute or 110-minute treatment. If you are in for a 360-degree wellness voyage, opt for the Timeless Iridium Journey that includes body and facial treatments. All in all, Iridium Spa has an extensive range of various practices, from Chinese and Thai massage to anti-age facials, aimed to satisfy different needs.
Opening hours: Monday–Sunday, 2:00pm–10:00pm; Closed on Wednesdays
Iridium Spa The St. Regis Macao, The Londoner Macao, Estrada do Istmo, s/n, Cotai, +853 8113 4949, www.iridiumspamacao.com
Also read: Curated Aromatherapy at Iridium Spa
Sofitel Spa
Representing the French art de vivre, Sofitel Spa is where we go when we want consistent quality with a European class and elegance. Notably, the World Luxury Spa Awards have marked its excellence for three consecutive years. Isn't this a convincing indicator of high standards?
Its design inspiration comes from rural Provence, a southeastern region of France famous for its lavender fields and laidback lifestyle. More French influence can be noticed through the range of products used for the treatments. Among them are world-famous L'Occitane and Sothys, a brand recognized as a preferred brand in many spas around the world. However, Sofitel Spa is not only about French traditions and legacy. Instead, it takes the best from both Eastern and Western wellness rituals.
We love how meticulous they are at Sofitel Spa. While every top-class spa strives to meet each guest's personal preferences, Sofitel Spa takes it to another level. Before deciding on a treatment, your spa specialist will ask you to fill in a form and ask several questions. Besides the general inquiries about your health, allergies, and the level of massage pressure, they will ask about your lifestyle to recommend the right massage, skin type to choose the face treatment. To make sure everything is set to your liking, they will inquire about your music preference in the treatment room (nature, ethnic, classic, or none) and light level (bright, dimmed). 
The treatment menu features body massages and facials for all kinds of skin types, concerns, and desired effects. You can even get a champagne manicure–what a treat, especially for a bachelorette party!
One of their signature treatments is the So exhilarating massage. Expect a full body massage with long palm strokes and elbow pressure with your choice of essential body oils (relaxing, energizing, or detox). If you prefer a facial, go for another signature treatment, the So rejuvenating facial, a multi-step 60-minute long ritual. With the help of Sothys Comfort products and massage techniques, your skin will feel renewed, appear radiant, moisturized, and nourished.
Opening hours: Daily, 11:00am–9:00pm 
Sofitel Spa Sofitel Macau At Ponte 16 Rua do Visconde Paço de Arcos, Macau, +853 8861 7801, www.sofitelmacau.com
Also read: Wake Up Here: Sofitel Macau At Ponte 16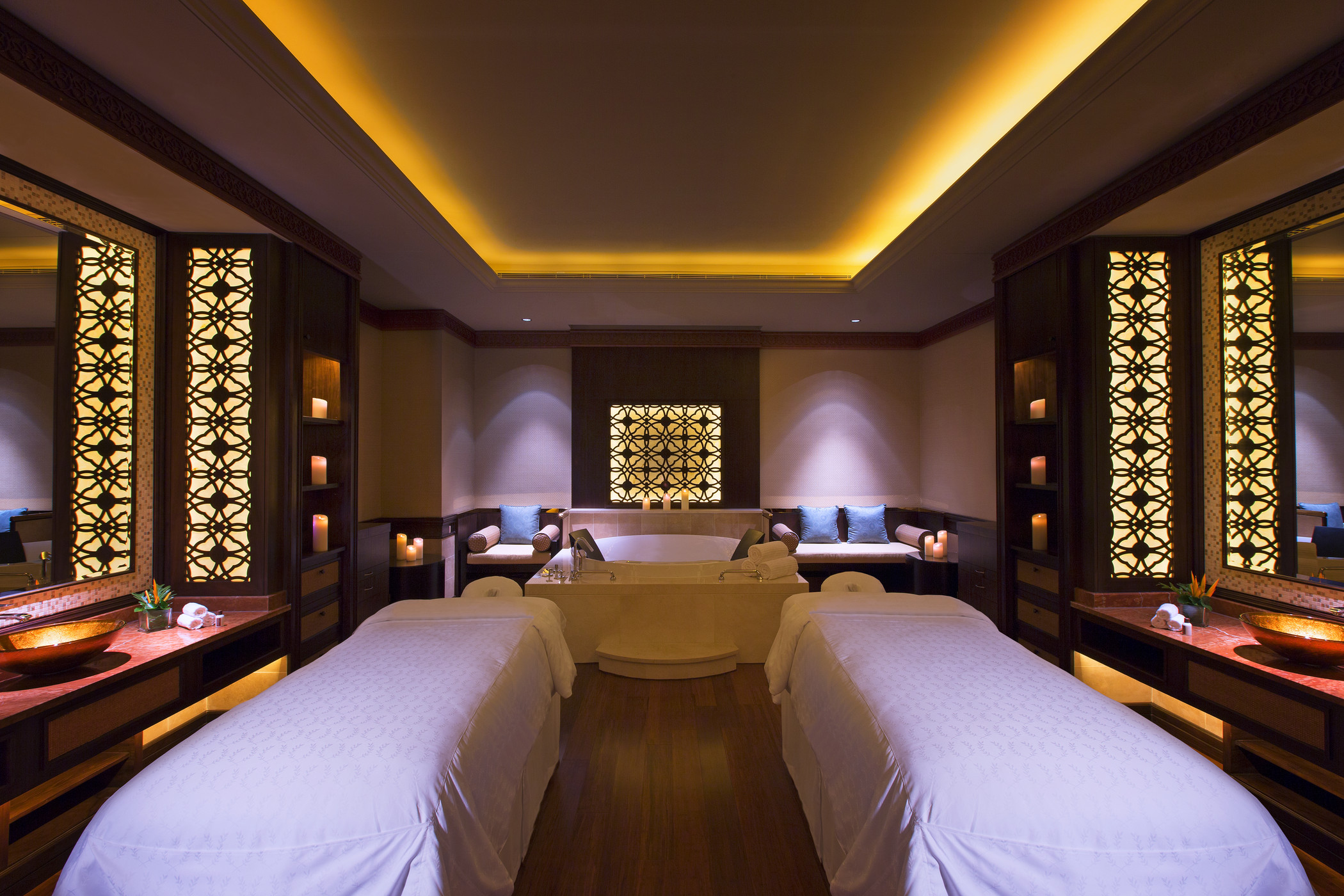 Shine Spa

at Sheraton Grand Macao
If you believe in the philosophy of feng shui, there is no better spa in the city than Shine Spa at Sheraton Grand Macao. Their concept and treatments are crafted around wu xing, or five elements–wood, fire, earth, metal, and water–the conceptual scheme that explains how the human body works and how chi flows within it.
However, Shine Spa does not solely focus on ancient Chinese philosophy, as its menu offers the best practices and knowledge collected worldwide. Thai yoga massage, deep tissue massage, rituals featuring mineral and lava stones, treatments based on acupressure and reflexology principles–the range of body treatments is especially extensive here. You can bring the massage of your choice to another level with exfoliation. If there is some skin concern you wish to deal with, go for one of their facials targeted for specific needs of your skin–anti-aging, replenishing, cleansing, or others. 
To help you pamper your body and mind and restore spiritual balance, the spa specialist will ask you about your wishes and concerns to choose the treatment that will meet your needs. All the Shine Spa specialists have immense expertise and years of experience. Combine that with the upscale environment, relaxing setting, and tranquil music of the treatment rooms, and you will get a formula for an ideal self-care day.
What if instead of me time, you are looking for a romantic date? Then you can book one of the five couples' suites and enjoy a relaxing time with your significant other. Moreover, there is a beauty salon for kids. While a stylist is working on their hair, the little ones can sip on refreshments and watch cartoons sitting in a pink Volkswagon Beetle or blue Audi R8 Spyder. 
Opening hours: Daily, 2:00pm–10:00pm 
Shine Spa Level 3, Sky Tower, Sheraton Grand Macao, The Londoner Macao, Estrada do Istmo, s/n, Cotai, +853 8113 0222, www.shinespamacao.com
Also read: Best Places for Foot Massages in Macau
The Spa at Mandarin Oriental, Macau
Boasting one of the best views in the city, The Spa at Mandarin Oriental, Macau is the ideal spot to book a massage–or any kind of body treatment, really. Featuring wet facilities like an indoor pool, sauna, and steam room, it's the to-go place for all kinds of treatments. The staff is super attentive every time. If you become a regular customer, they'll keep your file where you can highlight certain areas needing more pressure, or other important details. At The Spa at Mandarin Oriental, Macau, it's all about forgetting stressful matters and diving into relaxation!
They have an extensive menu of treatments, including regular full-body massages, but also romantic options like massages for two, longer treatments with hot stones and showers, body and foot scrub, deep tissue, or light ones; there's an array to choose from. Go through their online catalog and start planning before you even get there!
Opening hours: Daily, 11:00am–11:00pm
The Spa at Mandarin Oriental, Macau Mandarin Oriental, Macau, Av. Dr. Sun Yat-Sen, Macau, +853 8805 8588, www.mandarinoriental.com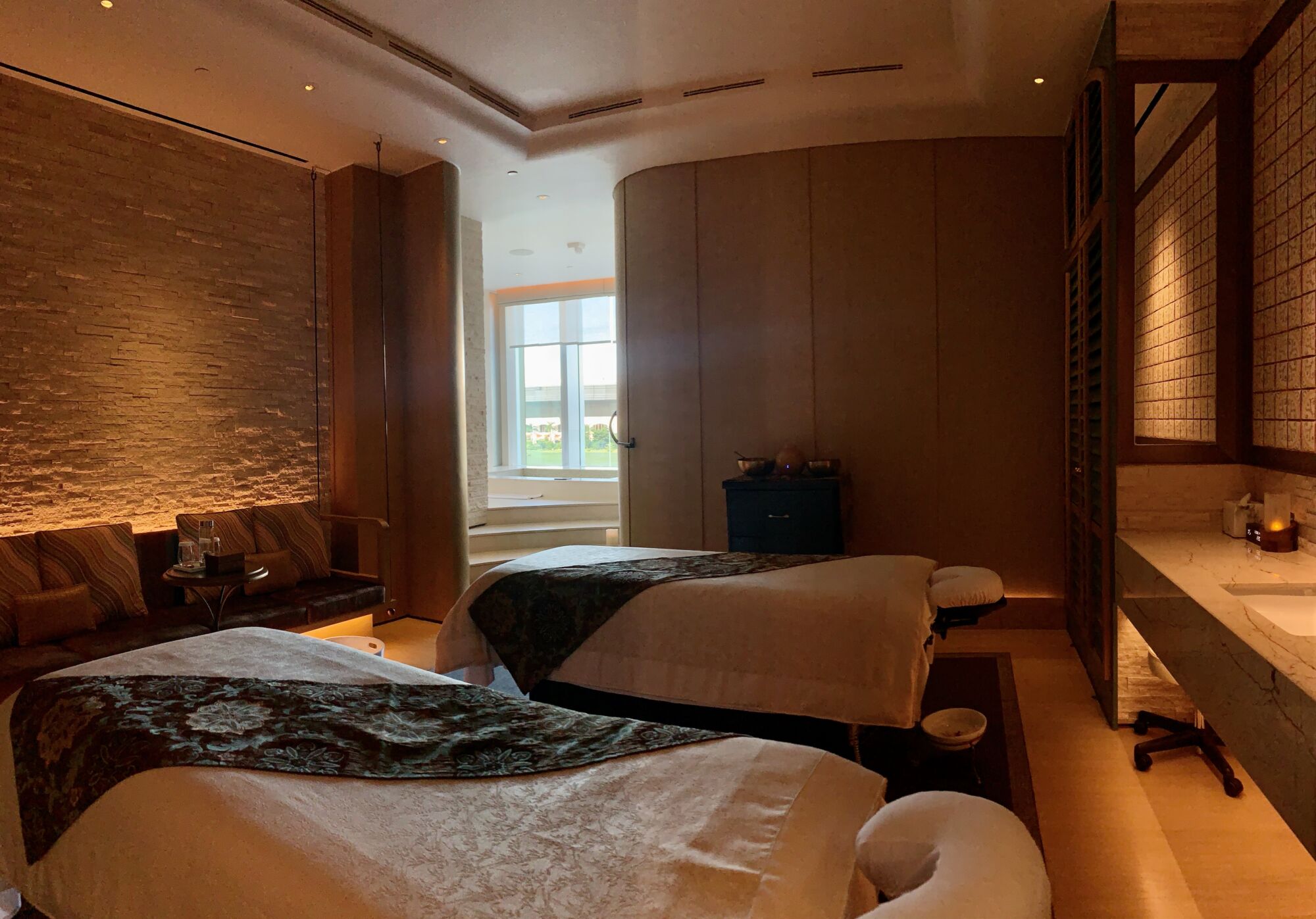 Tria Spa at MGM Cotai
With gorgeous and modern interiors, Tria Spa at MGM Cotai offers precisely what one looks for when going to such a place: serenity and silence. Once those doors close behind you, a new world awaits–at the waiting area, the wet facilities, and the private treatment room. Besides selling a wide array of beachwear and sports apparel, they also have beauty and skincare products. The common area–which is available to everyone who's booked a treatment with them–is equipped with state-of-the-art facilities, including the Caribbean shower–yes, you guessed it right, a shower offering chirping birds and thunder sounds and colors, with different water pressures. It recreates a holiday vibe while still in Macau.
They also have two kinds of saunas: the salt stone–equipped with a panel with 84 Pakistani minerals, ideal for detox; and the infrared sauna recommended for a collagen boost, plus skin issues. According to Tria Spa's staff, it's frequently used in hospitals to help with skin diseases like burns. These are three amenities you won't find anywhere else in Macau. There's also a vitality pool.
When it comes to the treatments, there's a wide variety to choose from. With more than 10 different full-body massages, 10 kinds of facials, and many other items such as body scrubs or foot treatments, Tria also has beauty services that include a hairdresser and nails. One can enjoy their wet facilities without booking a treatment for the cost of MOP $400.
Opening hours: Daily, 11:00am–11:00pm
Tria Spa MGM Cotai, Avenida da Nave Desportiva, Cotai, +853 8806 2733, www.mgm.mo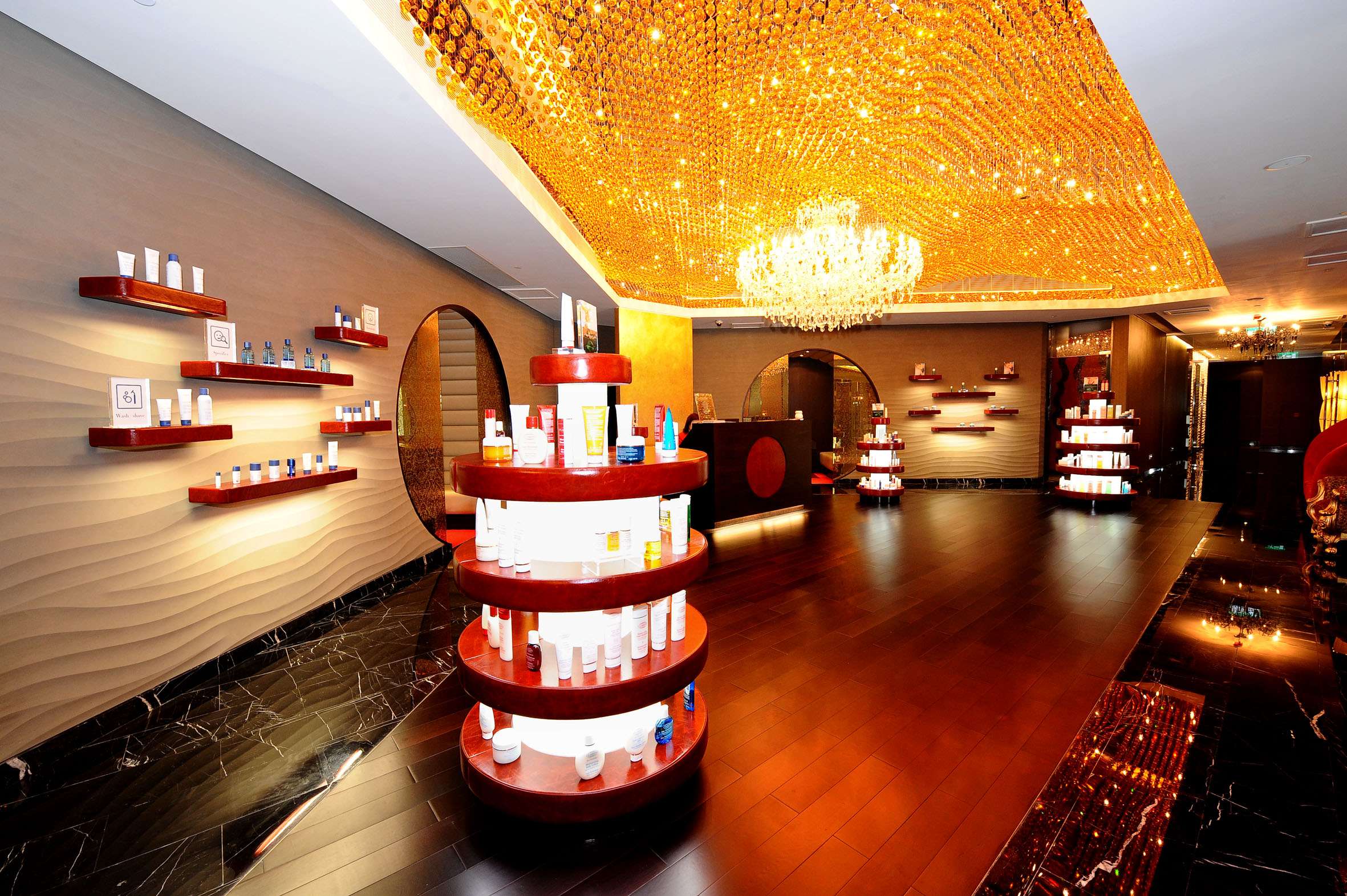 The Spa at Grand Lisboa
With the luxurious decor that Grand Lisboa got us used to already, The Spa at Grand Lisboa has a wide entrance with lots of products on display. Staff will meet, greet, and inform you all about the available treatments. They also offer different essential oils so you can choose the one best suited for your upcoming treatment. With the reception on level 5 and the private massage rooms on 6, each one of them has both a shower, a toilet, and a jacuzzi so customers can have a full-on experience before the treatment starts.
There are eight massages to choose from, but this is not all they offer: body treatments include contouring and firming, anti-aging, moisture, aromatic, and body wrap. Looking for a good facial? Grand Lisboa's the place to go! With seven different kinds, there are facials for men, others designed to hydrate, soothe the skin, or recovery. There are even more specific treatments that include bust firming, refining of the waist, exfoliation, foot reflexology, and much more! Interested in all their treatments? Check the full list here.
If you head there, do make good use of these, as they're for your enjoyment only and you can start relaxing before your session starts. You can also enjoy them after it ends, as some people prefer taking a quick shower after finishing.
Opening hours: Daily, 12:00pm–9:00pm
The Spa at Grand Lisboa Grand Lisboa Avenida De Lisboa, Macau, +853 8803 7703, www.grandlisboahotels.com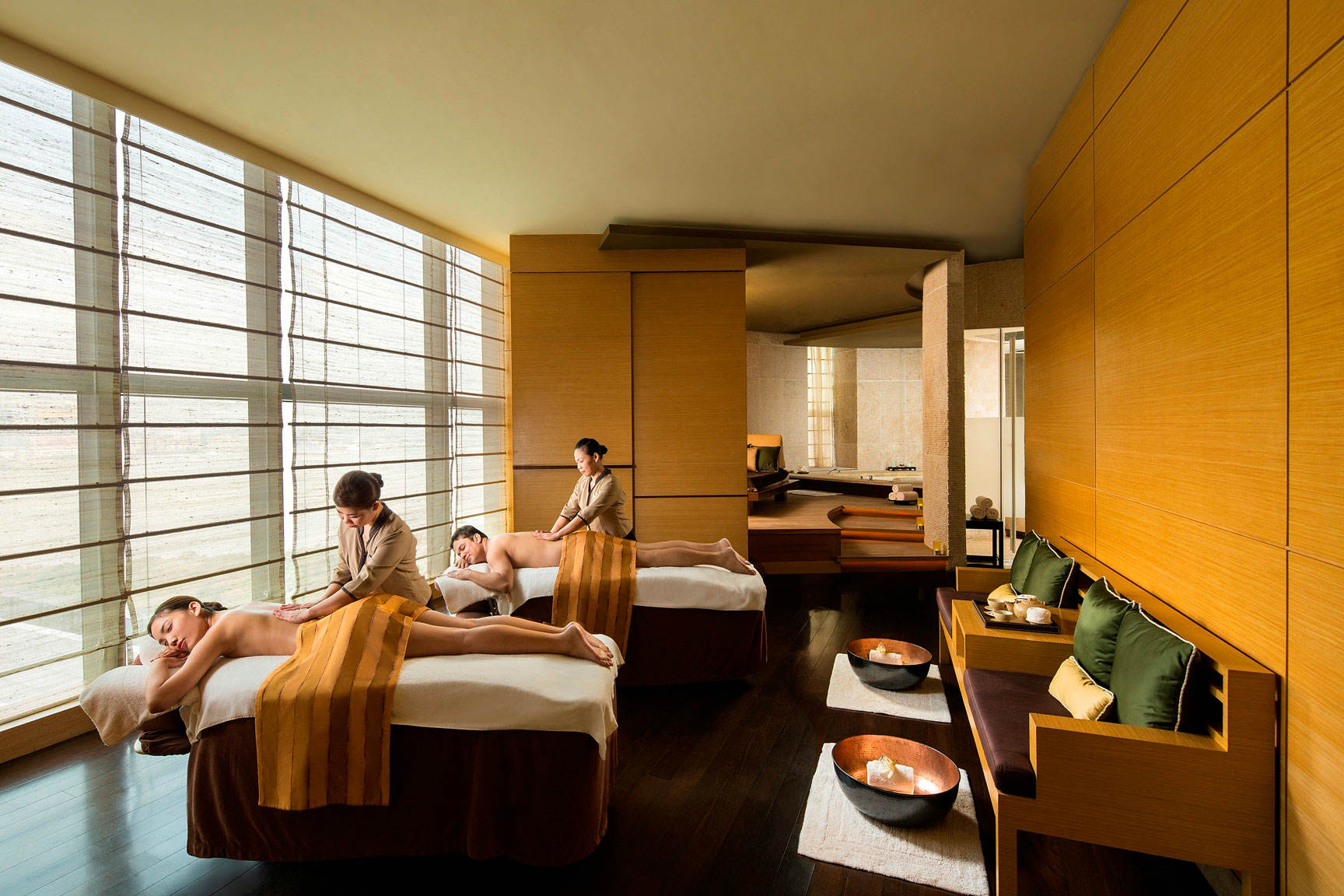 Altira Spa 
Yet another awarded spa in the city, Altira Spa, is located on the 15th level of Altira Macau in Taipa. The strategic location gives this sanctuary one of its greatest assets, a spectacular view from the floor to ceiling windows in the treatment rooms. Altira's water facilities deserve a special mention. There are vitality pools, rasul and experience showers, ice fountains, and a jacuzzi in each couple's room, so if you are an aquatic creature, Altira Spa is your element. Moreover, all guests get access to the indoor infinity-edge swimming pool and a state-of-the-art gym. So remember to bring a swimming suit and sports attire!
The spa menu includes treatments for the body and face based on the concepts of invigoration and replenishment. There are plenty of package rituals as well. The longest one is the four-hour Altira journey that features a lavender body wrap, Swedish full-body massage, renewal facial, foot massage, and an aroma bath. Altira's personalized approach is perfectly represented in the Intuitive Massage based on the needs and preferences of a guest. However, every treatment starts with a consultation to tailor an individual experience. Last but not least, Altira also accommodates a salon with a full spectrum of hair services, manicure, pedicure, and waxing.
Opening hours: Daily, 11:00am–9:00pm
Altira Spa Altira Macau, Avenida de Kwong Tung, Taipa, Macau,+853 2886 8888, altiramacau.com/en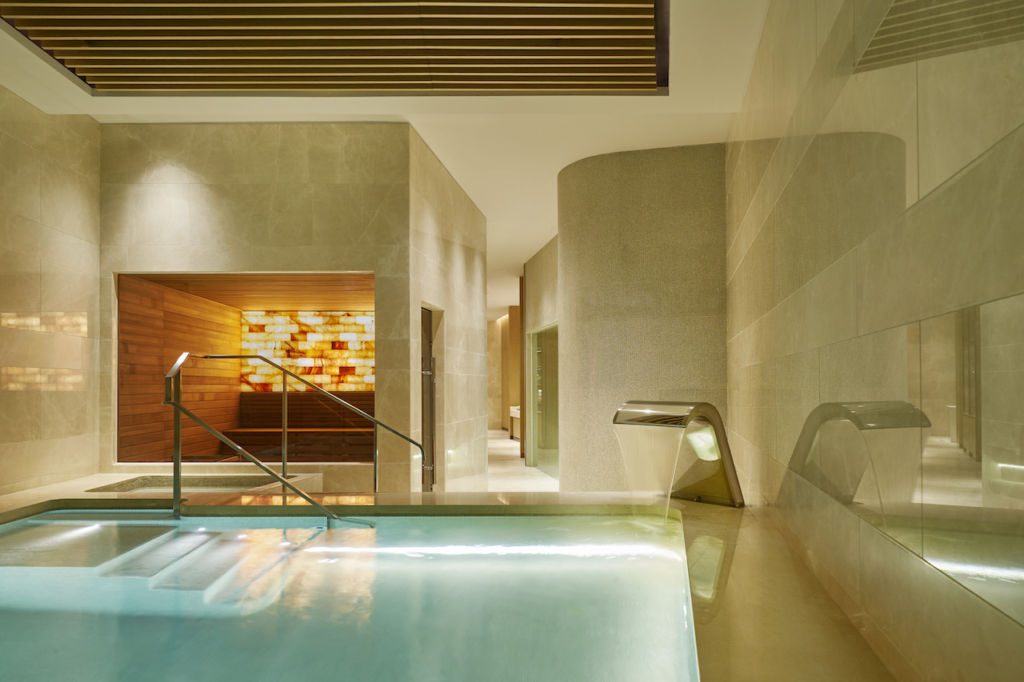 MORPHEUS SPA
This sanctuary is one of the most luxurious locations in the city. A pioneer of world-class treatments and skincare products from Subtle Energies of Australia and Margy's Monte Carlo can be found exclusively at Macau's Morpheus Spa. This is a magical place where nature meets modern science. Choose from a meticulously curated treatment to revive and energize you, inside and out. Your very own personal spa butler will greet and guide you through the exceptional space. Select from any of the six stylishly designed private treatment rooms. Relax in the steam room or Finnish sauna. Take a refreshing dip in the stunning vitality pool. Try Margy's Monte Carlo signature body massage. This soothing massage combines sports massage, shiatsu, drainage, and stretching for an energizing feeling. Warm lavender oil is applied to give guests a sense of deep relaxation too. It's priced at MOP $1,380 for 60 minutes.
Opening hours: Daily, 2:00pm–11:00pm
Morpheus Spa Morpheus Hotel, City of Dreams Macau, Estrada do Istmo, Cotai, +853 8868 3432, www.cityofdreamsmacau.com/morpheus
Also read: Margie Lombard Shares the Secret to Beautiful Skin at Morpheus Spa
The Spa at Wynn Palace
A place for royalty is the first thing that comes to mind when you visit The Spa at Wynn Palace. High-end details of design and interiors transport guests to a majestic atmosphere. Luxury blends with serenity in perfect harmony at this location. As it should be with inspiration for the space inspired by the legendary palaces of China. Having already received the coveted Forbes Travel Guide Five-Star Award, you're assured of the best service. From rejuvenating facials to transcendent massages and signature holistic body rituals, each treatment is custom-designed to suit the guests' needs. We recommend the Palace Tranquility Massage. It's a custom-tailored massage using specialized techniques gathered from worldwide therapies. This personalized experience is designed to encourage relaxation, release stress, and enrich your well-being. It's priced at MOP $1,000 for 60 minutes.
Opening hours: 11:00am–9:00pm
Wynn Palace Avenida Da Nave Desportiva, Cotai, +853 8889 3228, www.wynnpalace.com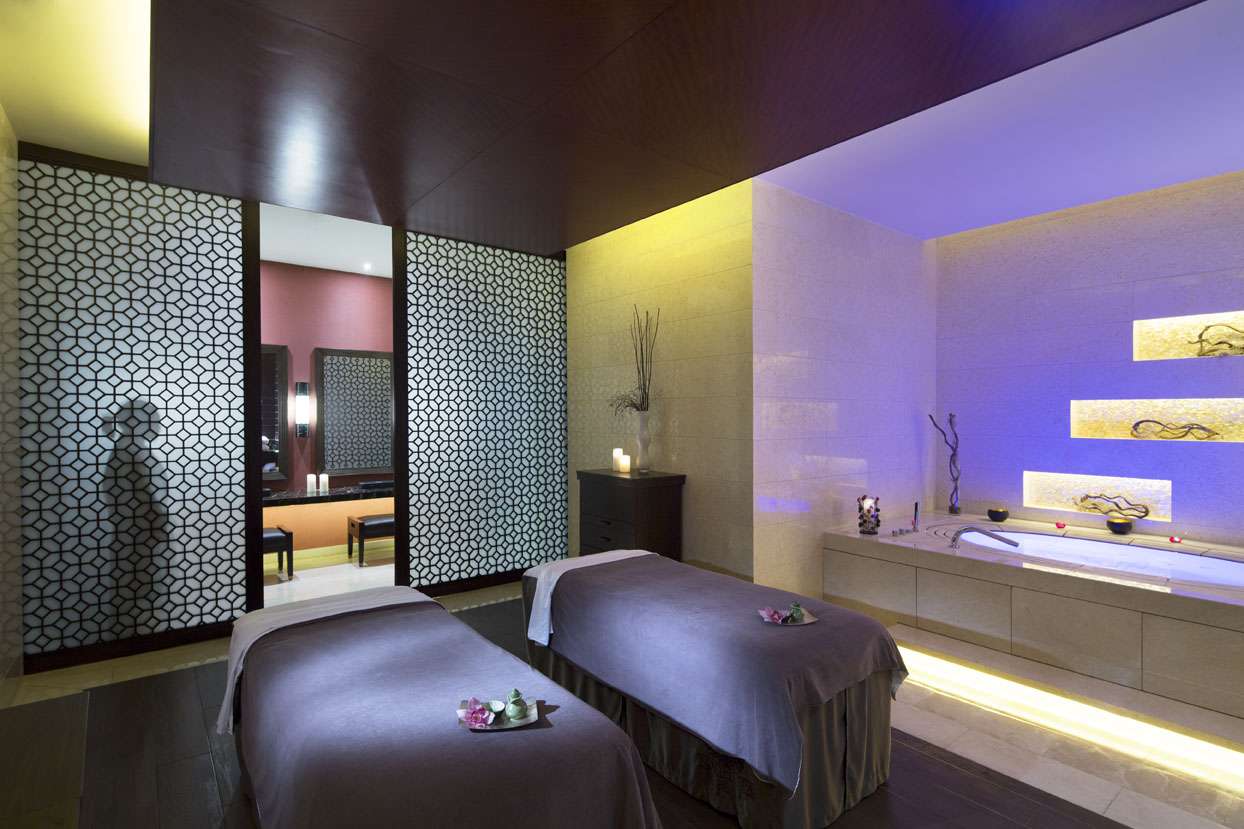 Bodhi Spa
Experts in aboriginal, ayurvedic, and Asian spa traditions, Bodhi Spa at Conrad Macao aims to restore your mind and body balance through a personalized approach. Comfortable suites with warm hues, wooden elements, and a serene atmosphere will help you switch from hectic mode to relaxed. While you sip on Chinese medicinal tea, a Bodhi specialist will guide you through the process and ask some questions to determine what works best for your needs.
The most wholesome ritual on the menu is a three-hour and a half Bodhi Retreat, a complex with body scrub, massage, and collagen facial. Athletes and fitness addicts should check out the muscle pain relief massages. Bodhi Sportsman Body Ritual releases body aches and unclogs pores, while Muscle Ease Back Therapy targets your tired back. Besides, Bodhi Spa is ideal for a romantic date as they offer several romantic treatments for couples.
Opening hours: Tuesday–Friday, 12:00pm–1:00am; Saturday–Monday; Public Holidays, 10:00am–1:00am
Bodhi Spa Conrad Macao Level 3, Estrada do Istmo. s/n, Cotai Strip, Macau, +853 8113 6188, www.londonermacao.com/bodhi-spa
Tags
Related Posts