Would you like to take a culinary tour of the Mediterranean without leaving your luxurious seat? A rich menu that will take your tastebuds on a journey awaits at Salisterra. The Upper House has unveiled its new unique dining concept at Level 49, one can expect a spectrum of colors and flavors straight from the Mediterranean. What sets this new dining destination apart from the vast choice that we have in our city is a combination of simplicity and sophistication.
At the helm of the menu and kitchen is London-based, Michelin-starred chef, Jun Tanaka who intertwines fresh and flavorful coastal cuisines from France to Italy. Chef Jun's ethos is rooted in a classical approach when it comes to principles of cooking but it's his focus on sustainable creations that sets him quite apart from his peers. In fact, it's one of the key characters that draws in discerning diners to the location. Chef de cuisine at Salisterra, Krzysztof Czerwinski, executes the menu perfectly with his team as Chef Jun Tanaka is overseeing everything from London.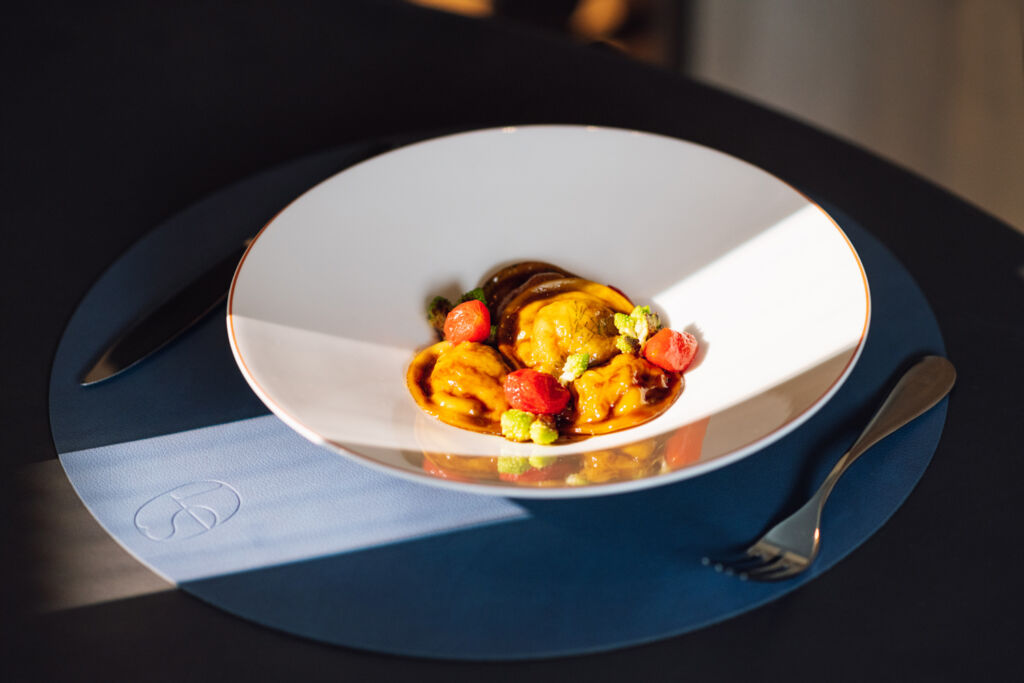 On The Menu
The essence of Salisterra's menu is an understanding of the importance of exceptional produce. Additionally, Chef Jun reiterates that having a healthy respect for it means integrating sustainability efforts. You'll find impressive dishes including seven types of pasta that are hand-crafted including ossobuco tortellini, langoustine ravioli and duck agnolotti at Salisterra. The ossobuco tortellini was our table favorite and crafted beautifully, the only issue is sharing the delicate dish–you won't want to! Viennoiserie is also made fresh daily in-house along with succulent meat offerings including grilled lamb cutlets with purple sprouting broccoli, anchovy and apricot vinaigrette, and Japanese baby red snapper with lemon confit, miso, fennel, and radish. Even the wine menu might take you in for a surprise as it explores smaller, sustainable producers and celebrates the historical significance of the Mediterranean vineyards. Along with this new concept, comes a whole new bar menu too and we really enjoyed trying their signature cocktails and mocktails.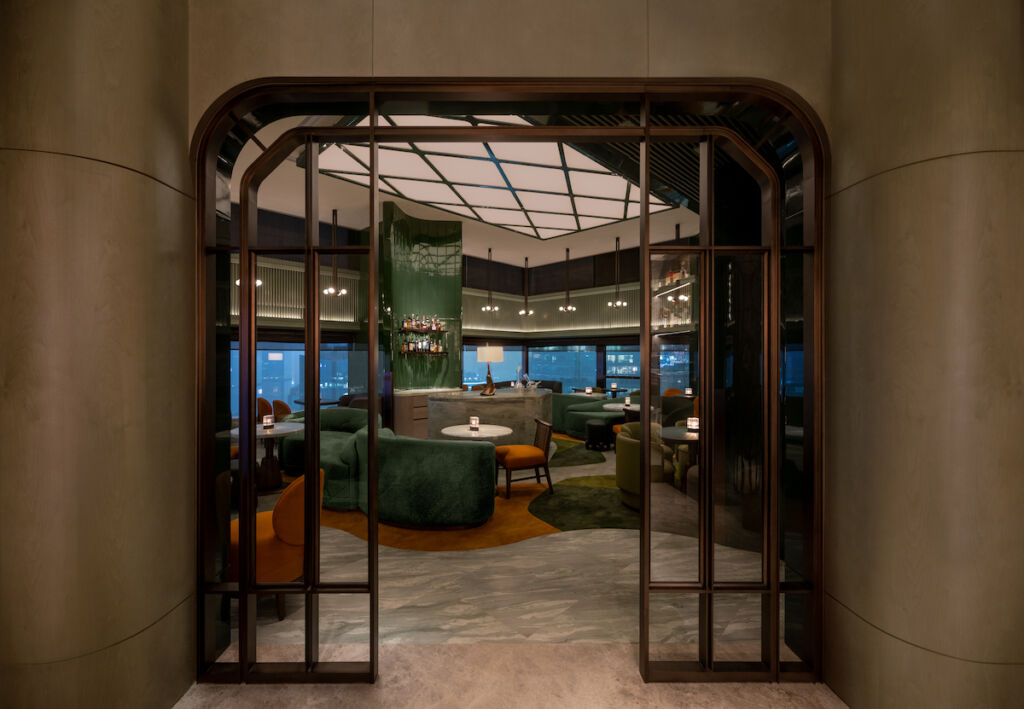 The Vibe
Bold and vivid colors dominate the space at Level 49 where five distinct spaces are set apart in various hues of terracotta orange, mud burgundy, mineral blue, dusty turquoise, and golden caramel. The main dining room is adorned with a bespoke five-meter chandelier that is made up of over 80 glowing glass lanterns. Adjoining that area, diners can choose from three semi-private dining booths. Each booth showcases an elevated counter table in Azul Montelli marble from Italy and a whimsical cut-glass globe pendant hung by a vast upside-down copper cone base. One will also fall in love with the private dining room designed to present a chef's table experience. The bar lounge is reminiscent of an oasis inspired by a world of olive trees, pistachio, and vine trellises. Salisterra simply whisks guests away in a magical experience. It's impressive to see how they have transformed this space yet have retained the essence of what dining at The Upper House has been all about. Great service, sophisticated setting, and delicious food.
Sustainability
If there's one more thing we admire about the team behind Salisterra, it's their move towards implementing more sustainable practices. From an in-house water filtration system to concrete efforts of reducing the carbon footprint and single-use bottles, we are delighted to see that luxury and sustainability can go hand in hand.
Also read: Wake Up Here: The Upper House Hong Kong
---
Opening hours: 6:30am–11:00am (Breakfast); 12:00pm–2:30pm (Lunch); 3:00pm–5:00pm (Afternoon Tea); 6:00pm–10:30pm (Dinner)
The Upper House Hong Kong Pacific Place, 88 Queensway, Admiralty, +852 2918 1838, www.upperhouse.com
Tags
Related Posts