Mandarin Oriental, Macau is tantamount to the utmost in hospitality with breathtaking views of Macau, artisanal bakery and patisserie, all sumptuously decorated for the discerning guest. The fantastic team behind the bar counter is active in the local cocktails industry, coming up with unique and flavorsome drinks. Another facet of Mandarin Oriental, Macau is their dining options which range from all-day dining to elegant afternoon teas. From healthy breakfast items to wholesome meals and even tea sets, Lobby Lounge is the go-to place for something simple yet unique and original when it comes to flavor. Spring brings change and thus, the team at Lobby Lounge is keen to showcase a special and new combination of both Western and Asian dishes. The brand new dishes include kimchi hotdogs, Vietnamese style banh mi, and two interesting additions made with Impossible Foods or "meat made from plants" as how the company puts it. Vegetarians rejoice with the addition of dan dan noodles and a refreshing avocado burger, perfect for those afternoon catch-up sessions!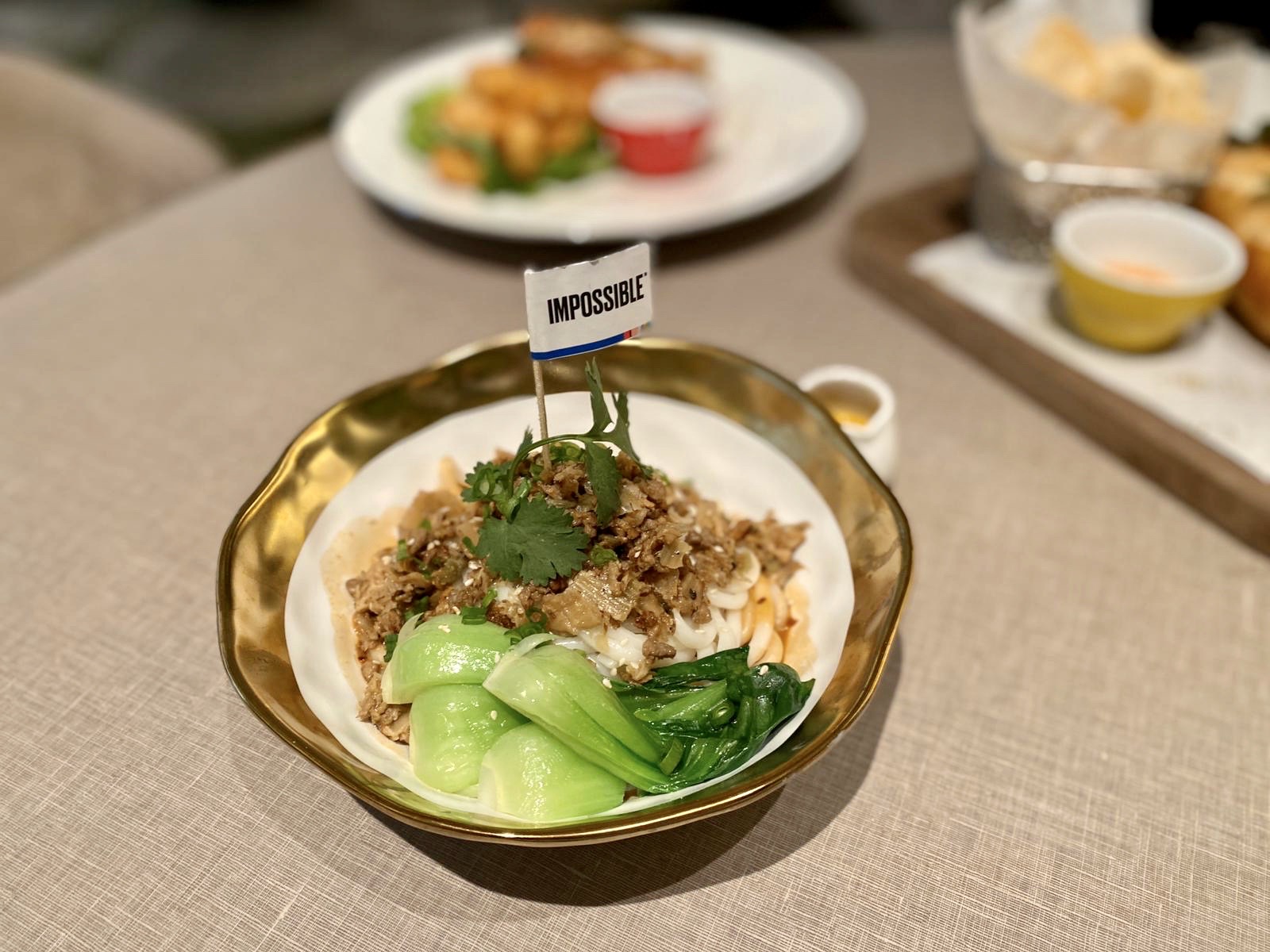 Impossible Dan Dan Noodles 
One of their bestsellers and surely a must-try, the Impossible dan dan noodles' most striking flavor is surely peanut. Made with peanut oil and chili, a mix of "meat", onion, garlic and other delicious ingredients, this is a very popular recipe traditionally from Sichuan, China. Usually made with soft, thin noodles in a slightly thick broth with a strong peanut flavor, at Lobby Lounge, chefs opted for a lighter, yet more fragrant and mildly spicy version.
The novelty of their dan dan noodles resides in the "meat". Instead of pork, as it's usually made with, Impossible Food's meat is utilized. The brand is known for making plant-based meat that looks, smells and tastes just like regular meat. If you're vegetarian or want to try Meatless Mondays, order up a serving of guilt-free dan dan noodles for lunch!
Kimchi Dog
Once again being exceptionally innovative, Mandarin Oriental, Macau's kitchen team brings us this newly added dish, the Kimchi Dog which is essentially a traditional hot dog with a Korean flair. The pork sausage is placed on lettuce and then wedged in a fluffy homemade bun, topped with mozzarella cheese, gochujang mayonnaise and the star of the dish, kimchi. Served with your choice of french fries or tots and flavorsome condiments, this is definitely a dish that's great for sharing but we wouldn't blame you if you want it all for yourself!
Kimchi originates from Korea and it is basically, spicy fermented cabbage. Although many Asian countries pickle vegetables similarly, its flavor is quintessentially Korean. On top of the taste of the kimchi, we appreciated the flavor of the freshly made bread and combined with the pork sausage, kimchi seasoning and melty cheese, it hits the spot as a not too heavy lunch option.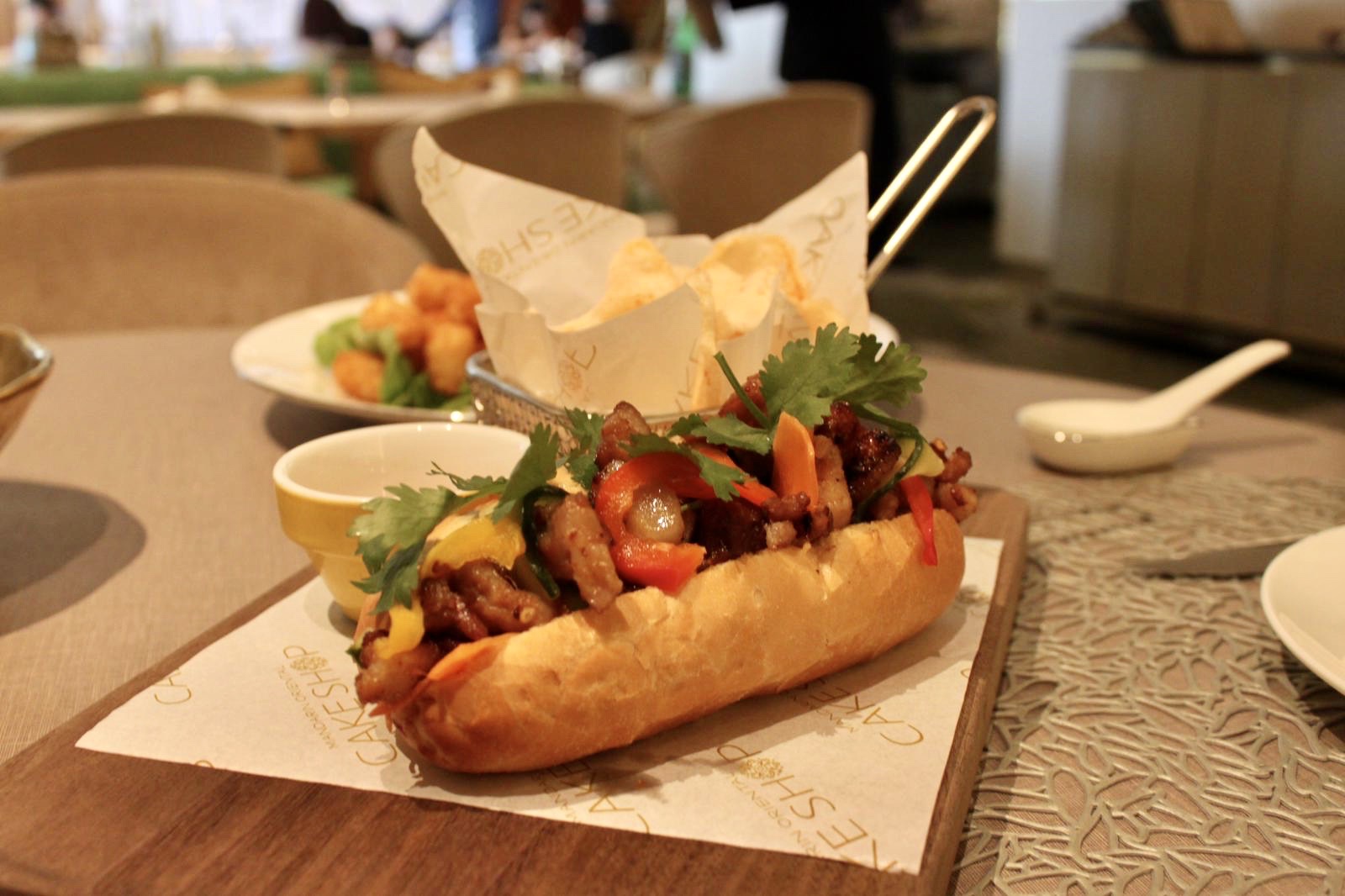 Banh Mi
With this traditional addition to their menu, Mandarin Oriental, Macau elevates street food by enhancing its presentation and choosing the best ingredients. One such example is the baguette which was soft on the inside and crunchy on the outside. The best thing is that the baguette is made fresh, every day! Inside the baguette you'll find lots of delectable parts that make up this appetizing banh mi. Perfectly seasoned grilled meat and pate are well balanced with the pickled vegetables and fresh cilantro all stuffed into a crispy baguette!
Lobby Lounge's banh mi will certainly take you to Vietnam and evoke memories of having a sandwich from a roadside stall in Ho Chi Minh City while exploring the city. This version comes with prawn crackers, seasoned with paprika plus a fresh and piquant sauce to accompany the dish! The paprika greatly balances the flavors of the meat with the bread and crispy prawn crackers provide a change in texture that's very welcome.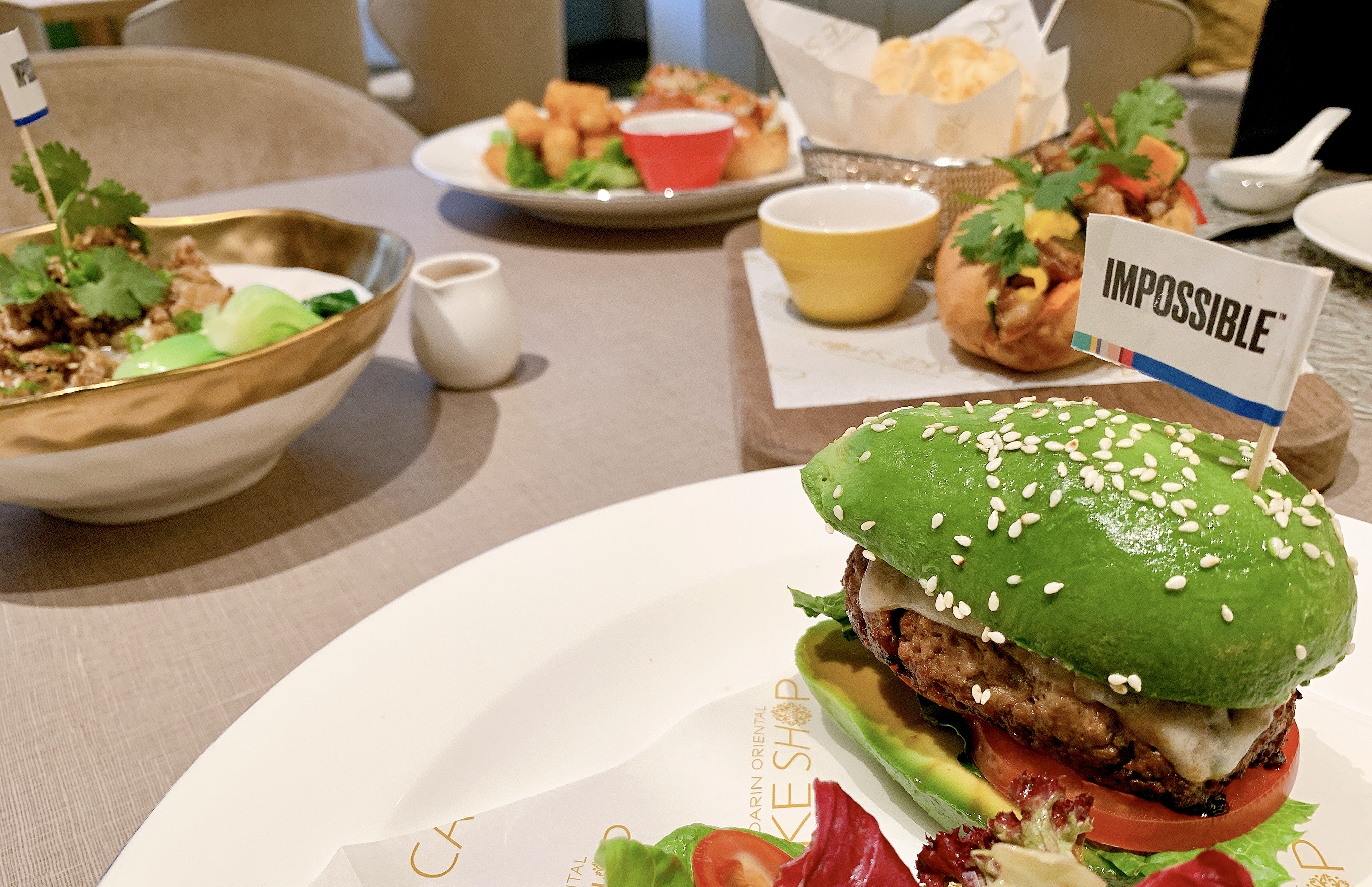 Avocado Burger
Yet another item made with Impossible Foods, broadening the options of places to eat for vegans and vegetarians in Macau is the Avocado Burger. What we first thought to be a green-colored bun was in fact one half of an avocado, with the other at the bottom of the burger. This was definitely one of the best dishes to photograph with its striking colors and it tasted amazing to boot! Made with the freshest ingredients, it allows guests to indulge in a burger without the usual heaviness associated with such a dish, offering something refreshing on these warm Macau days.
After cutting into the smooth avocado half, one encounters a perfectly grilled Impossible patty with melted cheese on top and some salad. Truly colorful and totally ideal for anyone's Instagram feed, this is a wholesome, flavor-filled, and healthy dish that's perfect for those who may be watching their diet. With a salad on the side, there's a spectrum of textures with the warm and soft burger coupled with the fresh and crispy salad leaves.
Grabbing lunch at Lobby Lounge has gotten much more colorful with their new menu additions. Round up your vegetarian and vegan friends and have your next meatless meal here or have your next get together over some kimchi dogs and banh mi!
---
Follow them on Facebook and Instagram @mo_macau for more updates
Lobby Lounge Mandarin Oriental, Macau, 1/F, 945 Avenida Dr. Sun Yat Sen, NAPE, +853 8805 8888, www.mandarinoriental.com/lobby-lounge
Brought to you in partnership with Mandarin Oriental, Macau
Tags
Related Posts