Went to Kuala Lumpur and fell in love with nasi lemak? Reached Penang and can't forget the char kuey teow you had for brunch? Now you're back in Macau and it's been difficult to find places with your most recent addiction so we're here to help! With a strong use of shrimp paste, but also noodles and steaming hot soups, Malaysian food is as comforting as it gets. Common Malaysian dishes include laksa–also very popular in neighboring Singapore–nasi lemak and others one might not be so familiar with, like "bak kut teh" or satay (meat skewers) with peanut sauce. Malaysian dishes have flavors that range from mild to spicy made of different herbs, spices, and ingredients that perfectly reflect the melting pot of cultures that Malaysia is. Here're our top selections of restaurants in Macau serving up Malaysian food and flavors to satisfy any craving!
1983 Taste of Nanyang
(See featured image above)
Set in The Parisian Macao's food court, 1983 Taste of Nanyang serves an array of Southeast Asian dishes, especially from Singapore–as it's a chain originating from this country. Unfortunately, their menu isn't that extensive when it comes to Malaysian delicacies. However, the laksa here is really worth the trip. With a strong fish and seafood taste, the soup is enriched with spices and chili, while the shrimps are fresh. It also comes with a hard-boiled egg, some vegetables, and tofu in the mix. Also, don't miss the chance to shoot great pictures for that feed of yours, as this is one of the most colorful Malaysian dishes! The curry here is also pretty amazing so don't pass on this one either.
Opening hours: Daily, 11:00am–7:00pm
1983 Taste of Nanyang 558, Place Vendome, Level 5,  The Parisian Macao, Estrada do Istmo, Lote 3, Cotai, www.parisianmacao.com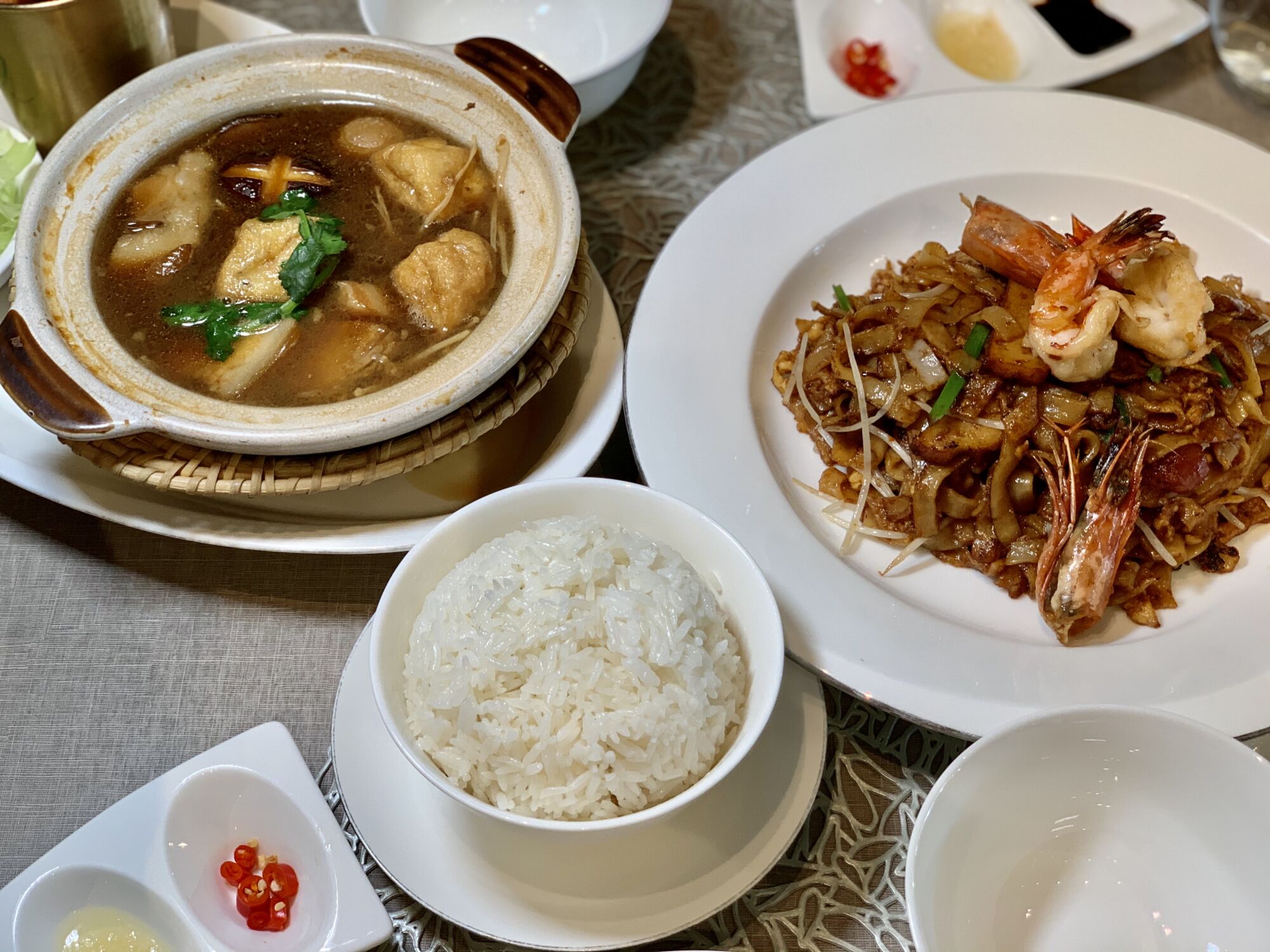 Lobby Lounge at Mandarin Oriental, Macau
There's an array of Malaysian dishes to try at the Mandarin Oriental, Macau's Lobby Lounge! This beautiful and modern restaurant serves such great food that it's always difficult to choose. This time, we went for both the "bak kut teh" soup and "char kuey teow"–wok-fried flat noodles with prawns, egg, Chinese pork sausage, chives, bean sprouts, fishcake, and spicy chili paste; wonderful choices indeed. The bak kut teh was made with a rich yet subtle pork bone and soy sauce broth, with fried tofu and pork, plus mushrooms and lots of seasoning. These dishes are truly Malaysian, so don't miss the chance to try them if you're feeling like Kuala Lumpur is calling your name!
Opening hours: Daily, 9:00am–10:00pm
Lobby Lounge Mandarin Oriental, Macau, 945 Avenida Dr. Sun Yat Sen, NAPE, Macau,+853 8805 8888, www.mandarinoriental.com/lobby-lounge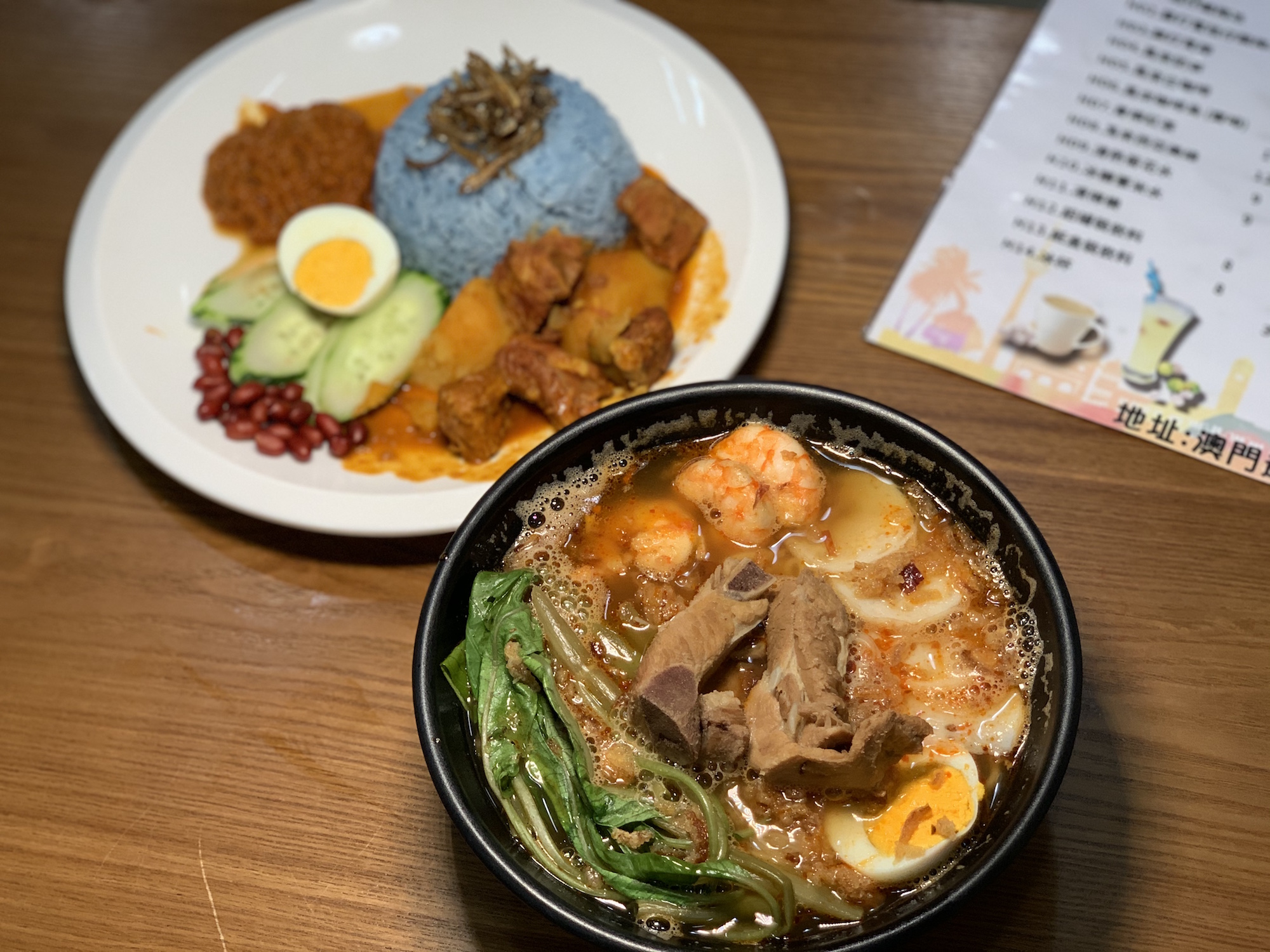 Ma Loi Tong 馬來東
A tiny restaurant set in the street between Kiang Wu Hospital and Camões Garden, Ma Loi Tong–which only has three green Chinese characters on a red background–serves traditional Malaysian delicacies. From bak tuh teh to several noodles soup and rice-based dishes, it's certainly the to-go spot for some foods from this country. The nice owner is a Malaysian who married a Chinese citizen. The couple then started their life in Macau, where they decided to open an eatery serving the best of the best.
Their nasi lemak is very spicy with a slightly sweet and thick sauce on the side called sambal plus a curry-like sauce on the potatoes and tender meat. Topped with dried fish and a boiled egg and vegetables on the side, the whole peanuts gave the dish a crunchy texture with each spoonful. The rice is blue because the chef uses a blue orchid flower essence! The shrimp noodle soup has a strong scent of freshly cooked shrimps with a clear broth that comes steaming hot from the kitchen. It also includes boiled egg, fishcake, prawns and it can be quite spicy. However, as the owner says, "The spicier, the better!". For updates on their rest days, check their Facebook page.
Opening hours: Daily, 11:00am–10:00pm
Ma Loi Tong 馬來東 24 Rua do Coelho do Amaral, Macau, +853 2853 1119, www.facebook.com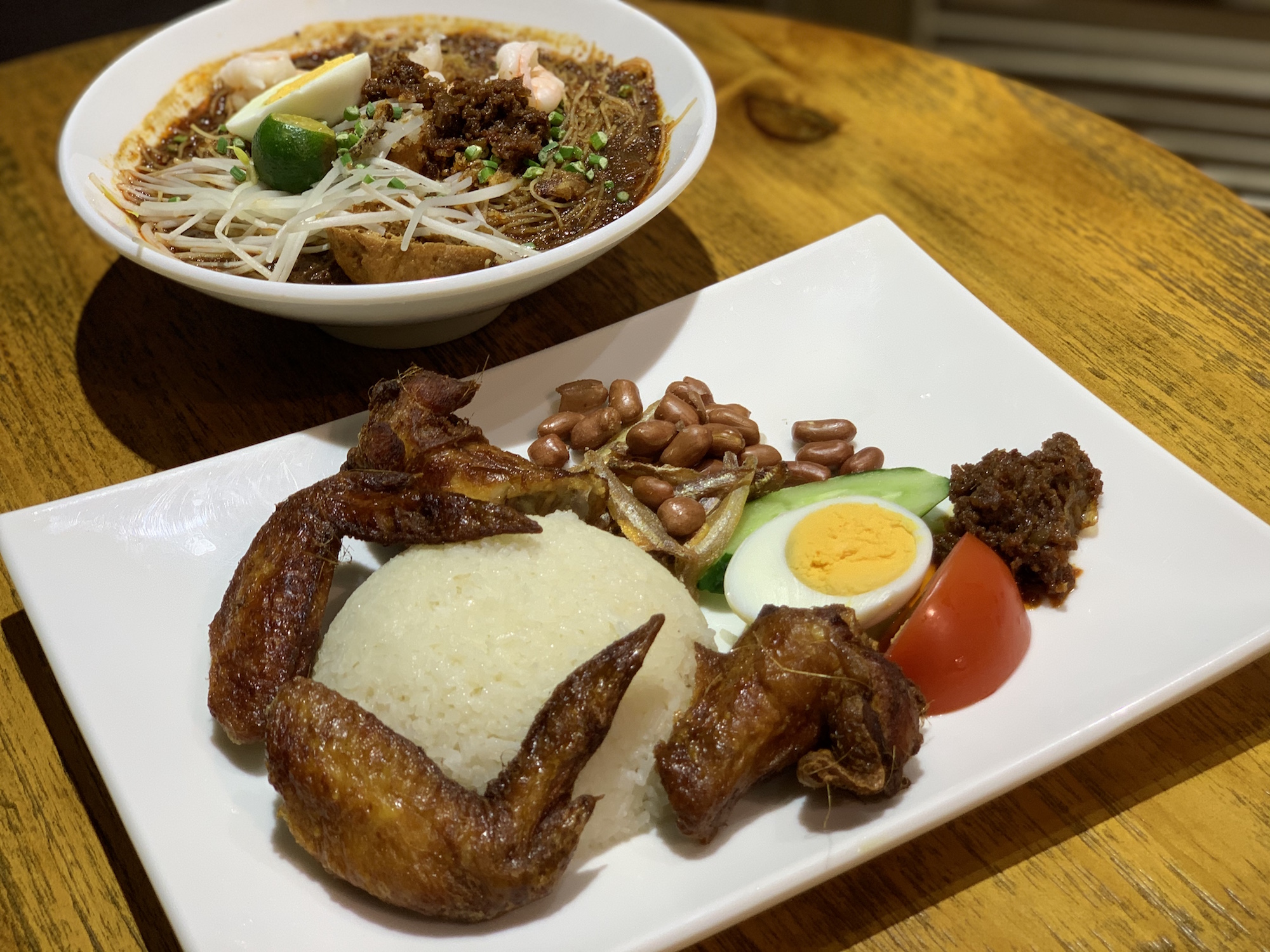 Nanyang Kopi
Made by stir-frying rice vermicelli with some chili paste, mee siam has a dark brown color and lots of spices in it. With fresh shrimps on top and some lime to add to–and give it a light touch–this is a must-try Malaysian dish. We also ordered Nanyang Kopi's nasi lemak, this time with chicken, which is roasted and includes steamed rice, fresh vegetables, boiled egg, and one of this country's key ingredients: sambal sauce. These two are a great order to share when heading to this place with friends and family. The restaurant was full during lunchtime, which can only mean one thing: it serves good food. It's ideal for lunch or snacks as it closes early, before 9:00pm. For updates, check their Facebook page.
Opening hours: Daily, 7:30am–8:30pm
Nanyang Kopi 96-126 Rua do Guimarães, Caravel Hotel, Macau, +853 6555 8714, www.facebook.com/nanyangkopi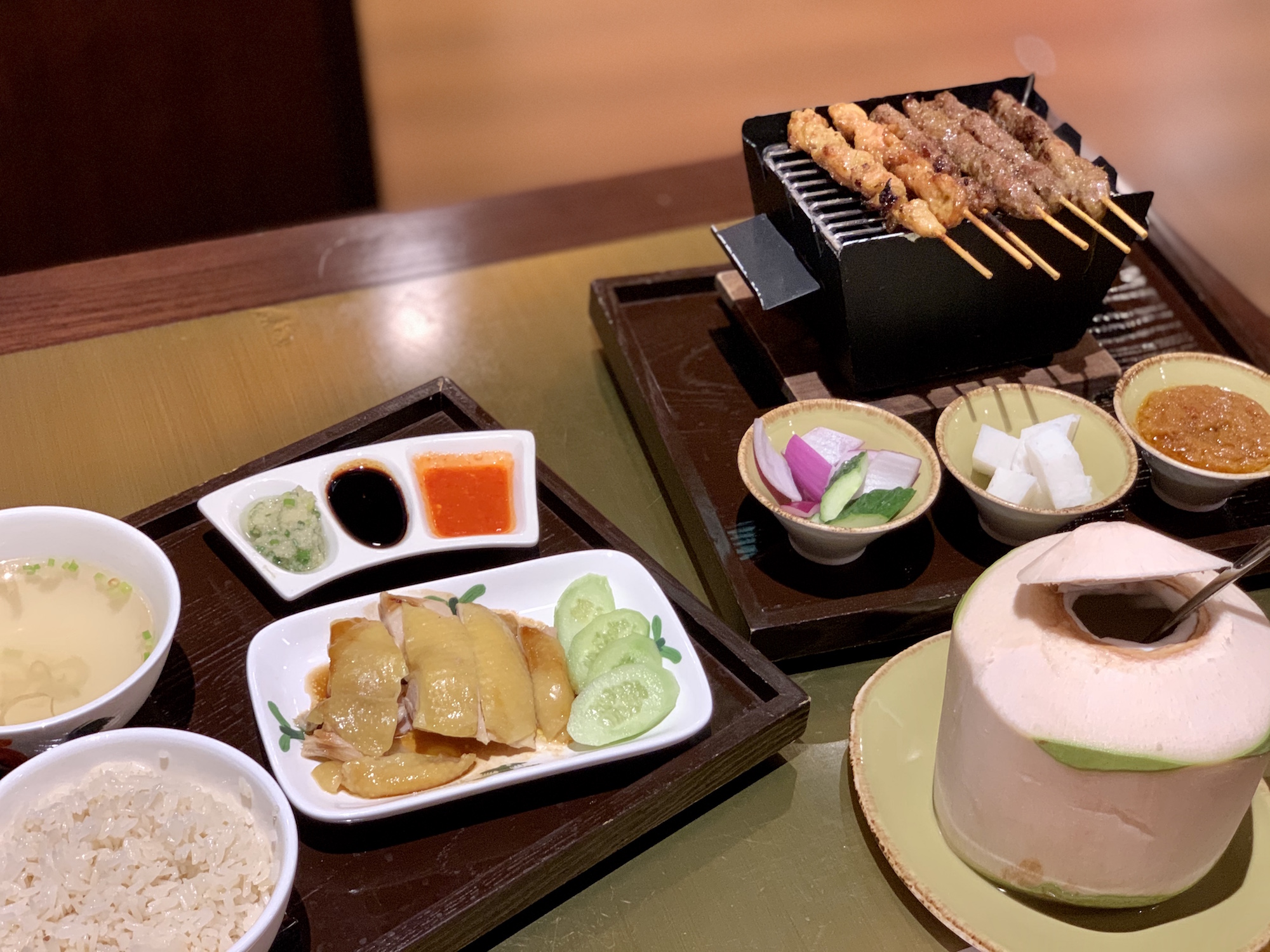 Spice Road
Spoiler alert: These are some of the best Malaysian food we've had in Macau! Spice Road offers an extensive menu with all things Southeast Asian. There are numerous places in Macau serving Hainanese chicken with rice, but this one really is fragrant, as it says on the menu. The chicken–seasoned with soy sauce–is tender and there are more sauces to add if you want, including the typical ginger with spring onion, that goes very well with this delicacy.
The rice has a strong garlic flavor and the complimentary chicken broth make for a harmonious combo. As for the beautifully presented assorted meat skewers–they come on a make-believe mini grill–just one thing: mouthwatering. Glazed with something sweet yet savory because of the meat seasoning, these go very well with the spicy peanut sauce and "pressed rice", also very popular in Indonesian cuisine. Spice Road also serves "bak kut teh", nasi lemak, and some other Malay delicacies. Portions are big, ideal to share amongst friends and family, but also a great way to experience different flavors all in one meal! You can check the whole menu here and start planning your lunch or dinner.
Opening hours: Wednesday–Monday, 12:00pm–3:00pm, 6:00pm–10:00pm
Spice Road Shop 1191, Level 1, Studio City Macau, Estrada do Istmo, Cotai, +853 8865 6640, www.studiocity-macau.com
Tags
Related Posts