What does Macau and Monte Carlo, an administrative area of the Principality of Monaco, have in common? Well, a lot actually. Both are gambling centers, both are among the wealthiest places on Earth, and both welcome millions of tourists annually. Monte Carlo and Macau also appeared in James Bond movies. This summer, these two beautiful cities will share one more thing in common – both will have an outlet of the classic French-style Café de Paris Monte-Carlo. Yes, Café de Paris, Galaxy Macau™ has just opened and our city now has its own outlet for this historic café. It is yet another amazing gastronomy destination amongst the array of outstanding dining venues at the mega-resort.
The original Café de Paris in Place du Casino is celebrating its 150th anniversary this year. It has become Monaco's emblem and is a must-visit spot for breakfast, lunch, or a refreshing drink on a terrace, surrounded by stunning landmarks.
Authentic Atmosphere 
The new Macanese sibling of the historic establishment perfectly captures the ambiance of a French-style café. Waiters gracefully float between tables, and the Belle Époque design and classic French dishes make you feel you are on the French Riviera. As you soak in the relaxing atmosphere and enjoy the piano soundtrack, take a look at the photo gallery featuring black and white photos of Monte Carlo's landmarks, the stunning Princely Family, or read about Monaco Grand Prix and its winners over the years. Once you are escorted to your white-clothed table by the smiley hostess, the beautiful stained glass décor will catch your eye.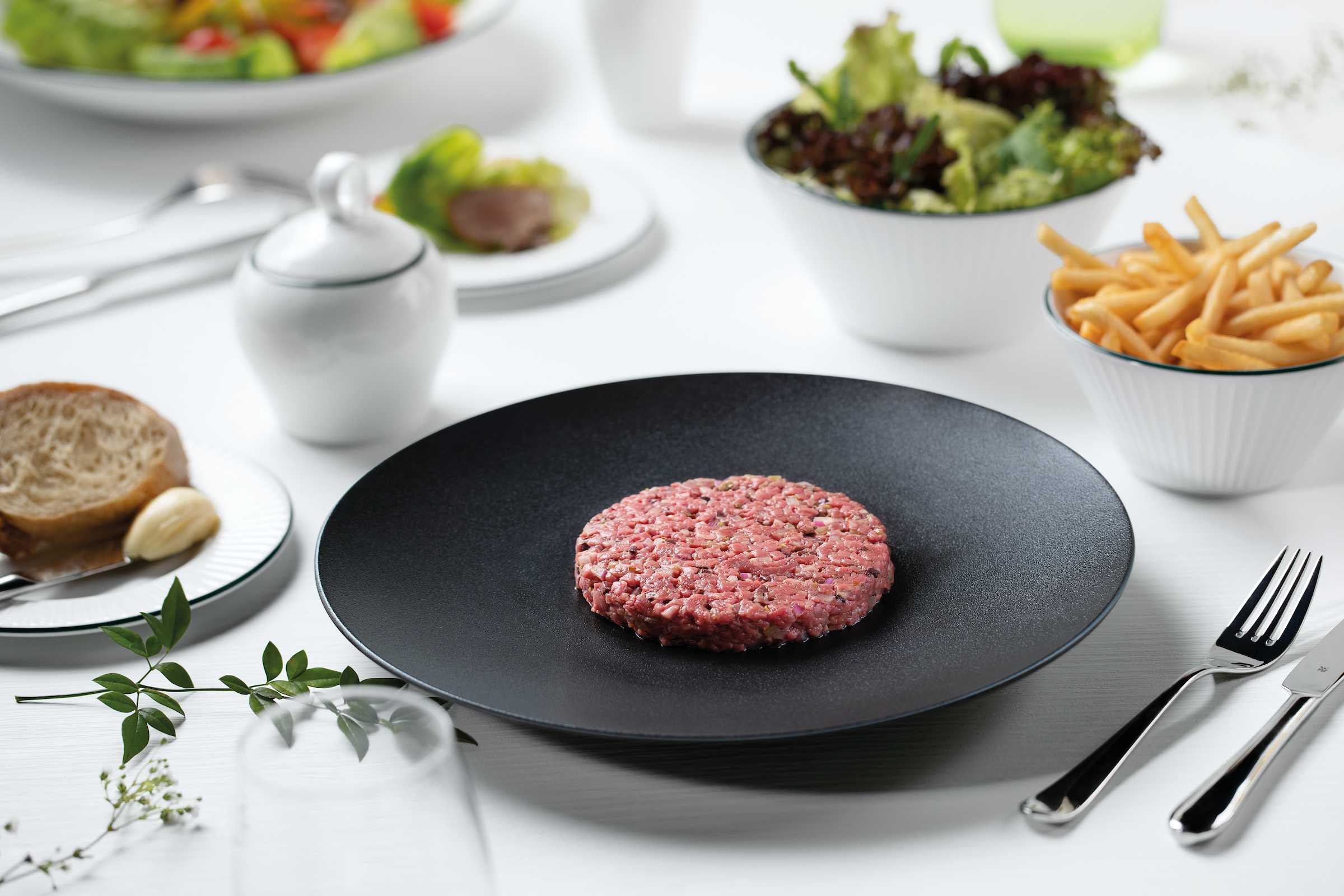 Culinary Classics
Café de Paris Monte-Carlo offers both French and Asian options for guests to enjoy. We decided to go for the chef's recommendations and started with some French old classics, Onion Soup and Steak Tartare. Onion Soup, a humble but iconic French starter, originated in 18th century Paris. Here it is skillfully executed with a modern recipe based on beef broth and caramelized onions, covered with grated and melted Comté cheese. The rich flavors come together to create a perfectly French ensemble.
The Steak Tartare is served with French fries, mixed salad, and a waiter's thoughtful remark, "you can always adjust the tartare to your liking". So feel free to add more or fewer onions, make it spicier or reduce the heat a bit. But we all know that the key to an excellent tartare is fresh high-quality meat (prime beef). You can't really mask the flaws of meat like beef with marinade and spices. In Café de Paris Monte-Carlo you can actually taste the tenderness and juiciness of the beef used in this dish, which is beautifully complemented with a balanced marinade. It wouldn't be an exaggeration to say this starter (even suitable as a main course) was the star of our lunch and a dish to come back for.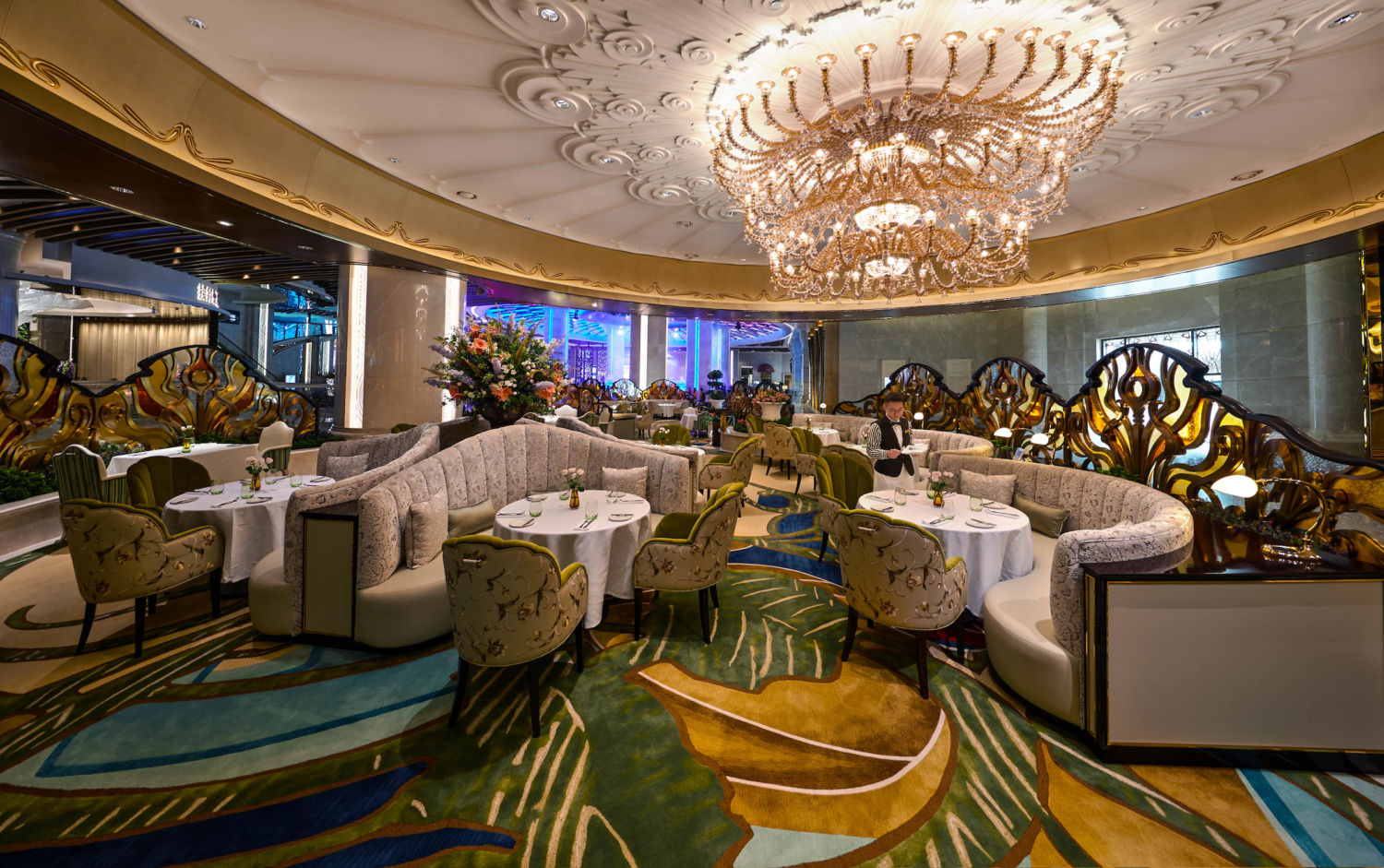 Entrapping Entrées
It was a true challenge to pick the main courses – all of them seemed tempting. We agreed on Trout Meuniere and Lobster Thermidor, two representatives of French cuisine. Trout Meuniere, a flaky white fish sautéed to perfection a la Meuniere, a preparation method that once left the renowned chef Julia Child in awe. The simplicity of the ingredients (flour, parsley, butter, oil, and lemon) conceal a flawless technique of the chef.
While soaking our bread in the Meuniere sauce, the lobster arrived and grabbed our attention. It looked delicious on the plate and the flavors did not disappoint either. This one clearly requires outstanding cooking skills and took quite some time to prepare. It's no surprise that this is considered a dish for special occasions. This was our first time here so it was definitely a special occasion. The lobster was incredibly delicate and the creamy cheesy sauce didn't overpower it.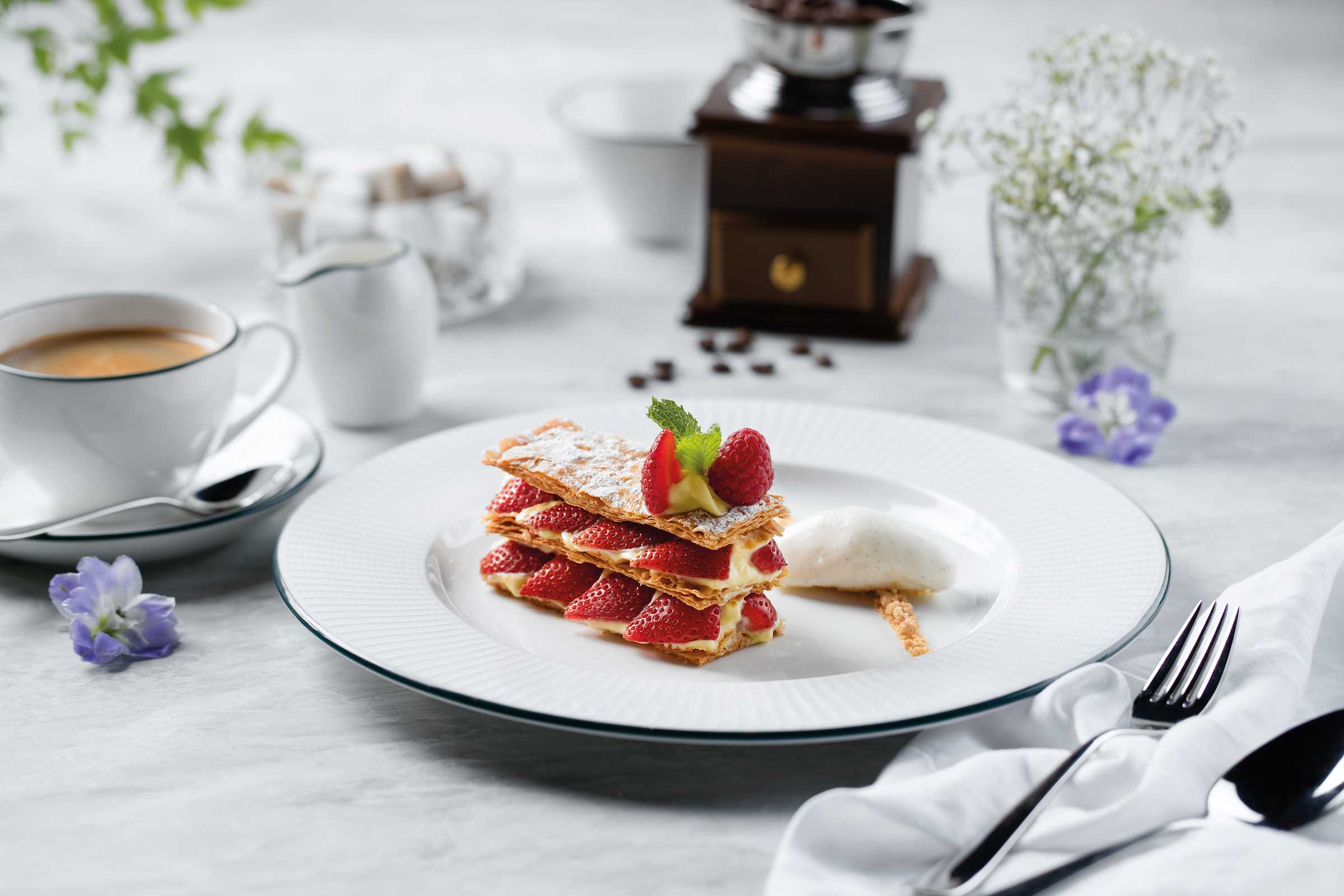 Sweet Surrender 
To conclude our journey to the South of France without leaving Macau, we ordered some desserts. One simply can't leave a café without a sweet treat. We felt it was our responsibility to try both of chef Sylvian's recommendations – Créme Caramel and Strawberry Millefeuille Prince Albert? The Créme Caramel is a classic recipe – light and not too sweet. It's a nice little option if you crave a dessert, but don't feel like eating too much. The Millefeuille meanwhile is definitely something to come back to Cafe de Paris for. Spot on puff pastry with cloud-like cream and fresh strawberries, it is believed to be Prince Albert's favorite and now it's also in our list of top pastries in Macau.
On our way to the exit, a beautifully displayed afternoon tea tray with more tempting desserts catches our eye and gives us yet another reason to come back to Cafe de Paris Monte-Carlo and dive into the Frenchness one more time.
With 150 years of excellence combined with a French chef mastership and a unique French café atmosphere, Café de Paris Monte-Carlo in Galaxy Macau is a place to visit not only this summer but for many years to come.
---
Café de Paris Monte-Carlo Galaxy Macau, Estrada da Baía da Nossa Senhora da Esperança, Cotai, +853 8883 2221, www.galaxymacau.com
Tags
Related Posts