There is an incomprehensible beauty in the culinary intricacy of the Indian Cuisine that the concept entails a deeper understanding of spices, techniques and composition to achieve the perfect balance of taste. Macau is a melting pot of diverse culture and it is also home to a completely incredible Indian Restaurants that cater to discerning diners and those who yearn for a genuine taste of India.
The Golden Peacock restaurant has achieved immense popularity from visitors and food critics from the day of its opening. Having achieved a one-star rating in the Michelin Guide for Hong Kong and Macau for three years in a row, this Indian restaurant has a charm unlike any other in the city.
Walking through the beautiful interiors adorned with a peacock theme as an ode to its name, the decadence of the Indian Culture provides a luxurious atmosphere. From the small details of gold leaves embedded through the entrance to the striking Tandoori oven, you're guaranteed an ambiance of beauty and opulence. Choose from anarray of lush seating arrangements and even a private dining quarter for special occasions on the second floor of the loft style space.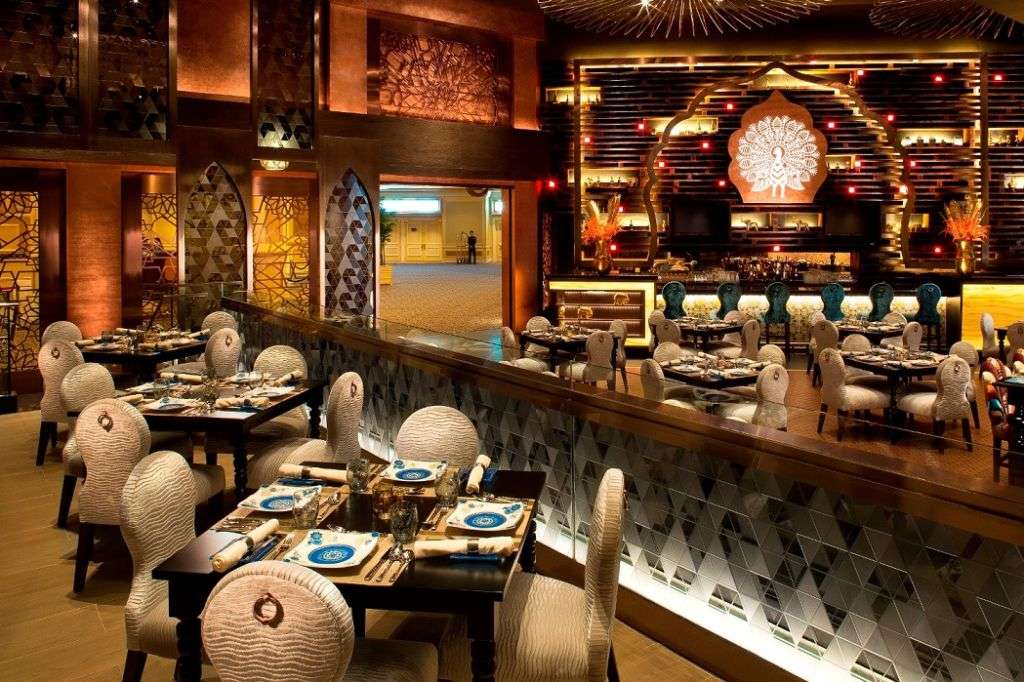 Chef Justin Paul's creative dishes are innovative and pleasing to the palate whether you're an Indian Cuisine aficionado or a newbie. There's a reason the likes of David Beckham and Amitabh Bachchan love the food at Golden Peacock. The quality and consistency that Chef Justin takes pride in manifests through every dish. We recommend a try of Kandari murgh tikka that is a signature dish of the restaurant. The plating is breathtaking as with every bite of the chicken. The perfect marination complements the seasonal salad. With the use of both local and imported produce from all over the region and most especially, India, dishes are recreated with such level that is original and yet traditional in a certain way. The Karawari Scallop, Dal Sona Mor and Badal-e-jaam are among the best-selling choices in the menu. Don't leave without trying the Kashmir Khazana that's a fairytale end to a gastronomical journey at this award-winning restaurant.
Golden Peacock at The Venetian Macao +853 8118 9696, www.venetianmacao.com
Tags
Related Posts