Usually, hotel lounges are good for having an afternoon tea or a cup of coffee before running errands. The Lobby Lounge in Mandarin Oriental, Macau, however, is not just your average hotel venue – it is on par with most fine restaurants and great for all-day dining. While the well-known Vida Rica restaurant and bar has the hotel firmly rooted on Macau's gastronomy map the Lobby Lounge deserves just as much attention. From Western classics like Italian lasagna to all-time Asian favorites such as Hainanese chicken rice, the Lobby Lounge menu has items that would please every guest – although, the more we explored the menu, the more we wanted to taste absolutely everything.
Simple but Tasty
Their country style fried chicken wings (MOP $98) sound prosaic, but are a contender for the best chicken wings in town (if not the world). We did not expect the wings to be a culinary masterpiece but this was a grave underestimation. They are perfectly crispy on the outside and not too crunchy or oily. The wings come with garlic prawn crackers on the side, a nice twist on regular crisps.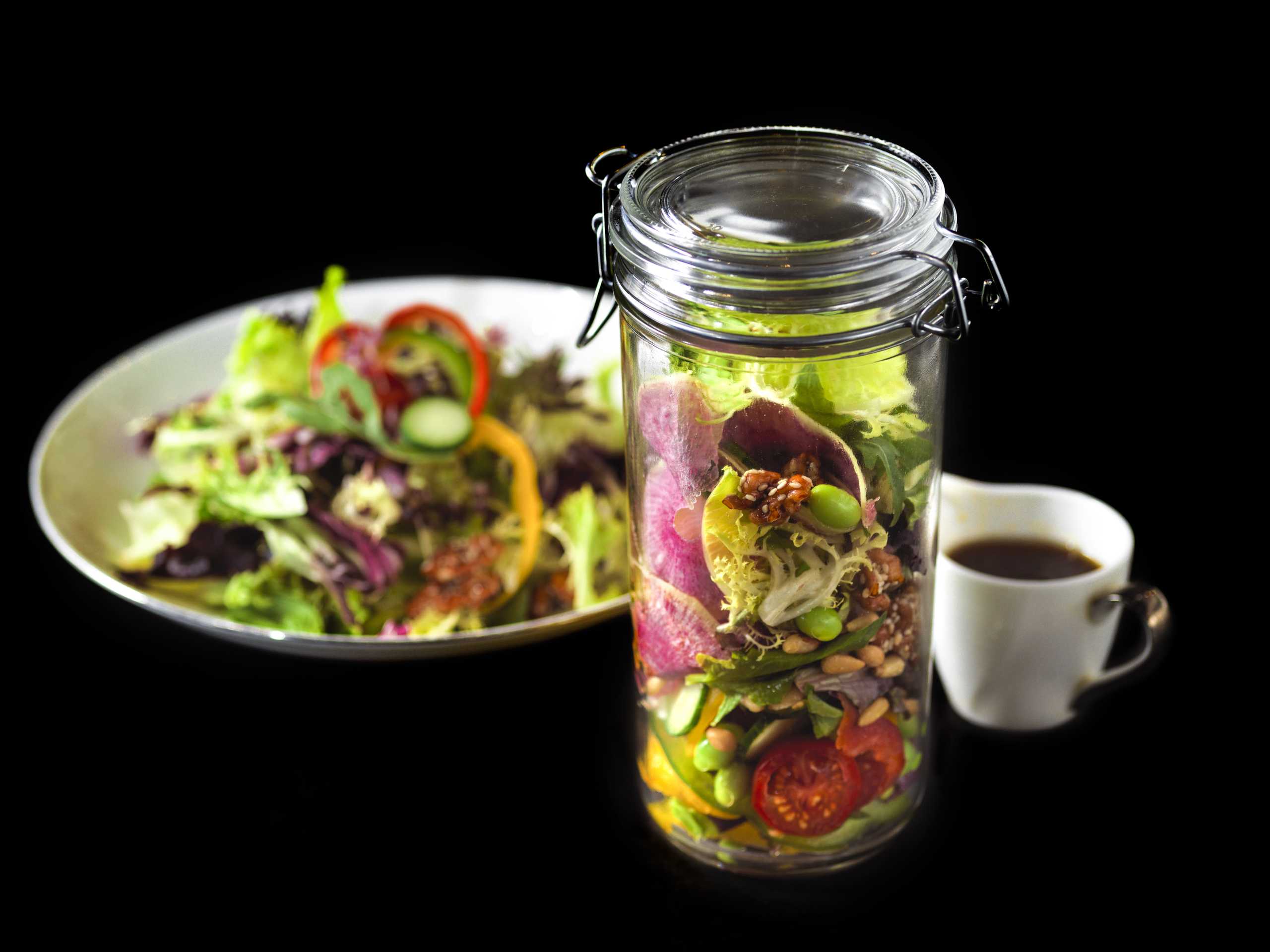 Vegetable Delights
For vegetarian options, we gave the Oriental garden shake salad (MOP $88) a try. Fresh mixed green leaves, with veggies, beautifully sliced watermelon radish and edamame came sprinkled with three types of nuts and dressed with a rich yuzu-soya sauce. This dish is like a contemporary piece of art. It has all that a perfect salad should have – freshness, a balanced combination of ingredients and an appealing look.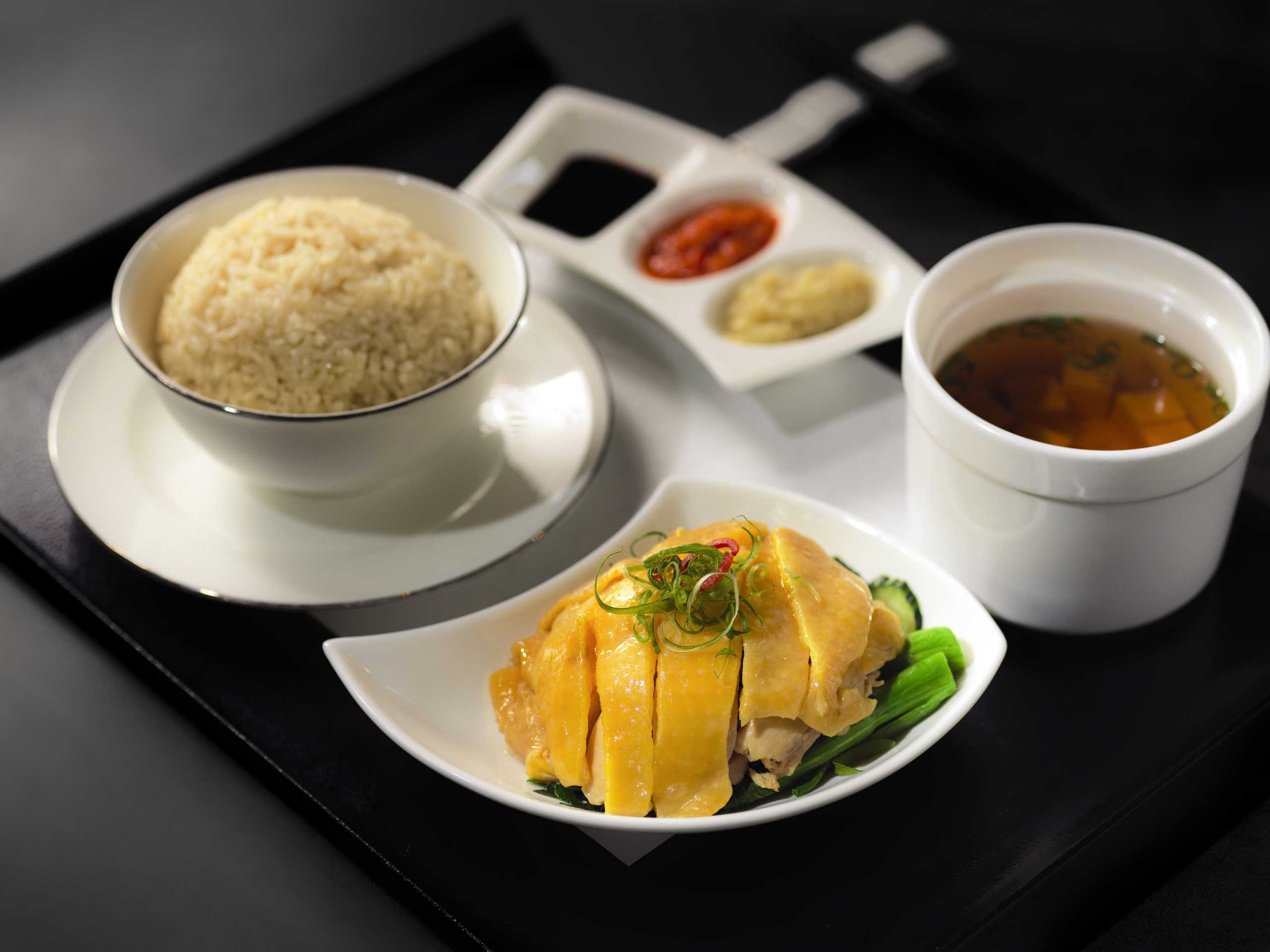 Asian Mains
Although Hainanese chicken rice (MOP $188/208) sounds like a Chinese dish, it actually originated in Singapore. Immigrants from Hainan brought a recipe of a chicken which was then transformed into what is now known as one of the Singaporean national dishes. Popular in both canteens and fine dining restaurants, this dish is always a go-to classic. The version at the Lobby Lounge is great, offering silky poached chicken with aromatic rice served with broth on the side and three different sauces. The perfection is in the high-quality of ingredients combined with excellent chef skills.
Another great western dish on their menu is the Singaporean laksa with Boston lobster (see featured photo above). This is another dish born thanks to Chinese immigrants who brought noodle soup to coastal Southeast Asia where local women enhanced it with coconut milk and spices like curry. Here it is priced at MOP $148/238 and comes served slightly spicy, creamy and full of seafood goodness – these laksa noodles will win your hearts and stomachs. Needless to say, the lobster was cooked to perfection. It is a fine example of Asian comfort food with a luxurious twist.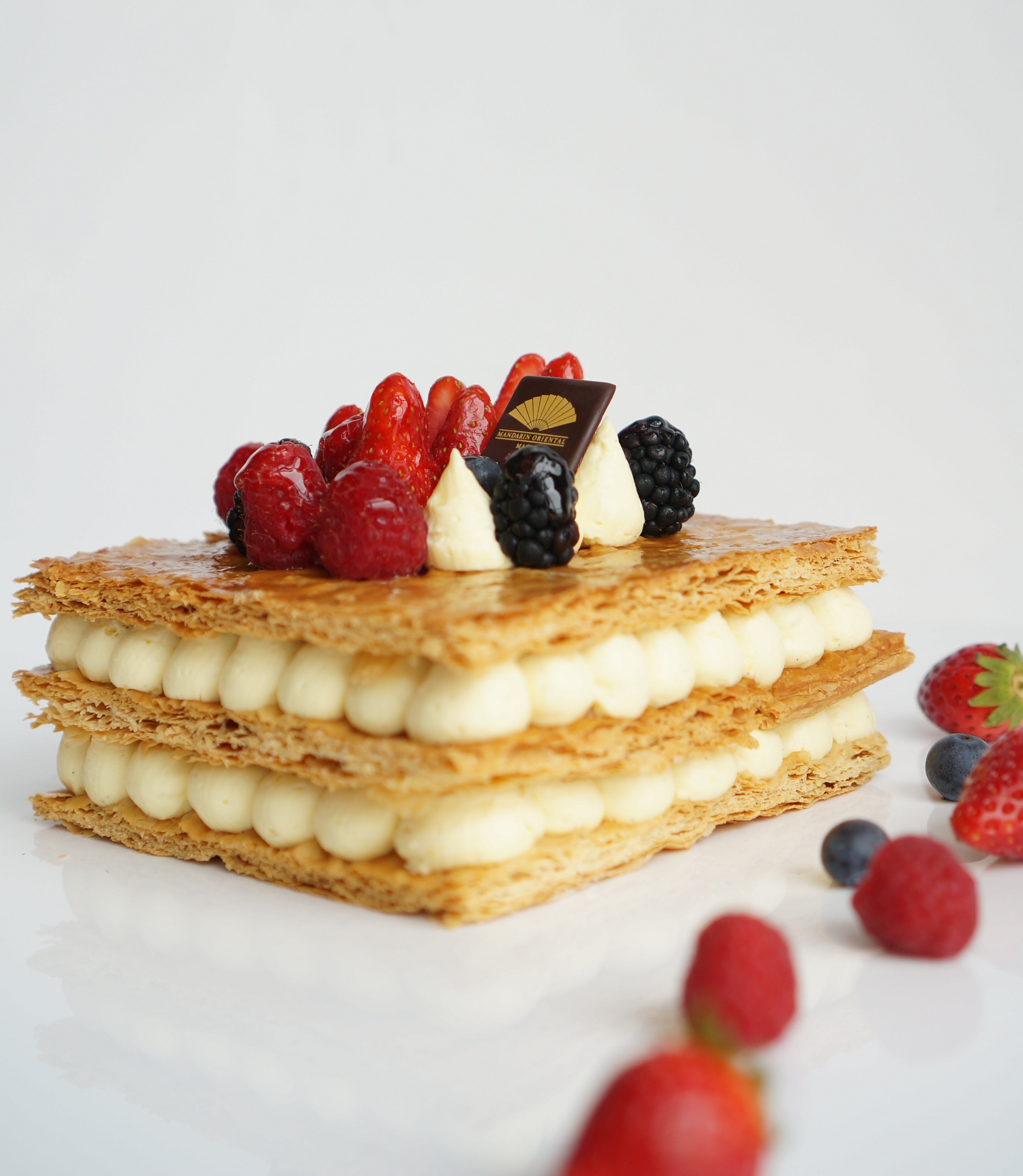 Show-stealing Dessert
The cakes are the highlight of the Lobby Lounge – they are all beautiful works of art, each tasty and delectable. We especially enjoyed Napoleon (MOP $55). The executive chef Sebastian Bernis is a true cake artist. The Napoleon cake not only tastes heavenly but is built with award-winning precision. 
Afternoon Tea All Week
Besides its delicious all-day dining menu, Lobby Lounge does offer an Afternoon Tea set, which is as beautiful-looking, as it is satisfying. One of its best features is that it is available every day, not just the weekends. So whether it's a business meeting or a date with friends, you can pair it with some savory and sweet treats and herbal or floral tea to add a nice gourmet touch.
The Lobby Lounge is another great outlet from Mandarin Oriental. We would not expect anything but the very best, and the wonderful hard working staff have created another great luxurious experience. The international team of talented chefs at Mandarin Oriental, Macau, have created a special place at the Lobby Lounge which is a joy to come back to, whatever the occasion.
---
Lobby Lounge Mandarin Oriental, Macau, 945 Avenida Dr Sun Yat Sen, NAPE, Macau, +853 8805 8938
Opening hours: 9:00am–10:00pm, daily
Breakfast: 9:00am–11:00am (dishes start from MOP $48)
Lunch: 12:00pm–6:00pm (MOP $178 for 3-course lunch set)
Afternoon tea: 2:00pm–6:00pm (MOP $398 for two persons, MOP $698 for two persons including two glasses of Champagne)
Tags
Related Posts