Pastry masters Chef Yoann Mathy and Chef Hilda Chan's four hands collaboration brings new pastry creations to Wynn! What makes a perfect croissant? According to Hilda Chan, a sumptuously layered interior and crispy exterior fully showcase a chef's savoir-faire in using just the right amount of butter and folding techniques in the process of making the perfect creation. 
At Wynn Macau's Café Esplanada, Yoann Mathy, Executive Pastry Chef for Wynn Macau and Wynn Palace who is responsible for leading the bakery and pastry kitchen to create dessert menus, recipes, and menu concepts, folds the croissant dough with his own special way as preparation for Croiffle making. A Croiffle is a combination of croissant and waffle, and typically, a croissant dough would be pressed into the waffle maker, and a delicate dessert would be created afterward. It is crispy on the outside like a waffle, but flaky and light on the inside just like how a croissant should be.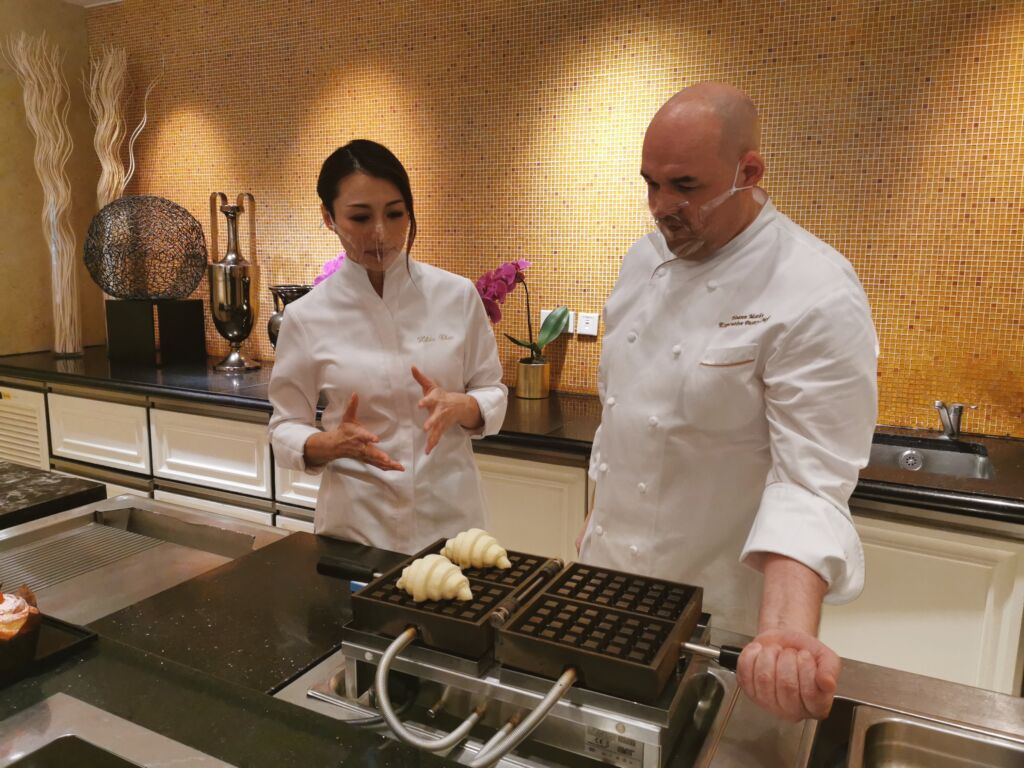 The croissant dough that Chef Yoann and Chef Hilda made is not the ordinary lean dough, as fresh eggs and butter are added to complement their special folding methods. "It is very important to note that we use French butter because the oil content is higher. To make the appropriate croissant dough the butter cannot carry too much water," says Hilda. The Croiffle could be served with salted caramel, your own selection of homemade ice cream or sorbet as an extra treat. The mini Croiffle can also be enjoyed as an add-on item in the afternoon tea set at Café Esplanada.
While Chef Yoann meticulously folded the dough, Chef Hilda explained the steps that needed to be taken before the dough is sent to be pressed. The collaboration between Chef Yoann and Chef Hilda brings new pastry creations to Wynn Macau and Wynn Palace that are sure to delight its guests.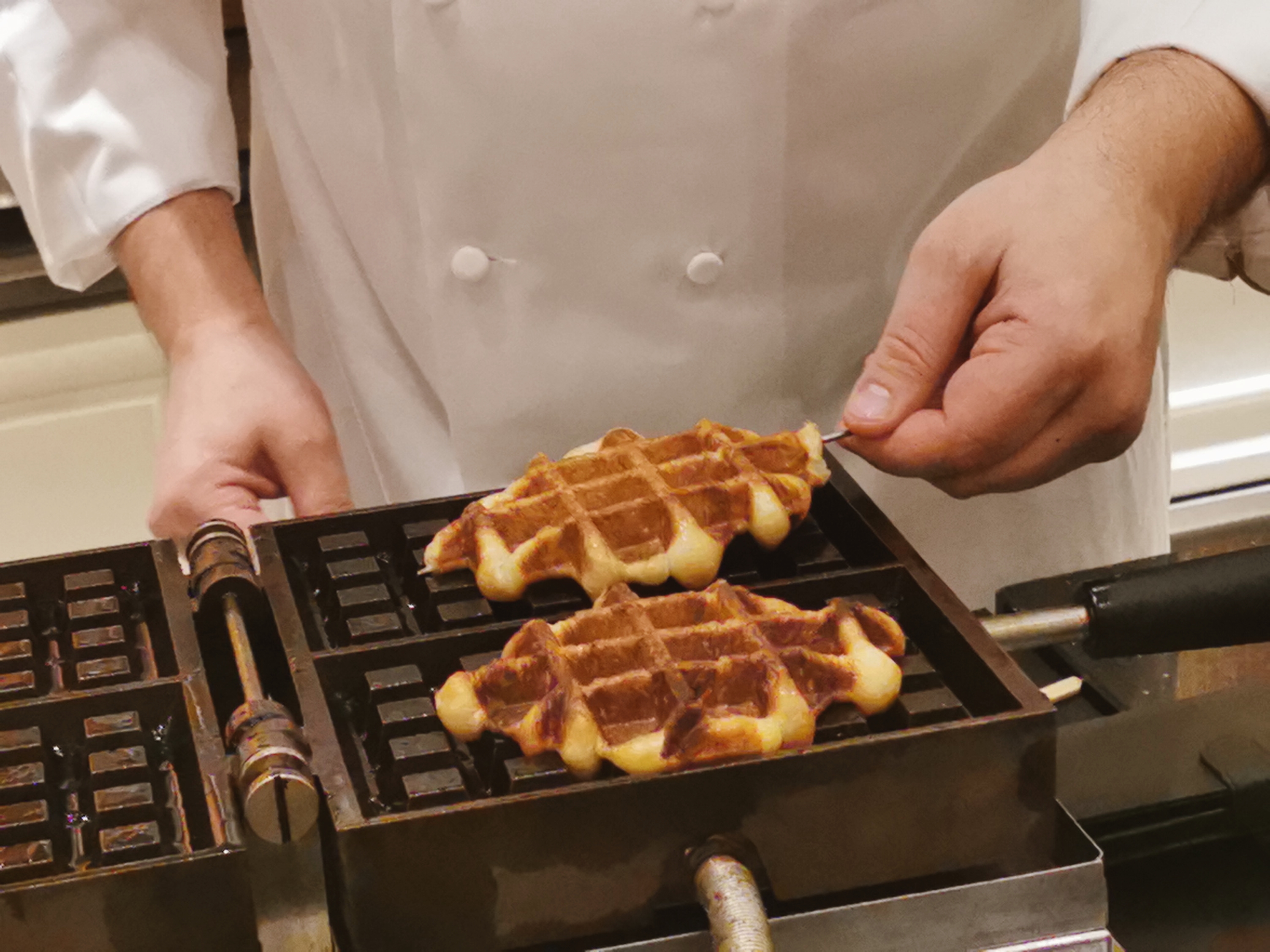 Collaboration Match Made In Pastry Heaven
By bringing the two pastry master chefs together, Wynn has become a platform for them to share their rich pastry backgrounds and refined their recipes to the next level. Other than Croiffles, Chef Hilda is also especially proud of Cruffins which she created with Chef Yoann. A hybrid of croissant and muffin, it uses the same dough as one would use to make a classic croissant. Rolled into a spiral, it is then baked in a muffin mold. Afterward, the Cruffin is filled with a variety of filling, stuffing, and garnish..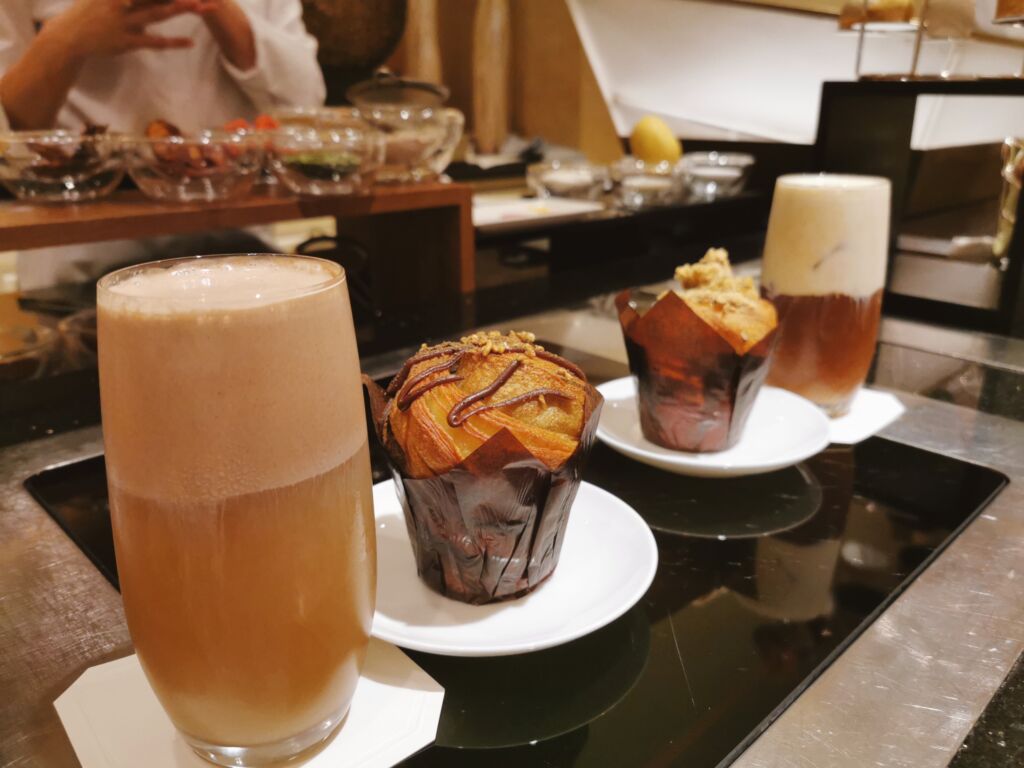 Savory & Sweet Cruffins Galore
The chefs designed five flavors of Cruffin available at Buns and Bubbles at Wynn Macau and Wynn Palace. Three of them are savory and two are sweet. Ma Po Tofu Cruffin is one that stands out in the selection. Made with tofu paste and spicy sausage, it is seasoned with chives and scallion, a sophisticated yet novel taste. "Putting in the popular Chinese dish from Sichuan Province into the pastry is something totally new. We actually use a piping bag to infuse the tofu inside, which is a method we thought of after some brainstorming," Chef Yoann explains. 
Salted Eggs Yolks and Peppercorn Pork Floss Cruffin impart a rich and fatty taste on the palate. The salted egg yolk is paired with pork floss in a perfect balance seasoned with red and green peppercorn. This Cruffin presents savory-sweet umami with just the right amount of creaminess and oiliness. Hōjicha Cream, Chocolate, and Genmaicha Cruffin is described by Chef Hilda as a Cruffin for sophisticated adults. The hōjicha ganache exudes toasty and nutty flavors, topped with genmaicha powder and roasted popped brown rice.
Strawberry, Rhubarb & Basil Cruffin features a refreshing and classic combination of strawberry, rhubarb, and fresh basil. The lovely pink concoction catches the eye with the dried strawberry chunks and the homemade sweet strawberry snow powder on top. Last but not least, the Mushroom and Truffle Cruffin Fresh is a masterpiece. The beautiful pastry is stuffed with wild mushroom duxelles, levitated by a touch of the Alba white truffle fragrance to give a hint of sophisticated aroma. On top, it is seasoned with dry-mushroom and scallion powder. Shiitake mushroom chips fan out as the final touch-up to seduce the senses visually before an exceptional culinary experience. 
To complement the cruffins, special drinks were designed. Salted Egg Macchiato Milk Tea is a macchiato infused with rich taste of salted egg. Chocolate Macchiato Hōjicha is a tea base blended with homemade chocolate macchiato, a perfect balance of tea and chocolate.
---
Thinking of your next afternoon tea outing? We've partnered with Wynn Macau for an afternoon tea set giveaway at Café Esplanada! Enter the giveaway here.
Savor the limited edition Croiffle afternoon tea set at Café Esplanada and go on a taste adventure! Croiffle is also available at Sweets at Wynn Palace.
Café Esplanada Wynn Macau, Rua Cidade de Sintra, Macau, +853 8986 3663, www.wynnmacau.com
Tags
Related Posts