The "Stay, Dine and See Macao" project's new phase starts in April, 2021 and its highlights features helicopter rides across the city's skies, as well as yacht experiences as well. Due to the rising number of applications for helicopter trips, the government has created a system of drawing, where applicants are chosen through a lucky draw. The project offers a wide range of different city tours for both residents and non-residents to enjoy. Interested residents can sign up at travel agencies under the umbrella of the project which not only covers a range of local tours but also introduces experiences at local hotels.
Every permanent and non-permanent resident of the Macao Special Administrative Region is entitled to a one-time subsidy for each of both categories–local tour and hotel staycation. The project is tailored to support travel industry professionals by creating job opportunities as a form of relief, while joining industry operators to invest resources in launching remarkable local tour itineraries, spurring new rises in domestic demand and spending in local communities.
Tours are available on weekends and public holidays from April throughout December with an increase of the number of tours during the summer month of July and August. An array of local profound-themed tour itineraries will be launched at the first stage. The helicopter ride experience–which gained wide popularity last year–is available once again. New highlights such as "tourism + culture", "tourism + sports" and "tourism + ecology" are incorporated into different tour itineraries.
The six tour itineraries feature elements as follows: exploring architectures at Nossa Senhora Village of Ká Hó, science learning at Cotai Ecological Zone, Macao VR/Celebrity Wax Museum, Macao Grand Prix Museum and Handover Gifts Museum of Macao, youth music and cultural appreciation experience, helicopter ride experience and yacht check-in tour. Every Macau resident is entitled to a maximum of 280-patacas subsidy for local tour participation, as well as a 100-patacas dining card (except for the helicopter ride experience and the yacht check-in tour). After subsidized, the tour fee ranges between MOP $28 and MOP $518 patacas for the six tour itineraries, covering sightseeing, tour guide, and insurance fees. The local tours will be conducted in Cantonese, Portuguese and English according to the residents' needs.
Since the start of the pandemic, "staycation" has emerged as a prevailing new trend. For Macau residents to enjoy the joy of short vacations while it is not possible yet to travel abroad, the project "Stay, Dine and See Macao" newly incorporates the experience of local hotels from Monday to Sunday as well as on public holidays. Many hotels have joined this project to provide a variety of staycation experiences for patrons. Some hotels also offer staycation packages that include other tourism products, while others feature partnerships with products of community businesses.
Interested residents can opt for their favorite local tour itineraries or local hotels from the "Stay, Dine and See Macao" project at the sales outlets of accredited travel agencies with their valid Macao SAR IDs, confirm their preferred tour date and time or hotel check-in date and complete the sign-up formalities by payment.
The project includes the participation of more than 160 travel agencies, over 800 travel industry professionals, more than 70 hotels and guest houses, over 500 tour coaches (including barrier-free tour coaches), over 500 tour coach drivers and over 500 local tour guides. MGTO expressed that the project aims to support local travel agencies, the hotel and catering industries, to sustain the livelihood of personnel of travel agencies, tour guides, coach drivers and employees of related sectors while providing an initiative for residents to enjoy local dining, sightseeing and hotel staycation economically. The project is set to spur rises in domestic demand and spending in communities, leading to further recovery of tourism and related industries.
When: Local tours – April 25–June, 2021 and September to December, 2021 (Weekends and public holidays), July and August, 2021 (daily)
Staycation promotions – April 23–December 31, 2021
Where: Local tours – Departing from the Outer Harbour Ferry Terminal, Porto Exterior, Macau
Staycations – Check-in at the selected hotel
How much: For each of the six city tours – Subsidy up to MOP $280 per resident (tours cost between MOP $28 and $518 per resident)
Staycation promotions – Subsidy up to MOP $200 per resident
For more information, bookings and payments, call +853 8396 3052, send an email to [email protected], or click here. To check the full list and contact numbers of the travel agencies offering these services, click here. For full info on the tour itineraries, check here
*Non-residents can also enjoy the local tours at the original price while the price of hotel accommodation packages is determined by hotels. To cater to people with special needs, community organizations, schools and other entities can contact the Task Force directly for coordination of tour registration.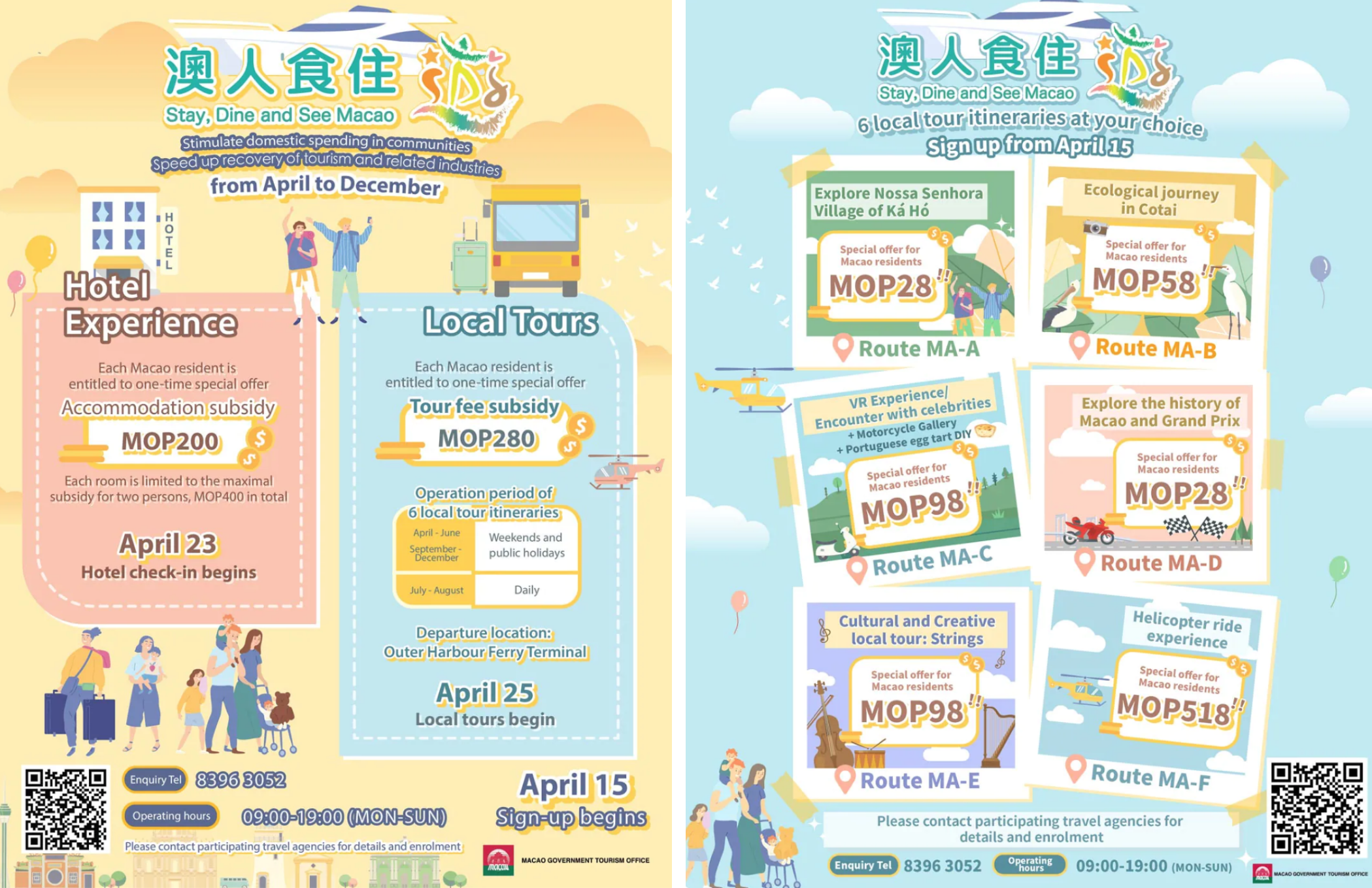 Tags
Related Posts