It's a beautiful Spring day as we stroll out in Hong Kong to meet Château Zoobeetle's Elsa Lepeu and Johanna El Iman. The French sisters are the force behind the unique brand Zoobeetle Paris, a luxury maison specializing in leather goods. Château Zoobeetle is the sisters' first foray into Asia and we're so glad they did!
Nestled in the heart of Hong Kong, Château Zoobeetle is both a retail shop and wine bar paying homage to the Parisian Art de Vivre while showcasing the leather goods from Zoobeetle Paris–their brand based in Paris. Shoppers can delight in the stylish setting while sipping a glass of the finest wines and a bite of French cheese and charcuterie. Discussing the philosophy behind the concept store of Château Zoobeetle, Elsa and Johanna detail their objective to meticulously curate a selection of ready-to-wear accessories, jewelry and cultural items for Hong Kong consumers. We delve deep into the duo's creative views and unbreakable bond over all things art, fashion and amour for all things beautiful.
Can you tell us a bit about yourself and how you came to be living in Hong Kong?
We came to Hong Kong about six years ago for family reasons. Our brother has lived here for a long time and we wanted to experience something abroad. Our business was going very well in Paris and we decided it was time to try and venture out of the region. We agreed that Hong Kong is the right place to do our concept-store idea and create an entirely new shopping experience around it.
[Elsa]: I used to design for Chloé and Johanna previously worked at Lancel and other luxury fashion houses. My background is in arts and design.
[Johanna]: I co-founded Zoobeetle Paris with Elsa. We wanted to do something together for a long time and utilize both our skills because we complement each other in so many ways. Elsa used to be a designer and so we decided to launch Zoobeetle Paris in 2010 where our journey all began. We wanted to share our brand abroad so we looked towards Asia and Hong Kong just had everything we loved. We've visited this place so many times before and we fell in love with the city, and voilà… Château Zoobeetle was born.
What is Château Zoobeetle and what inspired you to start it?
[Elsa]: Well, Château Zoobeetle is a French luxury leather goods maison that we launched in 2012. It focuses on fashion and function. We both travel a lot and we're inspired by places, culture, and people when it comes to our creative output.
[Johanna]: When we came to Hong Kong, we didn't just want to open a shop, we wanted to give our customers the complete Parisian experience–wine, atmosphere, the scent of leather and all of these are to enhance the overall experience.
What are the most popular items you sell and why?
It's the 'Paris-Hong Kong', a sleek and sophisticated wallet with two sides, four zippers made with two materials. It has become quite an iconic product of Zoobeetle Paris. When we first opened, we found that our customers were surprised that they could shop with a glass of wine in your hands! We felt that it was such a great opportunity to present our products to everyone, found a great location and love this area. We wanted to present our products with a more gallery style feel than a sprawling mall and more personalized than mass distribution.
How do you curate the collection?
Some brands do reach out to us and want to collaborate so we then decide if it's worth collaborating or not. The commercial aspect is often considered second because we want to make sure it's something we love and are sure our customers will love as well. We tend to be reasonable though and yet take into account aesthetics. When we create a new collection or bring on a new brand, we make sure to discuss and consult with each other. It's about trusting your instincts and budget of course.
Could you tell us about the French wine bar concept within the store. What do you serve? Is it open for breakfast, lunch, dinner? Why did you decide to have it?
The French wine bar concept came because of what we thought was an actual need in Hong Kong where we wanted people to feel like they are in Paris having a unique "retail" experience. If there is good food and great wine in a French styled apartment where you feel like home, you're more likely to be happy!
Our sommelière Charlotte curates very specific French wines that are not internationally known yet in order to offer an exclusive wine list to our connoisseurs. We also propose some finger food like French cold cuts, French cheese platter or also Burrata plates or classic avocado toast. We are not open for breakfast as we don't know how to do good croissants (laughs).
You have visiting artists, pop up displays from various designers and often hold events, what is the motivation behind this and how can our readers stay up to date with what's happening at Chateau Zoobeetle and its upcoming events?
We only bring to the Chateau artists or designers we really love, people we want to collaborate artistically with or brands to retail in order to offer the best selection. We wish for every visitor to find something they really appreciate and feel special for choosing. An Oolive ring for madame, a Lola James candle for his mom, a painting for monsieur, a cute T-shirt for the kids and more.
All the events are on our Facebook page or find out through our newsletter.
Are you inspired by travel?
Yes, of course, we travel a lot and sometimes buy new products to bring back to the store. There are many factors as well like social media and our friends that help us discover more. We're surrounded by a lot of creative people with a great network of talents and find a lot of interesting brands. When people walk into Château Zoobeetle, it's very homey and designed that way to make customers a part of the whole story. It's about interconnecting people. Our strategy is also working hand-in-hand with the manager of the boutique.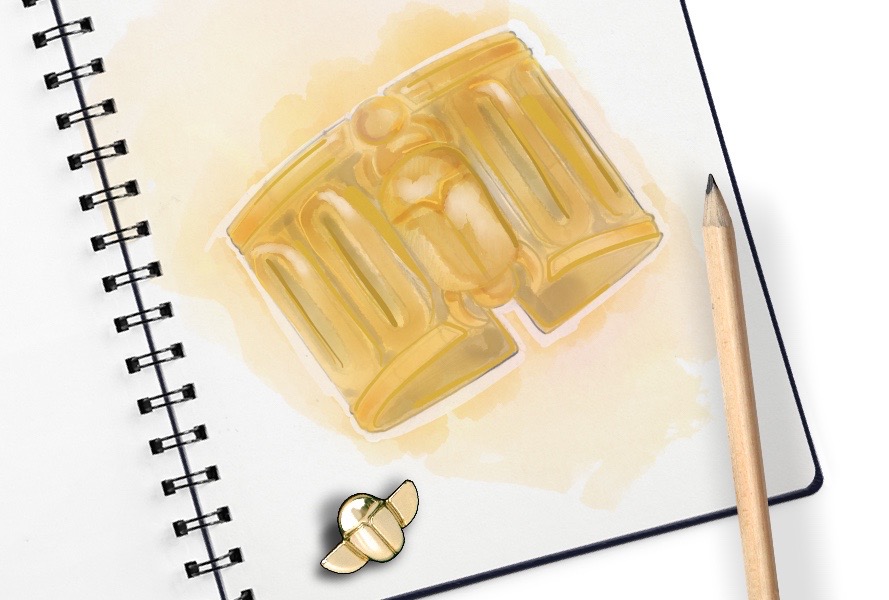 Is there a story behind the name?
Our mother wore this massive art deco bracelet adorned with a scarab. We've never seen her without it so it's become a sort of a family legend. We love the beetle story and it has become imprinted in our memories. It's very important to us and we wanted something that could travel with us and be part of our DNA as a brand. We are proud of our French heritage and also believe we could take the brand to an international scale.
Besides your own brand, what are some of your favorite French brands out there?
[Elsa]: I'm currently loving Astier de Villatte candles.
[Johanna]: I like brands with a history like Hermes. While it's more a luxury brand of goods, it also tells a story of artisans working on it and the artistic process.
What is one French stereotype that is true and one that is overused?
[Elsa]: Well one that is true for sure is that we do eat cheese every day (laughs). One that I think is untrue is this theory that French men don't shower. I've gotten asked by a few friends and I was like what?! I was so surprised! (laughs).
[Johanna]: I think the term 'critical' associated with French is misrepresented sometimes but it is quite a French thing to be critical. On the other hand, I think motherhood with French women tends to be overplayed. We are placed on a pedestal and I don't think we kind of deserve it. Every woman can only do so much and there is definitely no perfect mother. Behind every mom is a certain strength of their own just do what you can and don't judge others.
Have you been to Macau? What are your impressions of the city?
[Johanna]: I've stayed there with my family before. I remember enjoying the "breakfast with Shrek" at one of the hotels in town and then our stroll to the Taipa Village Macau with my kids. I would love to go back and explore the city apart from the hotels!
[Elsa]: It's quite daring and bold in so many ways. It feels like the perfect place to get lost and find a new adventure.
What is your advice to women entrepreneurs on the same path as both of you?
Be partners with a good person. That's very important. Believe in what you're doing. If you go for it, that means you have the guts to go the distance, therefore, you are a fighter!
---
For more information on their amazing offerings, check out their website at zoobeetle.com/en
Follow them on Instagram at @zoobeetle and Facebook for updates
Château Zoobeetle 38 Sai Street Sheung Wan, Hong Kong, +852 2559 8555, www.facebook.com/chateauzoobeetle
Tags
Related Posts