We all know Macau is famous for its Portuguese fare, but how does the cuisine fare this side of the Pearl River Delta? We pay a visit to Casa Lisboa to find out! Casa Lisboa, or "Lisbon House" in English, has long been a staple in Central since it opened its doors in LKF Tower nine years ago. In 2017, it relocated to its current site on 63 Wyndham Street, with glass walls overlooking the street life below.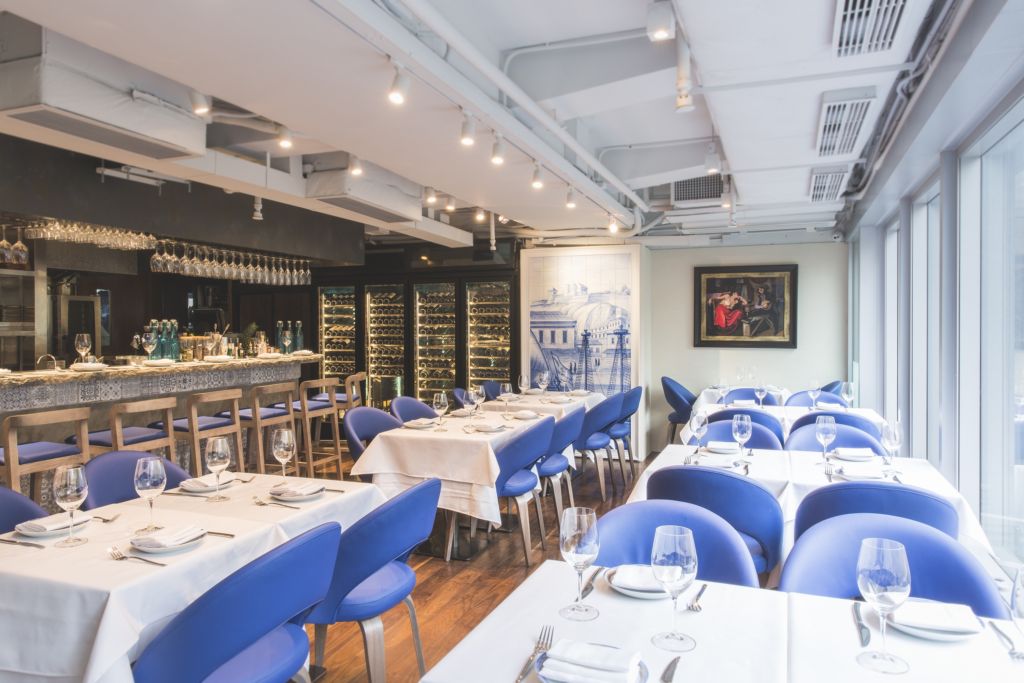 This summer, the restaurant's two chefs hailing from Portugal and Spain have come up with delicious new dishes to up the ante of Portuguese dining in Hong Kong, rising to the challenge from across the estuary.
Don't expect your typical bacalhau and piri piri chicken here, however. Casa Lisboa prides itself on updating traditionally heavy Portuguese plates with modern cooking methods that suit cosmopolitan tastes. Group Executive Chef Jesus Pascual is the best man for the job–the Spaniard trained under Gaggan Anand himself in Bangkok, the genius behind the No.1 of Asia's 50 Best Restaurants for three consecutive years.
It's not fine dining, either so you still get the hearty dishes, only with a more refined touch!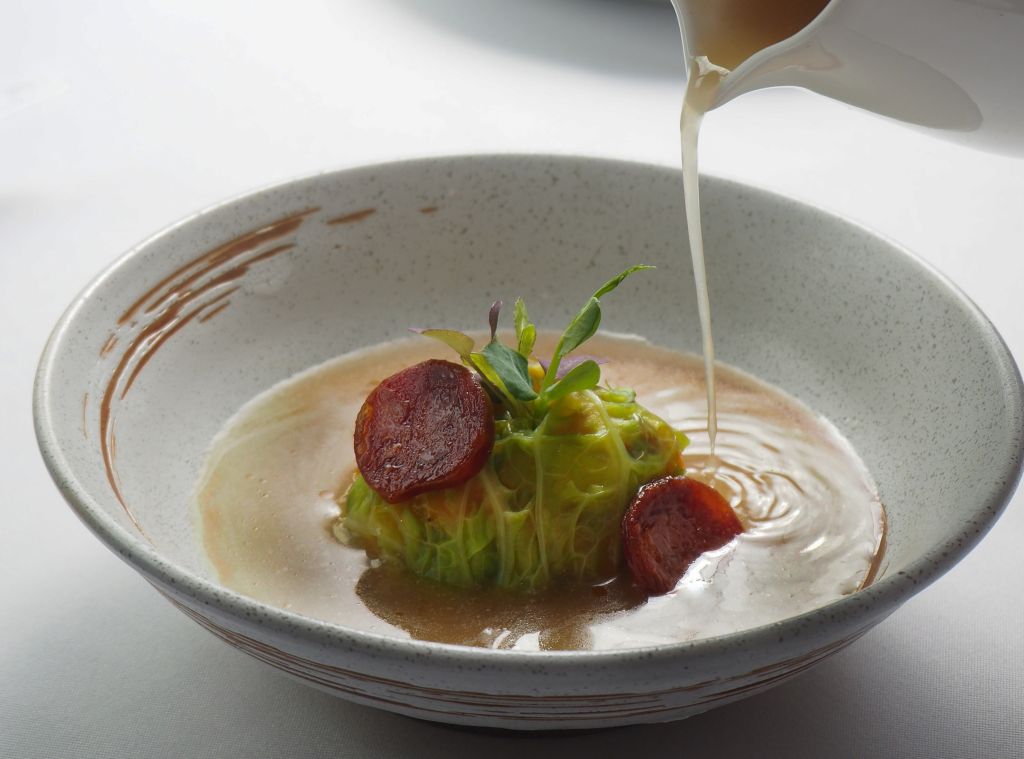 Take the cozido soup (HKD $88) for example, the fine-tuned version of a beloved family dish. It's typically made with chorizo, chicken, beef and pork cooked with vegetables in boiling water. Casa Lisboa has infused Cantonese influences in the dish by creating a broccoli broth presented elegantly by pouring it over the rest of the ingredients in a bowl.
In summer, the vegagna (HKD $128) is the perfect dish to accompany hot weather. The light vegetarian dish creates a "lasagna" out of everyday Portuguese ingredients: zucchini slices in three layers, separated by pureed eggplant and tomato.
Of the appetizers, we thought the star of the show was the Casa Lisboa bone marrow (HKD $140). Roasted and topped with foie gras, the rich plate was covered with sliced onions caramelized in port wine and balsamic reduction. Just enough ingredients and cooking was added to enhance the main ingredient's flavor.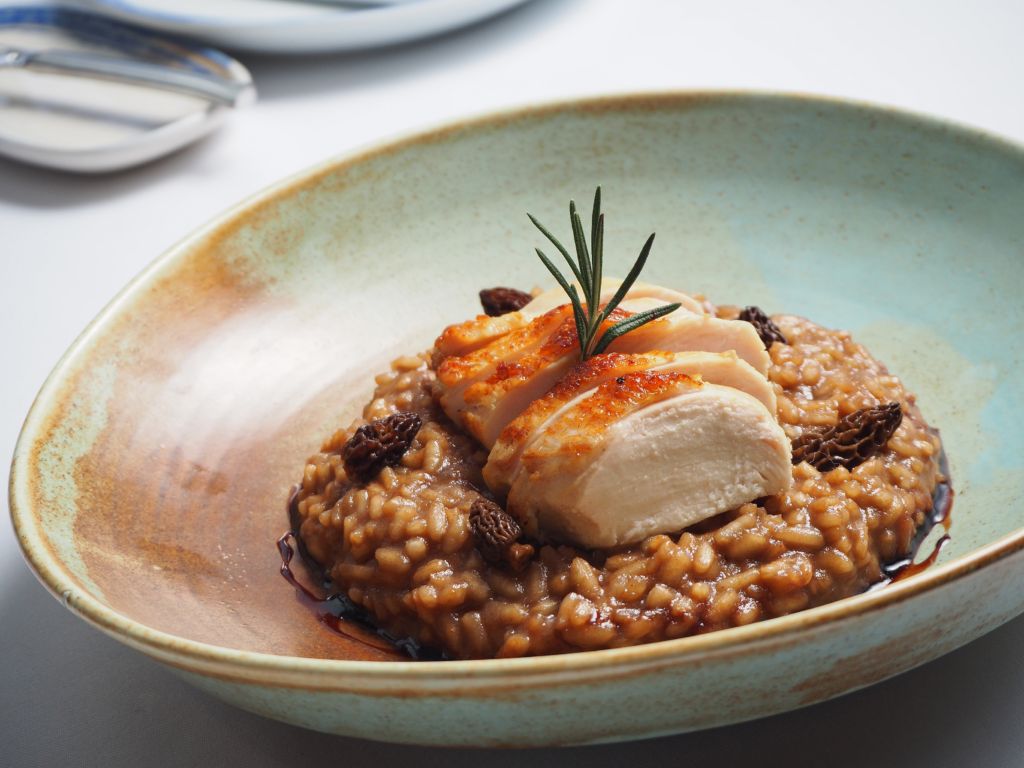 Casa Lisboa's main dishes are meat-heavy made up of poultry, pork and beef. The guinea fowl cabidela (HKD $295) is comfort food at its most heart-warming. Congee might come to mind when you taste the smoky rice cooked in guinea broth, dark beer and spices. Guinea fowl replaces chicken, simmered for two hours for an elegant and rich flavor.
The Iberico pork chop with apple and madeira sauce (HKD $280) follows a recent trend in Portuguese cuisine, paring roast meat with apple flavors. The result is interesting and refreshing at the same time, and Hong Kongers have chefs Jesus and Fabio to thank for bringing these unique aromas to our shores!
The short ribs (HKD $310) were memorable not just for their tenderness, but also for the spectacular side dish that came with it–the alheira migas. The revamped 'migas' is a mix of kale, white beans and alheira (game sausage), instead of the traditional sliced vegetables in breadcrumbs. The Australian Angus, meanwhile, was slow-cooked for 40 hours–this you'll taste at first bite.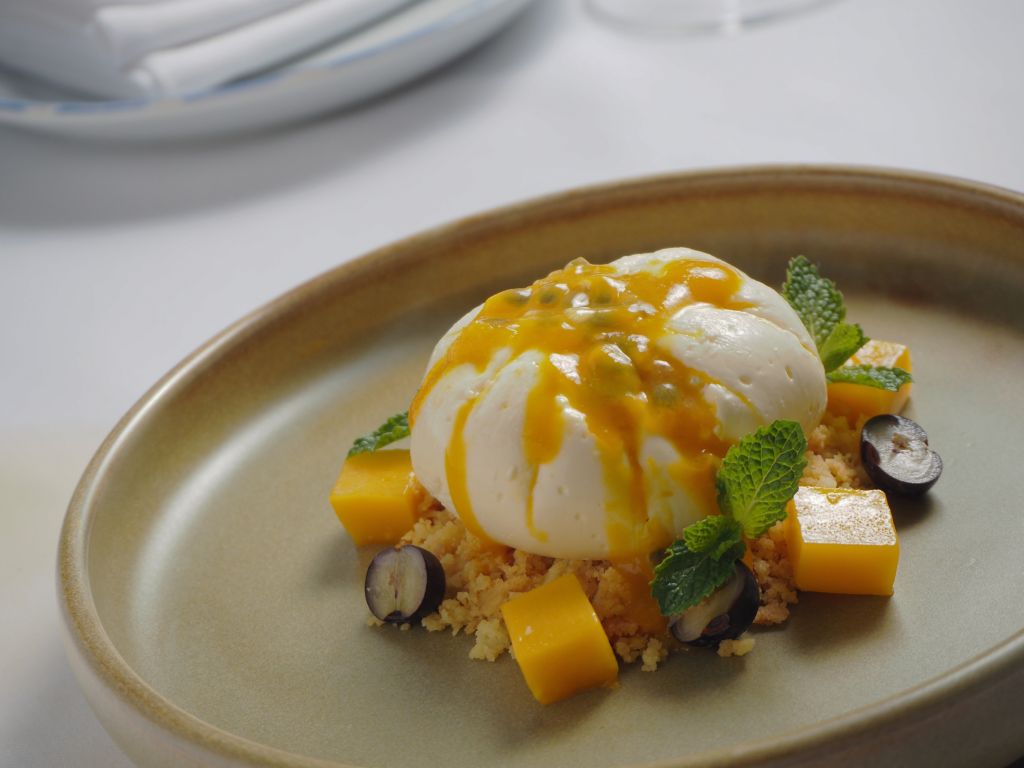 Finally, dessert is as spectacular as its predecessors. The mango and passion fruit burrata (HKD $90) is a pudding of Mascarpone cheese and cream served in the shape of a burrata dollop. Although Casa Lisboa doesn't specialize in sweets, it outperforms in this category. Passion fruit, mango, cheesecake, and cake-base crunch work together to end your meal on a high note.
Overall, Casa Lisboa hits the spot when it comes to heartwarming yet elegant food in a casual and stylish place. Before we let you go, though, allow us to leave you with one last tip: try the unique "green wine" or vinho verde, a Portuguese specialty perfect for the summer for its fresh, fruity and floral aromas. Saúde!
---
Opening hours: daily, 12:00pm–3:00pm, 6:30pm–12:00am
Casa Lisboa Gastronomia Portuguesa 2/F, Parekh House, 63 Wyndham Street, Central, +852 2905 1168, www.casalisboa.com.hk
Tags
Related Posts