Don't forget to make time on the weekends to get away from the urban hustle and bustle of the city which can get a little tiring after a while. Reconnect with nature in Hong Kong, yes, there's abundant nature to be enjoyed near this buzzing city. With its brimming island atmosphere, Tap Mun Island (塔門島), also known as Grass Island, the outlying island in New Territory, whisks you to another place with crystal clear water and lush green meadows. Just the sound of the sea lapping on the shore and what looks like endless blue waters are sure to eliminate all the stress you're feeling.
Once you land on Tap Mun Island, you will find out why this island is also called Grass Island. The sprawling meadow against the backdrop of the crystal blue sea view is the perfect spot for camping, picnics and wonderful photographs. But do be careful of the feral cattle and keep a safe distance from them.
Balanced Rock
Walking through the local villages, it is easy to feel the rugged way of life that is worlds away from the fast pace of downtown Hong Kong. Passing through the villages and heading straight to the extensive meadow and seaside, you will find two locally renowned rocks neatly stacked together, looking like the Chinese character "呂," which is called Balanced Rock and it is said to resemble a stupa. The island was named "Fat Tap Mun," which means "Stupa Door," and was later simplified into just "Tap Mun".
Tap Mun is home to a few temples which are located near the main village, dating back to the 18th century. The 400-year-old Tin Hou Temple has an altar and there's a legend that says that it's connected by hidden tunnel to Tap Mun Cave on the opposite shore of the island!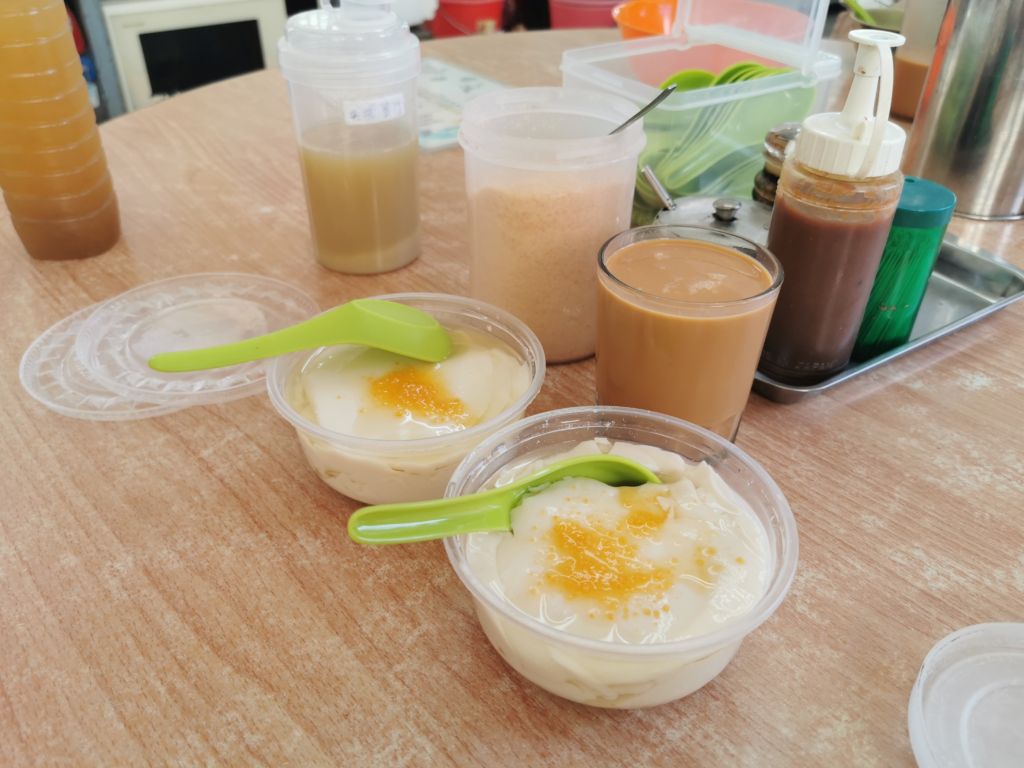 San Wai Wo Restaurant (新惠和)
There are only a few restaurants on the island that serve seafood and authentic local desserts. A bowl of cold and smooth tofu pudding sprinkled with ginger sugar cools you down and supplies you a kick to the start of the day. You should not miss the sea urchin with fried rice and Hong Kong-style milk tea either.
Opening hours: 6:30 am–6:00pm
San Wai Wo Restaurant G/F, 3 Hoi Pong Street, Sai Kung
How to get there:
Take a subway and get off at MTR University Station, Exit B, and head to Ma Liu Shui Ferry Pier for a kaito ferry. The journey takes around 1.5 hours. You can also hop onto bus 94 from Sai Kung to Wong Shek Pier for a kaito ferry, which takes around 35 minutes.
Tung Ping Chau (東平洲)
If you're on a nature kick, you can also take a ferry at Ma Liu Shui Ferry Pier to Tung Ping Chau which is included in the Hong Kong UNESCO Global Geopark. Tung Ping Chau is an esteemed museum of geomorphology, which is more primitive than Tap Mun Island.
Made up of sedimentary rock, the kidney-bean shaped island has an area of just 1.16 km and is only four kilometers away from mainland China, so mobile phone signals are very weak.
Walking along the beach of A Ma Wan and enjoy the sea breeze and listen to the sound of waves lapping the shore. See the amazing rock formations with wave-carved shale, iron-rich rocks weathered to resemble chequer boards, and stromatolitic structures made of fossils of cyanobacteria.
There are several hiking trails, the main one making a circuit of Tung Ping Chau, with small side trails that you can explore. Hop on the trail, walk through the woods, and you will see the boundless ocean and distinctively stratified shale bed. In recent years, most of the residents on Tung Ping Chau have moved out and only some of them return to the island during weekends and public holidays to run stalls for visitors.
Tags