There is no denying that Hong Kong is one of the most diverse and delicious destinations on Earth. If you love eating fantastic food and being inspired by beautiful ambience then you've come to the right place! Browse our list of this month's best restaurants in the city worth booking a spot at. From innovative and outstanding menus to healthy options and even decadent meals, there's something for every kind of foodie here.
The Ritz-Carlton, Hong Kong
(Featured image above)
Tosca Di Angelo at The Ritz-Carlton, Hong Kong is arguably one of the most romantic restaurants in the city. Evoking the epitome of Italian fine dining, the Romanesque and stylish ambience has always made us swoon not to mention the exceptional food and stunning panoramic view of the Victoria Harbour. The newly launched weekend lunch menu gives us another reason to stop by for a visit!
Embark on a gastronomic journey with refreshing antipasti and choose from a selection of seafood delicacies including Boston lobster salad with avocado and fresh burrata and bluefin tuna with salmoriglio sauce and caviar. Savor tantalizing Italian seafood pasta in the form of spaghetti chiatarra mancini with langoustine and datterino tomato or mezzi paccheri with Sicilian red shrimps and basil pesto sauce. The selection of main courses includes the hearty red star grouper in matalotta fish soup and the refreshing seared line-caught sea bass served with broccoli rabe and datterino tomato confit, which highlights Chef Angelo's expertise with seafood. The four-course menu is complemented with free-flow champagne options. Choose from the sommelier's selection of Veuve Clicquot, Ruinart, vintage Louis Roederer Cristal, and vintage Louis Roederer Cristal Rosé. The price starts at HKD $938 per guest and varies according to wine pairing. The prices are subject to 10% service charge.
The Ritz-Carlton, Hong Kong International Commerce Centre, 1 Austin Road West, Tsim Sha Tsui, +852 2263 2263, www.ritz-carlton.com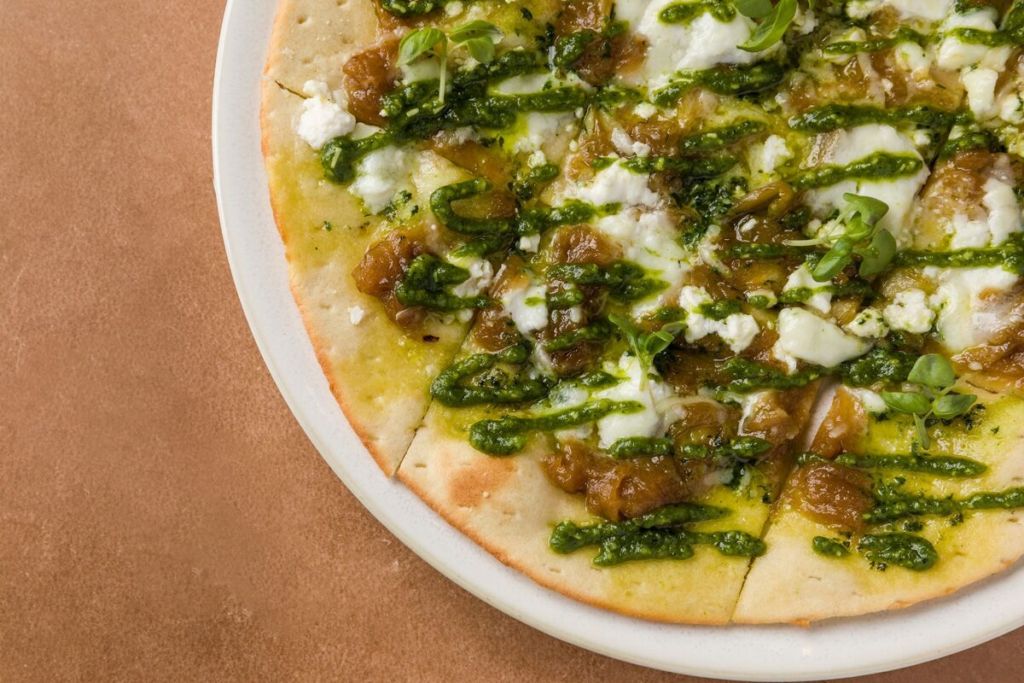 Gordon Ramsay's Bread Street Kitchen & Bar
Looking for a hipster, healthy hub in Hong Kong? Vegetarians and vegans can all rejoice at Bread Street Kitchen & Bar! Enjoy a range of dishes with bold and distinct flavors that are catered to every kind of palate. Located at Peak Galleria, the British dining hub is a favorite by residents and tourists for the food and vibe alike. Now it's made even better with a vegetarian menu that includes the pesto and spinach flatbread topped with a cheesy mix of parmesan, mozzarella and feta, and the falafel burger served with a spread of hummus and fresh salad. The Vegan Menu is as equally delicious that includes a hearty spiced lentil soup garnished with coriander, and curried chickpea served with a side of saffron rice. Sate your sweet tooth with a decadent peanut butter cake paired with a smooth chocolate sorbet, or the pineapple carpaccio topped with passion fruit and captivating coconut sorbet. There's no need to beat yourself up after a hearty and healthy meal here.
Gordon Ramsay's Bread Street Kitchen & Bar Shop G02, G/F, Peak Galleria, 118 Peak Road, Hong Kong, +852 2350 3888, www.facebook.com/BSKHongKong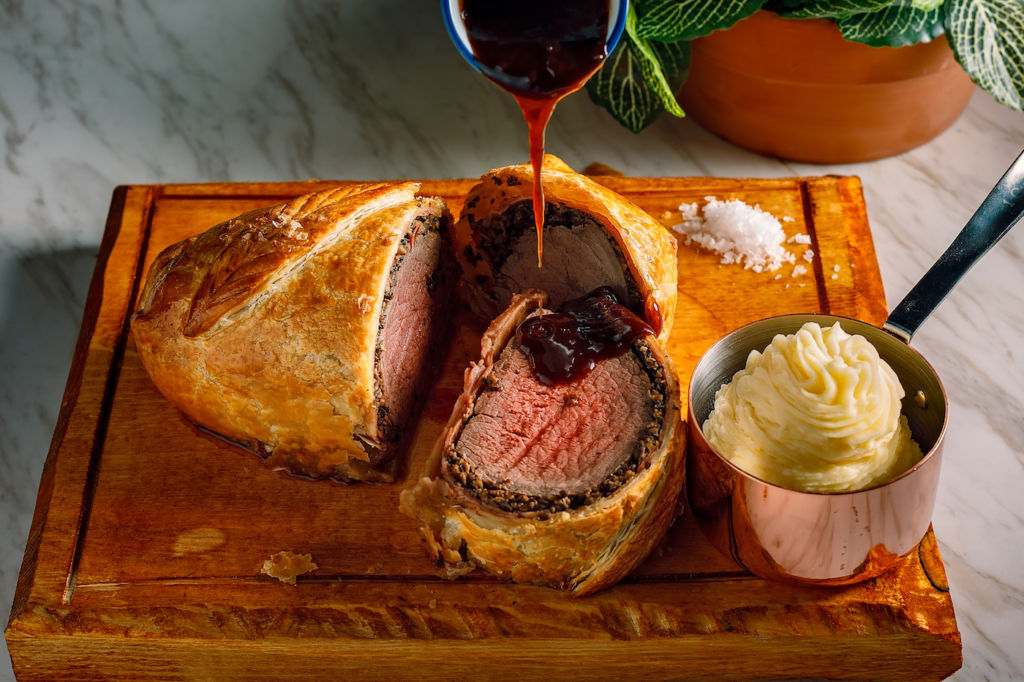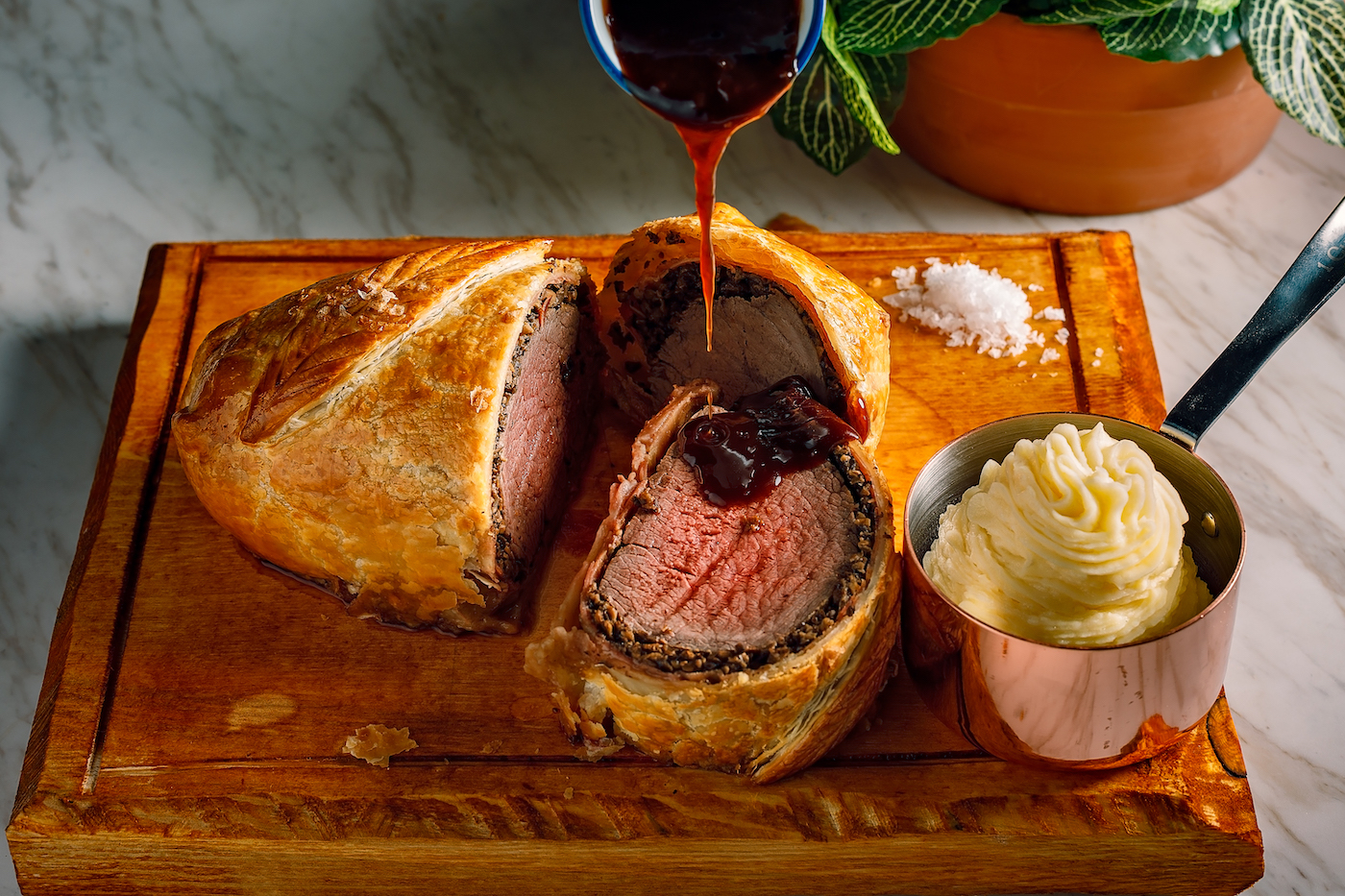 The Leah
Hong Kong dwellers can now enjoy British comfort food at its finest at The Leah. But that's not all. If you fancy a garden party, you'll find it here too. Inside the dining room of The Leah, diners are transported to a homey British conservatory with large windows looking out on the terrace, and gorgeous plants hanging from the ceiling and decorating the walls that you won't even notice the busy ambience of Causeway Bay. The menu consists of British favorites such as Scotch egg and soldiers, an irresistible snack of a soft-boiled duck egg wrapped in sausage and breadcrumbs before being perfectly fried, or the chicken, leek and bacon pie and beef. One of the show-stopping dishes is the Beef Wellington, an indulgent combination of beef fillet, mushrooms and Parma ham baked inside puff pastry, both of which must be pre-ordered. Don't miss out on great food and make your way to The Leah for a lovely, hearty thoroughly British meal.
The Leah  308 & 311, 3/F, Lee Garden Two, 28 Yun Ping Road, Causeway Bay, Hong Kong, +852 2337 7651, www.facebook.com/TheLeahHK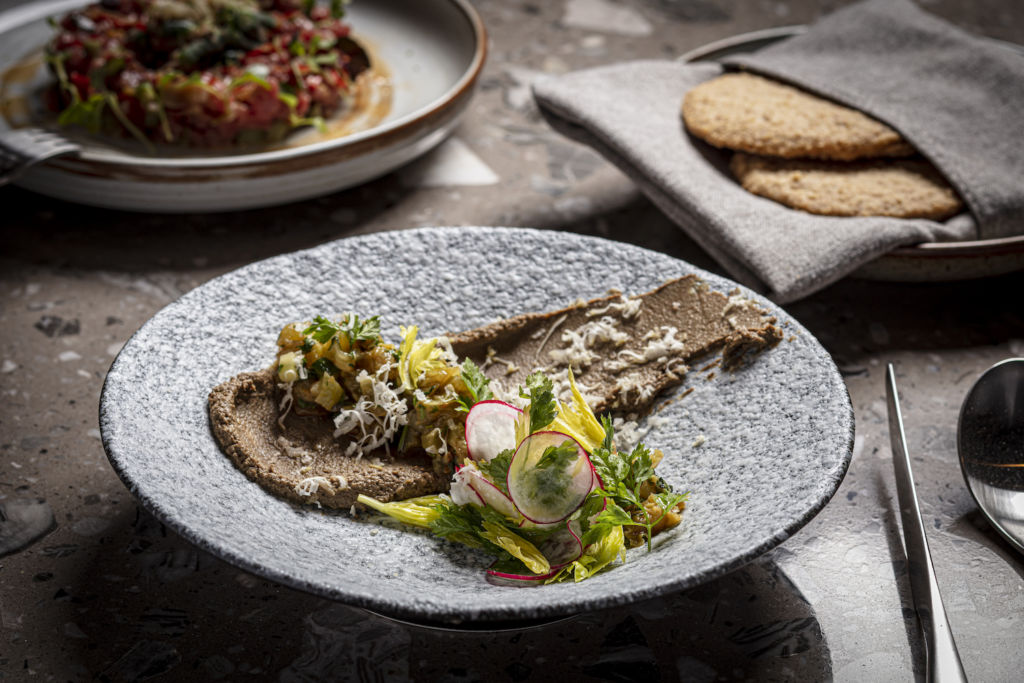 Kinship
Kinship is the kind of restaurant that seems to have a winning mix suitable for all your gastronomic needs. Breathing new life into Hong Kong's casual dining scene, the restaurant venture is a combined effort of chef friends Chris Grare and Arron Rhodes. The family comes first concept is embedded in the menu and style of this dining destination. The menu highlights dishes inspired by the chefs' childhood, as well as their extensive travels across the globe. Fresh-caught sustainable seafood dishes include the Hamachi Crudo priced at HKD $ 140 served with tuna and anchovy tonnato vinaigrette, crunchy garlic croutons and fermented 'carrotkraut'. The signature smoked Faroe Islands salmon is a dish not to miss either, served warm with ikura, South American-inspired jicama salad, crispy quinoa and Peruvian chilli sauce priced at HK$158. For mains, the sharing-style spiced seafood stew is priced at HKD $298 and features charred lobster, black cod, sofrito and "spätzle", a type of German handmade egg pasta. Give this new kid on the block a try this month to spice up your date or family outings.
Kinship 3/F 2-4 Shelley Street, Central, Hong Kong, +852 2520 0899, www.kinshiphk.com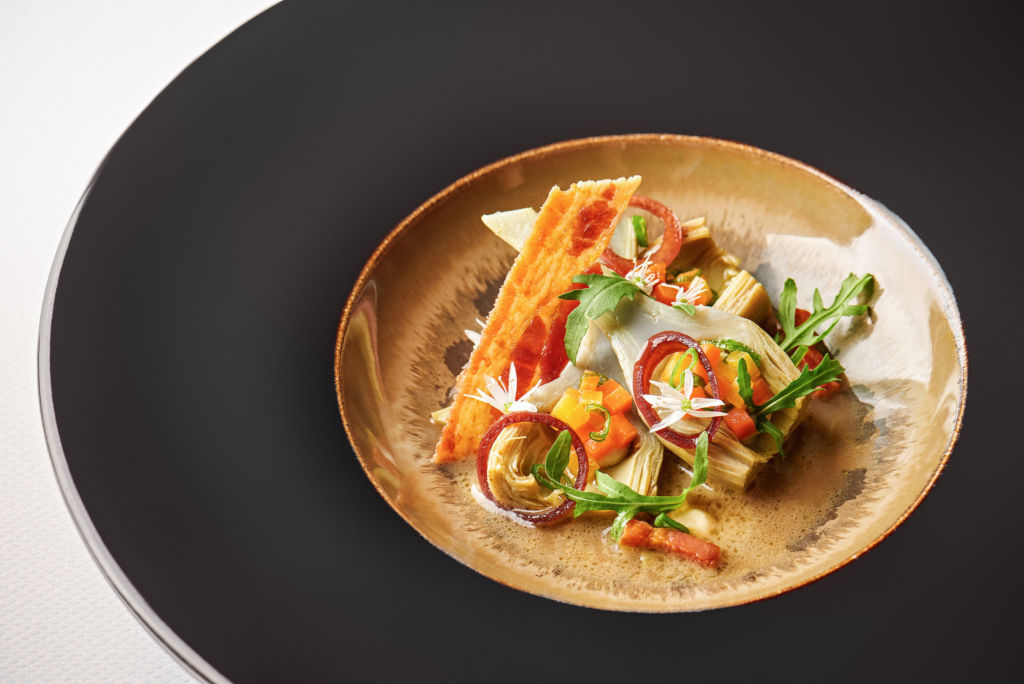 Rech by Alain Ducasse
Fancy a trip to France this month? No need to book a ticket but do book a reservation InterContinental Hong Kong's one-Michelin star Rech by Alain Ducasse. Embark on a voyage of flavors along the coast of France, showcasing the best produce and regional specialties served "Rech style" with a series of five-course signature menus that's available from July 1 to 31 only.
A dining place like no other in the city, sample top-notch French oysters, seafood delicacies and the best seasonal products for each culinary journey. Aptly named Coastal Tour de France, it features "La Riviera d'Alain Ducasse" with a menu celebrating the stylish summer destination in the South of France famed for its beauty and unique culinary style. Paying homage to many unique treasures from the sea, Executive Chef Guillaume Katola showcases dishes that are not just creative but also ingredient-guided in a memorable dining experience this July. Enjoy the five-course menu for HKD $1,288, with a wine pairing option for an additional HKD $688 per person.
Rech by Alain Ducasse Lobby Level, InterContinental Hong Kong, 18 Salisbury Rd, Tsim Sha Tsui, Hong Kong, +852 2313 2323, www.hongkong-ic.intercontinental.com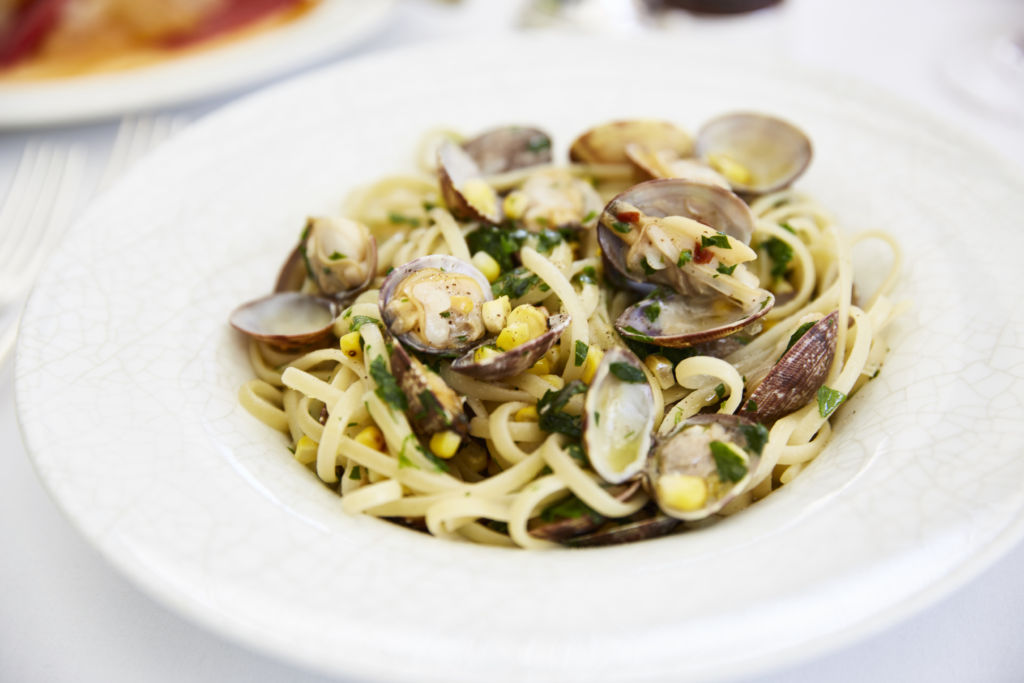 La Petite Maison
For the ultimate French cuisine experience in Hong Kong, there's nothing more chic or satisfying than La Petite Maison. Signaling the arrival of the Mediterranean summer, savor an array of new dishes, cocktails, and wines that epitomizes the charming Côte d'Azur life. Taking inspiration from the South of France's family-style dining, indulge in hors d'oeuvres of warm prawns with olive oil for HKD $208 or a sumptuous Niçoise salad for HKD $288. Sample the delightful French bean salad with foie gras for HKD $178. We simply adore the light seafood options most especially the linguine pasta with Venetian clams priced at HKD $268 comforting our soul and bellies with warmth and satisfaction.
La Petite Maison Shop 1, H Queen's, 23-29, 1/F Stanley St, Central, Hong Kong, +852 2887 1113, www.lpmlondon.co.uk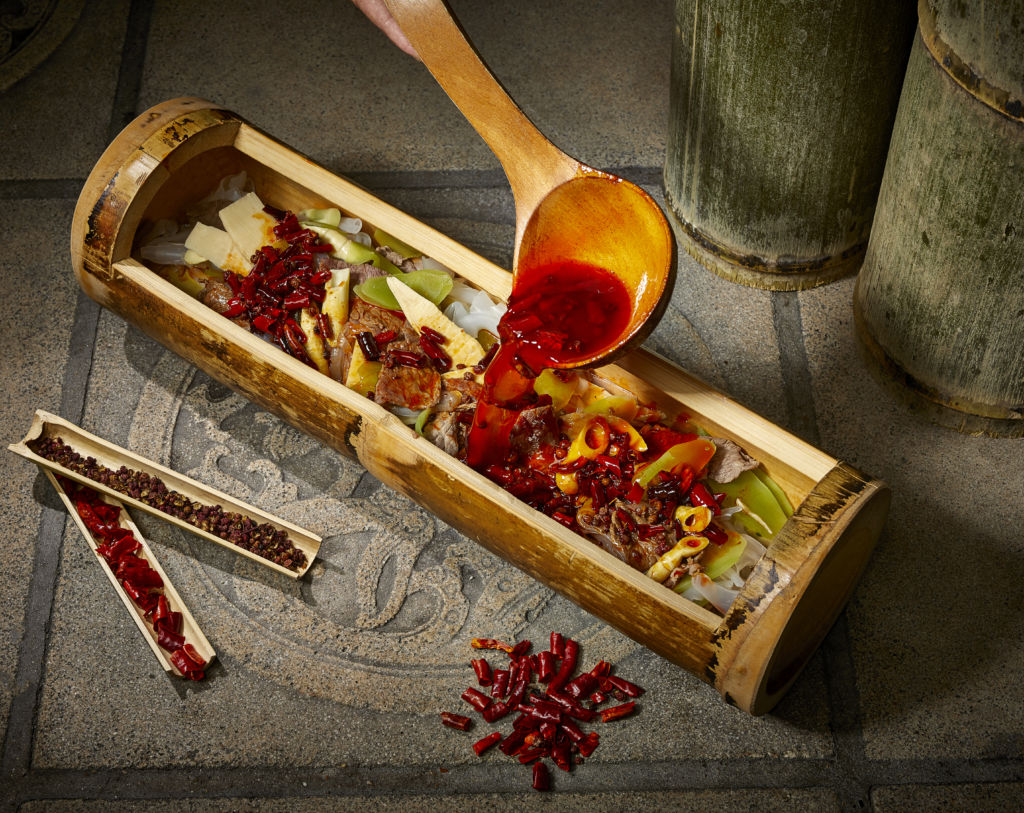 Hutong
Embrace the beauty of Chinese cuisine with sweeping views of the harbor and Hong Kong skyline at Hutong. The Northern Chinese restaurant at One Peking has created six "Yong Zhu" dishes, celebrating bamboo, long-used in Chinese cooking and loved for its refined, elegant flavor with a sweet note. Try the aromatic pu-erh tea smoked cod fillet steamed in bamboo leaves for HKD $488 or the heartwarming spicy steamed tiger prawns with chili, black garlic & crisp bamboo shoots priced at HKD $378. Nothing beats the refreshing salad giant bamboo root, bamboo crisp, abalone, black fungus and noodles priced at $238 to brighten up a dull day. Don't leave without a bite of the sticky rice and red bean steamed in bamboo culms for only HKD $110.
Hutong 28F, One Peking, Tsim Sha Tsui, Hong Kong, +852 3428 8342, www.hutong.com.hk
---
OPENING SOON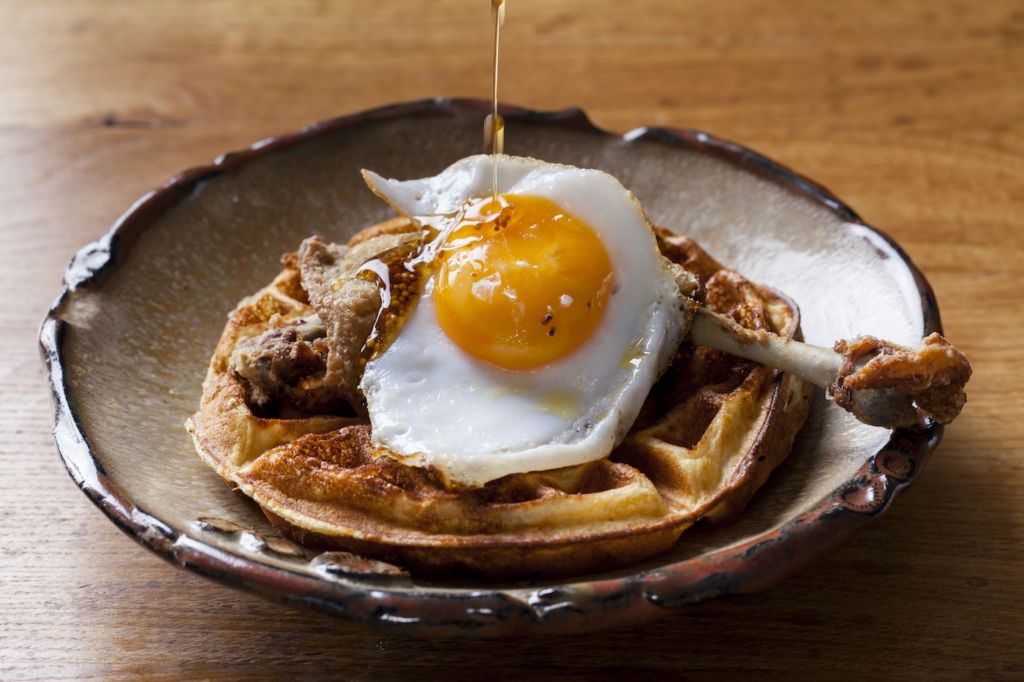 Duck & Waffle 
The critically acclaimed London restaurant Duck and Waffle is launching in Hong Kong this autumn! Housed at the ifc mall, expect a loved-up British cuisine with extensive European influences that's traditional with a modern twist to dishes that will surprise you. The menu is designed for sharing, complemented by a bold cocktail experience that will set the city abuzz. Watch this space for more exciting updates!
Tags
Related Posts