Indeed, Macau is full of opportunities and founders of Grow uP eSport can attest to the success of their enterprise. Meeting the three dashing gentlemen at the RISE Conference in Hong Kong this July, the trio describes competitiveness and creativity as key factors of their business. Did we mention the Grow uP eSports was the only company at the RISE Conference representing Macau? – impressive, right!
Frederico Santos Rosário, Telmo Silva, and Fernando Pereira set on one of the most groundbreaking events in esport history right in the heart of Macau with the launch of GirlGamer Festival 2017. The incredible four-day esports festival at Studio City is a celebration of women's competitiveness. Not to mention, it will have the biggest prize worldwide for a female competition in its category. We picked their brains on how they got started in the world of esports and entertainment.
What's your connection with Macau?
We are from Macau (Frederico and Fernando) and Telmo is from Portugal. This project was actually started 15 years ago from Portugal and through time it grew into a big community. We had about 1500 members of the association. Now, we have competing teams and we have recently taken the role of organizing events as well.
What are esports exactly?
Esports are comprised of professional video game tournaments and of people who are engaged in these activities as athletes. They earn a lot of money doing this and they perform in high levels of competition. There is a huge amount of discipline, strategy, and concentration involved with esports.
We are a tournament organizer and at the same time, we have our own teams competing. We recently announced our first all-girl League of Legends competitive team from Macau and Hong Kong. We are talking about professional teams whose full-time job would be competing in this activity.
What kind of games are these?
The Hong Kong and Macau team only play League of Legends. However, with our upcoming events, we will also have Counter-Strike, one of the most played games globally, and Clash Royale which is a mobile game.
Due to the historical connection, we do interchange bringing teams from Portugal to Macau and from Macau to Portugal participating in various competitions. We are not limited to those three games. We participate in Street Fighter competitions as well. We have community connections in Japan, Hong Kong, South Korea and a lot of other countries.
When you organize events are they location based?
Everything is offline and everyone gets on stage. It's a scenario of five computers versus five computers in a super big screen and live broadcast to England and China and everywhere else in the world in multiple platforms so it's really like a show unto itself.
How did you get funding for the project?
It's sponsorship based. It engages with the young generation so brands communicate with them. And therefore, brands need to pass the message through gaming.
How was it like the setup process of the business?
We already had the experience of setting up the association in Portugal so when we came to Macau, it was quite easy. Macau may not be as well developed in this industry as other places but it was easy to penetrate the market and be leaders in this space. The government was receptive at first but at the same time intrigued. We were definitely focused on building up the creative community.
What are your future plans?
This is the first major activity happening in Studio City, Macau. It's going to involve international teams from all over the world. It's an all-girl team event.
Games are a male-oriented industry and the 30% of female participants are very competitive and driven. It's a mind sport, not a physical sport so we feel it should be genderless. We feel that internationally there are not enough activities directed towards the female community and even when they participate in other genderless events we feel they are oppressed, exposed to toxic behavior, subjected to sexism and stereotypes. We want to prove that they can be as equally good in whatever field of sports.
The teams who are signing up for this competition to represent our association are super high level and better than most male teams so that makes us proud. We will also have a business conference happening with industry key leaders and stake holders doing key note presentations about the state of art of this industry that's happening for the very first time right here in Macau.
Grow uP eSport www.facebook.com/growupesports, www.growupesports.com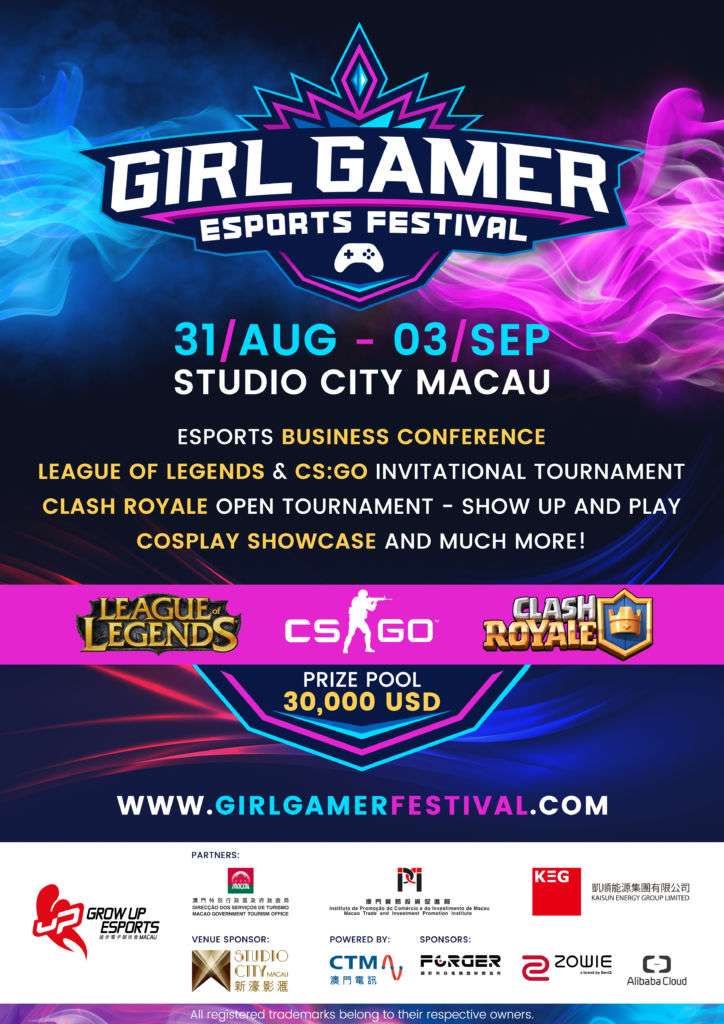 Grow uP eSports proudly announces GIRLGAMER 2017, a major four-day Esports Festival in Macau, hosted at Melco Resorts' Studio City August 31 to September 3. The Festival is a celebration of women's competitiveness in Esports. The event features competitions across the most popular game titles, with the largest prize pool for an international female-focused Esports Festival ever—USD $30,000.
When: August 31–September 3, 2017
Where: Studio City, Estrada do Istmo, Cotai
How much: Free admission
For more details, visit www.girlgamerfestival.com
Tags
Related Posts