Everyone loves ice cream! It's the currency of love and there really is nothing like a bit of chilly sweetness to cool you down on a hot summer's day. These days there are all sorts of variations of the iced treat, including low sugar variations, milk-free versions, and fruity sorbets. Come winter, rain or typhoon, every day is an ice cream day. Since ice cream cravings are not to be taken lightly, we've prepared a special (and well-researched) list of Macau's best ice cream spots!
Lemoncello
(See featured image above)
Lemoncello has branched out. Their main brand used to be in the city center, but they've relocated and have shops in The Venetian Macao and Taipa Village. It is one of Macau's oldest ice cream brands, serving homemade gelato with a dash of Italian. They serve classic flavors such as strawberry, vanilla, and chocolate, but also more dynamic ones such as Yakult, ginger, sesame, green tea, walnut, among others. You can order family boxes at Lemoncello, just perfect to take to that dinner someone's just invited you to.
Opening hours: Daily, 12:00pm–11:00pm
Lemoncello 53B Avenida de Horta e Costa, Grand Oceania, G/F, Macau, +853 2821 0482
Ginza Plaza, R. de Pedro Nolasco da Silva, Macau
R/C J 115 Rua do Regedor, Taipa Village, +853 2858 3396, www.taipavillagemacau.com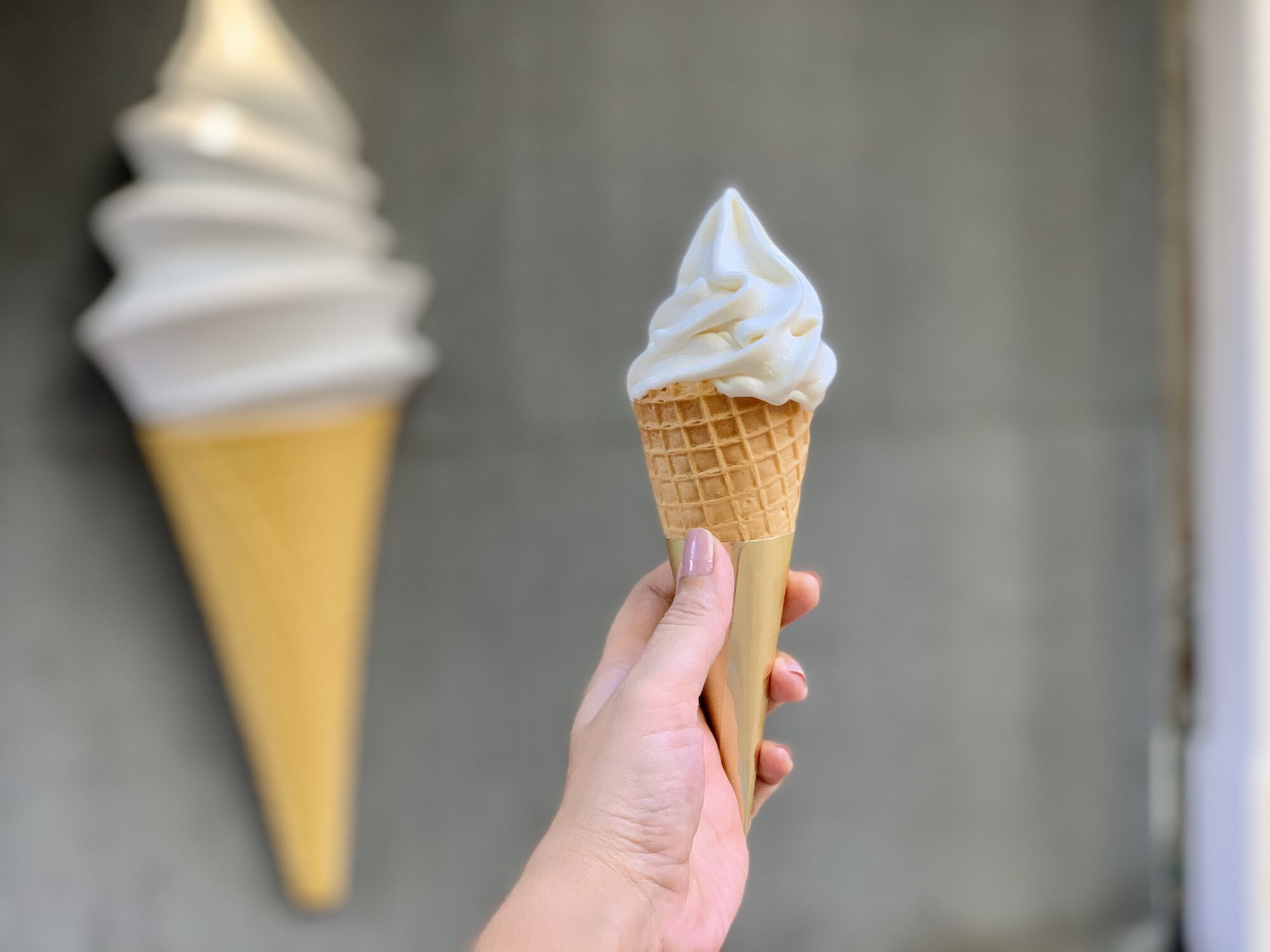 Gozen Matcha
Well-known for its Japanese food, they also have a window beside the restaurant solely dedicated to serving ice cream! They only have two flavors, both uncommon. However, we loved it. Not only because they showcase essentially Asian flavors, but are super fresh and delicious without being too sweet. It's kind of a fruit juice in ice cream format. As soft as these ice creams come, the tofu flavor one was the one we liked best, but green tea is also pretty good. If you can't decide on a flavor, go for the swirls with both in it!
Opening hours: Daily, 12:00pm–11:00pm
Gozen Matcha 55 Avenida do Conselheiro Ferreira de Almeida, Macau, +853 2852 2552, www.facebook.com/gozenmatchamacau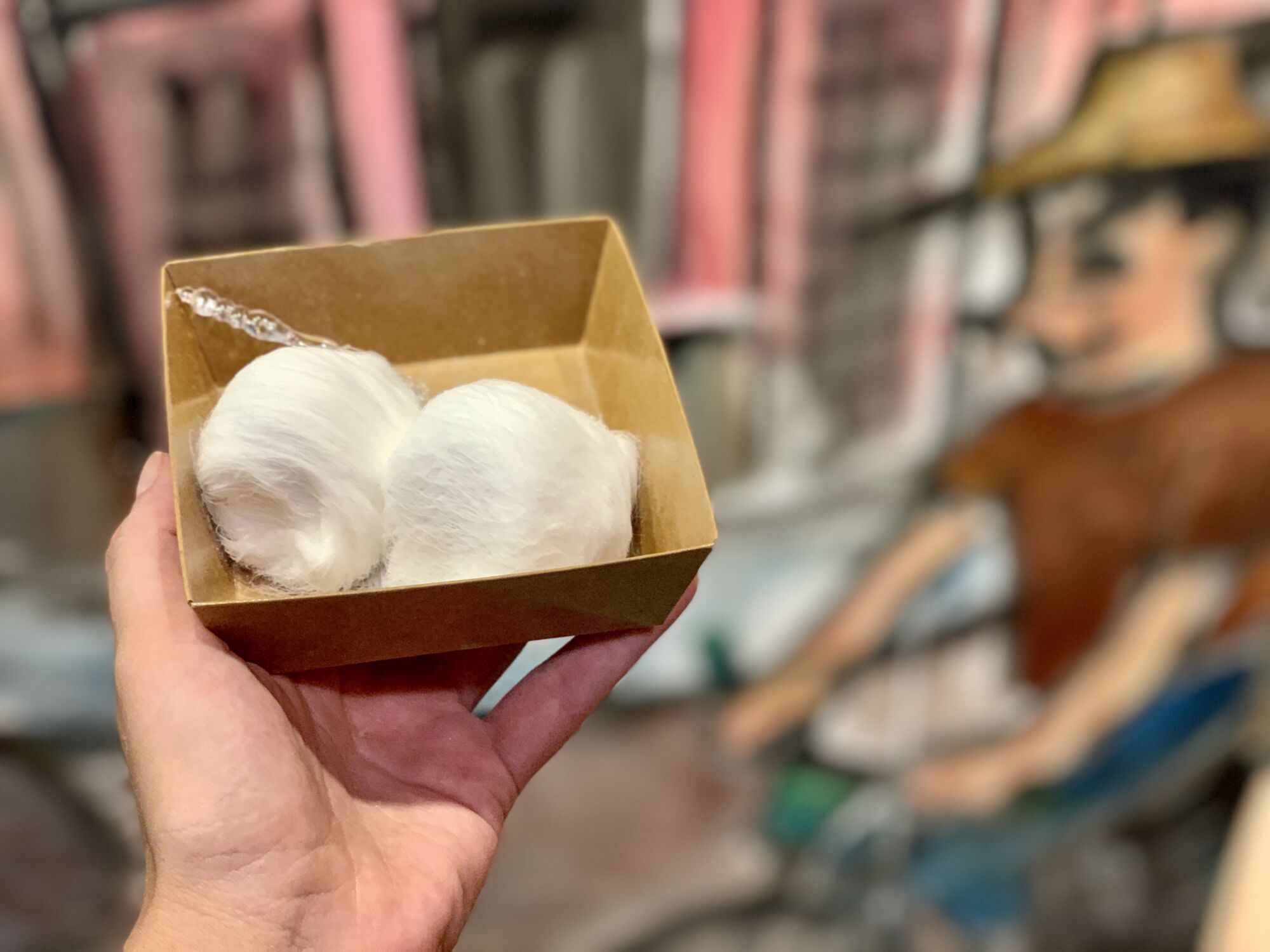 Yau Kei – Dragon's Beard Candy
A brand founded in Macau, it's been around since 1986, offering residents and tourists the chance to eat a very traditional treat from time to time. Besides their most known and bestselling product–Dragon's Beard Candy with peanut–they now offer ice cream as well, giving you the chance to experience a very local flavor while refreshing from the warm weather outside.
With a choice of tofu or chocolate ice cream, these are covered in a dragon's beard candy crust: each bite will reveal the dry crust's filling, with a hint of both coconut and peanut, while the inside is icy and creamy. An innovative twist on traditional Macau candy!
Opening hours: Daily, 11:00am–7:00pm
Yau Kei – Dragon's Beard Candy 25 Calçada da Igreja de São Lázaro, Macau, +853 6588 9928, www.facebook.com/yaukeidragonbeardcandy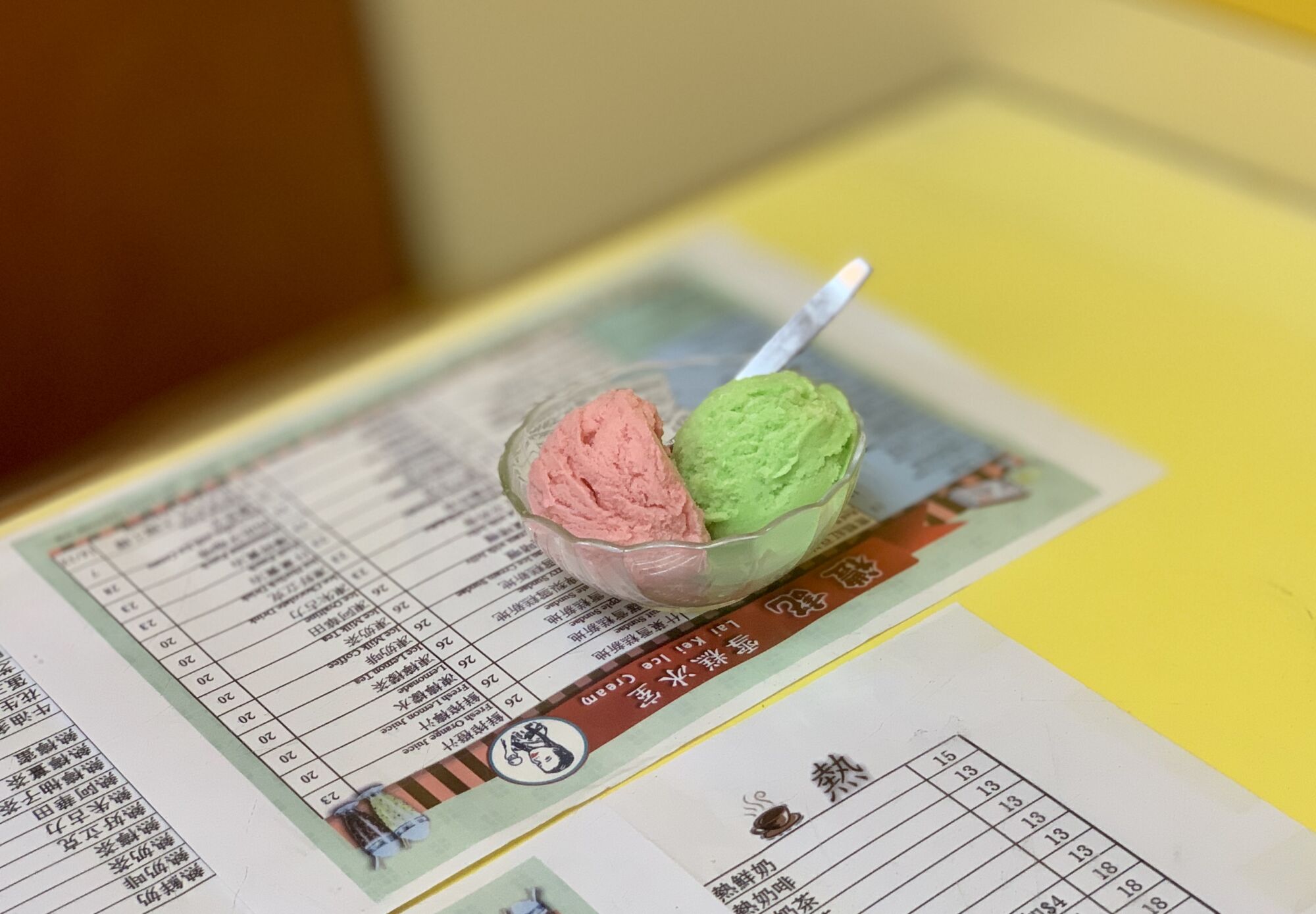 Lai Kei
This is officially the oldest Macau ice cream shop. Established in the heart of the city more than 30 years ago, Lai Kei has a signature ice cream sandwich, but the red bean and coconut sticks are also quite popular. Having preserved its history in their décor, this shop has that lovely old Macau vibe which seems to be quite rare these days. This time, we went for two scoops of freshly made ice cream: strawberry and mint were our choices and we don't regret it!
Opening hours: Daily, 12:00pm–7:00pm
Lai Kei 12–12A Rua Conselheiro Ferreira de Almeida, Macau, +853 2837 5781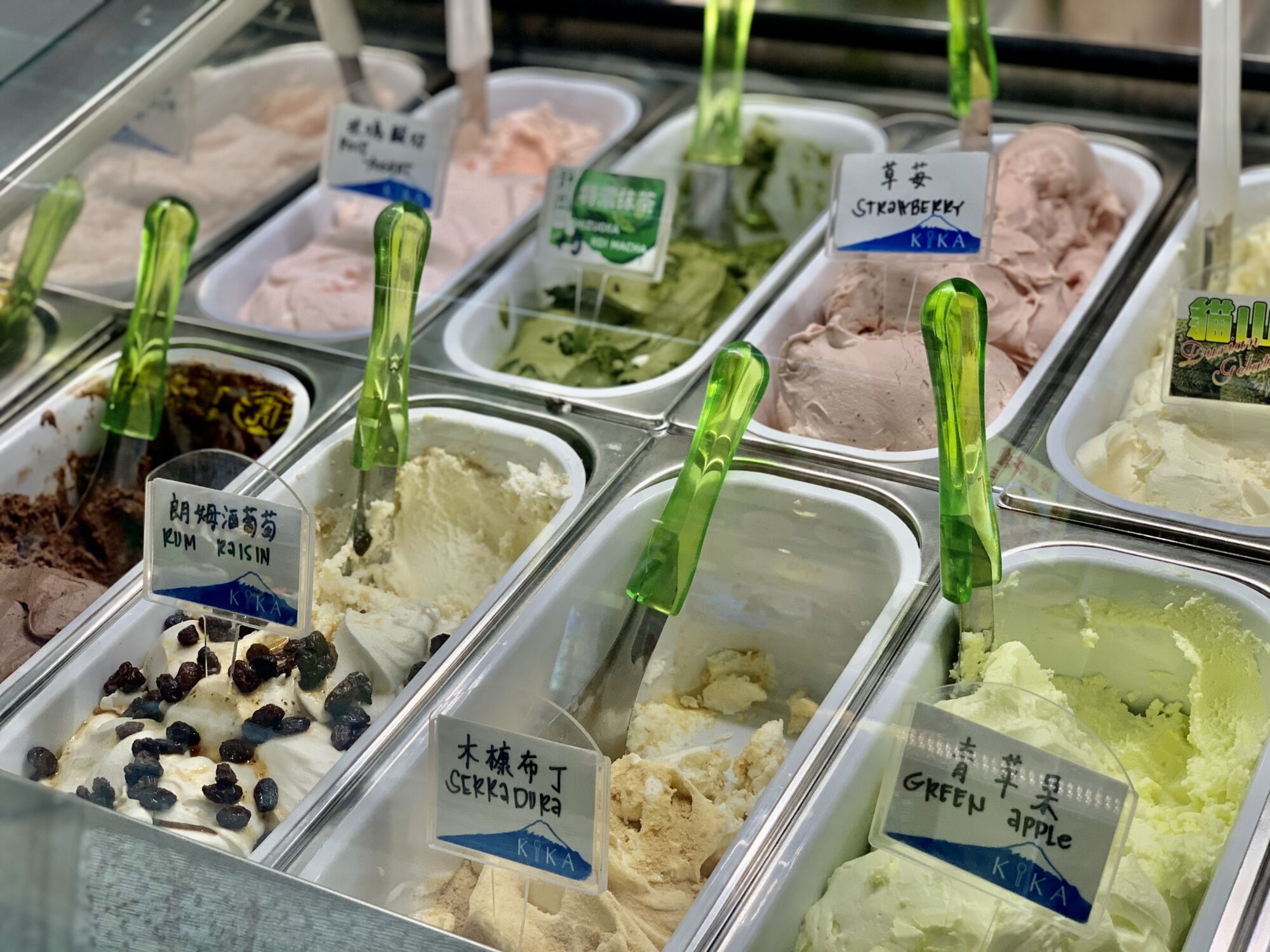 Kika Japanese Gelato
This is a strange, yet awesome mix. It serves innovative flavors such as Okinawa salt, matcha, milk, and pistachio. We believe there are three types of people regarding ice cream choices: the several scoops with one flavor, the two scoops with different flavors and the one scoop one flavor ones! Here, it's going to be difficult not to try at least two, since mixing seems to be their thing. Kika Gelato has an Italian sound to it, but their ice creams are homemade daily with Japanese and Macau ingredients, making it extra popular with the locals.
Opening hours: Daily, 11:00am–10:00pm
Kika Japanese Gelato 11 Travessa da Sé, Macau, +853 2892 0957, www.facebook.com/kikagelato
Stickhouse
Stickhouse is exactly what it says: an ice cream house specializing on flavored ice on a stick, from Florence, Italy. Their ice cream display window is so beautiful that it makes it worth the visit. Featuring coffee, black sesame, watermelon, mango, sakura strawberry, and pizza sorbets, these "gelatos" are a treat to both the eye and the mouth. Their designs are also worth it, with flowers and other delightful details: the watermelon ice cream is shaped like a fruit slice, colored green and red, just like the fruit. You can also customize your own ice cream! Quite original, right? To get yourself some customized ice cream, head to The Venetian Macao and have fun!
Opening hours: Daily, 10:00am–11:00pm
Stickhouse K43 Sun Street Level 3 Shoppes at The Venetian Macao, Cotai, +853 2875 1146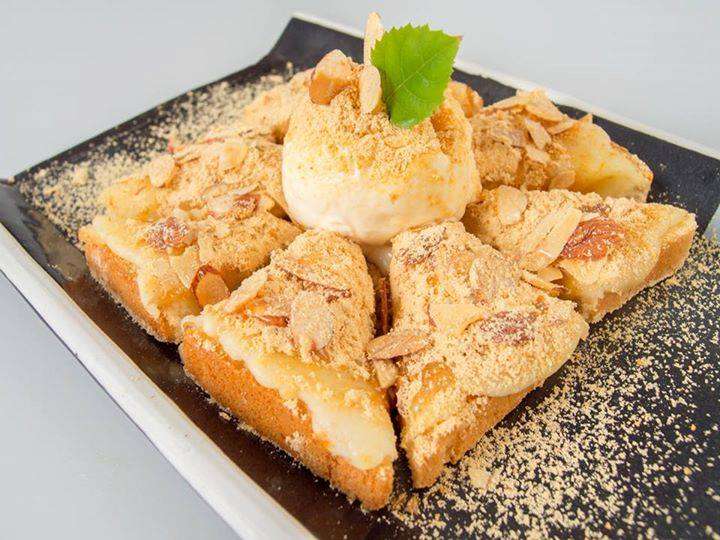 Wicked Snow
Yearning for a huge serving of shredded ice for dessert? Wicked Snow is a fun Korean restaurant perfect for K-pop and dessert lovers where one serving of their snow dessert is already enough for two people. Their menu can get quite overwhelming as you get to choose from a variety of flavors and different toppings. If you can consume a whole serving by yourself, just be careful not to get brain freeze, especially if you really love sorbet-type desserts! Also, they're open until late!
Opening hours: 8:00am–2:30am
Wicked Snow Macau 257 R. da Bacia Sul, Fai Chi Kei, G/F Precious Jade Garden, +853 2878 1112, www.facebook.com/Wicked-Snow-Macau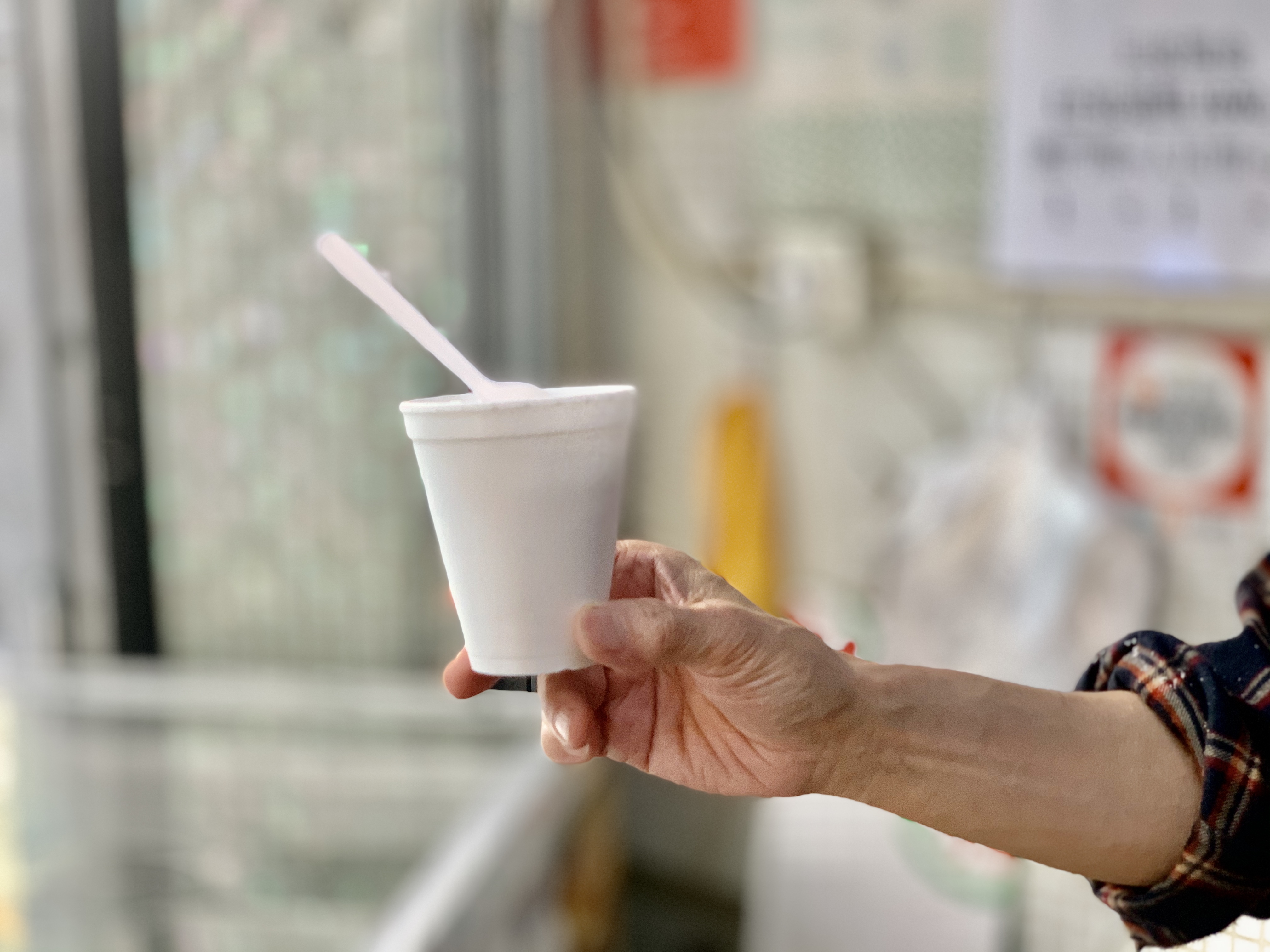 Cocos Hung Heng
Nestled in an old part of our beloved Macau is Cocos (coconut in Portuguese) Hung Heng. It's a local shop famous for its coconut ice-cream. You can also find all the "by-products" of the daily ice-cream production–coconut water, coconut milk, coconut flakes, coconut cuts–all fresh and ready to eat. They also sell fresh taro and mango ice cream too. Natural, sugar-free, dairy-free, and guilt-free, be sure to head to this beautiful part of the city and try one of these! It's located close to Rua dos Ervanários–read here about what to see and do in this area–towards Sofitel Macau At Ponte 16.
Opening hours: Daily, 10:00am–6:00pm
Cocos Hung Heng 14 Rua da Tercena, Macau, +853 2892 0944, www.facebook.com/洪馨椰子-Hong-Heng-Cocos
YOGO Macao
YOGO features three to five frozen yogurt flavors daily but has 20 flavors including original, tropical fruits, and dessert flavors such as cheesecake, matcha, chocolate, caramel, red bean, and honey. There are also interesting flavors like purple sweet potato, red wine, sea salt, coffee, black sesame, and more! You can choose toppings of fresh fruit cuts, cereals, candies, jellies, nuts, cookies, chocolates, and our favorite–the popping boba. We love getting their matcha swirled in with the original topped with mango popping boba and nata de coco!
Opening hours: Monday–Friday, 11:00am–00:00am, Saturday–Sunday, 11:00am–11:00pm
YOGO Macao 13-15 Estr. de Ferreira do Amaral, Shop C, G/F, Edifício Yee Cheong Garden
Rua Nove do Bairro Iao Hon, Edificio Hong Tai, Macau, +853 6333 4000, www.facebook.com/YOGO-Macao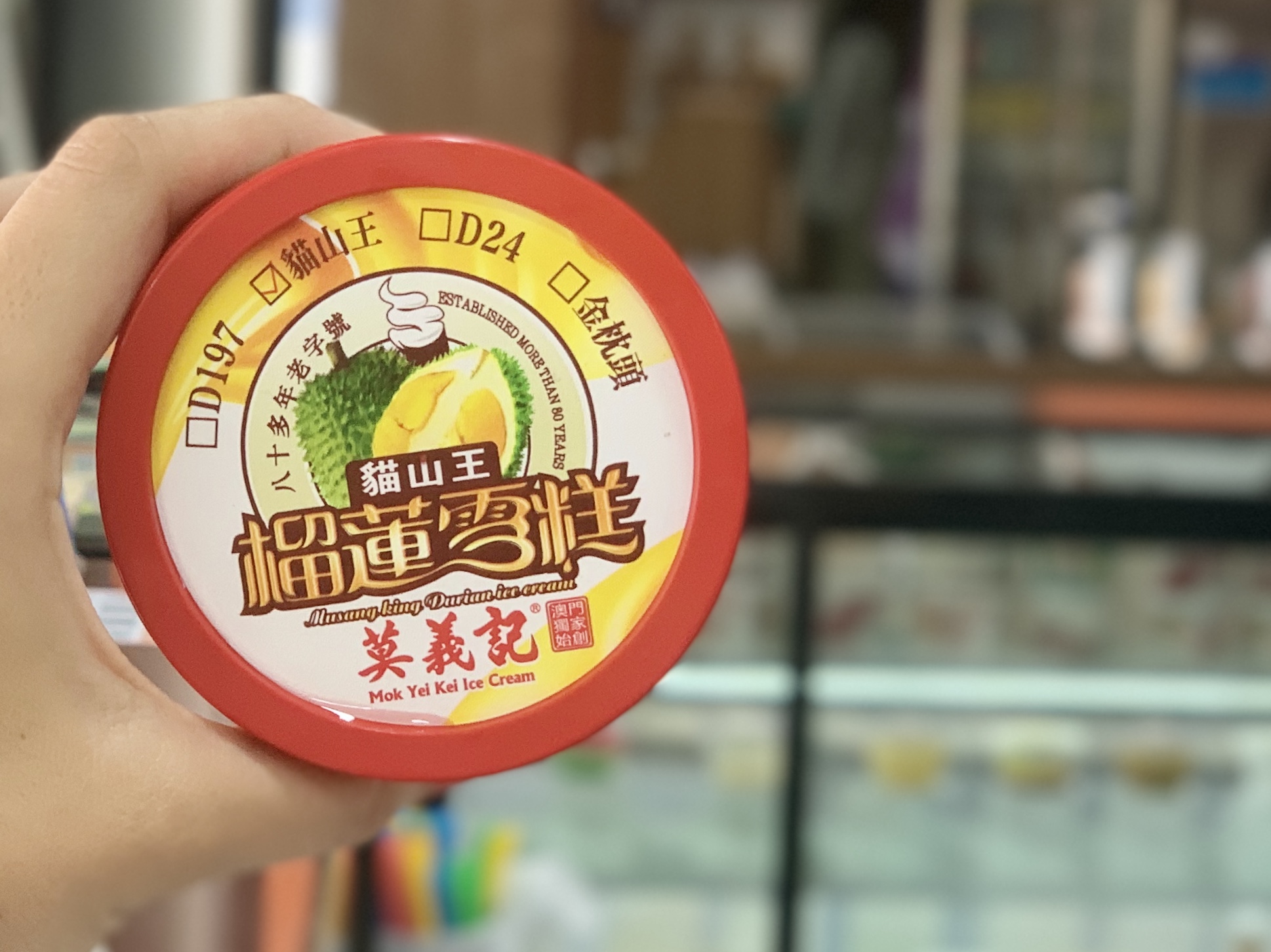 Mok Yei Kei
With a very characteristic and strong scent, this ice cream is meant for both durian lovers and curious people. Some tourists love to taste these variations of this sought-after Asian fruit, but not that many end up favouring it. Durian also has a very strong taste, but those who like this–especially the Musang King kind–will find this ice cream a great invention, especially during those Macau hot sumer days! Fancy a durian ice cream while strolling through Taipa Village? Head there and you'll see how fresh and natural it is.
Mok Yei Kei 9A, Rua do Cunha, Taipa Village, +853 6669 5194

Digreen
If you're looking for a guilt-free sweet treat, head over to Digreen located in Broadway Macau and Studio City Macau. Their low-calorie ice sticks include six signature flavors: coconut, mango, durian, white coffee, sweetcorn, and black glutinous rice. Imported from Malaysia, we enjoyed their "rose de sel" (rose with salt), as well as the sweet corn and black glutinous rice popsicles the most. They also feature a unique ice cream dessert that we highly recommend–caramelized custard swirled in a bamboo charcoal cone served with chunks of their one of their selected popsicle. We had it with bits of black glutinous rice and enjoyed every bit of it! They also craft seasonal flavors from time to time, such as Vita Lemon Tea ice-cream or Vita Soybean Milk, which are refreshing enough for Macau summers.
Opening hours: Daily, 12:00pm–9:00pm (Broadway Macau branch)
Daily, 10:30am–7:30pm (Studio City branch)
Digreen Shop E-G034, Broadway Macau, Avenida Marginal Flor de Lótus, Cotai, +853 6393 2333, www.broadwaymacau.com.mo/restaurant/digreen
L02 Shop 2073, Studio City Macau, Estrada do Istmo, Cotai, +853 6826 2593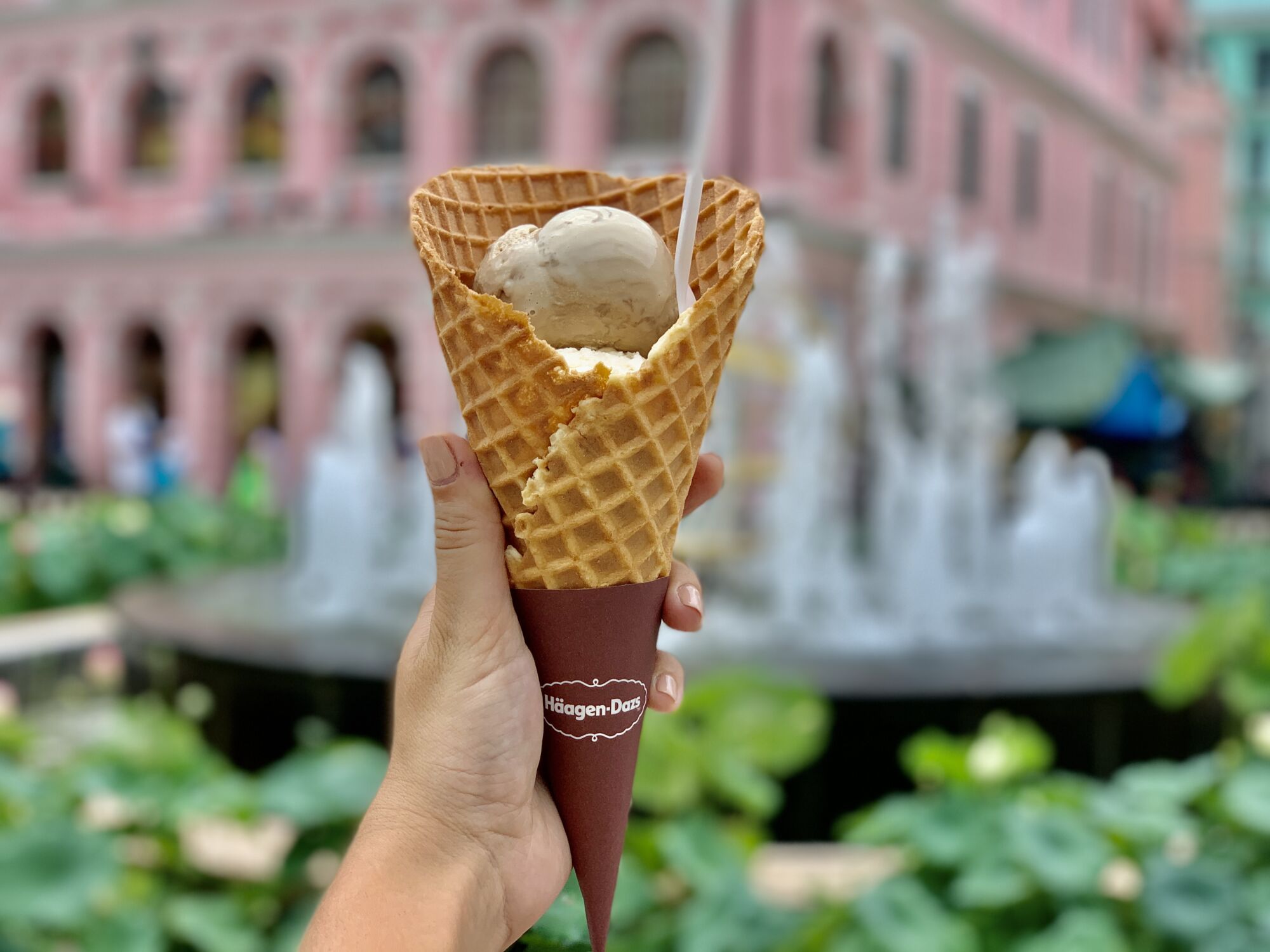 Häagen-Dazs
The American brand of ice-cream was established in 1961 and has several shops in Macau, with one of them brightening the beautiful Senado Square! Why not head there for a great scoop of happiness and then stroll through this area? We love almost every flavor they offer, besides all the limited editions on summer and winter delights. They have regular scoop cones or cups, but also shiny products featuring ice cream plus toppings of all sorts, like gummy bears, caramel or chocolate syrup, whipped cream, and more.
Opening hours: Sunday–Thursday, 10:30am–11:00pm, Friday and Saturday, 10:30am–12:00am (The Venetian Macao branch)
Daily, 10:00am–11:00pm (Senado branch)
Häagen-Dazs Shop 310, Mask Street, Level 3 Shoppes at Venetian, The Venetian Macao, Estrada da Baía de Nossa Senhora da Esperança, Cotai, +853 2857 8291
5 Travessa do Roquete, Senado Square, Loja A R/C, Macau, +853 2838 9666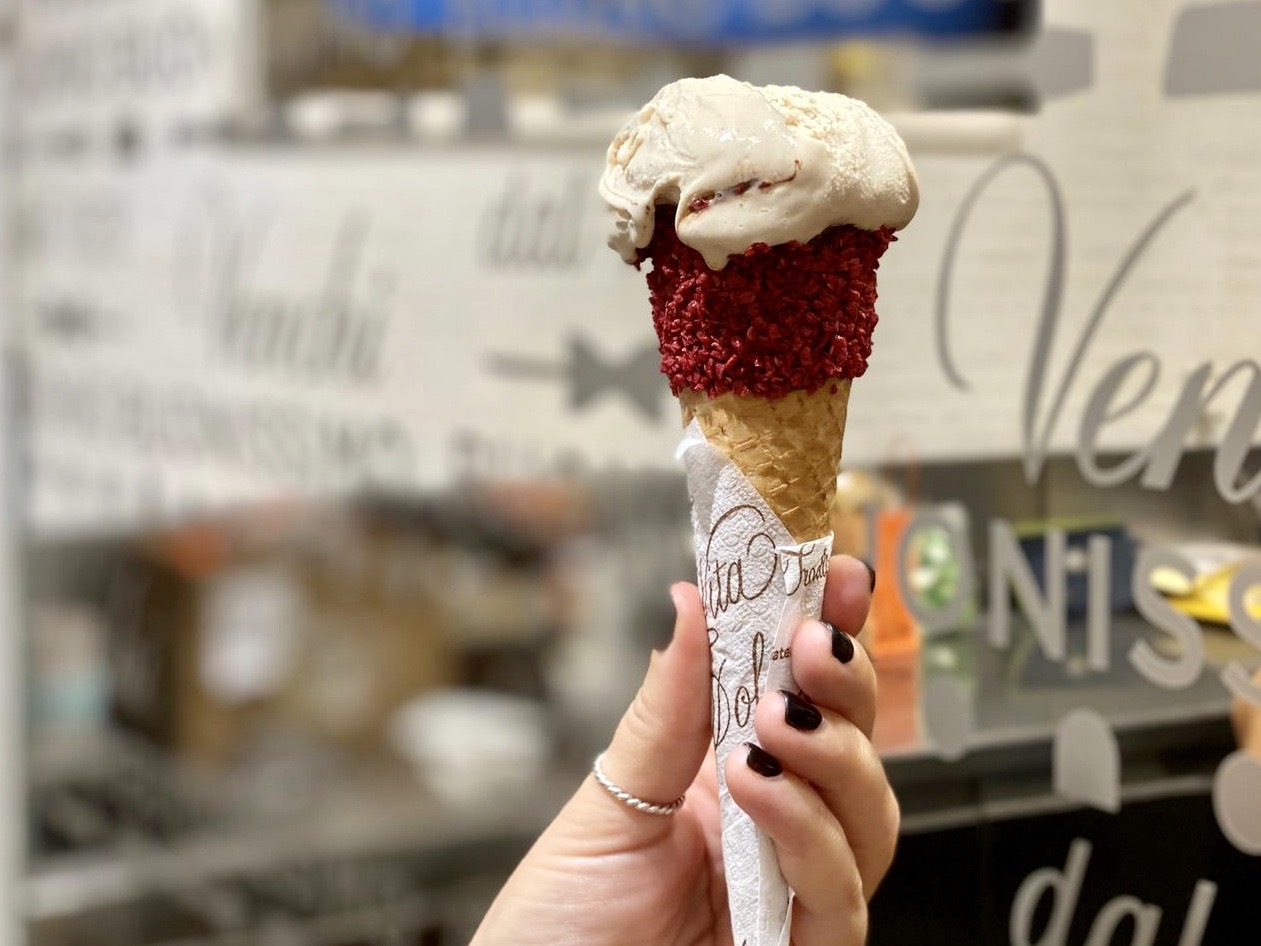 Venchi
Located in classy The Venetian shopping mall area, Venchi is an Italian ice cream shop serving few but wholesome and traditional flavours. From pistachio to chocolate, straciatella to vanilla, all of them are worth trying! This time we went for this fantastic crafty cone filled with chocolate oozing inside, plus some more on the exterior, finished with raspberry bits. Crunchy and on the bitter side, they go very well with the ice cream. Not too sweet, but sugary enough to satisfy your cravings, this is a to-go place not only for ice cream, but also gummies and other sweets such as chocolate truffles.
Opening hours: Sunday–Thursday, 10:00am–11:00pm, Friday and Saturday, 10:00am–midnight
Venchi 311, Level 3, Shoppes at Venetian, The Venetian Macao, Estrada da Baía de Nossa Senhora da Esperança, Cotai, +853 2856 1983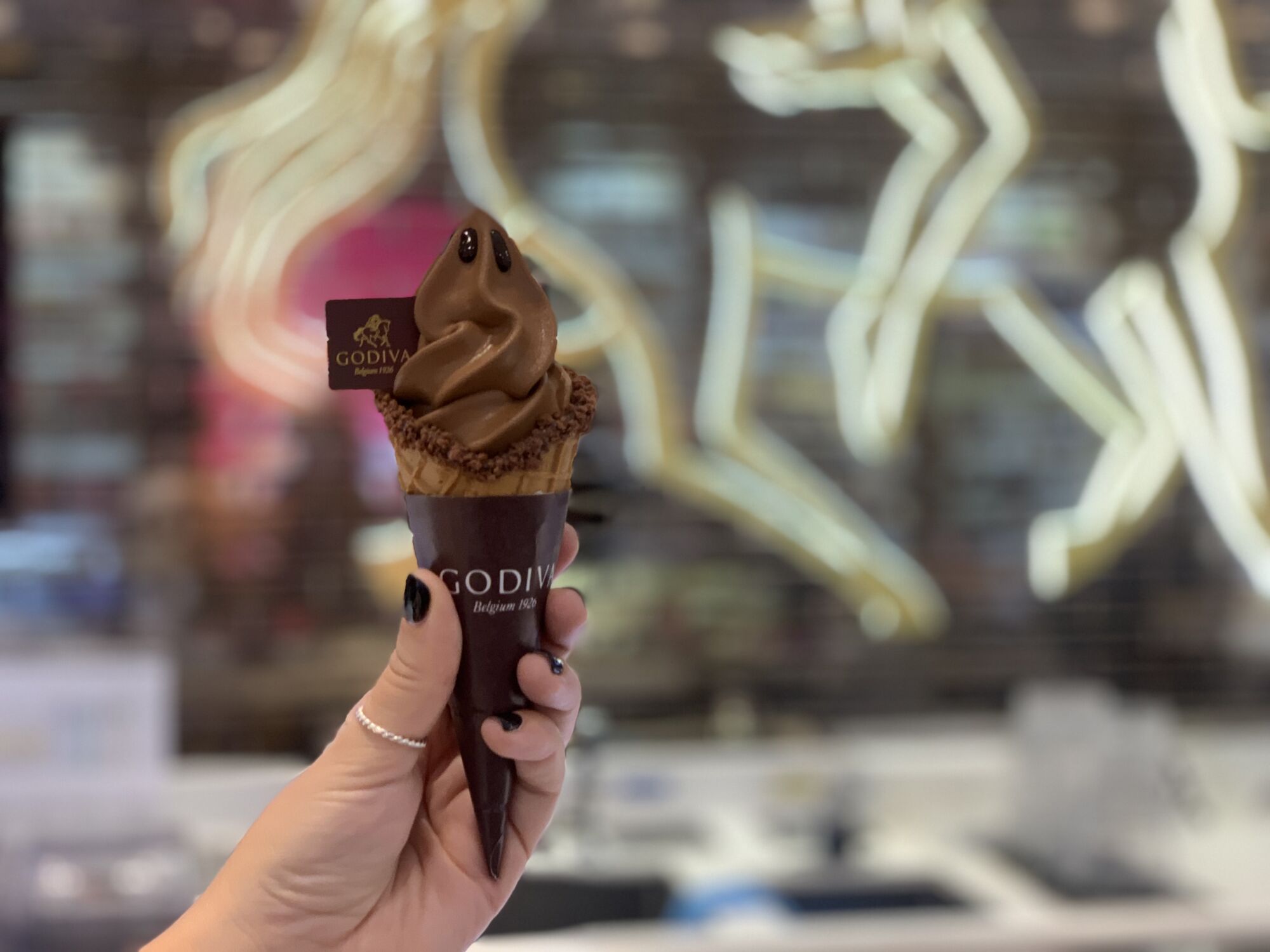 Godiva
With three major flavours–vanilla, dark chocolate and twist, which combines both vanilla and choco–this is definitely one for the cacao lovers! With shops all over the city, head to one of them and have a taste of this cool and beautiful soft serve, swirled into a cone also tasting chocolate. While you're there, why not take some of their world renown chocolates home? Have the whole family gathered at the table and do a tasting after dinner!
Godiva 251A-301 Avenida Comercial de Macau, AIA Tower G02A, Macau, +853 6571 7204 (opening hours: 11:00am–8:00pm)
Shop 09 Harbourview Hotel, Fisherman's Wharf, Avenida da Amizade e Avenida Dr. Sun Yat-Sen, Macau, +853 2872 5027 (opening hours: 11:30am–8:30pm)
Shop 609 Shoppes at Venetian, The Venetian Macao, Estrada da Baía de Nossa Senhora da Esperança, Cotai, +853 2882 8388 or +853 2882 8389 (opening hours: 10:00am–11:00pm)
New Yaohan, 90 Avenida Doutor Mário Soares, Macau, +853 6211 3525 (opening hours: 10:30am–10:00pm)
Shop G071, Galaxy Macau, Estrada da Baía de Nossa Senhora da Esperança, Galaxy Macau, Cotai, +853 2828 3822 (opening hours: Sunday–Thursday, 10:00am–10:00pm, Friday, Saturday and public holidays, 10:00am–midnight)
This article was originally written by Bel Faustino in 2018 and updated by Leonor Sá Machado in July 2020.
Tags
Related Posts