Having lived abroad for some time, Filipe Brito is a tattoo artist residing in Macau. Owner of local tattoo studio DeBritzz Tattoo Macau, he now shares a new line of business with his partner, Sara Rodrigues. Ink It specializes in stretch marks camouflage and it's the first of its kind in Macau. Filipe dedicates his days to making people's dreams come true, sometimes helping to improve their self-esteem. We sat down with the man to whom "every skin is a canvas" and got to know all about both DeBritzz Tattoo and Ink It, a revolutionary idea gaining popularity in town.
You're your own boss, owning the local tattoo parlor–DeBritzz Tattoo. Why this name?
To be honest, I think I have to thank my sister (laughs). Our surname is Brito and my sister was known as Britz. I thought it sounded really good so I added one more Z in the end. Mr. Martini was one of the other options, but there are plenty like that already. It's because one of my other surnames is Martins, and because of my grandfather's talent as well.
You're a tattoo artist even before you arrived in Macau however, you majored in something that has nothing to do with arts…
Yes, I graduated in International Relations and Marketing!
Where did your artistic vein come from then?
It was always present and it kind of runs in the family. My dad always painted, nowadays doing iron sculptures and my grandfather, the same so the artistic vein was always there. The tattooing part comes from what I did a long time ago as well. During high school, I loved drawing–especially during the Dragon Ball craze–and I used to sell my drawings to other kids to pay for my snacks and stuff like that.
But you only started tattooing later in your life?
Yes. It came up during a time in my life when I needed to earn some extra cash. I started off doing tattoos part-time, especially on friends and so, in Portugal.
How did you end up in Macau?
We (Sara and I) started by living in China first, in an adventure that kicked off in 2014. Then I kept tattooing, mostly smaller stuff while having fun. I borrowed the equipment and material from a colleague of mine that had studied this art but didn't have a use for it and lent it to me. Upon arriving in China, I kept tattooing, but still just to earn some cash and for fun. We came because Sara got a job at a Chinese university–in Hangzhou–as a Portuguese teacher. Then she got a job at another China university (in Changchun), close to Korea, in northern China.
Did you enjoy that experience?
[Filipe] Yes, the first time especially, but the second not so much. The latter was a super grey city, freezing. We experienced -28ºC! During summer it was nice, but it lasted for three months only.
[Sara] The first impact–culturally speaking–was huge. And the second city was nine hours away from Beijing, so it was really far.
[Filipe] There's a really funny story on how we went back to Portugal. We decided to take an earlier flight 15 days before that scheduled date. It involved the football championship, Euro 2016 (laughs). When Portugal was 3-3 with Hungary, I turned to Sara and said 'We're not gonna see these matches here, all alone and I'm pretty sure Portugal is going to the finals". We changed the flights, paid a load, took off at 7:00am on a Friday, and landed in Portugal at 7:00pm the following Sunday. Nine hours on a train to reach Beijing, seven more at the airport, stopped in Turkey then Switzerland. But we got to our friend's cafe in time to watch the game!
What did you do in China?
Basically, we embraced the adventure that this experience entailed. In the beginning, I did some small jobs, worked in bars–we owned a bar in Portugal for almost five years–and stuff like that. After some time, I started studying the market of tattooing and started to discover some of the greatest tattoo equipment brands sold in Portugal and around the world were manufactured in China, so I bought lots of material, since I've left some of my equipment in Portugal. I bought equipment especially thinking of tattooing once I returned to Portugal, but the desire kicked in again. Expats were my main customers.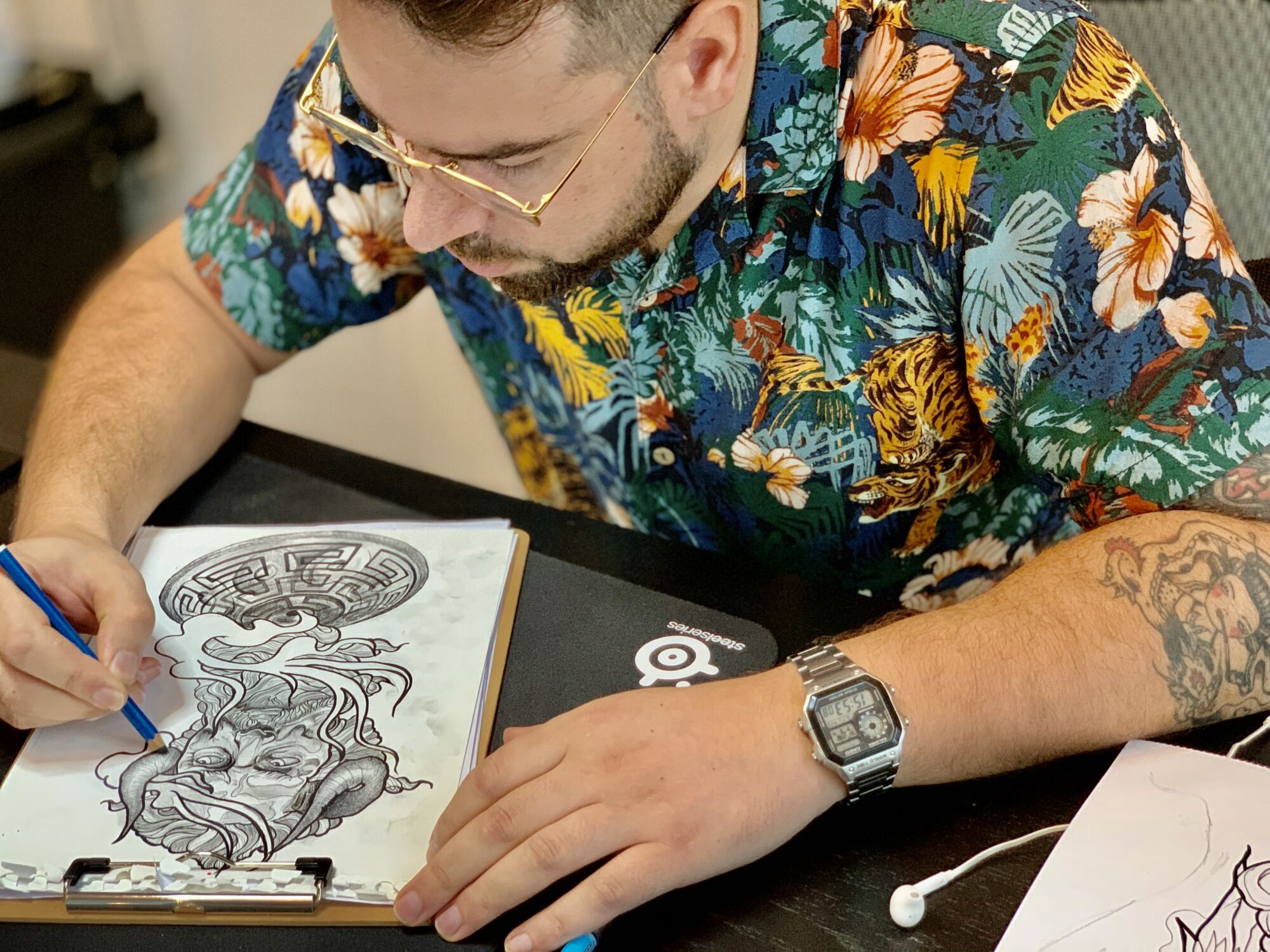 How did Macau happen?
Sara's working contract (in China) had been renewed and at the same time, a position opened at IPOR (Instituto Português do Oriente) and we didn't hesitate. We even had our trip to Shanghai booked already, but changed the route to land here. Macau was where I really decided to dedicate myself entirely to tattooing. It was hard to get a job that required my background, especially because I don't speak Chinese.
Did you start with a studio of your own right away?
No, I started in a room of our first house in Macau–a tiny space.
How would you describe the local market for this specific line of work?
I'd say it's big, but also small, meaning that there are lots of people doing tattoos nowadays, but you end up being one of the few foreigners doing so. In Macau, Hong Kong, and other big cities in China, although the cultural status of tattoos in society can be more or less marginalized, the culture of who does and asks for a tattoo is mature, unlike Portugal. I've never had a single local asking me to tattoo a dolphin or a star (laughs), or a Google image.
Could you elaborate further on this?
In Portugal–which is the other market I know of–someone opens a tattoo parlor in their town and they do everything the client asks. He's just "the guys that do tattoos". Here, I've had other tattoo artists, when confronted with designs clients brought in, asking "Isn't that illustration from DeBritzz?". It's a competitive market, which allows and makes you learn. Honestly, I started tattooing to pay the bills and that's why I decided to invest in this for real.
[Sara] I think art, in a manner, is something that comes from within, it doesn't grow just with studying.
So do you believe one has to keep learning?
For sure. I kept doing it, perfecting my style so I can do what I like best–drawing my own things and dedicating to the style I love: old school and traditional.
How did you go from your tiny studio to a front shop and back to a homey studio?
I had a studio at Nam Van Lake, together with Joker's Barbershop, where I stayed for a few months. However, rent in Macau is costly, and I didn't meet the criteria to ask the government for a creative industries' fund. Another factor that made me come back to the idea of a home studio was that we're having a baby. I had weird schedules, and I can tattoo for hours on end. Having a studio at home–although separate from the house life–made it possible to be closer to my family.
[Sara] In truth, we always pictured this kind of arrangement, the idea of a parlor that's more an atelier, a familiar vibe. Then we were lucky enough to find this house, where we could separate the studio and working area from our private life.
Is there a market for tattoos in Macau?
There's a market for this everywhere. Nowadays, it's seen as an aesthetic element. More than ever, tattoos shifted from being made on hidden parts of the body to being done on uncovered areas.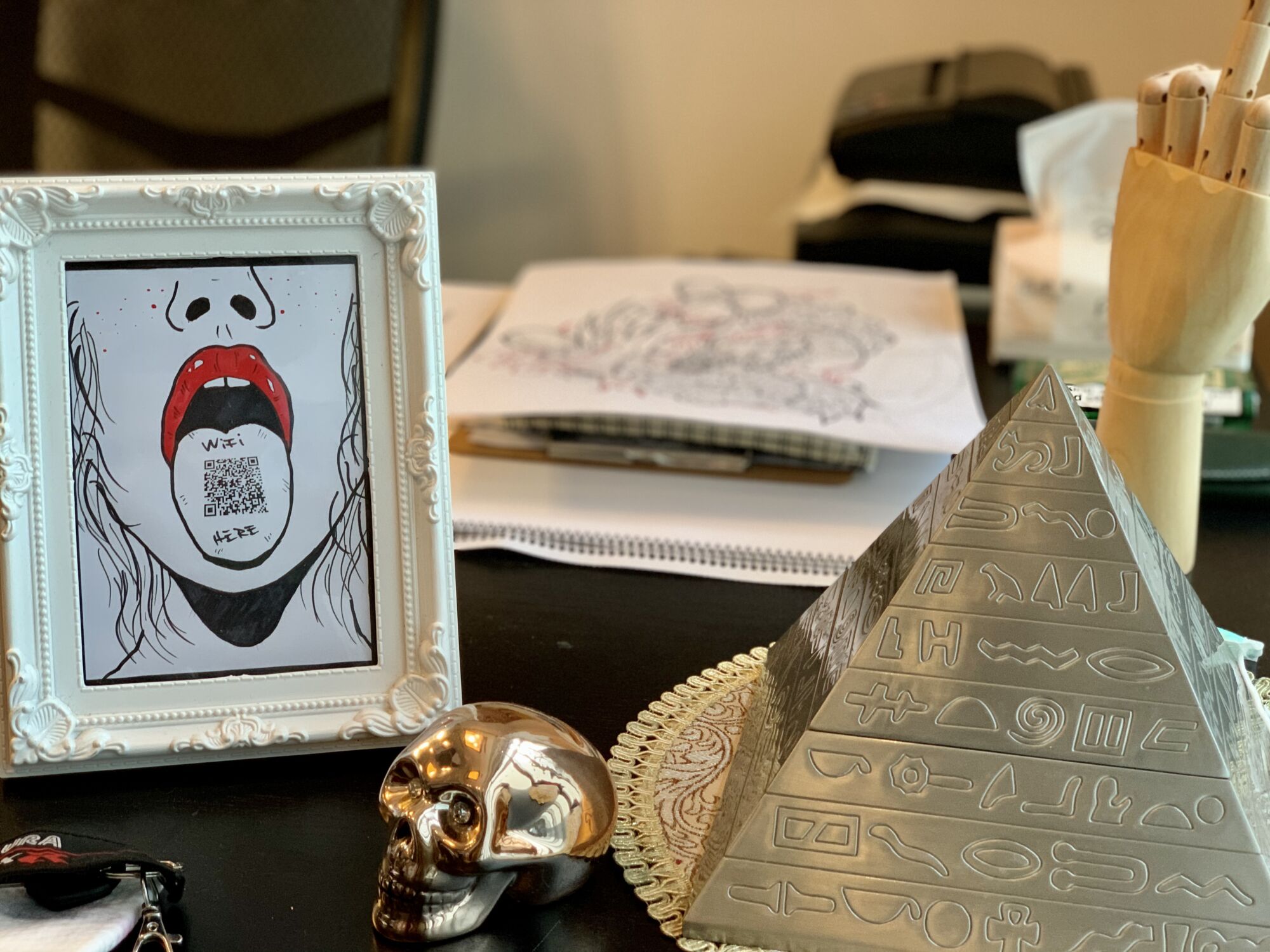 Are they popular amongst locals? In Japan, for example, they're perceived with prejudice.
There's also prejudice here, with the triads and an older generation usually linking tattoos to a bad lifestyle. That's the same everywhere as well. If you go to a remote part of Portugal and show up with tattoos, older people might also think you're living an unhealthy lifestyle. The tattoo industry in Japan is more developed than ever; it's super respected, in fact. Nowadays, there might even be a bigger market because there's a wider intersection of styles. You have Californian, western old school, the Russian school. There's also plenty of market in Korea, Taiwan–which is a combination of both Chinese and Japanese schools influenced by the occupation–and China. There are great artists in Vietnam and Macau as well.
Do different tattooers have different styles?
Yes. It's really interesting to look at the local market through that perspective. You can understand what people are searching for; what they're looking to have inked. Take northern Asia orientals for instance. Few artists tattoo the traditional oriental style. They either do western old school–pin-up and other elements–or western blackwork. There are a few local tattooers who tattoo traditional Chinese elements as we know it, like Chinese calligraphy. There are some, of course, but not that many.
What is your preferred style to tattoo?
My favorite thing to do is old school.
But do you tattoo anything people ask you to?
In a sense, I do a bit of everything because bills still have to be paid. But I mostly enjoy doing medium to big tattoos. There are things I don't do, like Googled images and copies of other tattoos.
What is the process of getting a tattoo done at DeBritzz?
I don't accept walk-ins and only do social media advertising, so people usually contact me via Facebook or Instagram. They then let me know what's the draft idea, like what figure they want to have, or something like that. We then book an appointment to understand the next steps like size, main elements in the design, with which I then start creating the drawing. If the client lets me do the drawing freely because he truly likes my style, I sometimes even finish the drawing on the skin.
What was the weirdest thing you ever tattooed?
Not sure, but I think I don't have strange designs. Maybe when I tattooed a pig on a guy's belly. In the north of Portugal, there's a strong concept of eating and drinking in great style, which is called "taina" in Portuguese. "Taina" was kind of a brand presence at a huge party in our town, and this guy asked me to tattoo the logo–a pig. Other than the strangest thing I tattooed, there's also the client's feeling and reaction after being tattooed. There were times I almost cried together with customers because of how emotional it was for the person. I've done tiny tattoos but it meant so much for the client… and that's amazing.
Why the motto "your wish is your punishment"?
Because it always hurts. It's true. There's always some suffering, but that suffering is kind of a rite of passage, a means to an end. You get here with the wish of having a tattoo, but you get in the chair and it's going to hurt. Another important thing is that in that chair, nothing matters, we're all the same: women, men; nobody is "less than", no doctors or misters. Every skin is a canvas for me.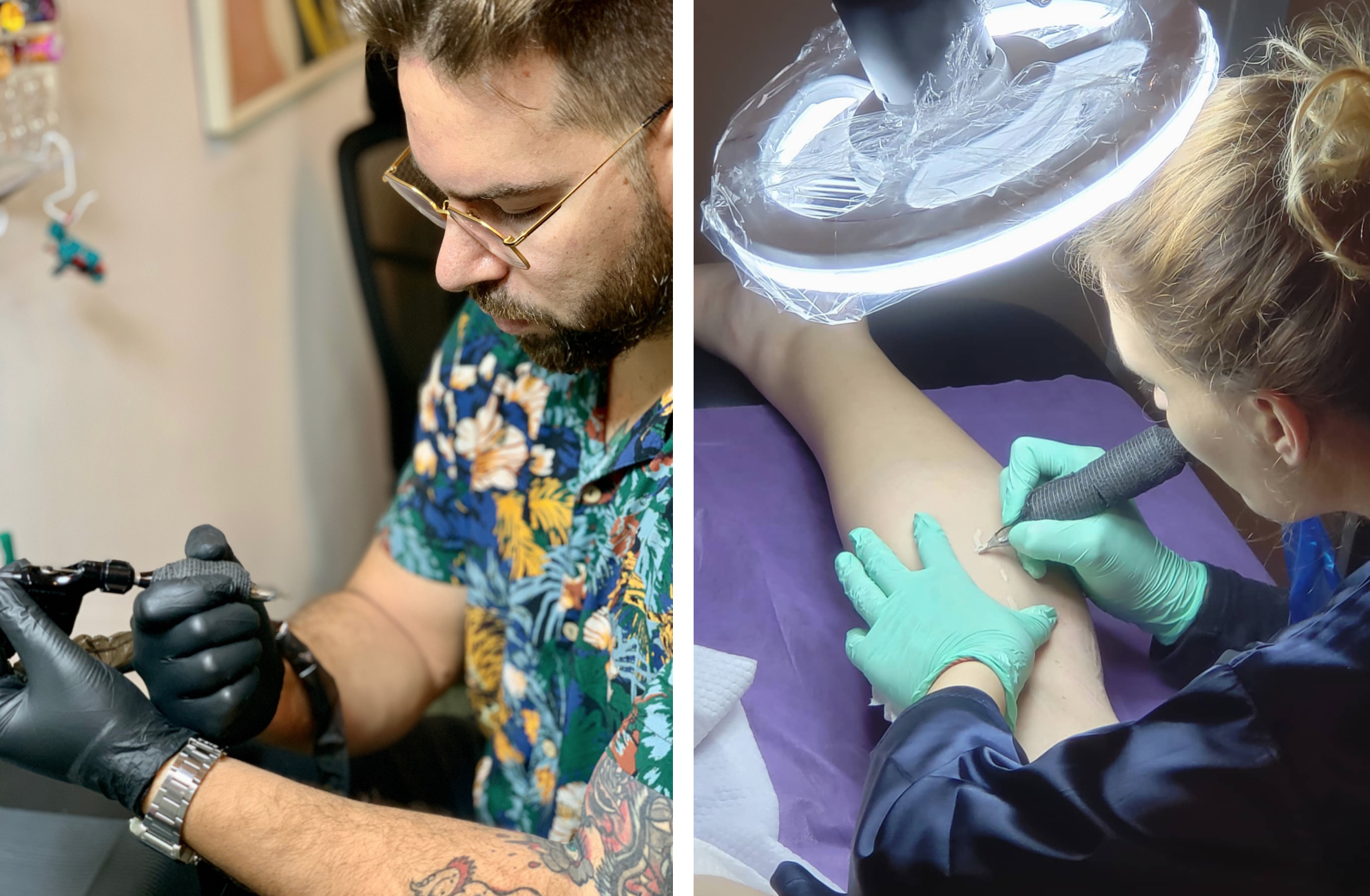 Recently, you opened, together with Sara, a new business. What does it entail?
We started Ink It with the idea of branching out, for those customers who want to cover body marks like stretch marks or scars. Lots of people want to cover it with tattoos and I was never a fan of that idea because it isn't good to work with damaged, fragile skin.
[Sara] Some women also want to cover C-section scars, and tattoos sometimes get weird because of the type of skin one's working on. That part of the skin is really sensitive, similar to that of stretch marks. You can't go over an area like this twice, for example. We also thought about the fact that there isn't anything like it here in Macau. We were already familiar with this technique with the work of a Brazilian guy. We're talking about camouflage work, which means you cover stretch marks–which is what we're starting off with–with ink the color of your own skin.
People usually mistake this for micro-pigmentation. Is it the same?
Actually, no, nothing like it. Micro-pigmentation is temporary, you can't sunbathe, it's painful and quite expensive. Camouflage is painless (we always apply anesthetic), permanent, and allows you to sunbathe. We never know how many sessions each person needs because of the skin's reaction to the stretch marks' length. One of the most important things is the aftercare, which people need to follow.
Would you say it's a treatment?
Exactly. It caters to people that want to erase marks. Lots of women get stretch marks during their teenage years, or after getting pregnant.
[Filipe] And there's no clinical treatment to eliminate or prevent stretch marks.
How much does it cost?
[Sara] We're doing per area, which we calculate being around 20cm. That costs MOP $1,000 with a 30% discount for the first session. This is a much lower price than any micro-pigmentation treatment. They can go from MOP $3,000 to MOP $6,000 per session and it's not guaranteed that you won't have to go back sometime after to retouch.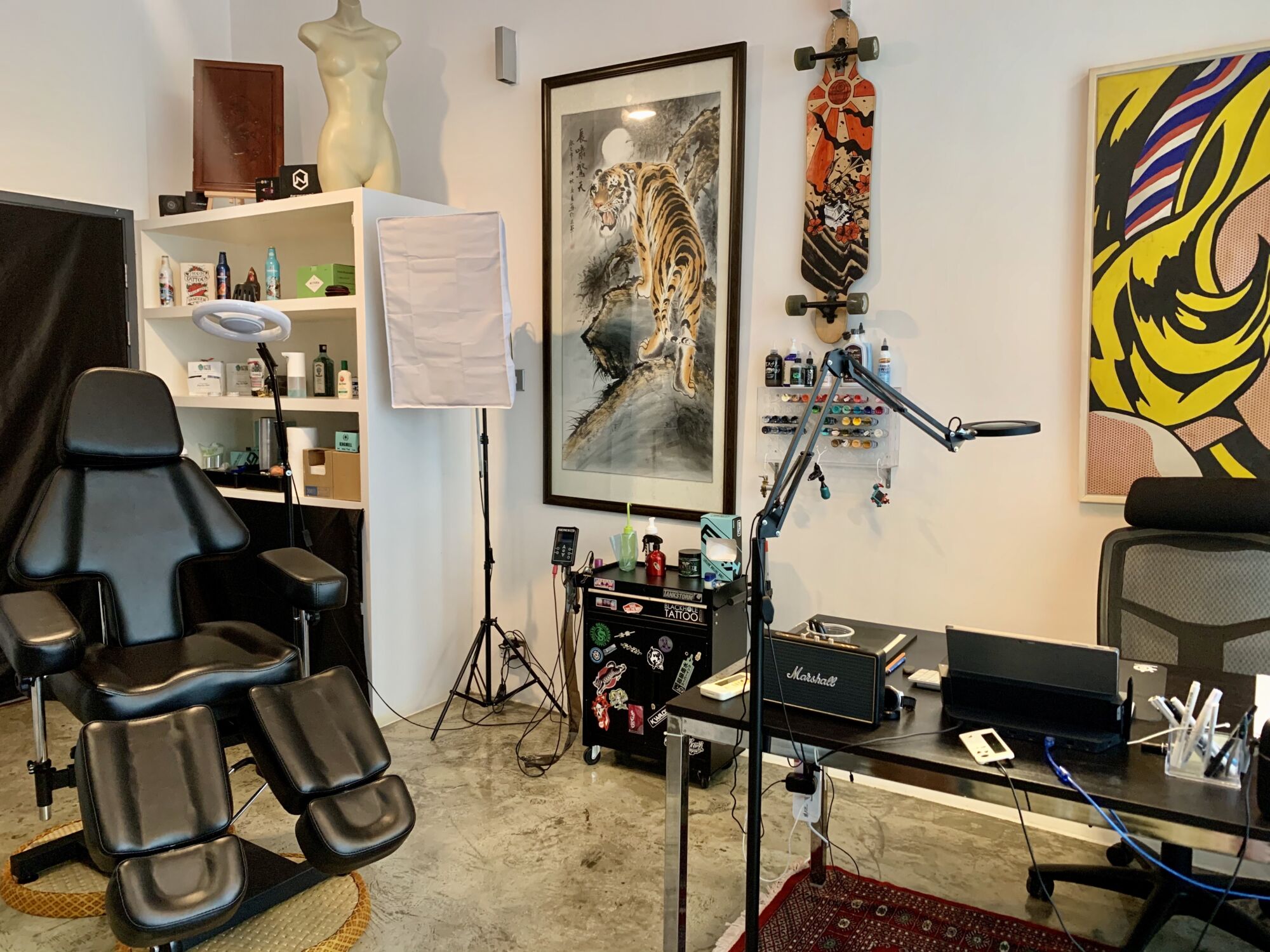 Is the ink the same used for normal tattoos?
No, it's specific for this kind of technique we buy it from Brazil.
And this isn't specific to women, right?
Of course not, men are more than welcome. However, there's still some taboo against beauty treatments for men. Men may not pursue this so much because they're more covered than women, even at the beach and because they have hair in places we usually don't.
On a non-tattoo related note, although you spend a lot of time working at the studio, what do you enjoy doing on your days off?
[Filipe] Well, we like to chill at home, invite friends over for dinner and drinks, but also hop on the scooter and head to Coloane and ride around the city.
[Sara] We also enjoy going to the pool during the summer.
---
To contact Filipe Brito for bookings, check out DeBritzz Tattoo's Facebook page and Instagram @debritzztattoo
DeBritzz Tattoo Macau +853 6663 8874, www.facebook.com/debritzztattoo
Tags
Related Posts