The Zinampan family has been in Macau for almost three decades. The matriarch of the family, 69-year-old Matea Baccay Zinampan arrived in the city in search of greener pastures in the year 1992. Born and raised in Tuguegarao, a province located in the northern part of the Philippines, Matea was no stranger to the hardships of life. Her whole family including her husband Nicanor and three children agree that it was Matea who paved the way for their long and colorful journey to the SAR spanning two generations that many overseas Filipino workers can relate to. Today, their entire family runs the small and busy takeaway shop and Sarimanoy Supermarket in the street of São Lourenço known as Sarimanoy Trading.
In 2002, Matea's son Ritchie also found his way to the city bringing along his family, and eventually settled in. Ritchie who was also an engineer by profession remained active in the Filipino support community and was able to seal the deal on behalf of his mother to open the takeaway store and small supermarket business. It was definitive in 2015 for the close-knit family when they decided to embrace the opportunity of launching their own business through Sarimanoy as more Filipinos found their way to Macau. As the demand grew for more Filipino products and home-cooked meals for busy OFWs (Overseas Filipino Workers) living in the SAR, they embraced their calling in entirety to serve fellow Filipinos through food and products that remind them of home.
In 2019 before the pandemic began, there were approximately 27,000 overseas Filipino workers in the city with many working in the hospitality industry. Many of them would traverse the street across San Ma Lo in search of their favorite dishes such as dinuguan, adobo, afritada, sisig, bicol express and other Pinoy products. However, the decline of customers has not been oblivious to the family-owned business. We sat down with the Zinampan family to go through a quick trip down memory lane reminding them of how far they've come in their Macau journey and where they're heading as they reopened their well-loved store to everyone in the city for a taste of true Filipino food and spirit.
The Journey
Matea and Nicanor emphasize their great pride in their grandchildren Nica and Rui who both grew up in Macau. The couple dote on the two often mentioning them in their phrases. It's obvious that the new generation of Zinampans is more confident, tech-savvy, and yet respectful in every traditional Filipino kind of way. The Philippines might look like a short journey to Macau but back in the 90s, Matea reiterates there were only a handful of Filipinos in the city. She has seen how the city has changed in almost three decades and has immersed herself as being part of that growth and evolution. Nothing in life ever comes easy she said, "We faced entrepreneurial challenges such as language barrier, the cultural difference at times, loss of jobs and other facets of the business we did not expect. But, we just kept going and going and hoping that our fellow Filipino kababayans (countrymen) would come back".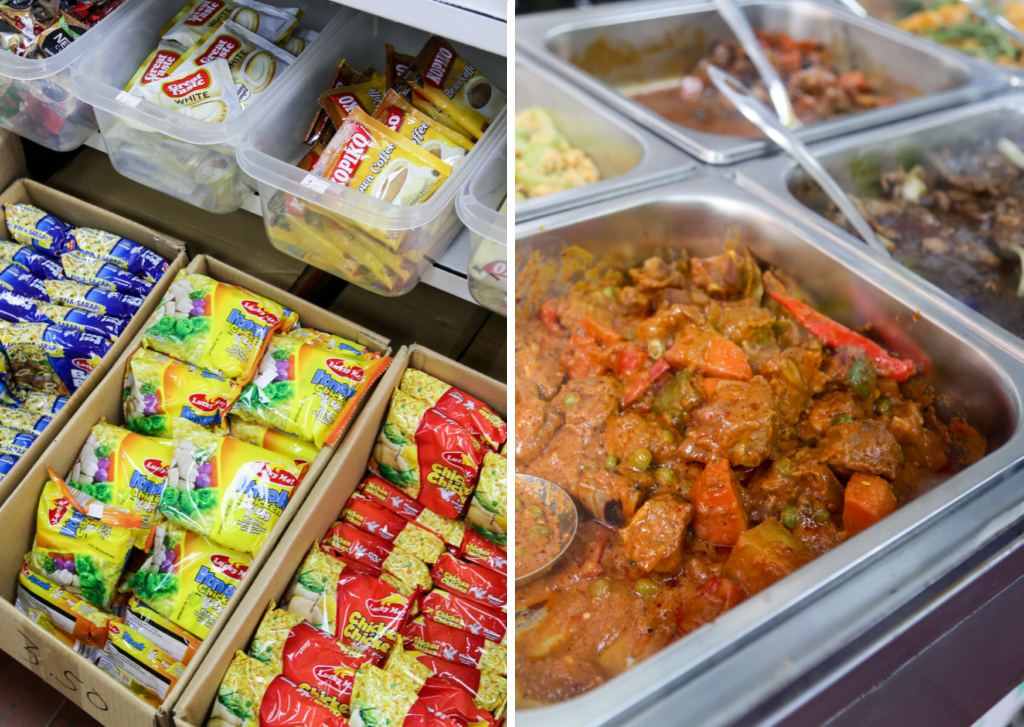 Lessons and Poignant Moments 
Matea talked about the importance of gratefulness acknowledging her marriage to Nicanor for 47 years. And the whole family agrees that it's one of the remarkable Filipino traits they want to ensure they pass on to their younger children. Her son, Ritchie, and daughter-in-law Olga explain how their outlook in life has always been about planting a seed wherever they go–metaphorically speaking. It may be a seed of kindness or hard work but to make sure that something good will come out of an endeavor or an act. The family reminded themselves of the struggles they faced and are facing. "When challenges set in, broaden your mind and deepen your understanding of the situation."  It is very crucial that we should be resilient in times of struggle and be able to bounce back from the setbacks that life may bring.
On what it's like to run the business on a day-to-day basis, "It's busy and each day is always different. You definitely meet different kinds of people. Talking and interacting with fellow Filipinos reignites a sense of fellowship. We are just happy to provide them with products that remind them of the Philippines and that they need and use every day. Our in-house cook is passionate about the menu we serve our customers. We always try our best to offer a variety of dishes daily. Our dinuguan is certainly a best-seller".
Favorite Places in Macau
The family loves to visit Miramar and the Grand Coloane Resort. Lord Stow's is also one of their go-to for breakfast and snacks. Exploring and sampling various culinary dishes from around the world at restaurants in Venetian Macau are some of their favorite things to do. "We find ourselves loving the vibe in that part of Cotai. We've also grown to love so many local neighborhood cafes and Chinese restaurants through the years and support the local community as residents".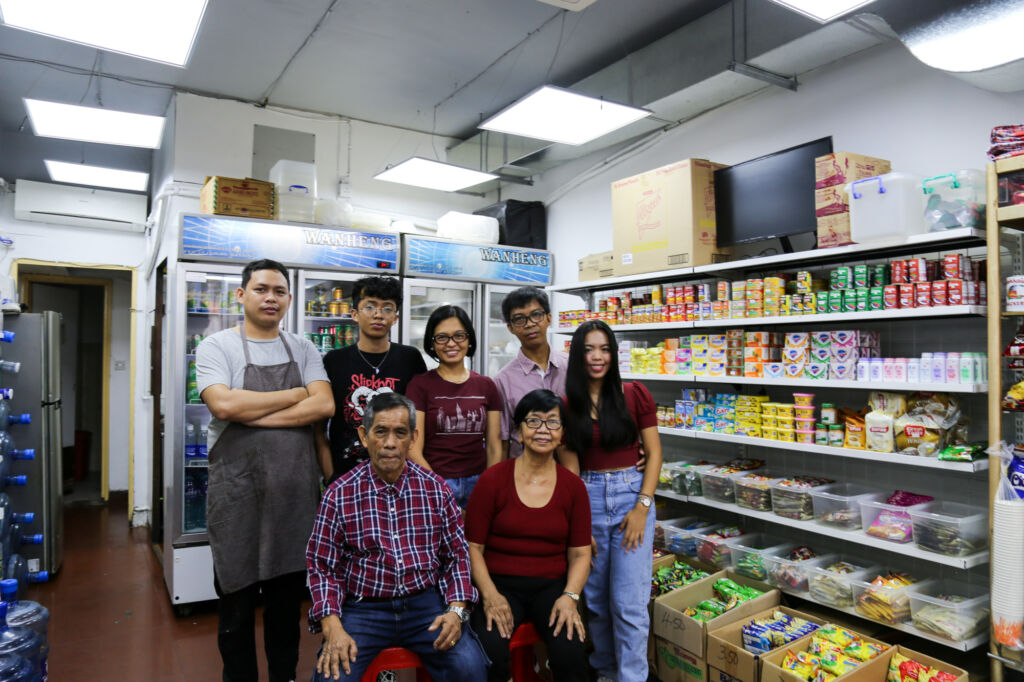 Redefining Their Goals
They're here to stay in Macau and serve their fellow Filipinos for a long time, that's for sure exclaims the whole family. To see the fruit of their labor and help others gives them a great sense of satisfaction and to see it visibly in the faces of others makes it even more rewarding. Nothing worthwhile ever comes easy says Matea and it takes great patience and resilience to overcome any struggle.
The family has divided the responsibilities among them. From cooking to manning the store, inventory, and purchasing–they know what they're doing and why they're doing it and that's what matters the most. Nino Alvin Montanez Ollet who is also Olga's brother works tirelessly and everyone can truly say it takes a village to raise their baby business to the one you see today. It doesn't matter if you have to start again as long as you have the passion and the determination to do it. Indeed, this family-owned business venture is comprised of individuals who continue to inspire and serve through small acts of kindness. And that's exactly what is needed through these trying times of the post-pandemic era. It's knowing we are all in this together just as they gratefully acknowledge the importance of the whole Macau community advocating for support of local and homegrown establishments.
On their advice to Filipinos who are new and old to Macau, "Don't give up. Find the positive side of every situation and see it as an opportunity to seize and learn something. Life is just like a rollercoaster and things always get better in time".
Also read: Top To-Try Filipino Desserts In Macau
---
The Zinampan family also manages the Soho Car Wash offering high-quality car wash and automotive services
Sarimanoy Supermarket Rua Alfandega 110, RC Edificio Seng Hei, +853 2893 8950, www.facebook.com/sarimanoytrading1218
*** THIS BUSINESS IS NOW CLOSED
Tags
Related Posts