Angela Caglia might be popular as a celebrity facialist but the anti-aging pioneer is also an eco-beauty advocate promoting clean skin and natural products. She jetted to Hong Kong recently to talk about the essence behind her skincare brand and how she amassed prominence among her celebrity clients. She is known as the "Hollywood Glow Girl" helping A-listers achieve youthful-looking skin. With two decades of experience, she has mastered her craft having worked passionately alongside the world's most acclaimed spas and beauty brands. A true skincare trailblazer of our time, she reveals what inspired her to launch her skincare line and its commitment to clean beauty.
The inspiration behind her beauty line
Angela Caglia's facials are considered the secret weapon of a myriad of A-list celebrities but how did she begin her business journey? Having turned 48 years old this year, the stunning lady knew she wanted to be a facialist at 23. She worked for world-class skincare lines and spas and developed a deeper understanding of the products she used.
She says, "As you touch a client's skin, you get to know their lifestyle or how many products they put on their face. This is part of the process as you magnify their face. And, after 25 years that's about 25,000 faces, I can confidently say that I understand ingredients and I knew I always wanted a clean line when it comes to skincare.
I moved to L.A. and acquired celeb clients through the course of my service but often I would challenge or question existing facial processes. I thought many of them were redundant or overpriced. It was when I met someone who was assistant to Barbara Streisand that I had an introduction to the legendary artist herself. I remember it well because I was very nervous. I was meant to do a two-hour facial and everyone knew her standards were high. She made me feel comfortable by talking the entire time. I told her how much I loved the movie YENTL and she exclaimed that she starred in that film at 40 years old. She then asked me, "What's your dream?" And I was blown away with deep realization to which I replied, "To start my own skincare line". I left that day so empowered even if I didn't have much money to start with. That's how it all started for me."
Discovering the skin-saving wonder ingredient–meadowfoam seed oil
While researching natural and certified organic ingredient labs, Angela discovered the youth-boosting benefits of a lesser-known oil from the meadowfoam flower. She was intrigued by its feather-light, quick-absorbing texture that she began incorporating it into her facials. Her clients would give her feedback about the effects it incurred on their skin that motivated her to focus on the formula for her skincare. The formidable woman worked with a chemist to combine meadowfoam seed oil with other super-powered ingredients to battle stressed skin. This multi-tasking wonder oil became the hero ingredient across her line.
Finding love and taking the leap of faith
Angela shares, "When I finally met the right guy in my life, everything else seems to follow suit and align together. He was very supportive of my passion and then we put both our retirement money together and look how far we've come. We got married in Paris and I get to travel with him and create this line and life together.
Doing what I do is not just a job, you have to remember that I have been doing this for so long. I have a relationship with my client and while I am lucky not to have had a skincare problem before I started the brand, I understand the essence behind the ingredients. I wanted to create something pretty, a product you want to use to boost your self-esteem. It's designed to make you feel gorgeous. I can't give everyone facials all the time but if you need something you can use then it's the Rose Quartz Sculpting Roller. It's made of eco-friendly material."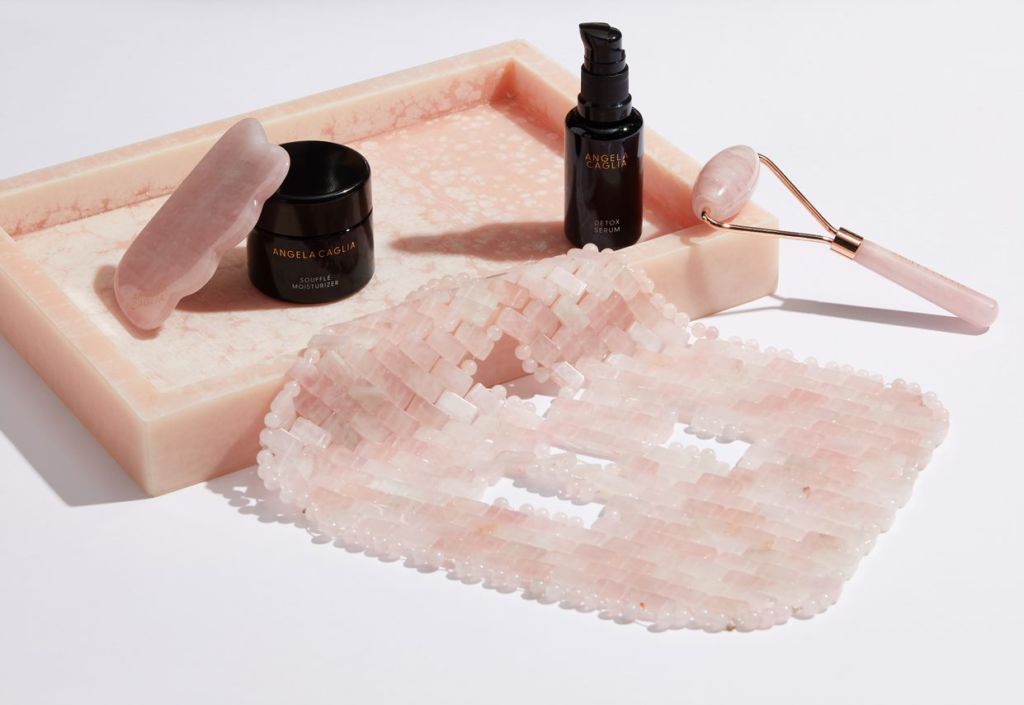 Avoiding mistakes when it comes to purchasing beauty products
When you're not reading the ingredients list, you're buying into all the marketing propaganda. "Expensive doesn't mean better, you must remember that brands adhere to a glamorous packaging to entice customers. Learning the math and science on the box and making an effort to understand it is how you'll avoid making mistakes. Always ask what are the ingredients in this product," Angela advises.
Future endeavors of her growing business
"I don't want to fool anyone into buying my products. It's skincare, it's natural, trust me when I say you don't need perfume in your face associated with those strongly-scented moisturizers in the market. It might not be good even if it smells good. As a facialist, we deal with exterior beauty but I am actually thinking of moving into collagen and supplements. The inside should complement the outside and that's very important to me as well. It's all about guiding your client in the right direction and make it work for them."
The Vibrating Rose Quartz Sculpting Roller
It is powered by over 6000 sonic vibrations per minute that instantly relieves facial and muscle tension and reduces puffiness. Pair it with a serum or moisturizer to promote absorption within the skin and it improves elasticity and results in radiant skin. Courtney Cox was snapped using this product while dining at Cipriani in New York. She was using it casually at a bar because it feels so good and that's how it's supposed to be, you can take it anywhere and everywhere. If you want to use over make-up, go ahead and use it. You just have to make sure you clean it afterward. Dip it in hot water and it warms up the roller wonderfully which feels simply amazing on the skin. Angela Caglia products are also suitable for pregnant women. The Vibrating Rose Quartz Sculpting Roller is priced at HKD $1,530.
Angela Caglia products are available at Lane Crawford.
---
Lane Crawford ifc mall, Podium 3, 8 Finance Street, Central, Hong Kong, +852 2118 2288, www.lanecrawford.com
Tags
Related Posts