Beauty has been eternally linked with wellbeing but no brand has delved deeper into the subject than Subtle Energies. Behind the luxurious Deep Sleep treatment at Morpheus Spa designed by Subtle Energies is a culmination of clinical research and ancient practice that transcends both product and service. Speaking to Nick Irani, the Director of Operations and Brand Development of Subtle Energies helped us understand the holistic approach not just to our skincare regimen but overall wellness.
Founded in 1993 by Farida Irani who is also Nick's mother, the brand started as a clinic of natural therapies in Australia. Subtle Energies has since then flourished into a product range that addresses realistic skin and body concerns. More than just product application, it touches crucial aspects of one's physical, mental, and emotional wellbeing. Their creation is a meticulous process that starts from sourcing the highest grade of oils through sustainable and ethical trade using artisan distillers. Taking into account the pure and quality active ingredients intertwined with Ayurveda and aromatherapy principles are all integrated into the various levels of the process. The result is Subtle Energies that encapsulate the essence of empowering and providing confidence through a holistic approach for the body, mind, and soul. To truly find the meaning behind each drop, we decided to learn more as Nick Irani takes us onto a journey of beauty that is more than just skin deep.
How did Subtle Energies get started? What was the driving force behind the creation and launch of the brand?
The brand is about 10 years old now but actually, we have a long history as a clinic and we're still running up to this day. It's actually my mother Farida Irani who started it focusing on cancer patients, aged care, drug addiction, schizophrenia, mental health conditions, insomnia, and other issues and diseases. She's a well-known clinical aromatherapist and also an Ayurveda practitioner. She became prominent in merging the sciences of Ayurveda and aromatherapy. She came across oils which weren't heard of in the Western aromatherapy world of traditional aromatherapy. More than just eucalyptus, lavender, geranium, and rosemary that are commonly used, she ventured further with these oils. She delved deeper into her understanding of the unique chemical compositions by playing with them and working with them in her clinic. And that's where her clinical research was born.
The early adoption of the clinic was massage but it grew to more than that. The product is an accumulation of her work. My mother Farida is a qualified Ayurveda practitioner, a clinical aromatherapist and teacher qualified in aromatic medicine, Bowen therapy instructor, a remedial therapist, and a reflexologist. She has always told me, "How do you know what's good for people if you don't work on them first hand?" And she was bent on being the best in her craft. We eventually realized that through the spas, the wellness world, and the hospitality world, we could actually access more people and widened our reach.
Can you explain what Ayurveda Aromatherapy is for someone who might not have heard of it before? What is the philosophy behind Ayurveda?
It's basically merging the two sciences together. It's a very broad science and Ayurveda itself dates back to 5,000 years in written text. They say it dates back into a time when the world was actually going through a very similar cycle that we're going through now, a similar phase with the disruption, technology advancement, imbalance of society. Ayurveda texts say that five thousand years ago, the wise men came out of their hibernation and they got together for a conference. This was to make mankind aware that they were destroying the very elements that they were made up of. It is based on the ideology of the genetic constitution and the molecular biology that treating the different body types are based on the five elements of air, water, fire, space, and earth. It's very similar to Chinese medicine. And, so my mother took these principles and put them together with the aromatherapy principles and essential oils. That's an important distinction between both foundations.
So, there are treatments available at Morpheus and Four Seasons Hotel, Hong Kong. Are those massage and facials developed with similar principles?
Yes, and that's been our challenge as a brand. When looking for partners, we look for a deeper meaning when it comes to wellness. It's requiring a certain amount of training and understanding to be able to integrate these products into a service that touches people's lives.
As Director of Operations and Brand Development, what is your role?
We still consider ourselves a small family at Subtle Energies. Our roles tend to overlap with each other. My father, Sheriar, looks after manufacturing, logistics, and finance. On the other hand, my mother is focused on research and science while my sister, Khursheed, manages training. Our roles interlock as well including integrating the business into a tangible business format. My job is to make sure that we implement the right strategy and direction. Together our research and work are made accessible to the community and wider market. It's a lot of project management, brand development, and global partnerships. We take pride in identifying ourselves as an Australian brand and work with the best chemists in natural skincare ensuring integrity with our oils which we're really proud of!
Is there a story behind the name Subtle Energies? How did your mom come up with it and how did she decide it was the right fit?
The name came from my mother and in fact, the logo was drawn by her. She realized a lot of her work was based on vibrations. With the physical techniques and other analogies and meditation–she thought it was an appropriate name. The physical techniques and other analogies and meditation–she thought it was an appropriate name.
For someone who is new to the brand, what's on your recommendation list?
An iconic formula for us is the Facial Blend because it's one of the original concoctions of Subtle Energies. It's impactful for insomnia, hormonal imbalance, and anxiety as well. It's an oil that is very useful right now. It's an emotional tool and a perfect example of holistic skincare from regeneration to collagen–an all-purpose use.
The Subtle Energies Muscle Ease Massage Blend is another great product. It's good for muscular pain and is a household blend that alleviates cough, fever and also invoking a healthy immune response. Made of oils that help the body, you'll find traces of cinnamon, peppermint, eucalyptus among its components. This rejuvenating blend is great for deep tissue massage. It is also wonderful as a detoxifying massage blend that truly seeps through the body.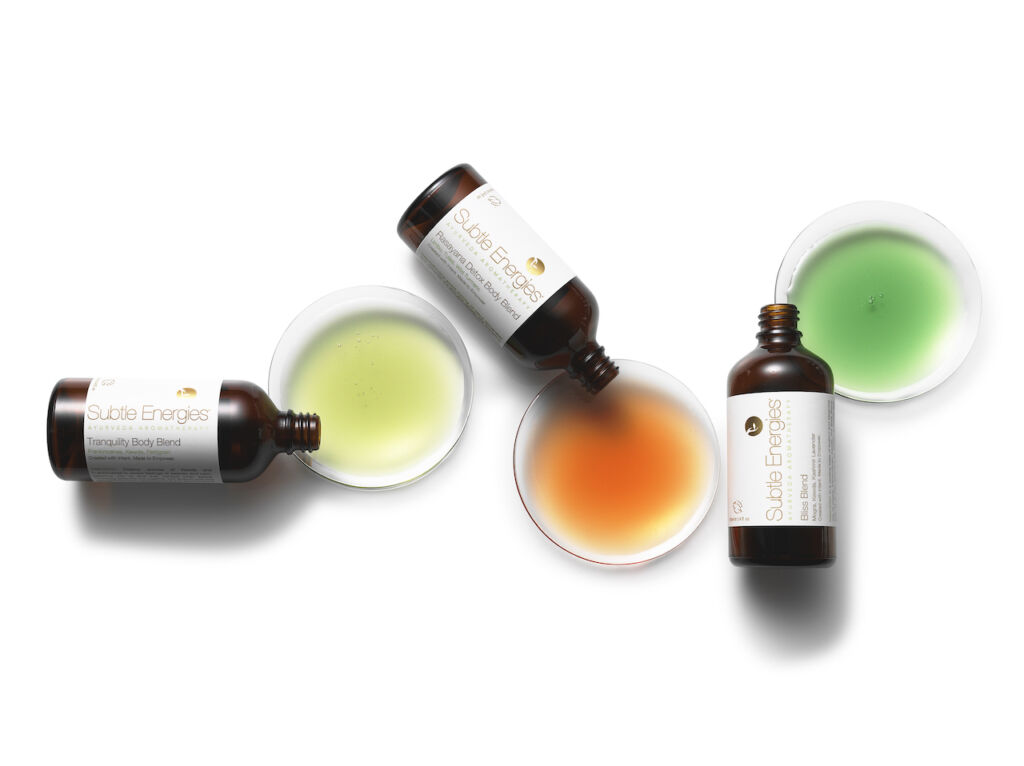 How do you tell someone oil is not the enemy? In Hong Kong where humidity is prevalent, how do you recommend oil as a skincare product?
Our most popular product in Hong Kong at Joyce Beauty is actually the Facial Blend. It's a fine oil that penetrates deeply into the dermal layers of the skin, so that is something we want to educate users and customers on. We recommend two to three drops for dry skin and one drop for oily skin. This is something that we try to relay that even oily skin needs a certain hydration level. This product works effectively to soothe the heat from acne that people get sometimes. While you can't put too much on for acne-prone skin, nurturing the skin is essential. People should not be afraid of oil and you need to give it a try to truly understand it.
You have products with all sorts of different ingredients from, Mogra, Indian Rose, and Ashwagandha. Where do you source all these ingredients from?
The essential oils come from India but most of the ingredients come from all over the world. The rose we source from the Himalayas found also in France. We love this distiller for the quality of chemical compositions, aroma plays a part in all of it. Lavender grows in Kashmir and we source from high-altitude regions that are top-grade. We use Australian botanicals as well. We ensure the quality is the best because specific oils are better in a particular region and the distiller as well are all play a crucial role in this. My mother was a pioneer in this field and her name has become synonymous with the brand.
When it comes to skincare and grooming, What is your personal skincare philosophy?
My personal philosophy has always been in line with the brand. I have a full natural skincare regime. One of the most important products that I use is the Facial Blend. I use it religiously when traveling and before I sleep. Our ethos is rooted in the intent to create power from ingredients up to the process. When you're working on yourself, it certainly leads to empowerment. That's the core of philosophy when it comes to beauty and wellness. When you look after your face and skin, you feel empowered and healthy. You have to actively work on your skin because it has an impact on all aspects of your wellbeing.
---
Subtle Energies is available at Joyce Beauty, Lane Crawford, and Four Seasons Hotel Hong Kong
Morpheus Spa Morpheus, City of Dreams Macau, Estrada do Istmo, Cotai, +853 8868 3432, www.cityofdreamsmacau.com
Tags
Related Posts