They say you can't keep changing men, so settle for changing your lipstick instead. Whether or not this applies to you, we here at Macau Lifestyle agree it's good to change up your lip makeup every so often. It's that essential handbag item which you can't leave home without – a simple dab can get you ready for any situation and event, whether unexpected or unprepared. So pour yourself a drink, and check out this list of new lipsticks to check out this autumn.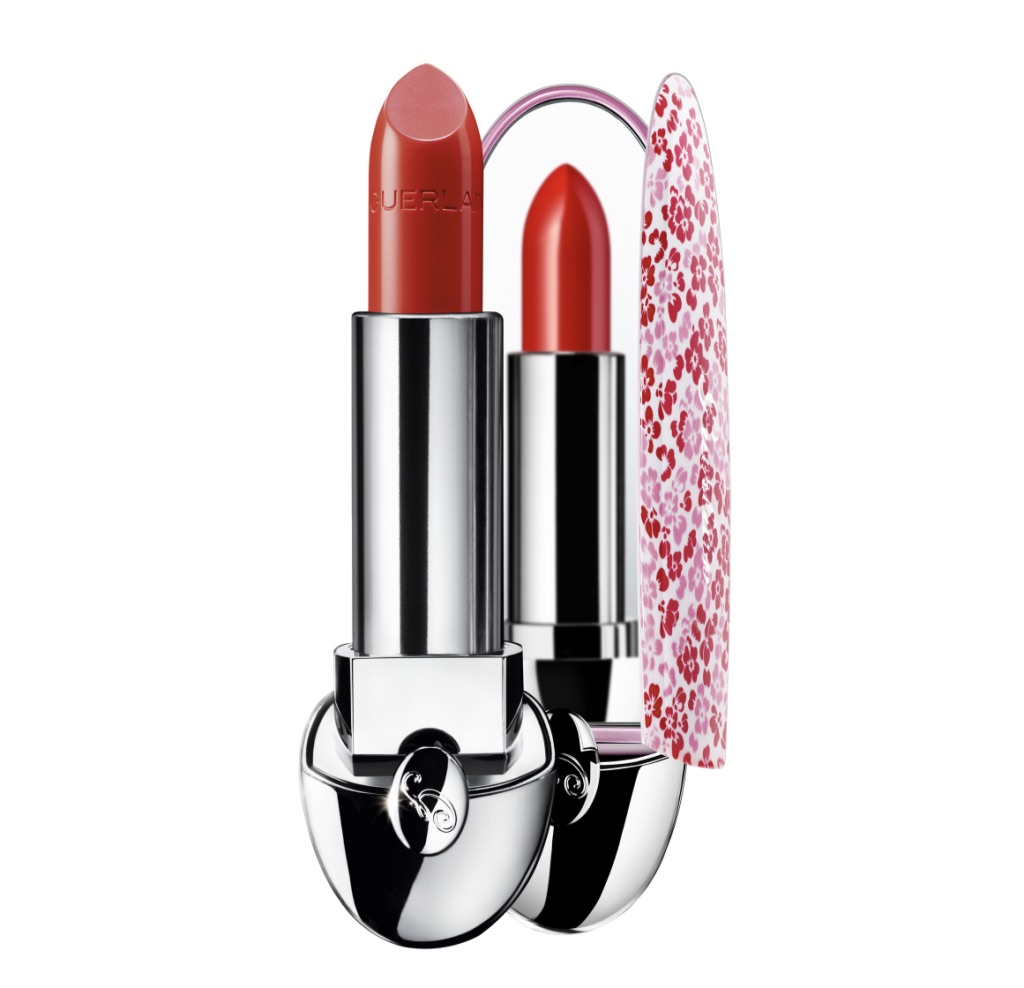 Guerlain Rouge G
Guerlain has recently renewed its splendid Rouge G lipstick line, introducing 30 shades. They are a French brand with history, but they also get a bit edgy and experimental sometimes. Besides classic reds, tender pinks and other conventional shades, there are bold green, violet and blue tones for those who dare to sport them. The Rouge G formula is truly a winner – highly pigmented and luminous, and so comfortable to wear. Nonetheless, it doesn't get wiped off with one cup of coffee during lunch – being creamy and incredibly moisturizing too. This lipstick stays for hours and keeps taking care of your lips while making you look good, feel fabulous and confident whatever you do. Another cool trick the brand does is unite two things that we love – jewelry and make-up, as they have a collection of unique cases. Black leather or playful pink, extravagant python or sexy dots. All of them are amazing, so it's hard to pick one. Well, you don't have to. Pick as many as you want and dress up your lipstick to match your purse or your mood every day. 
Guerlain is available from Galleria T at City of Dreams Macau The Shops at The Boulevard, City of Dreams, Cotai, +853 8791 8400, www.dfs.com/en/macau/stores/t-galleria-by-dfs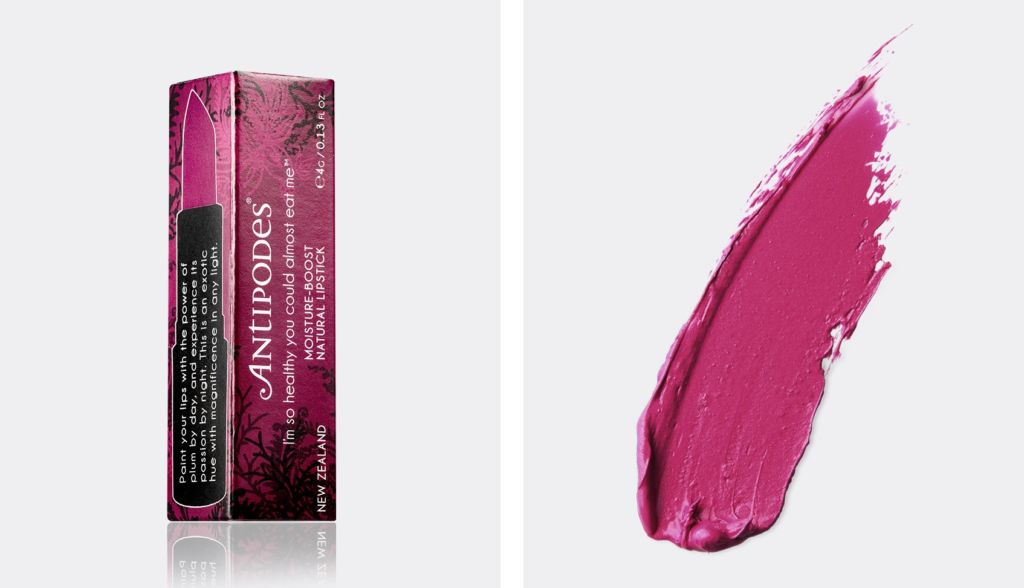 Antipodes Skincare – Moisture Boost Natural Lipstick
We have been lucky enough to review quite a few products from this gorgeous New Zealand brand and even interview Elizabeth Barbalich, the company director and founder. We were so delighted to hear they had released their very popular makeup line in Hong Kong. We got our hands on two of their "I'm so healthy you could almost eat me" lipsticks. We loved the Dragonfruit Pink (pictured above).  There are 12 shades ranging from neutrals to reds and all made with natural and organic ingredients. The formula contains pure plant oil ingredients extracted from Avocado Pear, Calendula Flower, Evening Primrose Seed, and Argan Nut. They also contain beeswax, shea butter, jojoba oil, and Vitamin E. It's a cream lipstick that's really quite pigmented and moisturizing with no sheer at all – one swipe of this and you can really see the color stand out. It has no taste or smell which is a must for in a lipstick. It looks beautiful as the colors are quite vibrant and have a nice shine on them – it also wears quite well. The shape of the lipstick is actually quite rounded but it does allow for good application and curves with the lips as you apply. Each lipstick is packaged in a recyclable box with different colored artwork.
Antipodes, sold exclusively at Watson's but currently only available in Hong Kong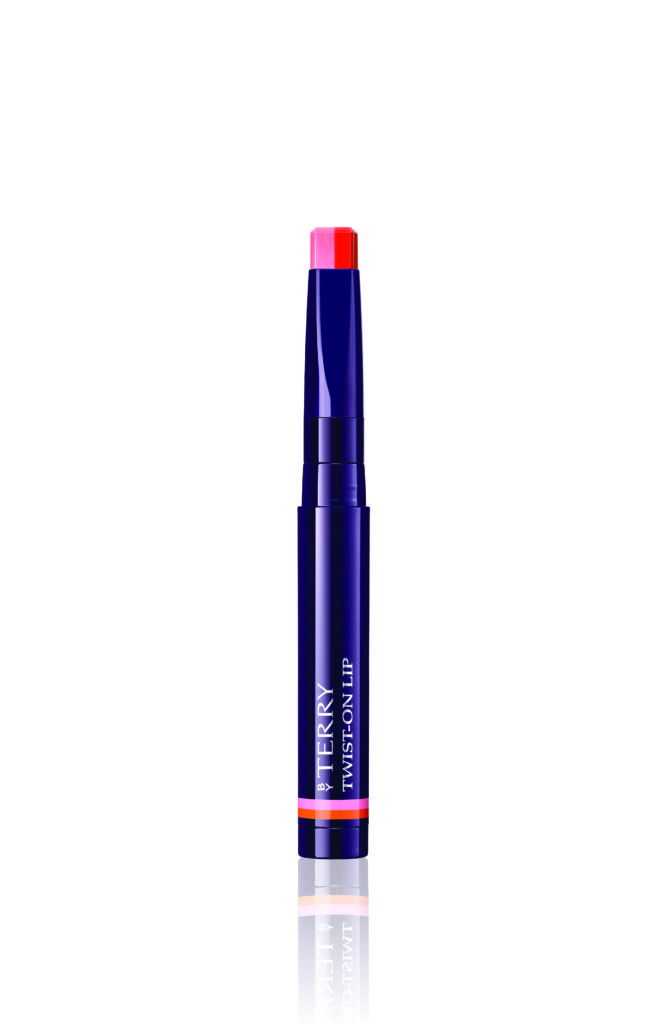 By Terry – Twist on Lip
By Terry was founded in 1998 by Terry de Gunzburg and is a French luxury makeup line that combines performance, ease of use and diversity of results. Each lipstick is split into two shades (one light, one dark), this thin lip crayon is surprisingly easy to apply and glides on easily. The dual-colored lipstick produces an ombré effect thanks to a lighter shade to fill in lips and a darker shade to contour. You could of course just apply one color if you want as both shades offer the same power or use it vice versa with the dark color in the middle to make your pout seem much fuller. The lipsticks themselves last really well and are high pigment color with a rich creamy texture. Everyone expects creamy textures to rub off quickly and not last but the durability of this one is excellent, especially for a cream lipstick. Available in eight irresistible, vibrant shades, our favorites are (7) Latte & Toffee which is a two-tone nude, and perfect for everyday wear, and also (4) Candy & Poppy which is a red/pink duo and perfect for the summer months.
By Terry, Lane Crawford, various locations in Hong Kong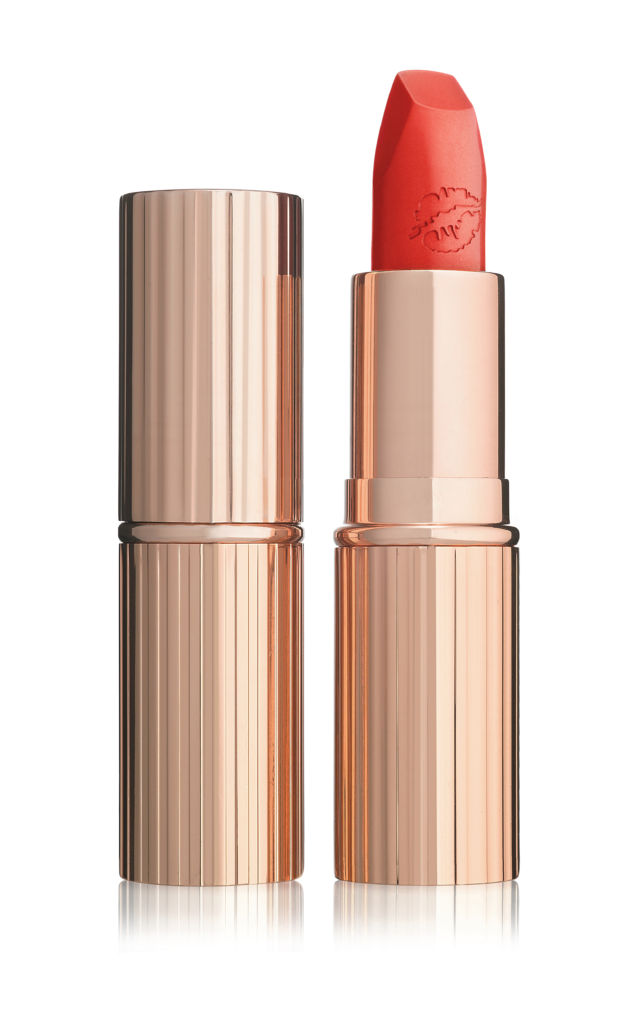 Charlotte Tilbury Hot Lips Lipstick
Charlotte Tilbury landed in Hong Kong in April this year, and we've tried so many different makeup products from her that we can't decide which one is best. But one thing that is for sure, their reputation for incredible lipsticks is well deserved. One of their more daring shades is Tell Laura, an amazing red-orange, that is a perfect shade across all skin tones. Part of Charlotte Tilbury's Matte Revolution formula for plumped up, healthy, younger-looking lips. According to their website, this fresh geranium red encapsulates the bright bohemian British beauty of Laura Bailey. The color and the consistency is amazing, but if you aren't feeling so daring with color, their best seller, the Pillow Talk is a great buy as well. But go on, experiment a little – you only live once!
Charlotte Tilbury, Lane Crawford, various locations in Hong Kong
Tags
Related Posts