Antipodes is a distinctive eco-conscious brand like no other. They have pioneered a new niche in skincare and makeup globally – premium certified organic and vegan skincare with skin enhancing performance proven by science. They use all-natural New Zealand ingredients in their skincare. They have a devoted following and receive millions of positive comments from around the world daily, which reflects that their message of using nature's nurture to help achieve clear and healthy skin is striking the right chord. We caught up with Elizabeth Barbalich, the company director and founder, to find out what makes her and her unique brand tick.
For those who haven't heard of Antipodes, what is the brand's philosophy?
Antipodes is a scientifically validated natural beauty brand with a foundation and heart built on sustainability. We draw from the pristine nature of New Zealand around us to supercharge our skincare with ingredients that can help address the signs of early aging. The emphasis on "healthy" probably helps us avoid the usual beauty industry stereotypes. Our values translate to Antipodes in every way, from the friends and families of the brand whose talent we showcase, to our marketing campaigns, to the language we use throughout the business. Our producers, growers and suppliers are all carefully selected to align with our sustainable and eco-conscious brand values, and we have recently had 22 of our products certified vegan, including our new Halo Skin-Brightening Facial Mud Mask. In addition, Antipodes has 26 other products that are certified vegetarian and 10 certified organic. We also use eco-packaging and are passionate about supporting local communities. We live the talk.
What are your thoughts on natural skincare?
The benefits of natural skincare are now well known. Premium natural and organic skincare allows you to get as close to nature as possible and with Antipodes we are also bringing scientific validation to the market, which proves there is impressive anti-aging performance and proven health benefits to all this. So now there is simply no need to expose yourself and the environment to high levels of synthetic ingredients.
What's the difference between a certified organic product and a product that is 100% natural?
Organic certification is given to products containing ingredients grown without chemical pesticides or fertilizers. Our 10 organic products are certified by BioGro, New Zealand and the Pacific's largest and best-known certifier for organic produce and products, which is internationally recognized and accredited.
I've seen some very unique ingredients in some of the products – how do you come up with ingredients and formulas for your products?
We source premium ingredients power-packed for beauty performance from New Zealand's top fields, orchards and vineyards, including nutrient-rich avocado oil, Vitamin C-rich kiwifruit seed oil, world-famous antibacterial manuka honey and revolutionary antioxidant Vinanza® Grape from sauvignon blanc grapes grown on award-winning sustainable Marlborough vineyards. We're very proud to share the best of New Zealand with the rest of the world in our skincare.
How do you recommend introducing more natural skincare into your routine?
There's no real trick to it – it's easy to make the change, though we do recommend you patch test first, especially if you are switching from synthetic to natural skincare as your skin may take a couple of days to adjust. These days it is possible to find natural products to suit any age group and skin condition, and we advocate using natural products at any age.
Can you tell us more about your skin-brightening products and how best to use them? Why do we need them?
Addressing pigmentation and redness is a major skincare concern for women worldwide, so Antipodes created a skin-brightening range of products that includes Juliet Skin-Brightening Gel Cleanser, Halo Skin-Brightening Facial Mud Mask, Apostle Skin-Brightening Serum, Manuka Honey Skin-Brightening Eye Cream, Manuka Honey Skin-Brightening Light Day Cream, Immortal SPF 15 Skin-Brightening Face & Body Moisturiser and a range of Skin-Brightening Mineral Foundations with SPF 15. This means you can use the products throughout your entire whole skincare routine.
The range features effective natural ingredients that help reduce or inhibit your skin's melanin production including peony flower and Persian silk flower, while our revolutionary antioxidant Vinanza® extracts Kiwi, Grape & Kiwi and Oxifend have been clinically shown to brighten skin in independent scientific investigations. Manuka honey helps minimize blemishes thereby brightening skin, while exfoliating hibiscus flower helps to brighten and plump skin.
What is the target market for your brand? What makes Antipodes something worth checking out?
We've designed our skincare and makeup for eco-conscious world citizens. The Antipodes woman is sophisticated, smart and is a typical LOHAS, so follows a 'Lifestyle of Health and Sustainability'. She is of any age and appreciates good design as much as she values high-performance skincare that is ethically produced. There are several factors that make Antipodes worth discovering – first is the scientific validation of our products, second is our unique formulations using ingredients from New Zealand nature. The third is that we literally stand out on the shelf – our distinctive green wallpaper packaging is inspired by nature, with its motif featuring New Zealand native flora. I'm a firm believer in beautifying daily rituals and our packaging definitely glorifies any bathroom or handbag!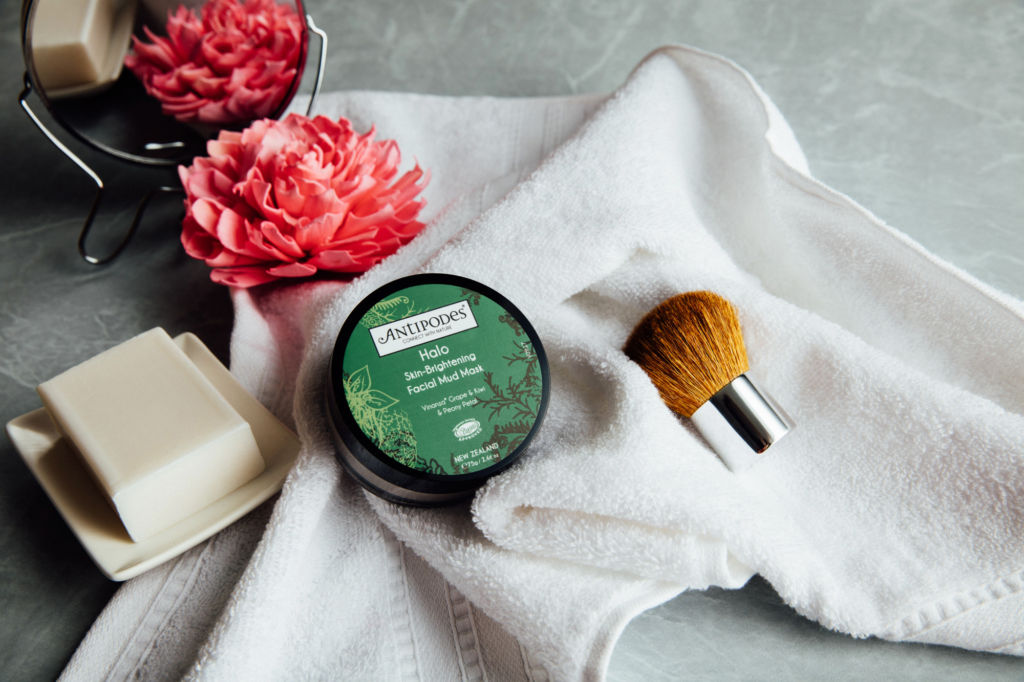 Which Antipodes products are your personal favorites? And why?
I'm currently in love with our new vegan Halo Skin-Brightening Facial Mud Mask which we just launched in the Hong Kong market and which has been incredibly well-received globally. A high-performance detox for a luminous complexion, Halo features mineral-rich volcanic mud from geothermal areas of New Zealand which binds to the oils in the skin, drawing out impurities as it is washed off.
What does the word 'antipodes' mean and why did you choose it as your brand name?
The 'antipodes' refers to the other side of the world, and especially to the Southern Hemisphere of New Zealand and Australia. We are of course a New Zealand beauty brand, and I also love the word's inferences of exploration and discovery, as innovation is key to our skincare. Also, Antipodes is an 'A' word, which is excellent for marketing purposes.
How many products are there now in the Antipodes range? Because you have quite a few!
We have 31 skincare products, plus Mini versions of some of our creams and serums, four Skin-Brightening Mineral Foundations with SPF 15, a Translucent Skin-Brightening Mineral Finishing Powder and 12 vibrant and fashion-forward shades in our Moisture-Boost Natural Lipstick range.
Who or what inspires you in life and work?
I find inspiration in fashion, family, nature, music, and travel. I'm a lover of beauty wherever I find it!
What inspires the names of all these products?
The spiritual names of many of the products in the range pay homage to my childhood as the daughter of a preacher father growing up amidst New Zealand's beautiful Canterbury Plains and the many Sundays I spent at church. I love the emotions these spiritual words evoke – to me they really suit the beautiful artwork, pure plant fragrances, and textures of Antipodes' products.  
Antipodes is stocked exclusively in Watsons in Hong Kong and Macau. To find out more, you can check out their website.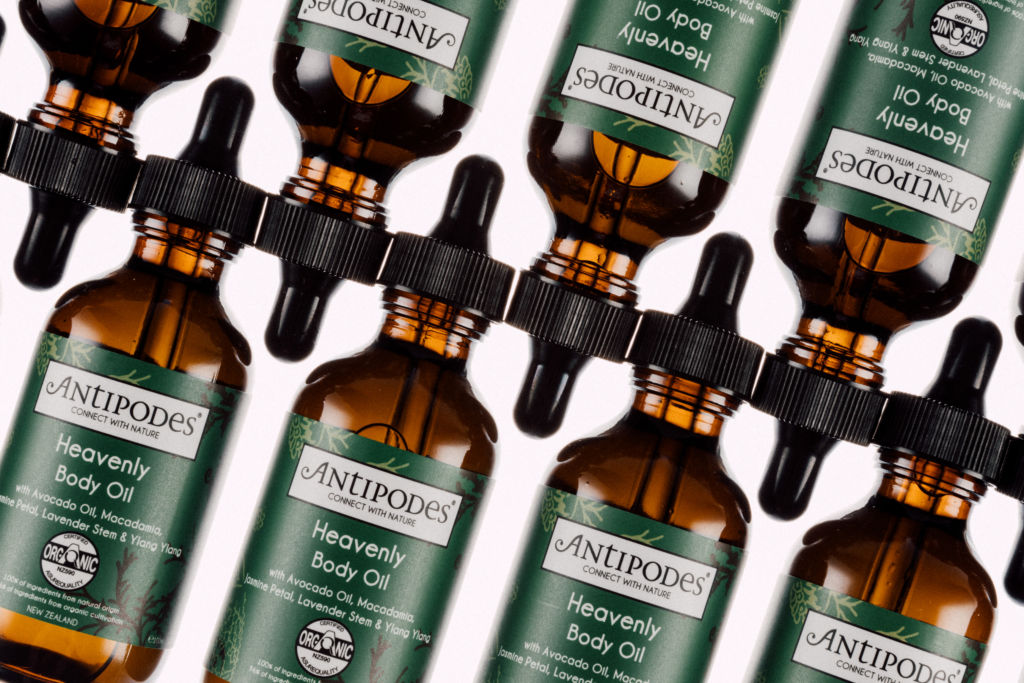 Tags
Related Posts