Nuno Lopes is Macau's very own rising fashion star. Born and raised in Macau, he left our golden city to study fashion and has since taken the world by storm. The last time
we spoke to Nuno
, he had just brought out his first collection and was reaping the benefits of world acclaim. Now on the brink of his next line, we caught up with him again to see what's changed, and what we have to look forward to in his glamorous new upcoming collections!
What was your inspiration behind the new collection? You've said before that Macau was a big inspiration, is that still the case?
For this collection, I was inspired by makeup and cosmetics. I've always loved watching makeup tutorials on YouTube – there was one particular makeup Guru that caught my eye, Jeffree Star. He has a bold aesthetic and his glamorous lifestyle have heavily influenced this collection. This means the collection has a lot of pinks, metallics and glittery fabrics. I wanted to use these more fun and exciting fabrics and apply them to menswear, creating juxtapositions. Macau will continue to inspire me in every collection in some way or another – the glamour of Macau will always be infused with my collections.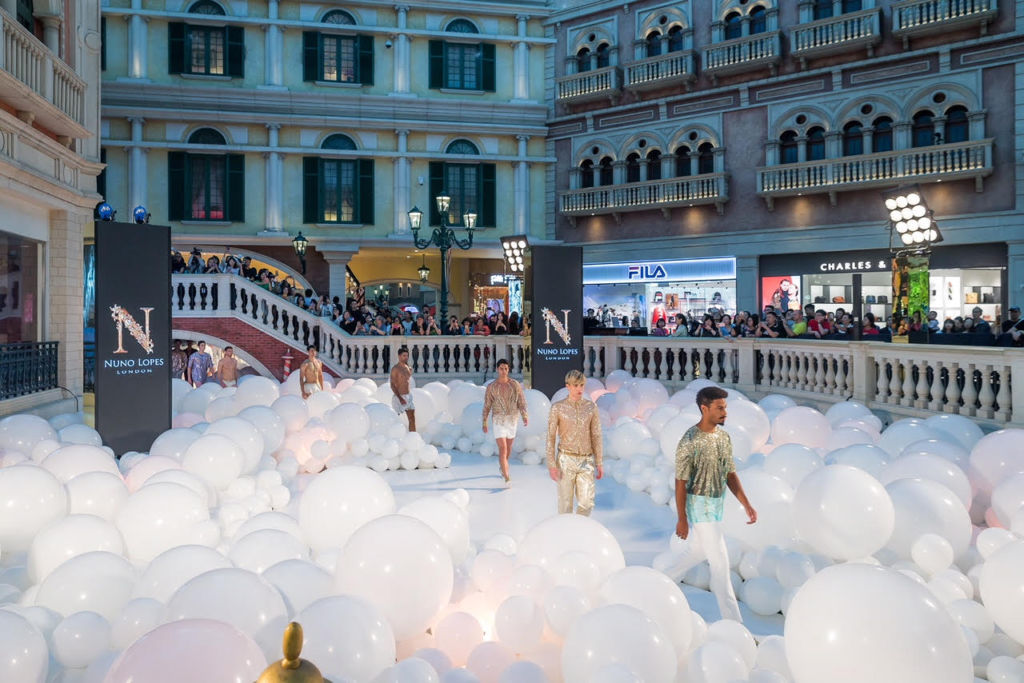 Do you find any other cities to be inspiring?
Other than Macau I'm inspired by places where I've spent some time in my life or I've got a personal connection with. I developed my professional skills in London and I'm inspired by the architecture and the creative atmosphere there. Lisbon inspires me on a more personal level – it inspires the emotion in my collection and is a feeling I want to portray.
After your first collection did so well, do you feel more pressure to succeed with this one?
Having such a big opening might make it seem difficult to create an even better collection, but I knew Sands could supply me with such a great platform and the perfect backdrop for an amazing show. All I had to do was design and manufacturer the best collection possible. It was definitely a daunting collection as I had to create 40 pieces to showcase. This was the biggest collection I've ever worked with.
How did it feel show in your own hometown? 
It was an honor to be invited to be the opening for the Walk on Water for this year Sands Macao Fashion Week and to be the only local designer for the spot. Having Sands acknowledge and recognize my brand means a lot to me. Showing in my hometown makes it easy for my family and grandparents to come, and it has a totally different meaning to me. Sands has given me such a great platform. It is a production and a stage!
Bespoke Asia has also done an outstanding job – they have taken a lot of stress from me for this show and they totally get my vision, so I got to enjoy the whole experience. From the brand's point of view the location of the Sands has allowed new viewers and consumers from other countries to get to know my brand and what Macau Fashion can deliver – it is a window to outside market as Venetian is where almost all tourists visit when they come to Macau. What local designers lack is a platform and not just any platform but a good one that can take you from Macau to the world – and this is just that!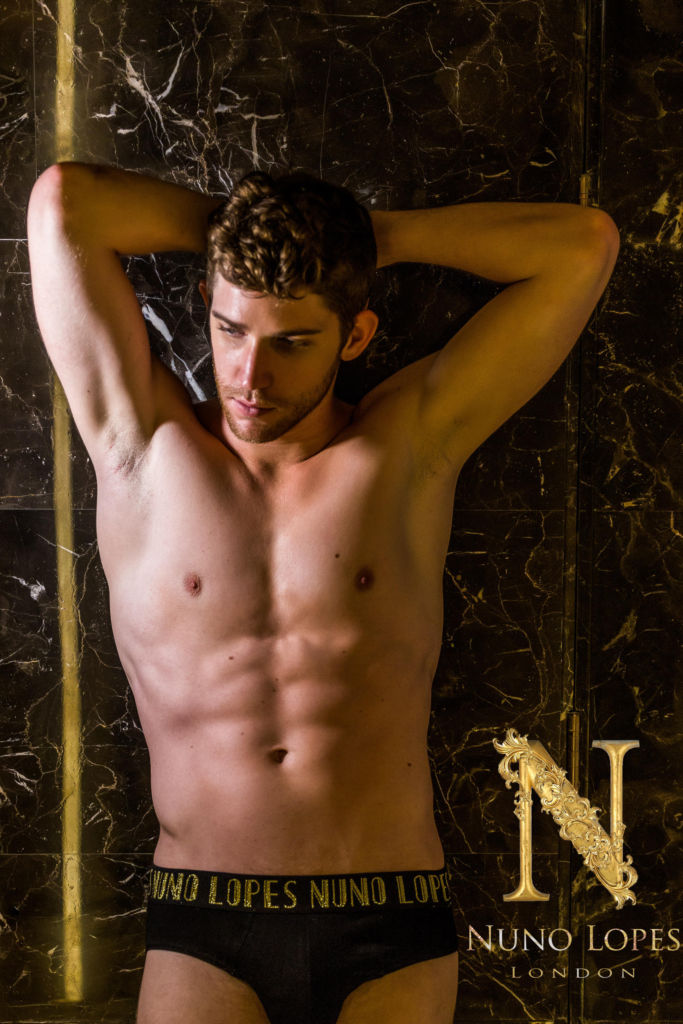 What are your favorite pieces from your new collection? 
This collection was the debut of my underwear line (see above image) which I've been working on for a very long time. This was a very daunting process as there were so many elements involved. The pieces didn't just need to look nice, they needed to be so comfortable so people love to wear them. Comfort was very important for this collection, and I think I achieved that with the underwear in particular.
Another favorite is the pink gold and purple makeup splash soft tailored suit- as the name says it was inspired by makeup and cosmetics. I love it because suits are always so formal and this has a fun spin on it. I feel like this piece hit the theme of the collection home. The third favorite was the ombre glitter crop top with the matching skirt which is just so eye-catching. It was inspired by highlighters and glitter and is about being an individual.
It was very important for me personally to be an individual when designing and creating my brand. I didn't just want to be another brand that people don't recognize. It doesn't take much courage for me to be different – that's just the life I always wanted, it's just natural to me.
Sustainable and eco-fashion has been in the press a lot recently, and you've spoken to ML before about how you think fast fashion hurts creativity, economies the environment and developing countries. Do you, as the Nuno Lopes brand, do anything to combat this?
It's important when designing clothes to make sure they don't become throwaway fashion. That's why my pieces are very classic, so people can wear them for as long as they would like to and they don't really fall in and out of season, unlike High Street fashion. My brand is against using fur and leather – if I have to use it in my collections I will always use faux-fur and vegan leather.
Follow Nuno on his website: www.nuno-lopes.com and Instagram: @nunoglamor
Tags
Related Posts