The average color range for a man's wardrobe is considerably limited to, if not all, white, grey, and black. Most of the time, men shy away from trying something out of their comfort zone in terms of fashion and style. They usually stick to and buy items that are the same color or something they've already had for a long time. Any man who is not completely new to the world of dressing himself knows that the arrival of summer means the arrival of color and this is the perfect time to learn how to wear pastels. Why would you want to go out in the summer sunshine in black and dark ensembles? Doing that kind of puts a damper on the summer mood notwithstanding the risk of heat stroke or other complications.
With pastels in our wardrobes, it instantly transforms the go-to white summer get-up to something more youthful, fun and at the same time still fashion forward. The softer side of the spectrum gets some well-earned attention this season for a few good reasons. Powdery pastel shades are a subtler way to pull off top-to-toe color from bags and shoes to trousers and tops! With that said, be mindful of wearing multiple pastel pieces in one outfit. It's not impossible, but you run a serious risk of looking like salt water taffy or Neapolitan ice cream. Of course, you wouldn't want that. The key is to wear them with items that you would normally think you would not use again and you could be surprised with the outcome!
We round up the best eye catching pastel menswear that are on trend right now for you to mix and match this summer.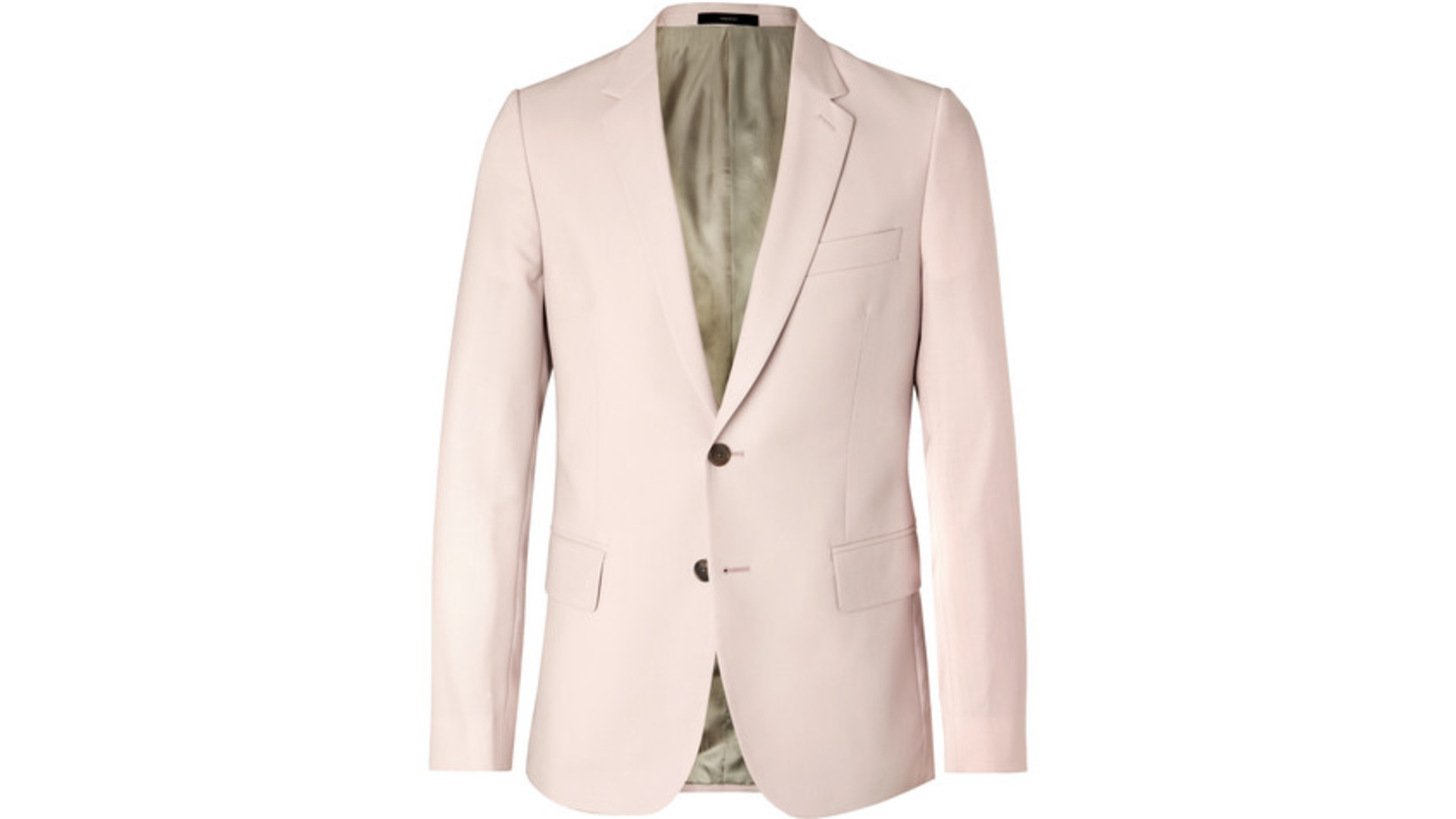 Paul Smith Light-Pink Suit
Paul Smith has mastered softly structured tailoring over the years. Cut in the label's signature 'Soho' fit that's slim with side vents for a little more room, this jacket is made in Italy from a mid-weight wool and mohair-blend. The notch lapels are felted underneath to maintain the shape and it's fully lined to sit smoothly over shirts and knitwear. For something that makes a pretty serious statement, pastels can be surprisingly easy to wear. Go beyond what is expected in this shade to stand out in the monochromatic corporate world.
Paul Smith Shop 328, Avenue des Champs Élysées, Level 3, Shoppes at Parisian Macao, The Parisian Macao, +853 2877 0573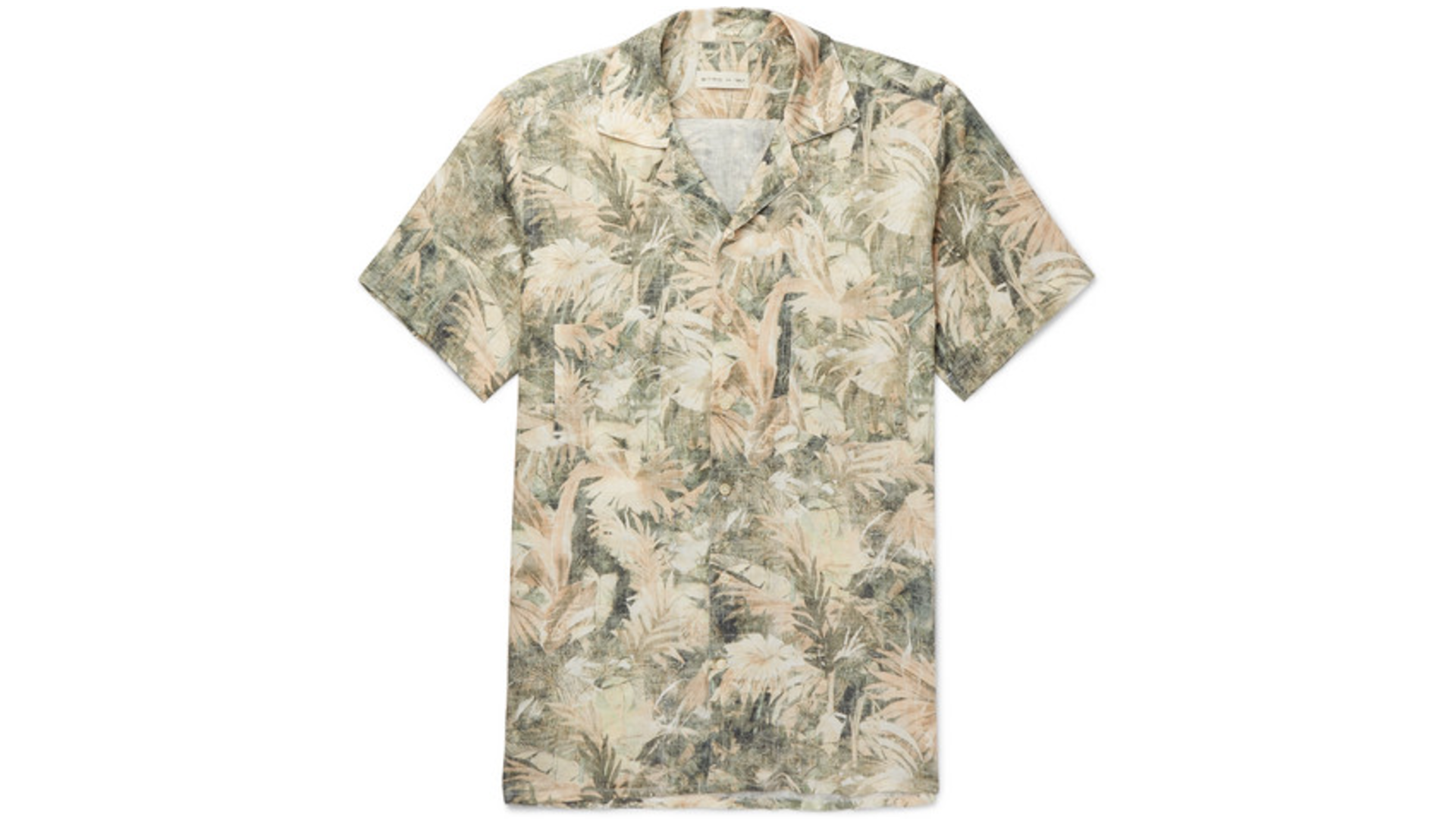 Etro Printed Linen Shirt
Etro, known for its free spirited and bohemian looking products, is staying true to the brand's aesthetics with its signature paisley prints and bold colors. However for this shirt, the trick is to turn down the saturation a bit but still maintain the signature print. The inspiration behind the print and design in this shirt from the Spring/Summer 2019 collection is a canvas painting. The botanical print on this shirt looks as though it's been applied using an artist's brush with various types of strokes to create a summer looking inspired top. It is made from breathable linen and cut in a loose shape that will keep any man cool in balmy weather. Pastels can be a more timeless alternative to primary colors in a way that a neon pink shirt may be on trend at some point, but it won't last nearly as long as a pale pink shirt. Pastels are also more forgiving, and better able to suit a variety of styles and skin types.
Etro Shop G29, Wynn Esplanade, Wynn Palace Cotai, Avenida Da Nave Desportiva, Cotai, +853 2877 6258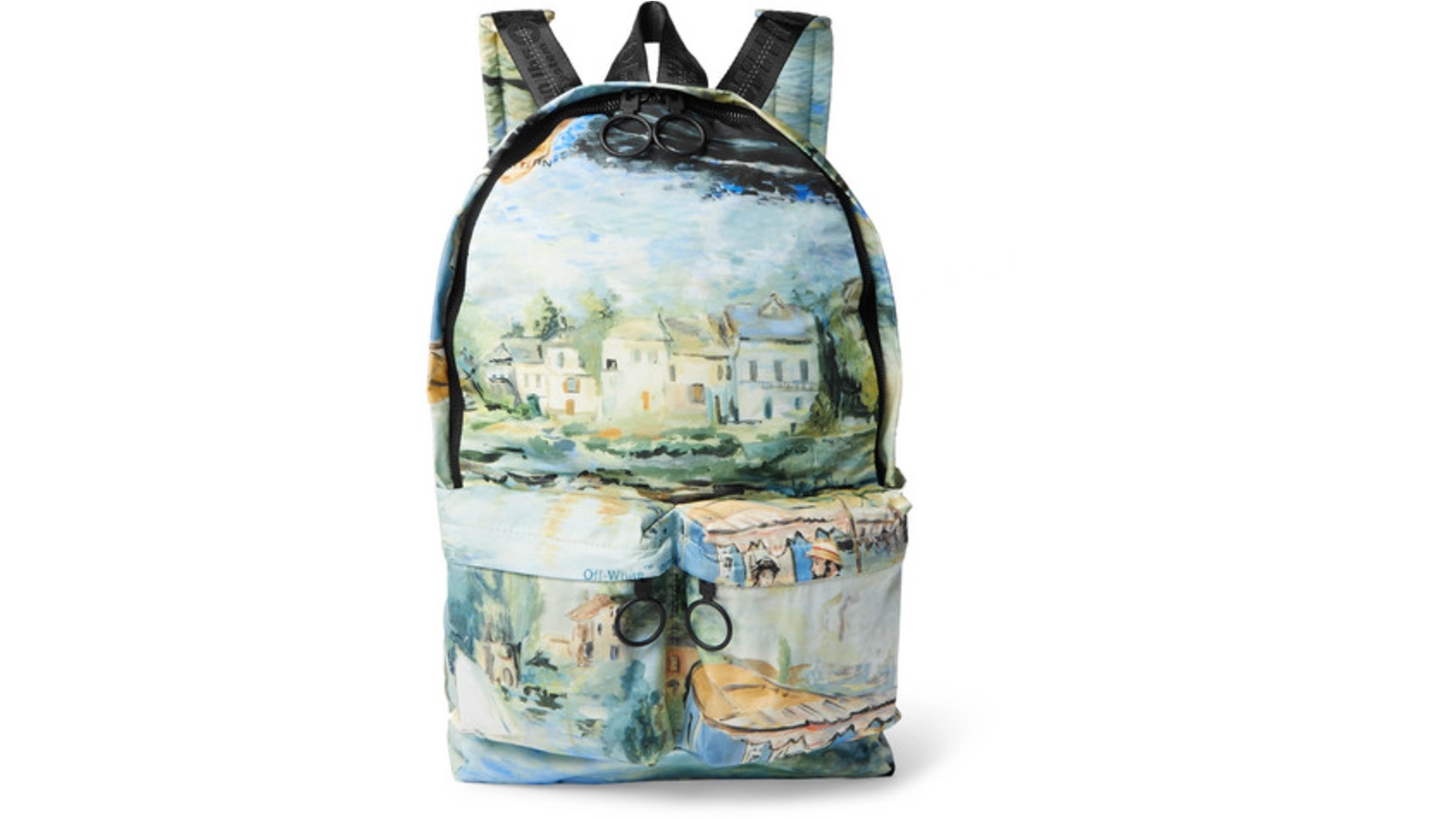 Off-White Printed Backpack
Virgil Abloh, creative director for Off-White, has a lot in common with Impressionist artists–they were outcast and later celebrated, much like the reception of the initial part of the brand's collections. This shell backpack is printed with Édouard Manet's 1874 scene of fellow painter, Claude Monet. It has separate zipped compartments for small essentials and adjustable shoulder straps woven with the label's branding. While Off-White is known for its street style vibe, this bag offers a softer outlook, very far from the brand's signature edgy prints. It is kind of like the fashion equivalent of a choose-your-own-adventure book–you can stay safe and sane, or go as big and bold as you want, which is what Off-White is doing, offering the best of both worlds.
Off White Shop 1054A, The Promenade Shops at Galaxy Macau, Estrada da Baía da Nossa Senhora da Esperanca, Cotai, +853 2857 6665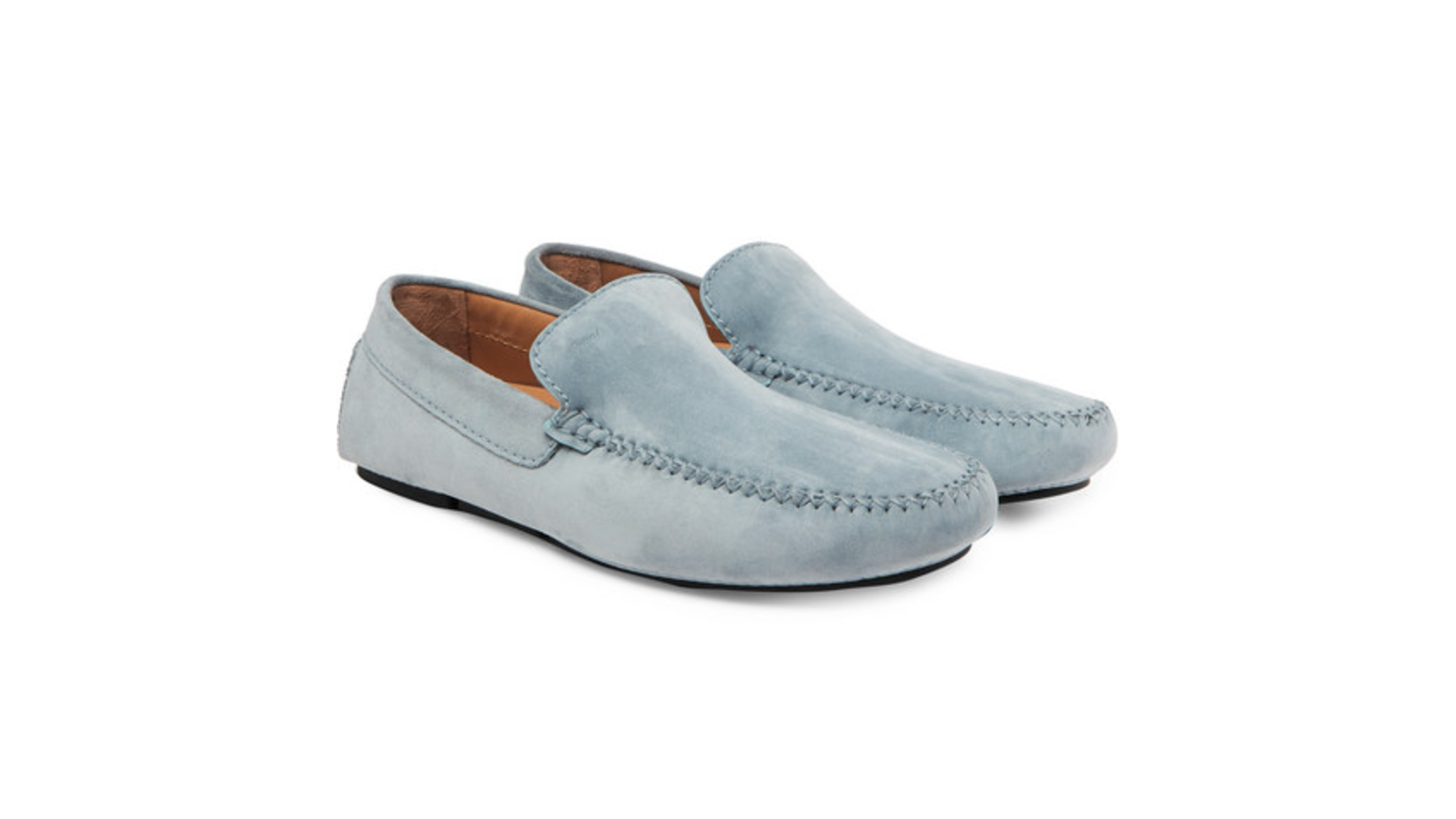 Brioni Driving Shoes
Brioni is the Italian term for the Adriatic Sea's Brijuni Islands, so it's fitting that there are few better places to sport the label's driving shoes than along the coast. Set on rubber soles, these are made in Italy from supple nubuck that will mold to the shape of your feet when worn. The light-blue shade works equally well with bright and neutral colors. With this way of putting things together into one look, the neutral piece will anchor the more attention-grabbing shade and turn it into an accent rather than the main event.
Brioni Wynn Palace Cotai, Avenida Da Nave Desportiva, Cotai, +853 2877 6260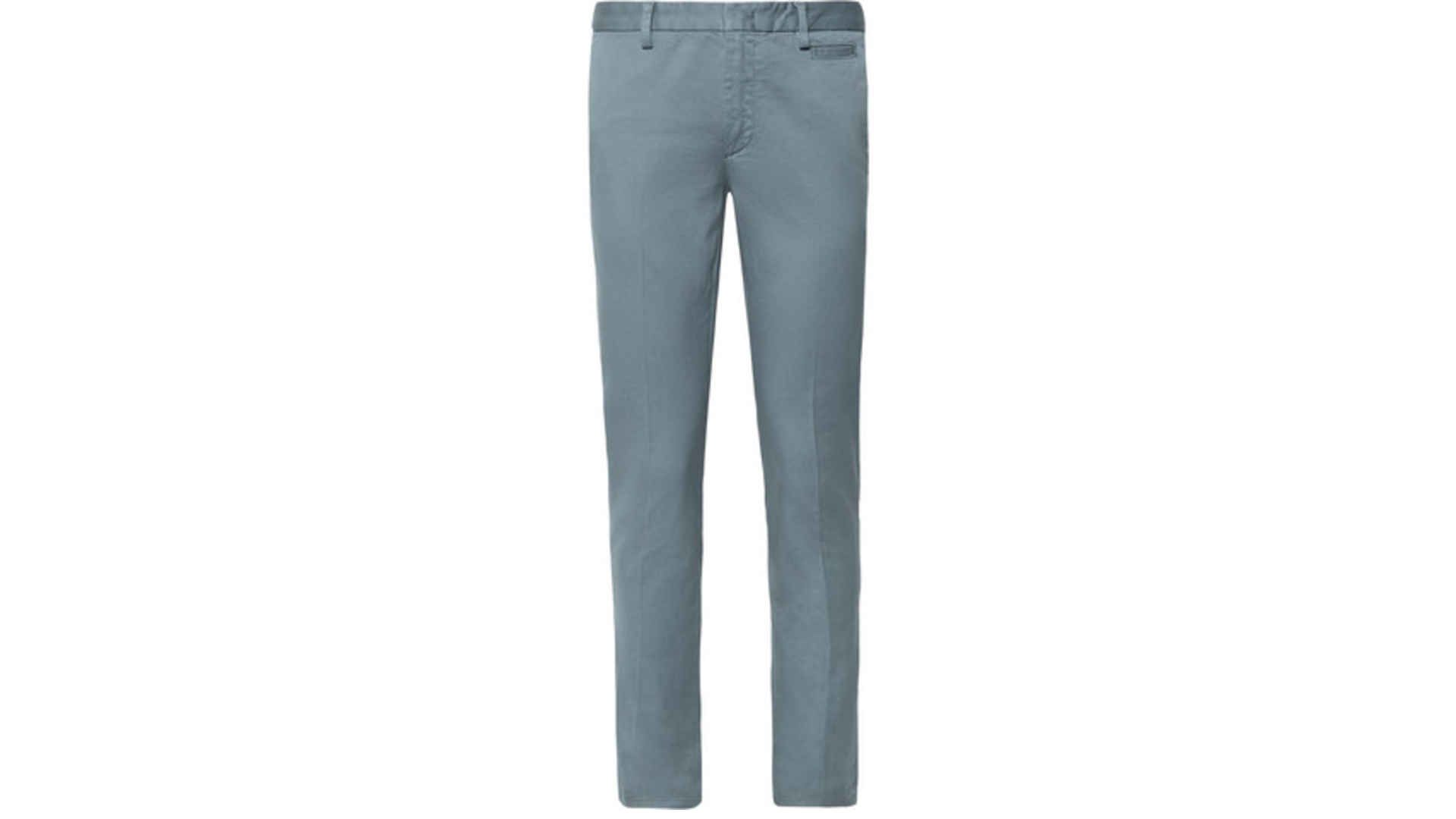 Prada Slim-fit Chino Trousers
The light-blue shade of Prada's chinos is subtle enough to be considered a neutral. In fact, you can style them just as you would a trusty pair of jeans. They are cut in a slim fit from stretch-cotton twill and have neat pressed creases. Because pastels are softer tones, they can be more versatile than their brighter counterparts. You are less likely to create a clash when working with more subtle shades. More fashion hits than fashion miss.
Prada Shop no. 1001-1003, The Boulevard at Studio City Macau, Estrada Di Istmo, Cotai, +853 2885 2201
Tags
Related Posts