Many people travel and stay at hotel brands that they trust for guaranteed comfort. Thus, when you arrive at a Four Seasons property, you will definitely have some sort of expectation about your stay. Located on the quieter side of Koh Samui by Laem Yai Bay is the Four Seasons Resort Koh Samui. The welcome here was quick, smooth and the view from the top of the mountain was breathtaking.
On a hilltop overlooking the gulf
The hotel is just over 11 years old and was built on a former coconut plantation. It covers two sides of the mountain; residences on one side, resort on the other. The lush greenery that surrounds the whole property is just stunning with different types of tropical plants everywhere you look. It's not surprising that the resort is so beautifully maintained given that their landscaping staff consists of 60 people! If walking isn't your thing, buggies with drivers can take you anywhere you want on the resort, rain or shine. As you make your way down the mountain, you'll pass the other villas, landscaped gardens and finally arrive at the private beach.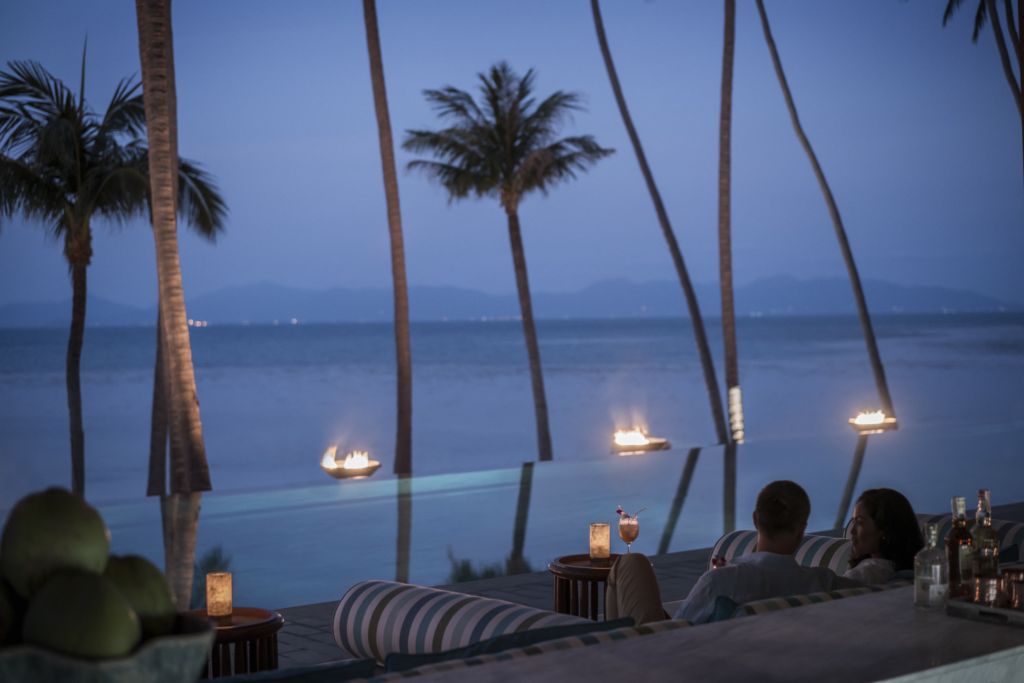 CoCo Rum beach bar looks out over an infinity pool which overlooks the beach and this is where the Rum Vault is found. The Rum Vault is Asia's first and only rum library made up of rums from all over the world. No other spirit puts the "island" in "island getaway" with its distinctive sweet taste and zingy mouthfeel. So this is what the Four Season's Koh Samui means with their message of "discovering Thailand's laid back island life"!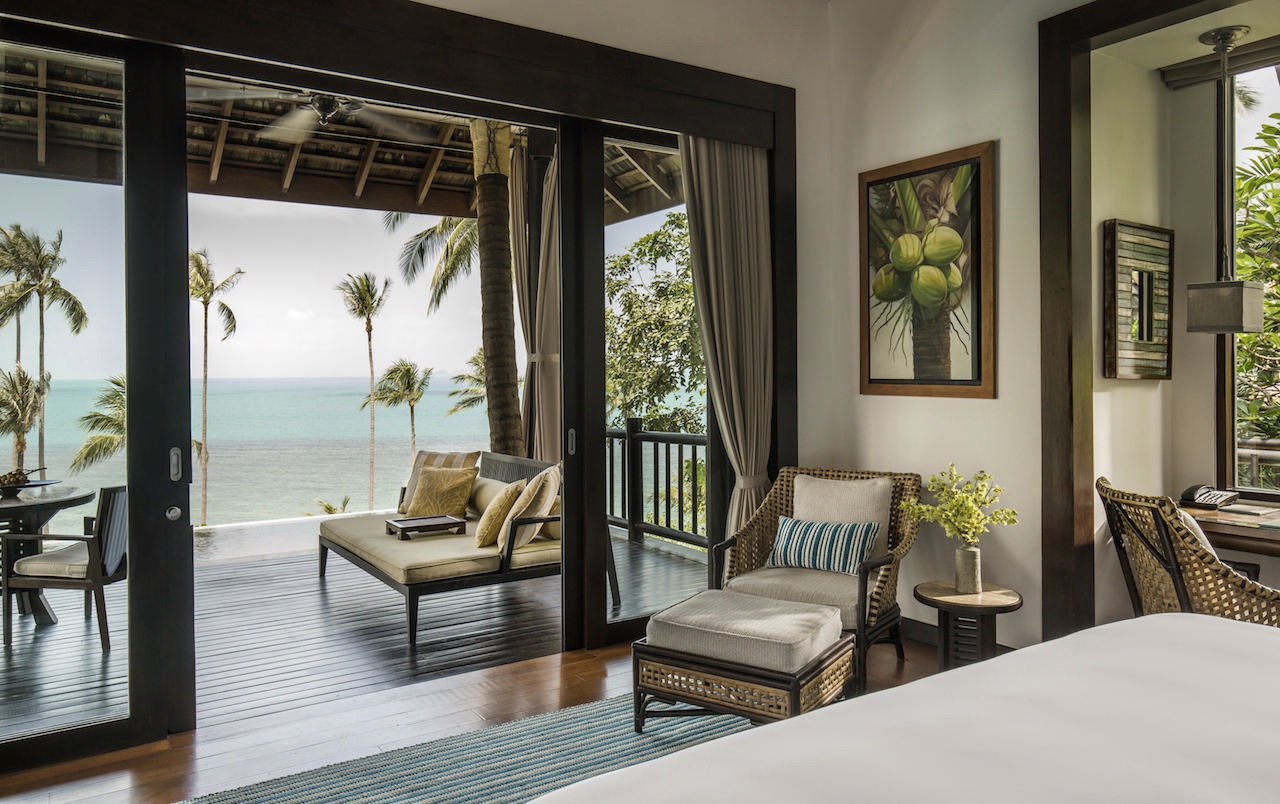 Luxurious rooms in paradise
There are only 60 villas on the whole property and we stayed in a Deluxe one bedroom pool villa on the resort side. Each pool villa comes with its own large private infinity pool that overlooks the tropical gardens and sea. The outdoor deck is fitted with a day bed, marble table with two chairs, mini bar, deckchairs and an umbrella. It was also partially covered which means we could still enjoy it on rainy days.
The room interior was so welcoming, spacious and had that signature Four Seasons scent. That hint of peppermint was so refreshing and immediately set a relaxed vibe for our stay. The mix of aqua blue and seafoam green in the decor created a lovely contrast with the natural stone colours as well.
There is a traditional Thai vibe in the rooms illustrated by the custom made artwork and traditional Thai silk accessories. The beds are comfortable, large, and the sheets were incredibly soft! The plentiful pillows, adorned with the Four Seasons logo felt so luxurious and were wonderfully soft to sink in. The bathroom is set up with a huge stone bath tub, separate rain shower, double sinks, separate toilet and most importantly, his and her wardrobes. There's also a vanity, safe, provided hair dryer and large flat screen television but who needs television when you've got that view!
They have a few great restaurants on the property such as KOH Thai Kitchen and Bar and we had all our meals in the villa on our outside deck. There was nothing more enjoyable than soaking in the breathtaking views, eating delicious Thai food and spending time with a loved one.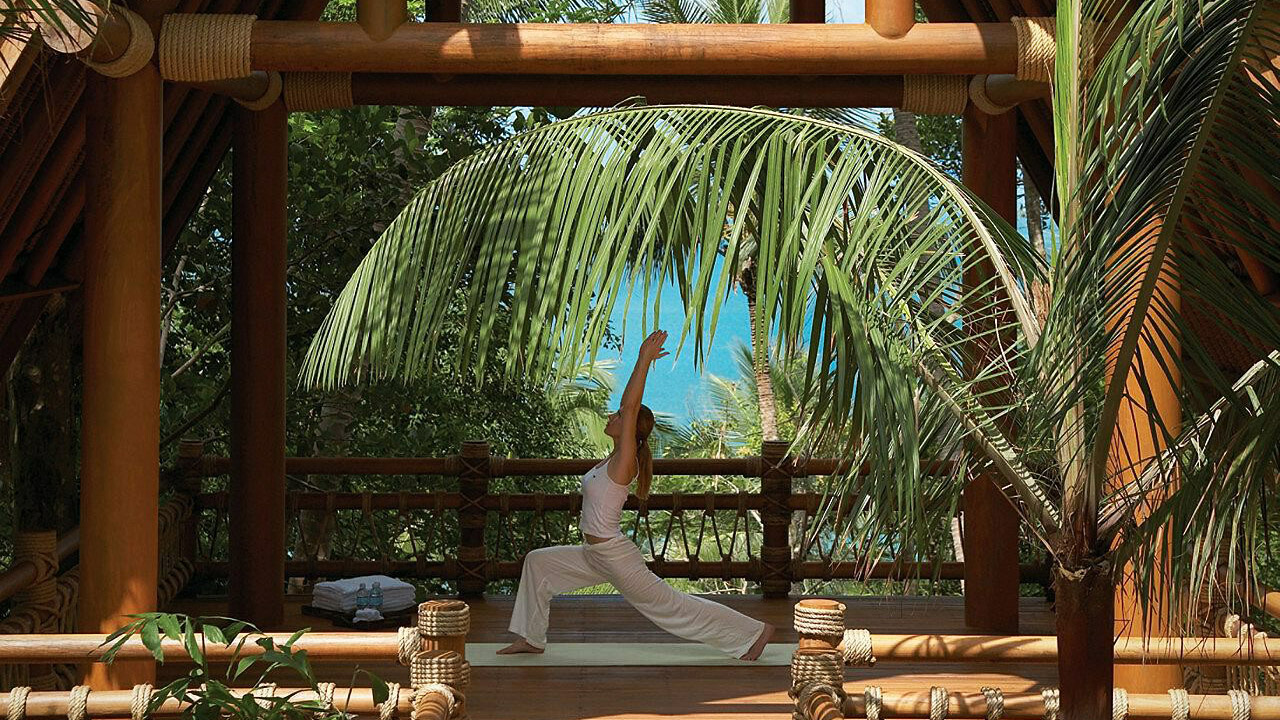 Muay Thai, yoga, Coral talk and more!
The Four Seasons Koh Samui has a beautiful outdoor yoga studio right between the tree tops opposite their wonderful Secret Garden Spa. Their spa has only five villa spa rooms, each complete with their own outdoor lounging area with an outdoor bath, two outdoor rain showers and a sofa attached to your villa spa. Talk about impressive! Their range of luxury products were also interesting. It's great to discover new brands on holidays as well and two that stood out were Swedish brand Kerstin Florian and English brand Ila Spa.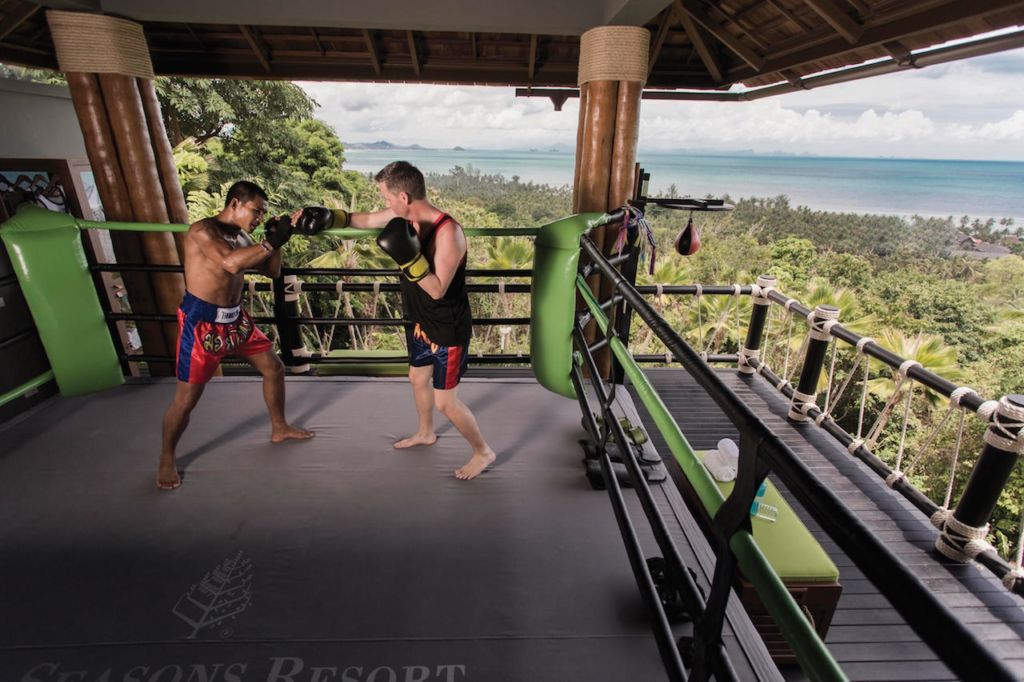 If intense workouts are your thing, then you must book for a private session with their professional Muay Thai Kick boxer. Sessions will be held at their outdoor sea-facing professional grade boxing ring, I've never seen a more photogenic workout area in my life! We booked our session for 8:00am and had a great workout looking out over the sea—perfect start to the day! If Muay Thai isn't your thing, they have a state of the art gym next to the ring as well as an outdoor training deck, perfect for some Tai Chi or stretching. The Four Seasons also has tennis courts, a library, beach sports, kayaking, paddle boarding, games rooms, and landscaping tours. The Coral Talk with their resident marine biologist was one of our favorite activities. It was great to see the effort they're taking to protect their own reef as well as those in the region. We also learned how we can all contribute to preventing coral bleaching.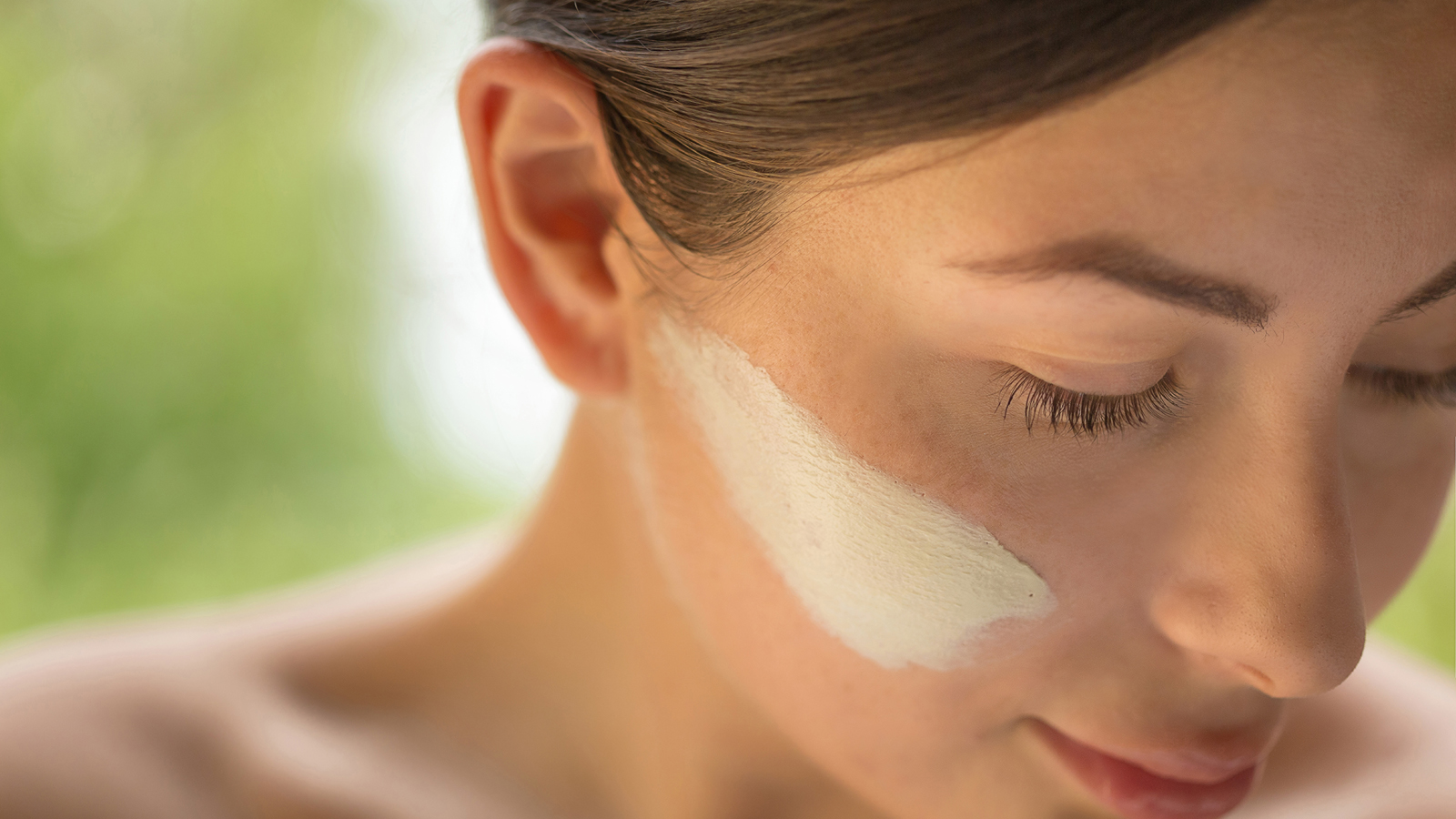 Quality time for wellbeing
There are also unique wellness programs offered at the Four Seasons Koh Samui. Called the "Reason to…" programs, it's made up of four wellness programs—Reasons to Nourish, Reasons to Sleep, Reasons to Pamper and Reasons to Play—where guests can mix and match a combination of resort experiences. This can range from spa therapies, dining, guided exercises at the gym or beach and more!
Exceptionally excellent service
It's not often a whole paragraph is dedicated to the service at a property. However, with our stay at the Four Seasons Koh Samui, we felt it needed its own space. From the moment we checked in to the moment we left, we were greeted with warm and friendly smiles from everyone on the property. This really embodied Thailand's title of "The Land of Smiles".
While touring the The Secret Garden Spa, I mentioned how delicious the coconut chips were and within 20 minutes, the Spa had sent over two bags of coconut chips for me to enjoy during my stay. When ordering room service, the attendant noted that some of the items I'd chosen were not dairy-free and double checked to make sure if that was alright, since they were aware of my dietary requirements. We also chatted to some staff members who have been proudly there for over eight years! Truly a testament to the quality of their team and workplace environment that the Four Seasons Koh Samui has created.
Whether it's a couples retreat, honeymoon, solo trip or one with family, it's a perfect vacation for all ages to enjoy. You can fly to Koh Samui via Bangkok daily on Bangkok Airways or fly direct through Hong Kong International Airport with Cathay Pacific or Hong Kong Airlines. On a side note, Koh Samui airport is the most darling little island airport. Ready your cameras when you land because the airport is pretty much all outdoors!
---
Four Seasons Koh Samui 219 Moo 5 Angthong, Surat Thani 84140, Thailand or visit their website more details
Tags
Related Posts