Source of feature image: Scientific Tropical Archive. São Domingos Market circa 1950
São Domingos Market Macau was first known as São Domingos Bazaar and it's believed to have been built during the 19th century. We're talking about the market selling wet and cooked food located in the city center, a few steps away from Leal Senado's fountain. One of the most popular and crowded markets in town, it mostly serves locals and people who love to cook at home since it's always stocked with daily fresh vegetables, meat, poultry, fish, even beautiful flowers, and more! There's also a multifunctional room upstairs, as well as a food hall serving some of the most delicious, juiciest dishes! Find out more about this busy yet historic spot in the city center.
Since the 1800s and beyond
Official records show the first version of the market–then called São Domingos Bazaar–went up in flames on November 13, 1893, and had to be rebuilt. The same files indicate that four years later, two Macau merchants, Lu-Cau and Vong-Atai, joined forces, wrote a letter to Leal Senado (the city's council at the time) for the reconstruction of the market in the same place. They even had a design and a construction plan, which were approved by the government. At the start of the 20th century, the spot was known as New Market, where there were two trading pavilions. In 1927, the building underwent refurbishment yet again, with a project by a Hong Kong architect.
However, some 20 years later, its unappealing design and lack of sanitary conditions fostered a new reconstruction after the previous building was completely demolished. Finally, on October 12, 1949, the new version of São Domingos Market was finalized and inaugurated on January 31, 1950, with a total construction spending of MOP $550,000. It became the biggest of the six existing local markets in Macau and considered the most impressive one in the Portuguese colonies then.
Also read: Best Markets in Macau
The market's last and final project was erected in 1996 after the previous was demolished. Made by Leal Senado, it opened its doors in 1998 and the design still remains. The seven-stories structure is 24 meters high and features several different purposes.
Religious celebrations and festivities are abundant in Macau. Made of a combination of cultures, traditions, and beliefs, it's common to witness both local and Catholic activities and celebrations and the latter take place for a long time now, since the first Jesuits first arrived. S. Domingos Market was also used for these, including in 1956: Leal Senado promoted S. João party, with a Portuguese Arraial taking place at the market's rooftop, with live performances and other activities.
What to find there
One might get confused with the several entrances into the market, but they all lead to the same place: both ground and first floors are dedicated to meats and vegetables while poultry, eggs, flowers, and other fresh items are located on the next ones. Opened till late, this is the to-go place when looking for freshly delivered food items to savor amongst friends and family. Sure, supermarkets do the trick and might be more convenient if you're buying other groceries, but nothing beats fresh and tasteful goodies from your next-door market!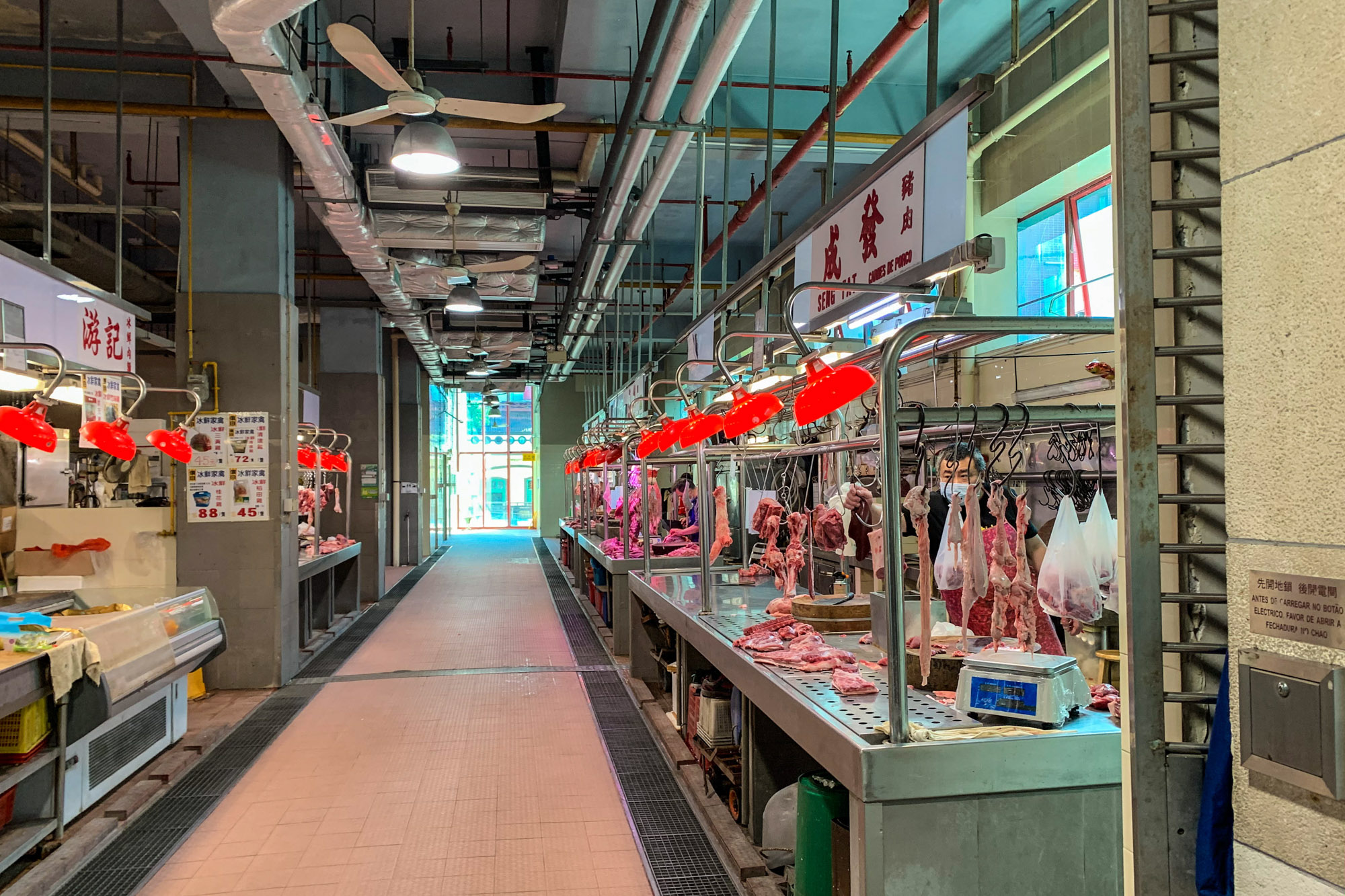 Our favorite area of S. Domingos Market is the food hall, where you're able to have a truly local delicious dining experience for a very great price! While most dishes don't exceed MOP $60, drinks are also available for affordable pricing as well. We love the clay pot rice stall that specializes in a delicious mix of rice with eel, chicken, beef, or whatever you want, really. Cooked in a very traditional way–which you can see with your own eyes–with high heat, it's done in less than 10 minutes, ready to eat on a table close by or take it to have at home. If you're following the milk tea craze, you won't miss the chance to have the one from Carnes Assadas de Keong Kei, yet another stall sitting at the market's food hall.
Also read: Best Places to Find Authentic Milk Tea in Macau
It's also worth visiting all the interesting landmarks and hidden corners nearby such as Rua dos Mercadores and Rua de Tercena, or even S. Domingos Church and the Ruins of St. Paul's. Spend the afternoon sightseeing before heading into this goodies haven, or you'll be strolling with a bunch of bags full of veggies and fresh fish!
---
Opening hours: Daily, 7:00am–8:00pm
S. Domingos Market Municipal Complex Intersection of Travessa do Soriano with Rua Leste do Mercado de S. Domingos, Rua Oeste do Mercado de S. Domingos and Rua Sul do Mercado de S. Domingos, +853 2893 3419, www.iam.gov.mo/market
Tags
Related Posts