As with anyone who truly misses traveling for the sake of tasting new dishes, the longing to recreate those experiences through the gastronomic offerings available locally is only natural. Lucky for us, a certain French brasserie situated at MGM Macau's Grande Praça by the name of Aux Beaux Arts recently underwent a revamp with an all-new menu, offering a French culinary journey from the north of the country to the south–a welcome respite from the gloom during these unique times. This is an experience we dare not pass up.
The ambiance of Aux Beaux Arts is reminiscent of an old-world French brasserie, sophisticated and classy. But there's something quite welcoming about the semi-alfresco dining setting and high-ceilings, and the fact that upon entrance, one is greeted by the open-style interiors of the ABA bar. The sophisticated lounge seamlessly blends with the restaurant's vintage indoor dining room, ensuring a perfect backdrop to lighten the mood with cocktails and pre-dinner drinks.
These large satin sofas nestled below a beautiful black chandelier, essentially complimenting the bar's black and white checkered floor, right at the center of the lounge was what caught my attention as soon as I entered the room. It was empty so naturally, we made ourselves comfortable while waiting for our companions. We were there to avail ABA's More Gin, Monsieur! promotion prior to our dinner arrangement. Two hours of free-flow gin and tonic later, we were ushered to the main dining hall for the gist of our evening.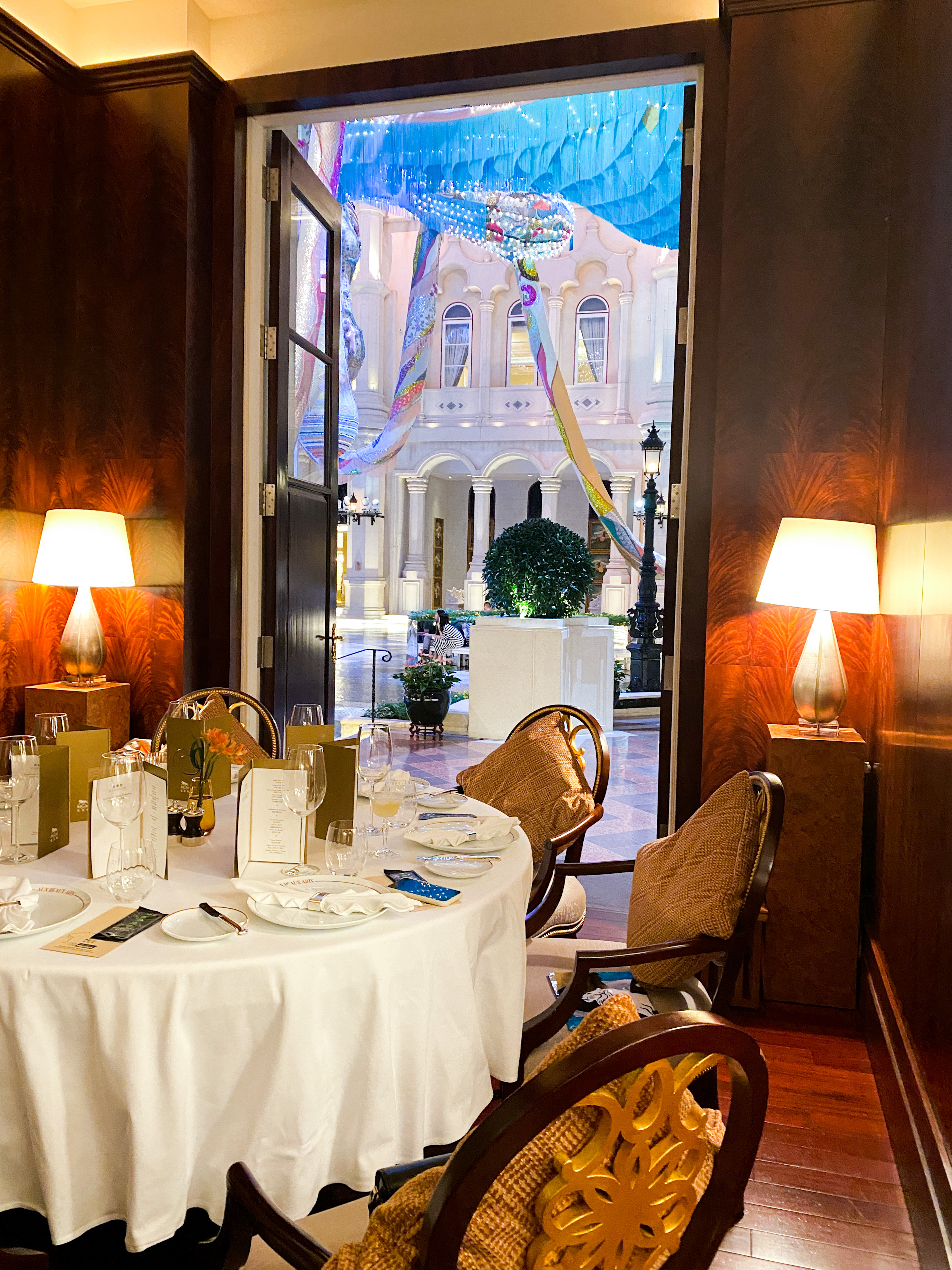 Indoor Dining with a View
Our table was one of those situated between the large doors that open to the indoor patio, looking out to MGM's breathtaking cylindrical aquarium and the magnificent Valkyrie Octopus installation. Who says you can't have a view while dining indoors? Surely this was the most reserved or best maintained for VIPs out of the many within the restaurant. It must be our lucky night! We were then presented with the course rundown consisting of 12 authentic French dishes with an Aux Beaux Arts twist.
For starters, there was the classic salad Nicoise of Nice. If there's anyone who can make an amazing salad out of tuna, it must be the French, and the team at Aux Beaux Arts proves just as much. Featuring fatty tuna belly and crispy greens, it really reminds you of Mediterranean flavors. There's also the scallop tartare, gloriously topped with delicious fish roe; warm green asparagus salad that's fresh and light; baked escargot–another French staple; and my personal favorite, the quenelle gratin–rich, extra creamy, and mouthwateringly savory. Thinking about it makes us salivate!
Dine like the bourgeoisie of yesteryear 
Soon enough we were onto the main course. First off, we had the traditional bouillabaisse which is a seafood stew originating from Marseille. It's almost like a seafood platter in such but with the freshness of the ocean delivered straight to the table. Then there's also, the roasted tooth-fish, albeit the serving a little small but enough to pique one's palate and crave for more. Then there's the vol-au-vent and the tournedos rossini. The former is a traditional French delicacy that was once only served to royalty. How many times can you say that you've eaten the same food the French nobility did? Well, it is now a classic cuisine of the bourgeoisie but still makes for an interesting story to tell. Aux Beaux Arts lusciously elevated this dish with ingredients including foie gras, fresh lobster meat, and seasonal greens, all soaked in rich lobster sauce to marry both land and sea flavors. It's definitely an indulgence. But for a carnivore, the tournedos rossini, essentially a steak, takes the crown. Soft and velvety in texture, delicately sweet yet savory, and portioned just the right size, it's the dish that really completed the night. It's also a close contender to the classic steak frites which, by the way, is also offered at Aux Beaux Arts because what is a brasserie without this Parisian classic?
Onto desserts, we had the luscious dark chocolate fondant–a taste of heaven for any chocolate lover. Served with crème glacée on the side to balance out the slight bitterness of the chocolate, and topped with edible gold for added luxe. There's also the rhubarb strawberry verrine for those who fancy a more sour than sweet after meal refresher. And finally, no French dining experience is complete without crepe Suzette of course. Right around this time, one of the brasserie's team members had come out with a cart to wow us with his skills. To anyone who's not familiar with this buttery-sweet and tangy French version of an elegant pancake, flambéing is part of its presentation not only for dramatic effect, but the process adds a smoky note to the dish. Aux Beaux Arts' retro signature is extravagant with its warm, velvety, caramel sauce, finished with a shower of citrus zest.
It's fair to say that we were pleasantly stuffed by the end of the evening. The combination of rich food, excellent service, and delightful atmosphere made for a wonderful French culinary encounter, one that we hoped to experience in France but Aux Beaux Arts has unequivocally satisfied. If this restaurant is not on top of your must-visit list, you had better include it now as it brings a taste of France right here in Macau!
---
Aux Beaux Arts MGM Macau, Avenida Dr. Sun Yat Sen, Nape, Macau, +853 8802 2319, www.mgm.mo/en/macau
Tags
Related Posts