Taiwan has been a hot favorite in the region for a short escape. And why not! For its abundant natural beauty and popular food, it is simply irresistible. A great way to start your trip is with the food and cultural capital– Taipei.
Just right in the heart of Taipei's Dun Hua district, is the perfect spot for rest and relaxation- Mandarin Oriental, Taipei. Its close to all the key areas of the city and a short walk to the MRT station. It provides outstanding facilities, be it the rooms or the restaurants and really makes you feel like you have arrived at a place to relax.
Check-in
This is one of the most crucial parts of enjoying a hotel staycation or visit. Our check-in was smooth as soon as we arrived. It is simply fuss-free and the patrons were all smiles. The concierge team were so nice and helpful and always willing to take that extra step. From lending us a hotel umbrella for the day to suggesting some awesome local beef noodles walking distance from the hotel and helping us book a car back to the airport– nothing was too much trouble and done with a smile on their face.

The stay
We checked into the Mandarin Oriental's Deluxe King Room on the 17th floor, and the first thing you notice is the impressive size of the room. Living in Hong Kong, it was no surprise this hotel room was larger than my apartment. The marble bathroom is well-equipped with a large bath and huge glass-enclosed shower and a separate toilet at the entrance. There is also a double walk-in wardrobe fitted out with its own dresser and mirror. Everyone can have their own space to unpack. The queen bed was seriously comfortable and since it was pouring the weekend I visited, I spent a lot of my day watching movies and being lazy in their comfy bathrobes in bed. Small treats like cookies and cakes were left in the room at turndown every evening and the housekeeping staff were so friendly and warm, all in a non-intrusive way. I simply loved how they always lined up my huge pile of makeup and products scattered around the bathroom. The hotel amenities are by Diptyque and added the nicest touch of luxury to the already impressive bathroom.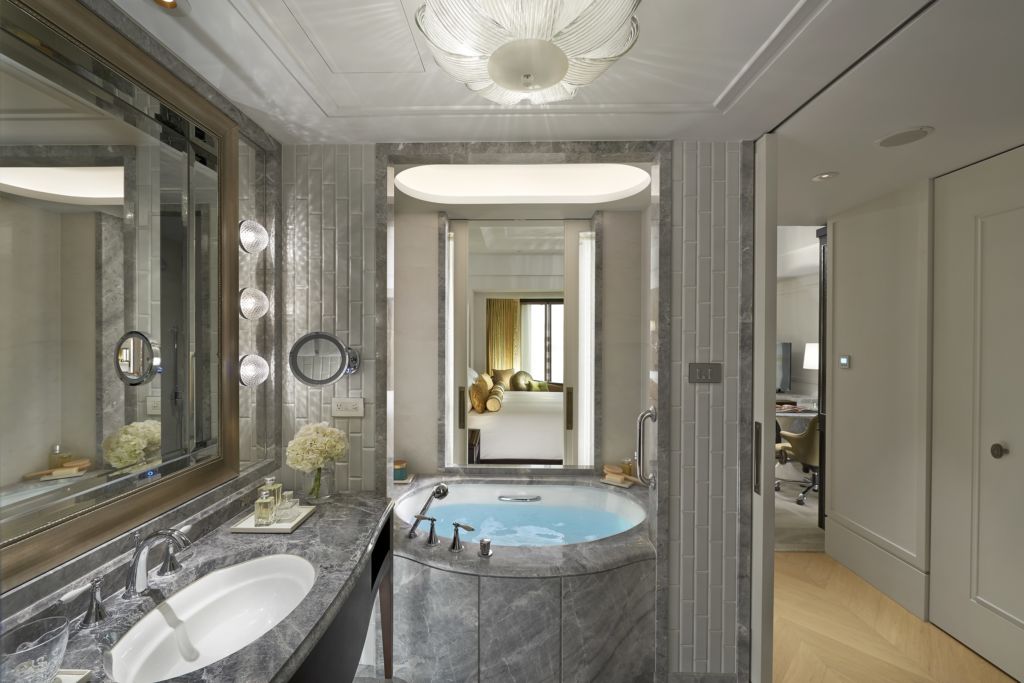 Their Dining
We did a tour of the property and had a look at all their dining options. It has a gorgeous bar with a large range of delicious cocktails available. The bar staff is very knowledgeable when it comes to wine and cocktails and we followed their recommendations each time and it sure did not fail. The lounge is a comfortable and great place to relax and work from, but I chose to work in the room as I wanted to spend as much time in it as possible. The Mandarin cake shop is a desserts person's paradise and a must visit even if you don't want to buy anything. I loved their pineapple cakes and its packaging was gorgeous too. It was the perfect gift to bring back from Taipei. Breakfast at Mandarin Oriental, Taipei was a feast. A decadent feast, in fact with cereal stations, pastry stations, egg stations, Asian breakfast, western breakfast and more. They even have non-dairy milk options and as someone who is lactose intolerant, this was a welcome surprise. The Italian restaurant Bencotto is definitely world class for its traditional style Italian cuisine and hosts a fabulous weekend brunch. I love their incredible wine cellar and the spacious way they arrange the room. The brunch is a great opportunity to get up and close and personal with the chefs and the kitchen. With an open style arrangement, guests can come and go as they please and watch the kitchen prepare all the brunch offerings.
The facilities
We didn't get to check out their swimming pool as it was too cold but did have a tour around and saw the spa, pool and gym facilities and yoga studio. The luxury shopping galleries around the hotel's courtyard were an added bonus since it was pouring and we treated ourselves to some retail therapy before heading back to the rooms to pack.
With much sadness, we checked out of our beautiful room and headed to the airport. If I left with one impression only to share is that each and every member of staff makes you feel as if you are their only special guest, and that is what makes a stay at Mandarin Oriental Taipei so different from other hotels. I have stayed at many luxury hotels all over the world but this one is rightly deserving of their top rating.
---
To book a room or find out more please visit Mandarin Oriental Website here. Or follow them on Instagram.
Tags
Related Posts