Kuala Lumpur is not just another Asian metropolis and definitely would not disappoint if you want to venture on a solo trip! Sparkling with every hue imaginable, Kuala Lumpur has a colorful look and a rich culture, which stems from its inclusive and multi-ethnic populace and buoyant economy. However, beneath breathtaking city views of busy highways, bustling streets and soaring skyscrapers lie many surprises for tourists. You will find yourself amidst colonial architecture, lush greenery, quaint temples, next to towering skyscrapers as well as friendly locals. Let's check out the popular sightseeing sites in Kuala Lumpur!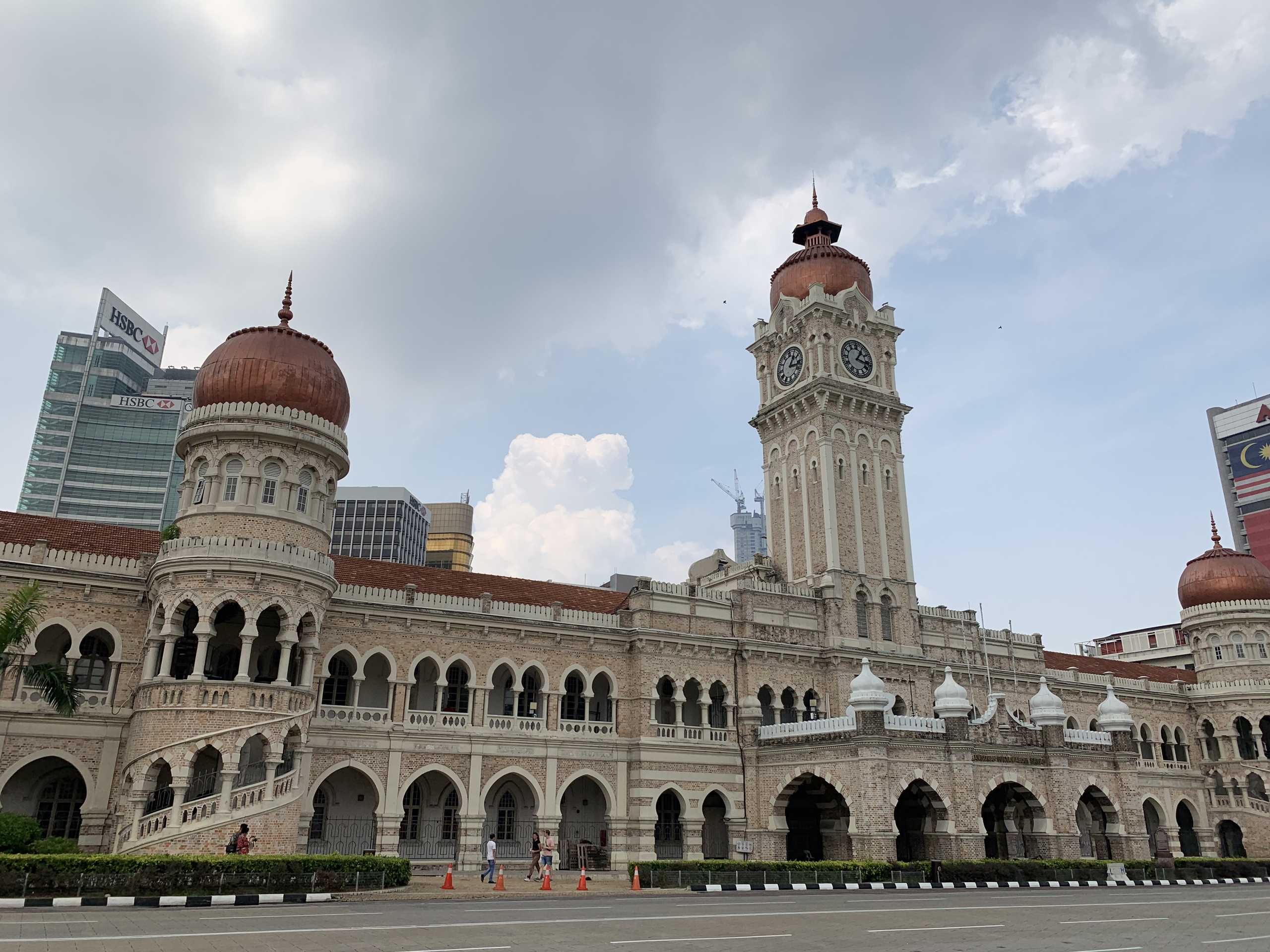 The Sultan Abdul Samad Building and Merdeka Square
Situated in front of the Sultan Abdul Samad Building is the Merdeka Square or Independence Square. The must-visit place was used as the cricket green when it was known as the Selangor Club and after 1984, it was granted a royal charter and named Royal Selangor Club.
The Sultan Abdul Samad Building originally housed the offices of the British colonial administration and was known simply as Government Offices in its early years. In 1974 it was renamed after Sultan Abdul Samad, the reigning Sultan of Selangor at the time when construction began. With its iconic beauty, it bears a historical significance because the Malayan flag was first hoisted in place of the Union Jack, marking the country's independence from the British, at Merdeka Square, right smack dab in front of it,
Prepare your poses and have your OOTD pictures taken with this colonial building as the backdrop. The easiest way to get to the Merdeka Square via public transport is by taking the Light Rail Transit (LRT) 3 (Ampang line), 4 (Sri Petaling line) and 5 (Kelana Jaya line) and get off at Masjid Jamek station.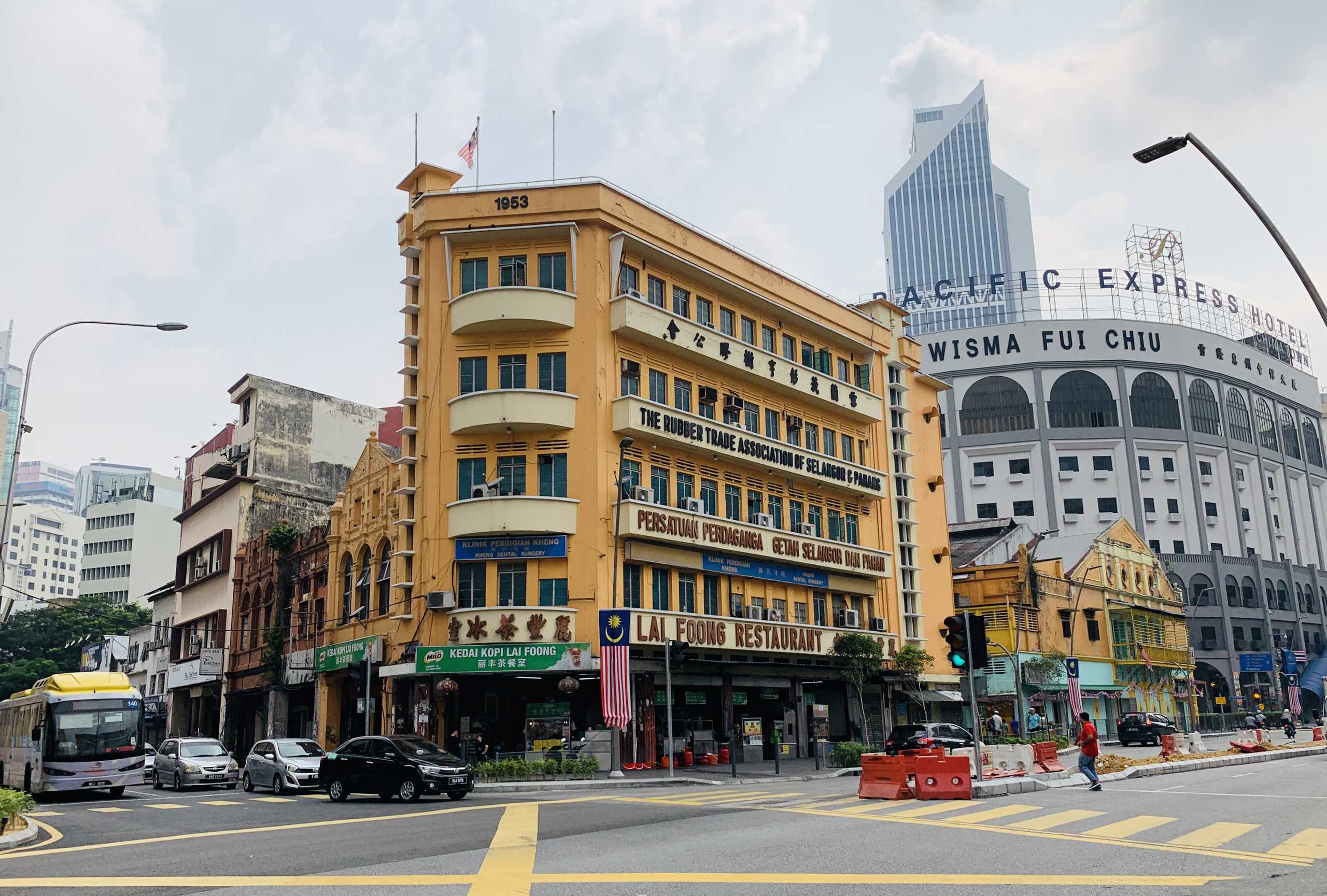 Chinatown
Chinatown has been through a period of change with new trendy cafes and eateries popping up and some of the old Chinese buildings renovated and turned into modern, sleek hotels. The area holds its charm and unique as always and offers some of the cheapest food and accommodation in the city. To get there, take the LRT Putra Line or Rapid KL Bus and get off at Pasar Seni Station.
Chinatown is the perfect place to soak up Malaysia's multiracial culture. From the ornate and gleaming Sri Mahamariamman Temple to the tranquil Guan Di Temple, these well-preserved and photogenic landmarks would look great on anyone's Instagram feed. Besides, this place is a wonderful treasure trove of inspiration for art enthusiasts looking for new vibes.
Petaling Street in Chinatown is a great place to explore gadgets, with hundreds of stalls selling different kinds of stuff at dirt-cheap prices. Another side of Kuala Lumpur that often goes unnoticed can be discovered here. If you want to take good photos here, Petaling Street is best photographed after the sun goes down where colorful lights and red Chinese lanterns illuminate the streets.
PS150 KL
Coinciding with the atmosphere of Petaling Street, PS150 is a hidden cocktail bar that's a perfect place for locals and travelers, especially for cocktail lovers, to beat the heat after a whole day of exploring Petaling Street. Founded at the end of 2015, the bar inhabits the least expected of places and is housed in a pre-war shop lot, creating a great Instagrammable spot with some history. There's the Opium Den with intimate booths perfect for a date night, the outdoor courtyard that is also the airwell section of the building and the Main Bar where all the magic unfolds.
Bartenders use local ingredients to bring out bold Southeast Asian flavors and a wide array of spirits and liqueurs are also available to choose from. You would definitely not stop at just one drink! For more updates, check out their Facebook page.
Opening hours: Sundays and Mondays, 6:00pm–1:00am; Tuesdays–Saturdays, 6:00pm–2:00am
 PS150 KL 150 Jalan Petaling, Ground Floor, 50000 Kuala Lumpur, Malaysia, www.ps150.my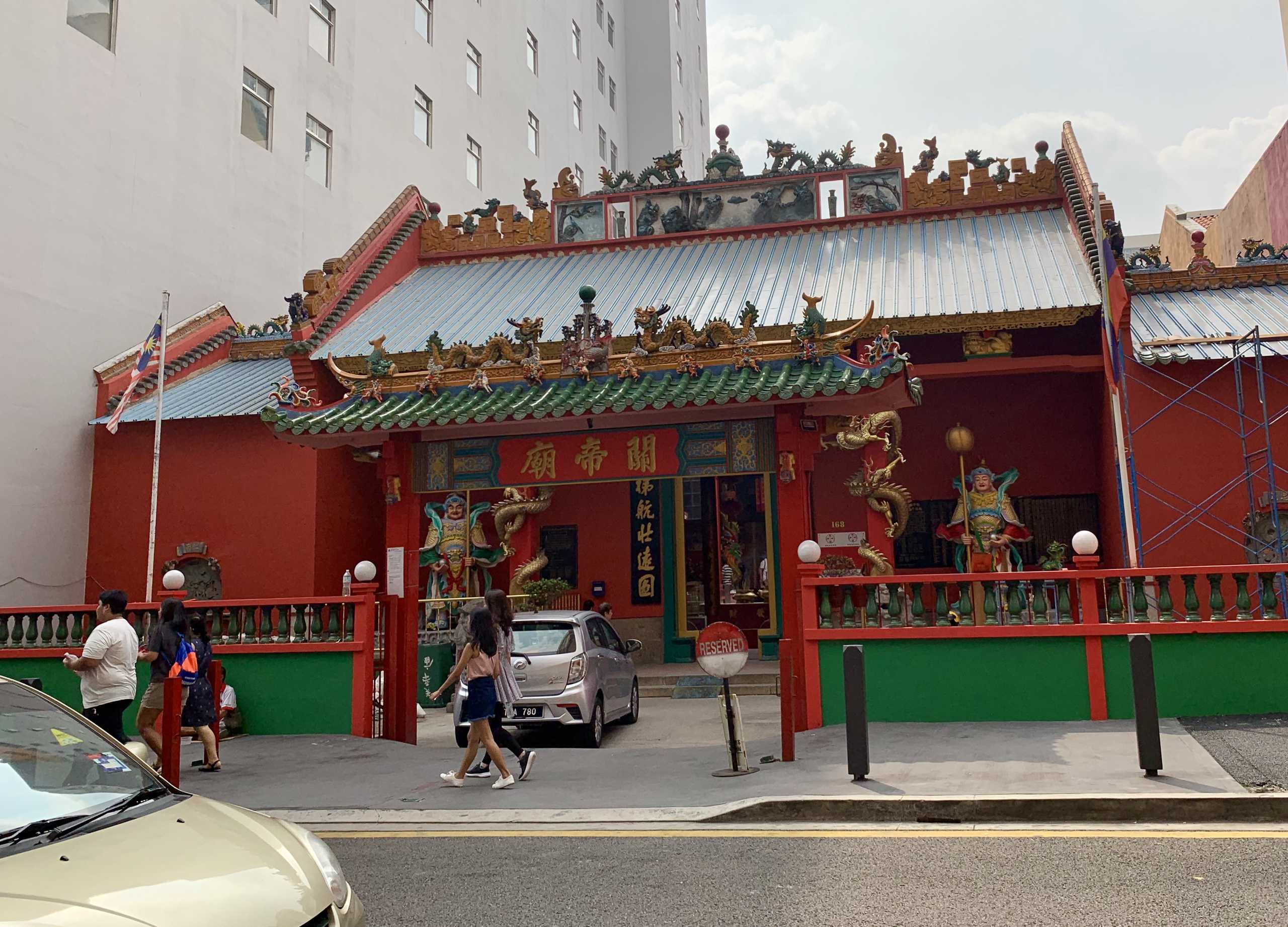 Guan Di Temple (關帝廟)
Founded in 1886, Guan Di Temple offers photogenic high ceilings, red walls, tiled eaves, and pointy gable ends. The temple is dedicated to Guan Di, known as the Taoist god of war, but more commonly worshipped as the patron of righteous brotherhoods. He is the patron of both police forces and triad gangs.
Opening hours: Daily, 7:00am–7:00pm
Guan Di Temple 168, Jalan Tun H S Lee, City Centre, 50000 Kuala Lumpur, Wilayah Persekutuan Kuala Lumpur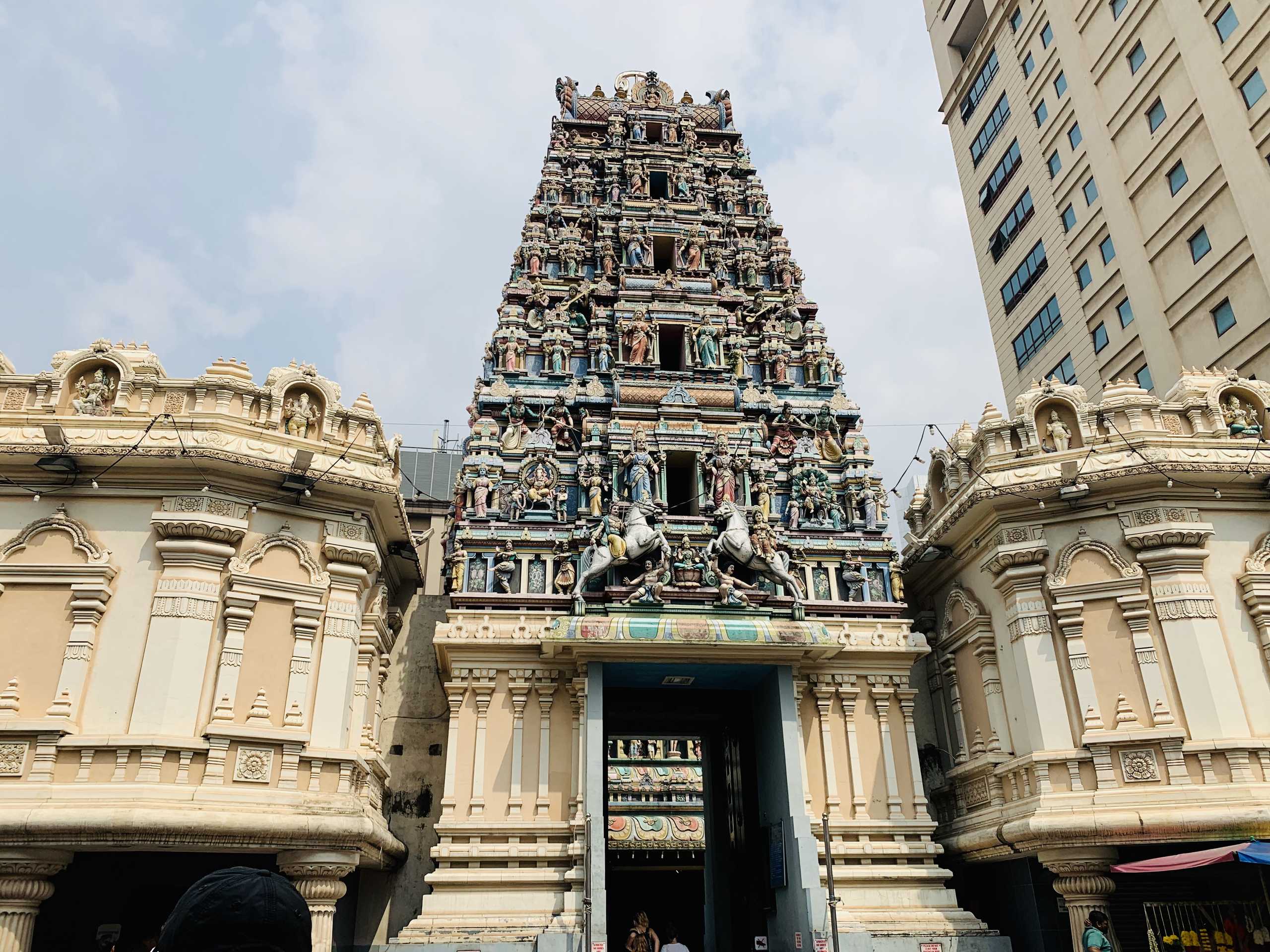 Sri Mahamariamman Temple
As a multiracial country, Malaysia has different places of worship that are often right next to each other. In Kuala Lumpur's Chinatown area, Sri Mahamariamman Temple, the oldest Hindu temple in Kuala Lumpur, can be found right opposite the Guan Di Temple.
Founded in 1873 by Tamil immigrants who came to Malaysia to earn money by building railways, roads or working in rubber plantations, the grand and elaborate Hindu temple is free to visit now, to serve as a solace from the rigors of their working life. The temple was named after the popular Hindu deity, Mariamman, looked upon as the protector of Tamils during sojourns to foreign lands.
The dazzling and richly-decorated onion-domed ceiling where three shrines are located is not to be missed especially if you're visiting for the first time. There are four smaller shrines located peripherally around the main temple building. These shrines house effigies of Lord Ganesha, Lord Muruga, Lakshmi (Goddess of Wealth) and other deities. Construction of the temple began in 1873 with plenty of ongoing restoration and embellishment.
Remember to take your shoes off and wear long pants before entering the temple to show respect for the religion. Visitors can deposit their shoes outside the temple.
Opening hours: Daily, 6:00am–9:00pm
Sri Mahamariamman Temple 163, Jalan Tun H. S. Lee, Kuala Lumpur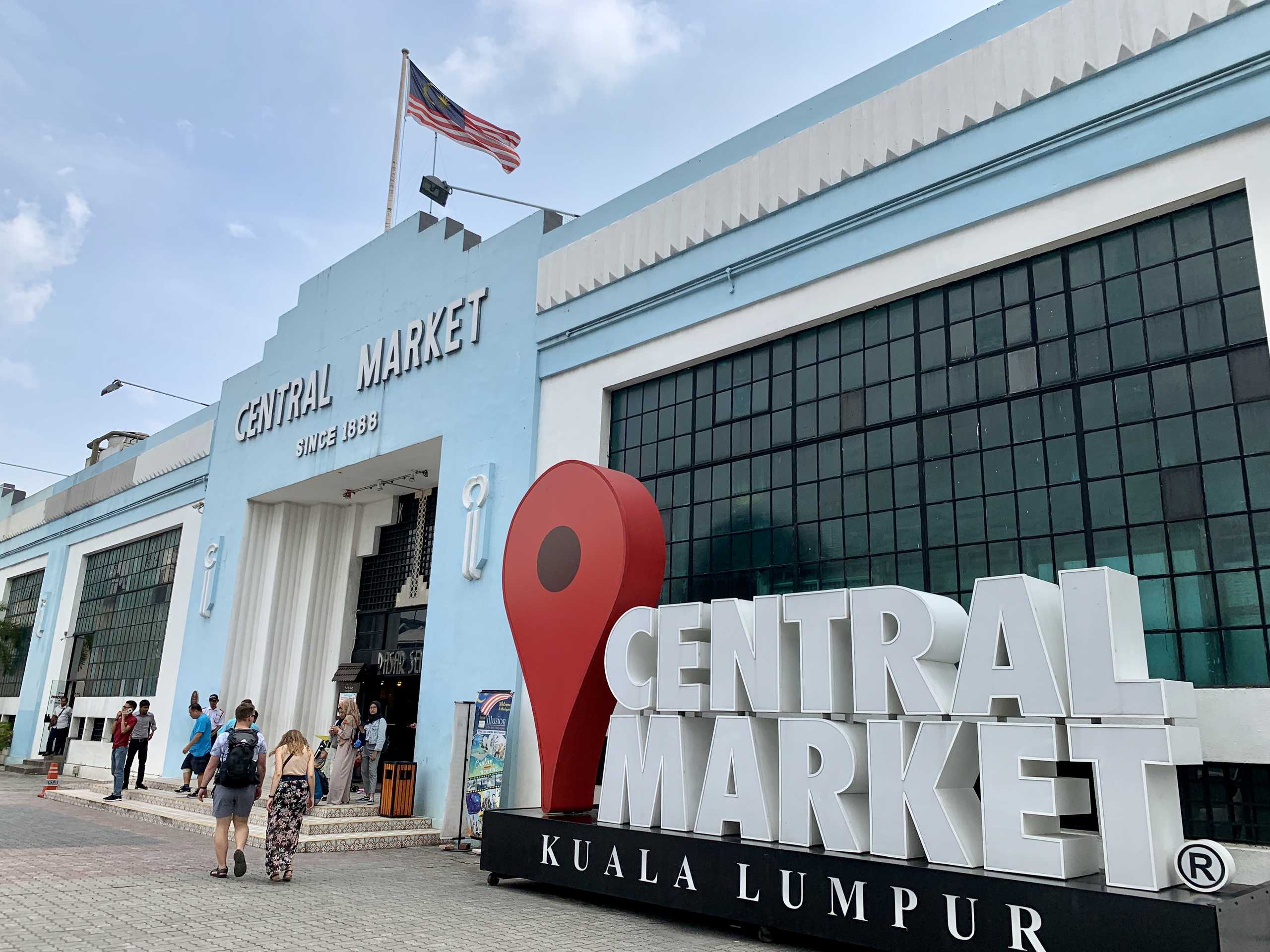 Central Market Kuala Lumpur (Pasar Seni)
Central Market can be dated back to the 1930s and it has now evolved to become one of the city's landmarks which symbolizes all the culture and heritage of this multi-racial country. With the theme of various cultures, the shops here are divided into zones based on the three main races (Chinese, Malay, and Indian) of the country. These zones–Lorong Melayu, Lorong Cina, and Lorong India–offer visitors a quick look into the cultural melting pot that is Malaysia with an extra zone called Lorong Kelapa which sells a rainbow of Malay snacks!
Have a wander around Central Market, peruse the local shops and perhaps purchase a traditional dress to jazz up your wardrobe. If fashion isn't your thing, then try the local snacks on display and buy them as souvenirs for your loved ones back home.
The convenient way to get there would be via the LRT. Get on the Kelana Jaya Line and get off at Pasar Seni LRT Station.
Opening hours: Daily, 9:00am–6:00pm
Central Market Kuala Lumpur (Pasar Seni) No. 10. 1st – 3rd Floor, Jalan Hang Kasturi, 50050 Kuala Lumpur, +603 2031 0399/5399/7399, www.centralmarket.com.my
Bukit Bintang
Being the most energetic district in Kuala Lumpur, Bukit Bintang is an absolute gem to explore. If you want to shop, enjoy local food and grab a beer, this one of a kind place cannot be missed for a complete daytime to lively nightlife experience t! You can take the Sungai Buloh–Kajang MRT Line (Route 9) and get off at the Bukit Bintang stop or Bus GO KL which is a free city bus service to get there.
A large number of popular local bars and restaurants can be found in Changkat Bukit Bintang which is an area that's famous for pub crawls. Also, the area has long been the city's most prominent retail belt that is home to several landmark shopping centers, al-fresco cafés, bars, night markets, food streets as well as hawker-type eateries.
Once known as a red-light district, remnants of those activities may still exist, but Jalan Alor(阿羅街) in Bukit Bintang has transformed into a unique food destination in Bukit Bintang. The pre-war buildings and colonial shop-houses have been refurbished and turned into upmarket pubs and restaurants, retaining their nostalgic charm. No visit to Kuala Lumpur would be complete without having dinner at Jalan Alor.
Restoran Wong Ah Wah (黃亞華小食店)
This must-visit Chinese restaurant famed for its chicken wings and satay is well-known among the locals and tourists alike. The larger-than-usual size of its signature children wings offers a smoky aroma and juicy and tender taste after marination, would satisfy any tastebud and best yet is super cheap at MYR 3.50 per piece!
The no-frills eatery opens from 5:00pm till 4:00am on a daily basis, which makes it a great casual supper spot for those who get off work late. Jay Chou, the Mandopop King, has dined here, which can be seen in a photo on a wall in the restaurant.
Don't forget to order grilled satay as well, which costs MYR 1.30 each. Do note that there is a minimum order of 10 satay skewers.
Opening hours: Daily, 5:30pm–3:45am
Restoran Wong Ah Wah 16, Jalan Alor, Bukit Bintang, 50200 Kuala Lumpur, Wilayah Persekutuan Kuala Lumpur, +60 3-2144 2463
If you are a seafood lover, do not miss Restoran Meng Kee Grill Fish (明记烤鱼) on Jalan Alor as well. Oyster omelet is a classic cuisine from the southern Fujian province of China. The oysters pack a flavorful punch paired with the omelet. Char kway teow (炒粿條), literally stir-fried rice cake strips, is a popular, notable noodle dish from Southeast Asia that's not to be missed either. Char kway teow is made by stir-frying shrimp, cockles, scrambled eggs, bean sprouts, and chives in a mix of soy sauce. This dish will definitely leave you begging for more!
Opening hours: Daily, 5:00pm–4:00am, closed on Tuesday
Meng Kee Grill Fish No. 39, Jalan Alor, Bukit Bintang, Kuala Lumpur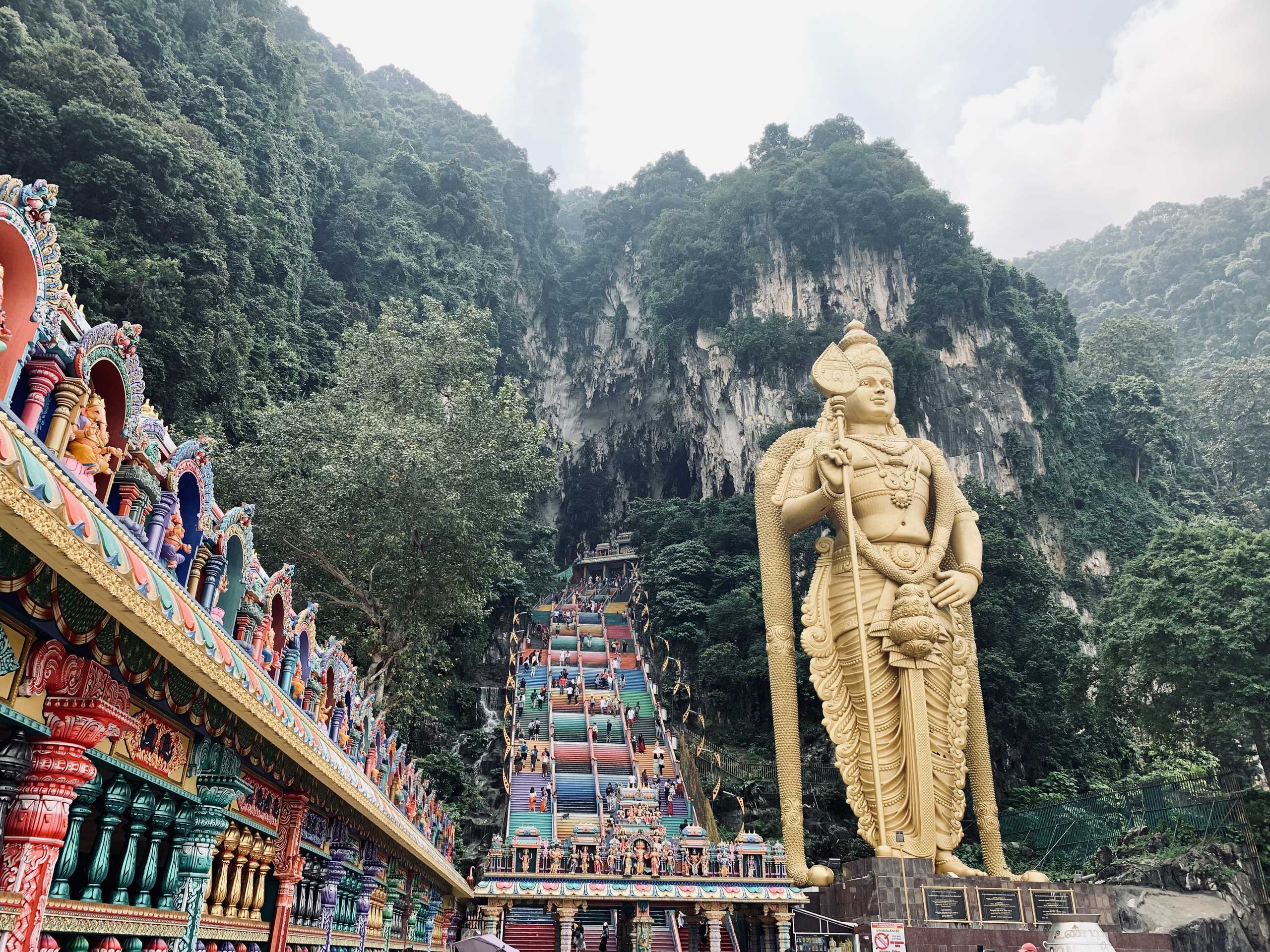 Batu Caves (黑風洞)
Who would say no to such an iridescent and Instagrammable hot spot in Kuala Lumpur? A very affordable travel option to visit Batu Caves is by taking the KMT Line 2 from KL Sentral, Kuala Lumpur's transportation hub. It is also the most budget-friendly one since the price for a one-way train ticket is only MYR 2.60. It takes about 26 minutes to get there so enjoy the passing views of Kuala Lumpur while you're on the way.
Towering at a height of 42.7 meters (or 140 feet), the golden statue of Lord Murugan was unveiled in 2006 and it's also the second tallest statue of a Hindu deity in the world. According to Wikipedia, the cave is one of the most popular Tamil shrines outside India and is dedicated to Lord Murugan. It is the focal point of the Hindu festival of Thaipusam in Malaysia.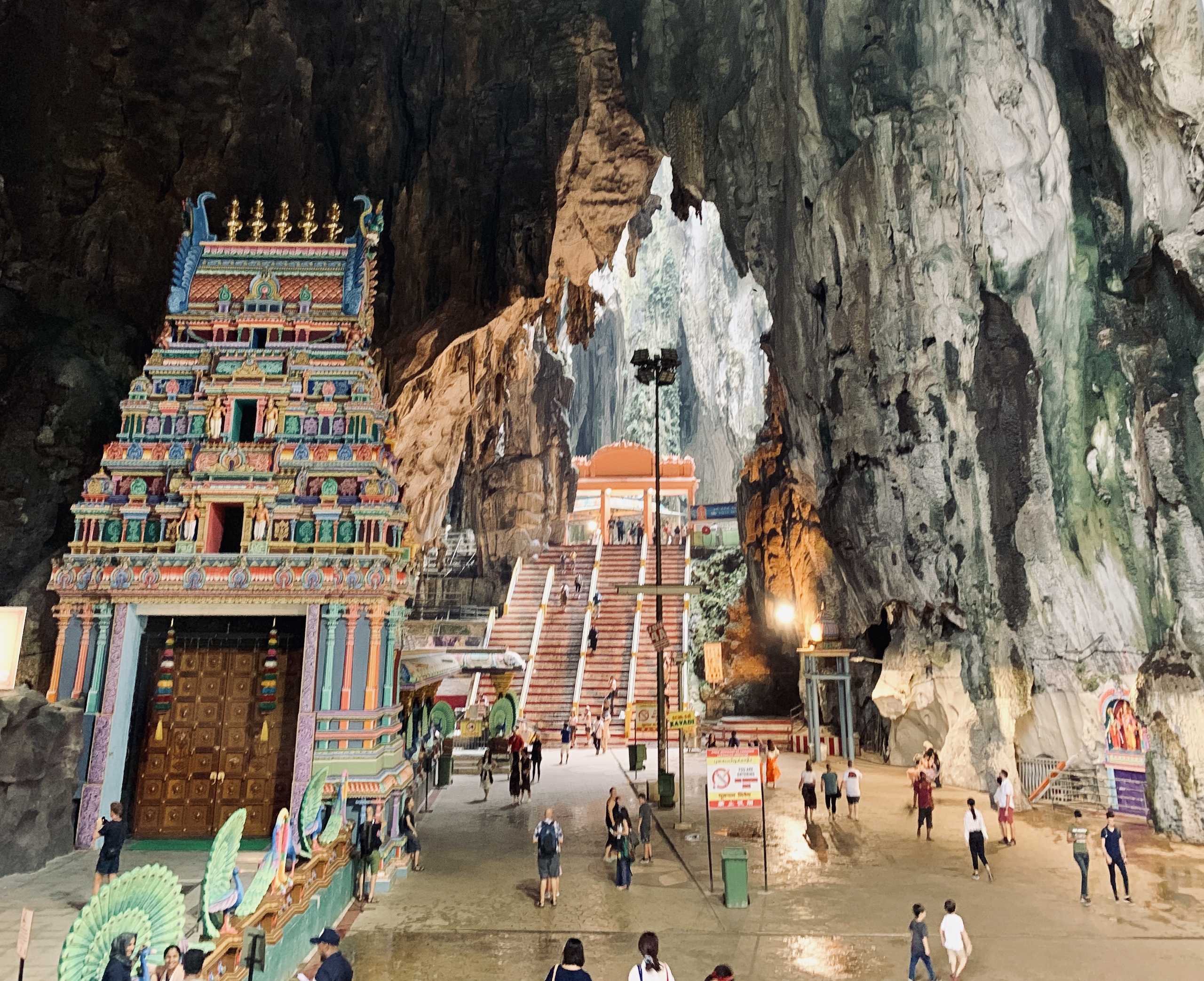 Apart from attracting numerous tourists locally and abroad, Batu Caves is also a pilgrimage site receiving Hindu devotees from all over the world during the yearly Thaipusam celebrations. Climb up the 272 steps to Temple Cave and see a side of Malaysia that still remains rooted in tradition and spiritualism. Do be warned that there are lots of monkeys around here which may snatch your items so pack any loose things like water bottles, snacks, and sunglasses in your backpack.
Batu Caves Gombak 68100, Batu Caves, Selangor, Malaysia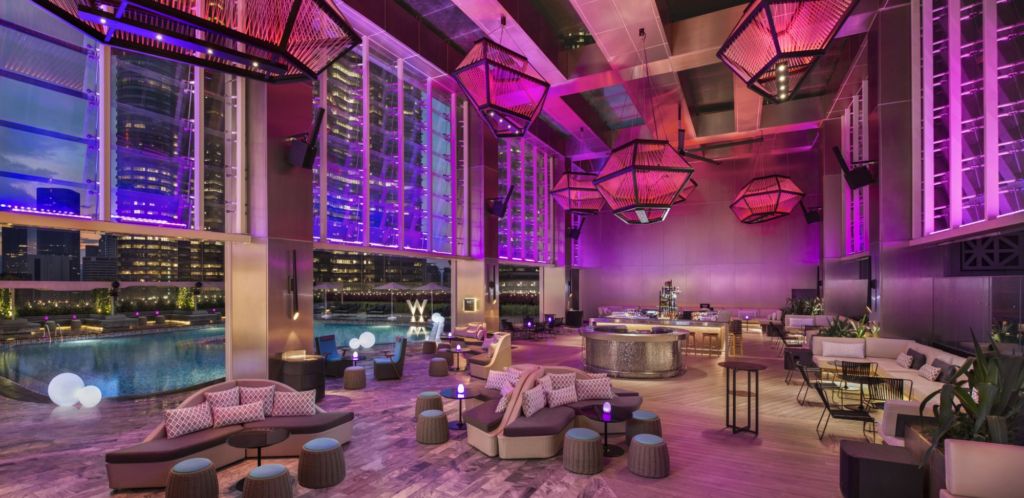 W Kuala Lumpur
The most relaxing and stylish way to unwind after a long day of exploring Kuala Lumpur is heading straight to W Kuala Lumpur. Better if you book a room and enjoy all their awesome amenities, trust us because we did and here's what we thought!
While appreciating the fantastic Kuala Lumpur skyline on the WET Deck, a chill area to relax with soft music piping through their sound system, you could also cool down in the pool with a glass of wine. Isn't it amazing to chill out with the funky design, modern concept, cool music, attentive service staff, good food and drink? The WET Deck transforms into a pulsing night spot at night and this is the best place to take a picture of the Petronas Twin Towers against the twinkling lights of Kuala Lumpur at night! If you prefer a more laid back vibe, WOOBAR is W's chic lounge bar that offers a decent selection of cocktails and mocktails with a super Instagrammable interior with strategically placed LED lights.
How to get here
AirAsia has twice-daily flights to Kuala Lumpur from Macau and it takes less than a four-hour flight to get to Kuala Lumpur International Airport 2 (KLIA2). Kuala Lumpur city center is around an hour's taxi ride away or you can take the KL Express Airport Train to KL Sentral where a return ticket would cost less than MOP/HKD $200.
Tags
Related Posts