Winter is here, and other than bundling up in sweaters, there are more delicious and soupy ways to keep yourself warm. We have composed a list of the best ramen spots in Taipa to warm your heart and soul, the Japanese way.
Hanami Ramen at Wynn Palace Cotai
If you're in Taipa and enjoy slurping ramen in an opulent surroundings, then Hanami Ramen in Wynn Palace is definitely your spot. They serve three types of broth here which are tonkotsu, Hanami special miso, and Hanami signature shoyu ramen. Tonkotsu is an incredibly rich, silky and creamy broth made with handpicked pork bones. It is rather fatty and strong, so if you are inclined towards a lighter option, go for the other two. Hanami special miso ramen would be ideal if you like it a little spicy while Shoyu ramen is made with free-range chicken and dashi (fish broth). All of them come with most of the traditional toppings like roasted pork, black fungus, marinated egg, bamboo shoots, and spring onion.
Hanami Ramen at Wynn Palace Cotai, G/F, Wynn Palace, Avenida Da Nave Desportiva, Coloane-Taipa, +853 8889 3663, www.wynnpalace.com/en/restaurants-n-bars/casual-dining/hanami-ramen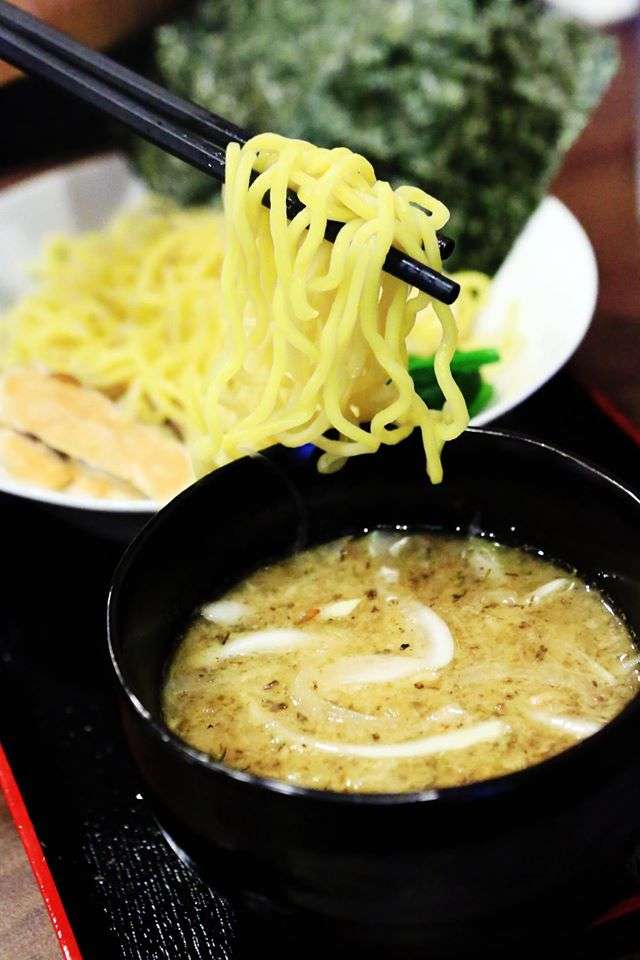 Ramen Kouji
If you want to experience an authentic and fun way of eating Japanese noodles, you can try Ramen Kouji's dip noodles. The main difference from how traditional ramen is served, is that the broth and noodles are served in separate bowls. The hot pork and fish broth is much stronger than typical noodle soups because you aren't meant to gulp it by the spoonful. To eat, you pick up a few strands of noodles with your chopsticks, dip them into the soup, then slurp away! Their first branch is located in Macau side near Filipino Street.
Ramen Kouji Rua da Alfândega, No. 50, Mei Keng Building, +853 2893 8964 www.facebook.com/RamenKoujiYokohama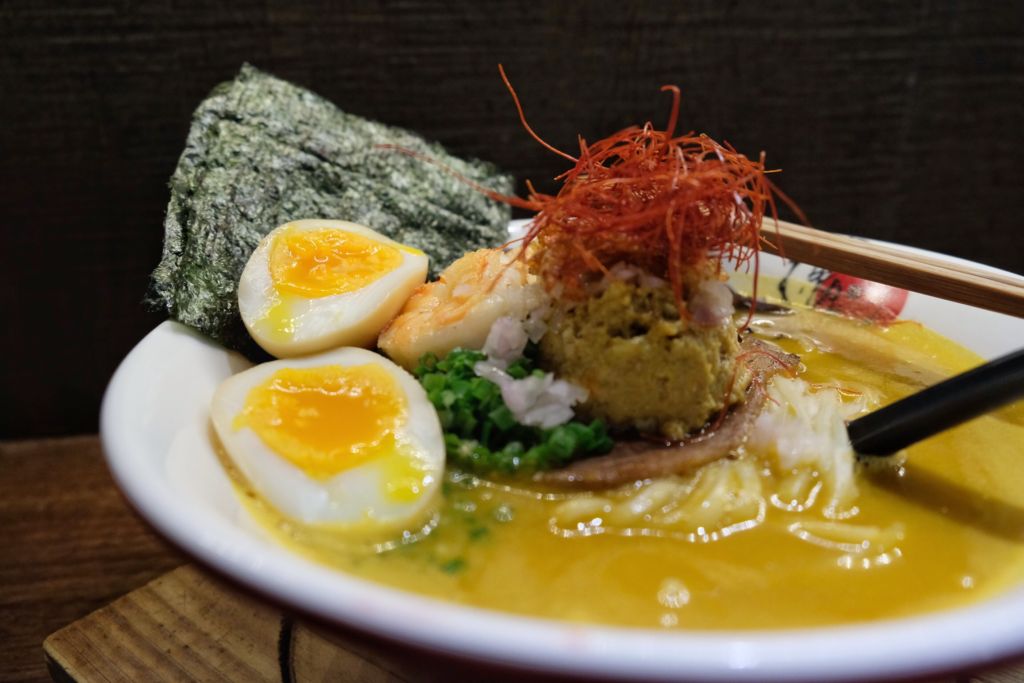 Sio Seng Hin Ramen
Find this hidden ramen joint tucked away in Old Taipa Village and slurp your way through some of the interesting flavors available here. For new ramen eaters, we recommend their original pork bone broth to go with your noodles as it is a classic selection and the perfect starting point. However, if you're looking for something exotic, how about the special creamy broth of original pork bone and milk? This broth is milky white and it sounds cringeworthy, adding milk to your ordinary ramen can actually enhance flavours while lowering the sodium content.
Their black curry ramen has a touch of squid ink which turns this ramen a rich black color without any overpowering flavor. Another interesting addition here is that it's drizzled with black chocolate and topped with spicy chips for that extra crunch and texture. If you're just looking for authentic seafood ramen then look no further. Their seafood ramen with crab and shrimp is the perfect choice when you crave something comforting, light and wholesome. Do order a side of cuttlefish dumplings to share and a can or two of Orion draft beer or clear free beer (non-alcoholic) and call it a chill ramen night.
Sio Seng Hin Ramen 氹仔官也街老虎巷 +853 6251 6991  www.facebook.com/小勝軒日式拉麵

Butao Ramen at Galaxy Macau
Butao Ramen serves several ramen creations or "Kings", which can be traditional ramen or fusion, and one limited "King" introduced every once in a while. Original Butao ramen is full-bodied and is a tonkotsu-based, good old classic ramen. For those keen on experimenting, there is "Green King", a combination of Japanese and Italian flavors made of tonkotsu infused with olive oil and fresh basil and sprinkled with parmesan powder. Like Sio Seng Hin, they have their own version of squid ink soup, "Black King" with their signature "black sauce" and "black ball", cooked with squid ink, black garlic, and minced pork. To heat things up a bit, go for the "Red King" with chili, miso and sesame, a flavorful combination.
The selection of toppings in the menu is pretty extensive with marinated eggs, seaweed sheets, char siu (Cantonese BBQ pork) and spicy sprouts. Additionally, you can ask for additional soup or kae-dama (extra noodles) if you'd like.
Butao Ramen at Galaxy Macau G/F, G117, Estrada da Baia de Nossa Senhora da Esperanca, +853 8883 2221, www.galaxymacau.com/en/dining/restaurants/butao-ramen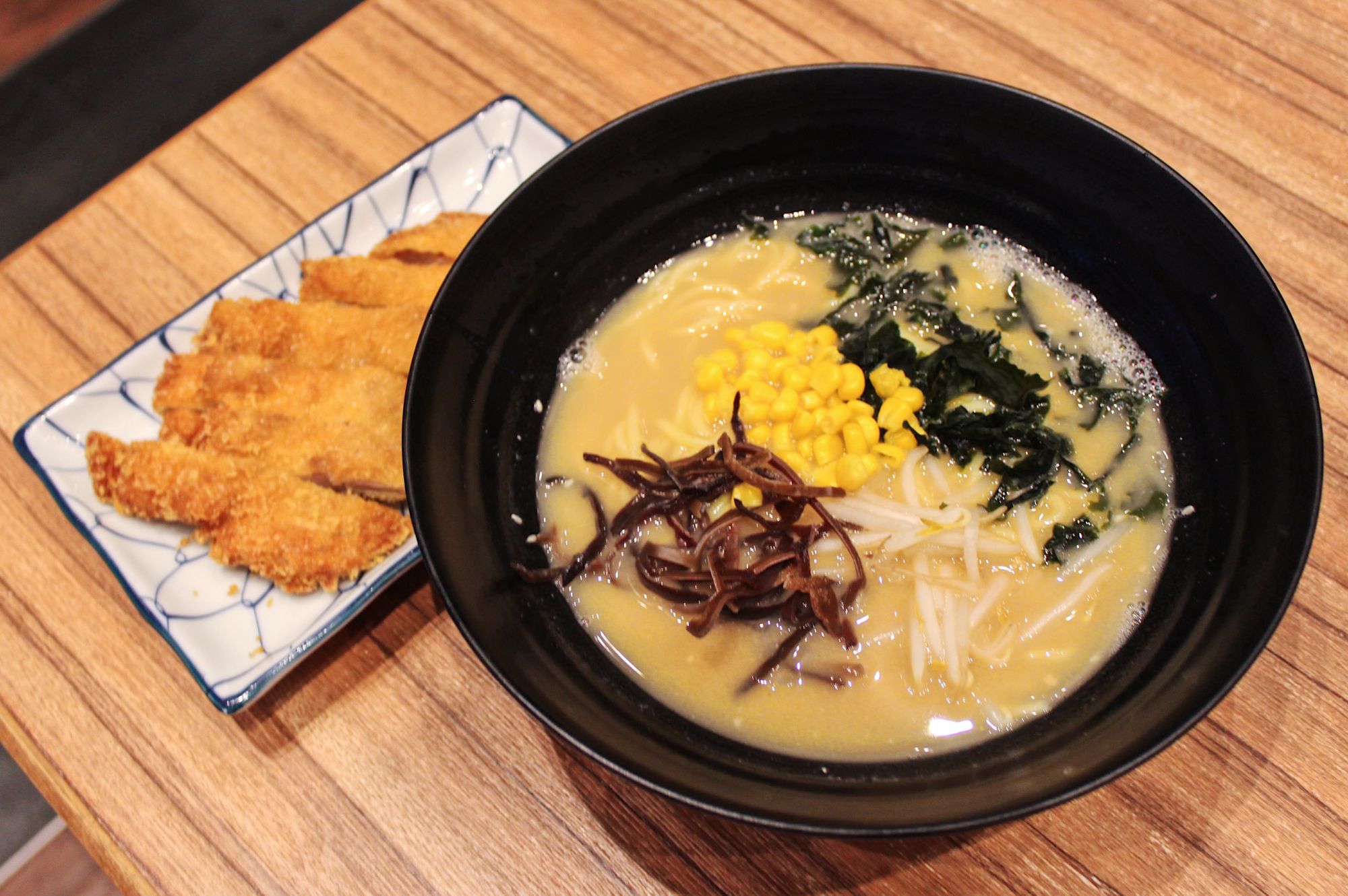 The Showdown Japanese Restaurant at the City of Dreams
The Showdown is not just a ramen spot but has a full menu of Japanese dishes like teppanyaki, sushi and more. The decor is pretty amusing with two large figures of sumo wrestlers rising over the hall. Order and pay at the entrance, pick a table and wait for your food while watching the skillful cooks preparing it.
While you wait, you can get some tea from one of the stations and the tea is refillable. The ramen and udon selection in The Showcase is really impressive, featuring noodles with scallops, crab legs, oysters and abalone. Looks like there is an option for everyone!
The Showdown Japanese Restaurant Level 2, Soho at City of Dreams, +853 8868 6692, www.cityofdreamsmacau.com/en/dine/asian/the-showdown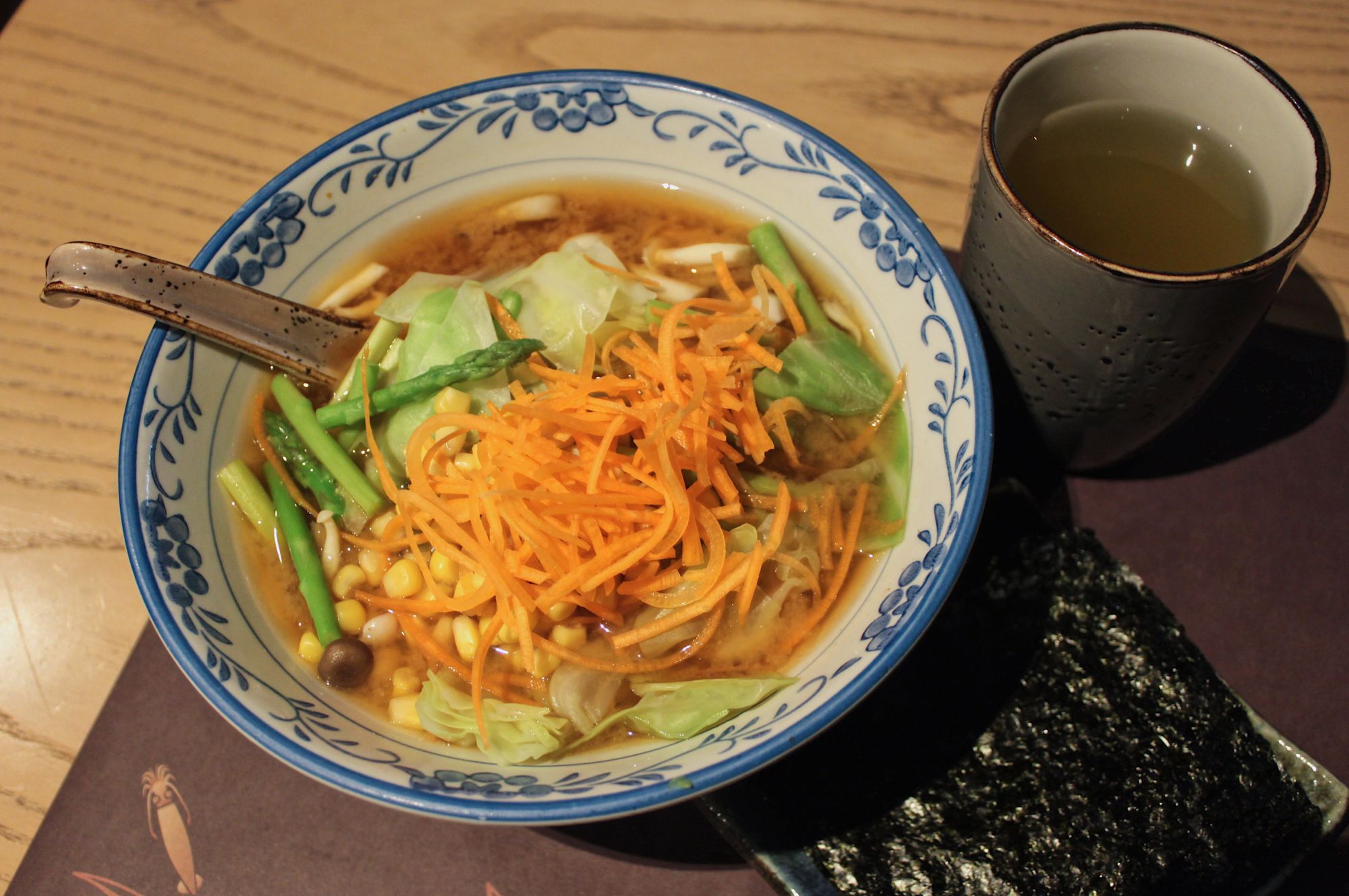 Miàn at Studio City 
This Japanese noodle bar in Studio City specializes in handmade ramen. Mesmerizing open kitchen setting, friendly staff and, of course, expertize in Japanese noodles makes Mián a perfect place for a casual lunch or dinner. To build a dish that satisfies your cravings, first chose a type of ramen noodles out of three. Then, decide on a soup base from the whole six of them, from classic tonkotsu to sesame hot and spicy. Add a main dish and finish up with some toppings. With all the variety Mián offers, there is no way to get bored of ramen here – you can always make up a new one. If you feel like starting a meal with appetizers, check other Japanese dishes on the menu, tasty and reasonably priced. Octopus balls is a must-try.
Ramen can be vegetarian too, claims Mián. They offer an option of a miso-soup base that you can top up with Hokkaido corn and vegetables and some vegan side dishes like seaweed and Japanese bean sprouts. A full bowl of healthy goodies!
Mián Shop 1181, Level 1, Studio City, Estrada do Istmo, Cotai, +853 8865 6630, www.studiocity-macau.com/mian
Share
Tags
Related Posts