We love Macau for its unique culture, gastronomic abundance and exciting events but we also adore how convenient is it to travel from Macau to other cool South-East Asian destinations. Take Kuala Lumpur, one of Asia's biggest and liveliest cities. Malaysian cuisine, a peculiar mixture of cultures and outstanding modern architecture make it a great location for a short trip. We took a direct flight to Malaysia's vibrant capital and headed straight to its trendiest hotel, W Kuala Lumpur.
Stylish hotel for stylish guests
KL's W is a relatively new kid on the block that hasn't turned even one year old yet. It is, no doubt, a luxurious hotel, but it represents a different type of luxury, without pomp and entitlement. Their motto is based on four "i" – inspiring, iconic, innovative and influential which is represented in W's stunning architecture, smart design, and flawless style. The firms invited to bring these principles to life were local Veritas Design Group and American SOM (Skidmore, Owings & Merrill LLP). The latter are the guys behind such monumental projects as Burj Khalifa in Dubai and Hudson yards in NYC.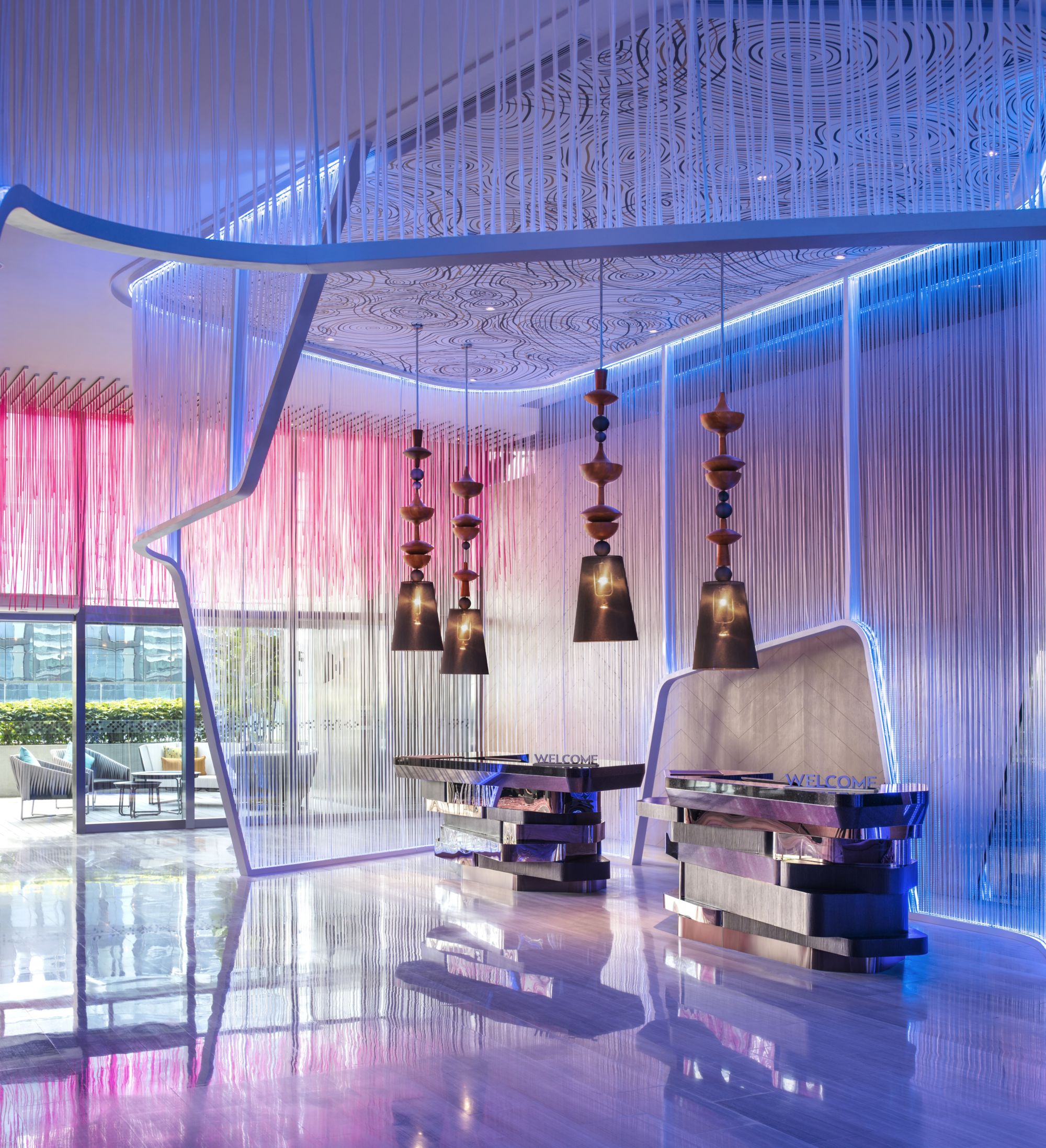 While W's signature style can be recognized in all their hotels around the world, what especially merits attention is how they integrate local culture into the design turning every property into a unique creation. Contemporary materials and modern design solutions in W are based on traditional Malaysian motifs. Take the "gasing", which is a traditional Malay spinning top, one of the symbols of Malaysia. You can see them incorporated in W as chandeliers and sculptures. Or those songket threads incorporated in the WET Deck's chandeliers and WOOBAR's maze-like neon walls.
Another part of W's DNA is the concept of the city jungle. Looking closely into W's interiors, that's easily traceable especially in the bamboo-inspired neon wall in the Beauty Bar, LED waterfall-like lights hanging from the ceiling, and bird-themed Flock restaurant. Just wandering around the hotel is an amazing visual experience, a true pleasure for the eyes.

Home away from home
Malaysian cultural references are present in the rooms as well. The wooden "gasing" acts as bedside lights while batik patterns are featured on the wall art. The rooms in W, unlike many city hotels, don't lack character and style where neutral colors are blended with bright accents. For example, that avantgarde maroon sofa which is also a perfect spot to observe the stunning view from the floor to ceiling window. Some rooms have a mesmerizing panoramic view on the bustling cityscape of KL and its key landmark, the Petronas Twin Towers.
When it comes to comfort, it's hard to find any flaws. Every detail is very well thought of and gone through an ergonomics filter. Everything is digitalized and intuitive where all the light switches are controlled by a touch-pad at the bedside, as well as at various points in the room. For any kind of request or help that a guest might need, there is one service button on the room phone called, Whatever Whenever. As they claim in W, they will literally get their guests whatever and whenever they need it, as long as it's legal.
For those who feel like staying in after a long day out, there is a gigantic TV with a long list of channels and a bar. Yes, there is a mini bar in every hotel, but this one comes equipped with a shaker and a selection of liquors.

Dining and beyond
The dining venues in W deserve special attention. Flock is an a la carte restaurant that serves contemporary Australian cuisine. If you are lucky (like us), you could even catch Flock's special feasts, like the one they organized for Ramadan. Their signature Sunday #RETOX brunch deserves some attention as well. Held every 1st and 3rd of the month, this brunch is based on the concept of balance between a healthy lifestyle and having fun. So along with a range of detox options, you can find some delicious alcoholic drinks. Isn't it the best to start your Sunday in KL?
Flock is also where the breakfast buffet takes place. This is W's only regular buffet option as buffets are notorious for producing a high amount of waste. W stresses how important it is to be sustainable and eco-friendly reminding their guests about it in various messages scattered all around the hotel. The artisan cheese they serve is made by one talented Malaysian local. The delicious multi-floral jungle honey is local as well. Fresh organic fruit and veggies are grown specifically for W by local farmers in Cameron Highlands. Variety-wise, W's buffet offers all the breakfast specialties you can think of. Fresh juices, coconut water and smoothies, eggs however you want it, cereal, pastries and Malay dishes like nasi lemak.
Another a la carte restaurant is YEN. Opened for lunch and dinner, YEN specializes in modern Cantonese cuisine. Innovative dishes by the executive Chinese chef Weng includes, dim sum with foie gras, a wide selection of fresh seafood and a sophisticated ambience in the restaurant.

Going out without going out
W generously offers the whole two bars with two different vibes on their premises. WOOBAR is a trendy spot with a decent selection of cocktails and mocktails, inspired by some of the most gorgeous wildlife representatives of Malaysia–tiger and peacock. Never too busy or loud, this lounge bar is perfectly suitable for an afternoon tea or an evening drink.
Another one of W's bar is, hands down, the star of the show. With less than a year of history, the fame of WET Deck bar goes way beyond W's guests. Is it because of the one-of-a-kind view of the famous Twin Towers? Or the evening disco tunes, occasional parties and a glamorous crowd? Maybe creative concoctions with Malaysian flavors? We'd say, all of these factors play a role in WET Deck's popularity among local trendsetters. One simply doesn't stay in W Kuala Lumpur and not take a selfie with a cocktail in hand and the Petronas Twin Towers in the background.

Relax and chill
During the day, the WET Deck is a chill area to relax with soft music piping through their sound system. The only concern you'll have is whether or not you've applied sunscreen! Moreover, the deck offers fantastic views of the Kuala Lumpur skyline in the daylight which can be seen behind the bar counter with the Menara Kuala Lumpur as its highlight. Besides the beauty all around, there is a large pool to cool down at during a hot day and best yet, refreshments and snacks are just a hand wave away. The WET Deck is transformed at night where bikinis are replaced with clubbing wear. Pumping music pulses while the who's who of Kuala Lumpur party the night away at this spot.
If you wish to bring a relaxing day to the next level or simply would like to indulge yourself, book a treatment at AWAY Spa. The spa menu features several massages, body treatments, facials or a three-step package. Whatever the choice, skillful and well-trained therapists would make sure the experience will meet every guest's individual needs. From ginger and lemongrass tea before the treatment to the very last minutes of the relaxing journey, AWAY Spa in W KL makes you forget being in the middle of a busy city and transport you to a secluded resort. To complete your beauty routine, there is a Beauty Bar with all kind of services such as manicure and pedicure, eyelash extensions, hair styling and others.
In a few words, W Kuala Lumpur is that type of hotel that you don't want to leave. With all the mentioned facilities, sometimes we struggled to prioritize the main goal of the trip to KL–exploring the city. Needless to say, the hotel staff greeted us with a smile at every step and offered exceptional service that made us feel so welcome. All in all, this is the definition of hospitality, isn't it?
---
W Kuala Lumpur 121 Jalan Ampang, Kuala Lumpur, Malaysia, +603 2786 8888, whotels.com/kualalumpur
Tags
Related Posts