This summer, we might not be able to visit LA, the capital of world cinematography, but thanks to Studio City Macau, this gap can be filled despite the traveling restrictions. We packed our carry-ons and headed for a city staycation at this fabulous hotel to live a celebrity life for a weekend. Read on to learn what Studio City Macau has to offer. 
Hollywood chic 
What makes Studio City Macau so unique and desirable is its Holywood theme. Starting from the two titans guarding the resort, its art deco design, and cinematic-themed facilities will remind you of the golden age of Hollywood. The architecture is inspired by Gotham City, with two asteroids–two wheels of the Golden Reel–crashing through the building. Entering the colossus of a resort with light canons shooting pillars of light into Macau sky, you would feel like an A-list celebrity. Just the red carpet is missing! 
Studio City Macau stands a bit aside from the rest of Cotai establishments. However, it is not an inconvenience in any way as the free hotel shuttles can take guests to Taipa, Macau side, City of Dreams, Altira Macau, and the main transport hubs without any hassle.  

Sleep like a star
From reasonably priced standard rooms to the exclusive, luxurious 185-meter Star Grand suite, Studio City Macau is ready to host any type of guest. We had the pleasure to stay at the Star Premier King suite, thanks to the complimentary upgrade by the accomodating hotel staff. With a working space, sofa, and a king bed, this suite is rather spacious. But it feels even bigger thanks to the open, studio-like plan and floor-to-ceiling windows. Comfortably wrapped in the fluffy bathrobe, sipping a hot Nespresso in front of the window overlooking the golf course and Cotai, we truly enjoyed a rainy Macau morning at the hotel. Is this what they call urban romance? To completely surrender to the bliss of a slow start of the day, we ordered the in-room continental breakfast, a selection of pastries, cereal, yogurt, and juice. You can also opt for American or Chinese breakfast too. 
As much as the overall exceptional comfort's huge role in our trouble-free stay, so did many tiny, but well-thought details. There is a speed wireless charger if you forgot your cable, plenty of sockets, even an HDMI and USB ports under the 55-inch TV, in case you wish to watch a movie from your laptop library, a large selection of tea, coffee, and more.
Celebrity-style bathroom
The beige marble bathroom in the Star Premier King Suite features anything you might dream of–a large bath with a complimentary bath bomb and pillow, a counter with two sinks, and a spacious rain shower that will help you with waking up in the morning. Whether you are staying with a significant other or a friend, getting ready appears quicker with this double-sink feature.
What we found especially brilliant are the mirror lights that compliment your features rather than cast unflattering shadows, as it sometimes happens (hello, elevator lighting). It would be hard to resist some mirror selfies, we warned you! Also, no need to pack all the "just in case" belongings as you will find that Studio City Macau has already thought of everything you might find essential. The bathroom is equipped with a hairdryer; there is a drawer with dental, vanity, and shaving kits as well. In the wardrobe, you will find a sewing kit and a shoe polishing sponge. It seems like they considered everything. Yet, if there is anything else you need, 24/7 concierge and room service will be more than happy to help you out.
Dining 
When we travel, we often prefer to explore the diverse gastronomic world of the city outside the hotel walls. On the other hand, during staycations, we might not be so enthusiastic about leaving the premises of the comfortable hotel, or even our room. For those staycationers, Studio City Macau is the perfect destination. From diners to high-end restaurants, there are more than 20 dining spots offering food of various cuisines. The only struggle is to choose where to dine!
Relying on the Studio City Macau staff's advice and their assistance with a reservation, we celebrated our night at the hotel with dinner at Bi Ying. Recommended by Michelin Hong Kong Macau guide for three consecutive years, it offers northern and southern flavors of China. The menu is diverse and features meat, seafood, and vegetarian dishes. Instead of giving in to the temptation of ordering some comfort dishes like noodles, dumplings, or fried rice, ask a waiter for some recommendations to savor what's best. That is how we ended up with delicious appetizers that we might have overlooked otherwise–chilled jellyfish and cucumber with aged black vinegar and tossed baby wood fungus with celery and wasabi. Both the classic Chinese dishes such as succulent char siu and lesser-known to Western palate courses like ginseng soup with pigeon are worth any foodie's attention, hands down!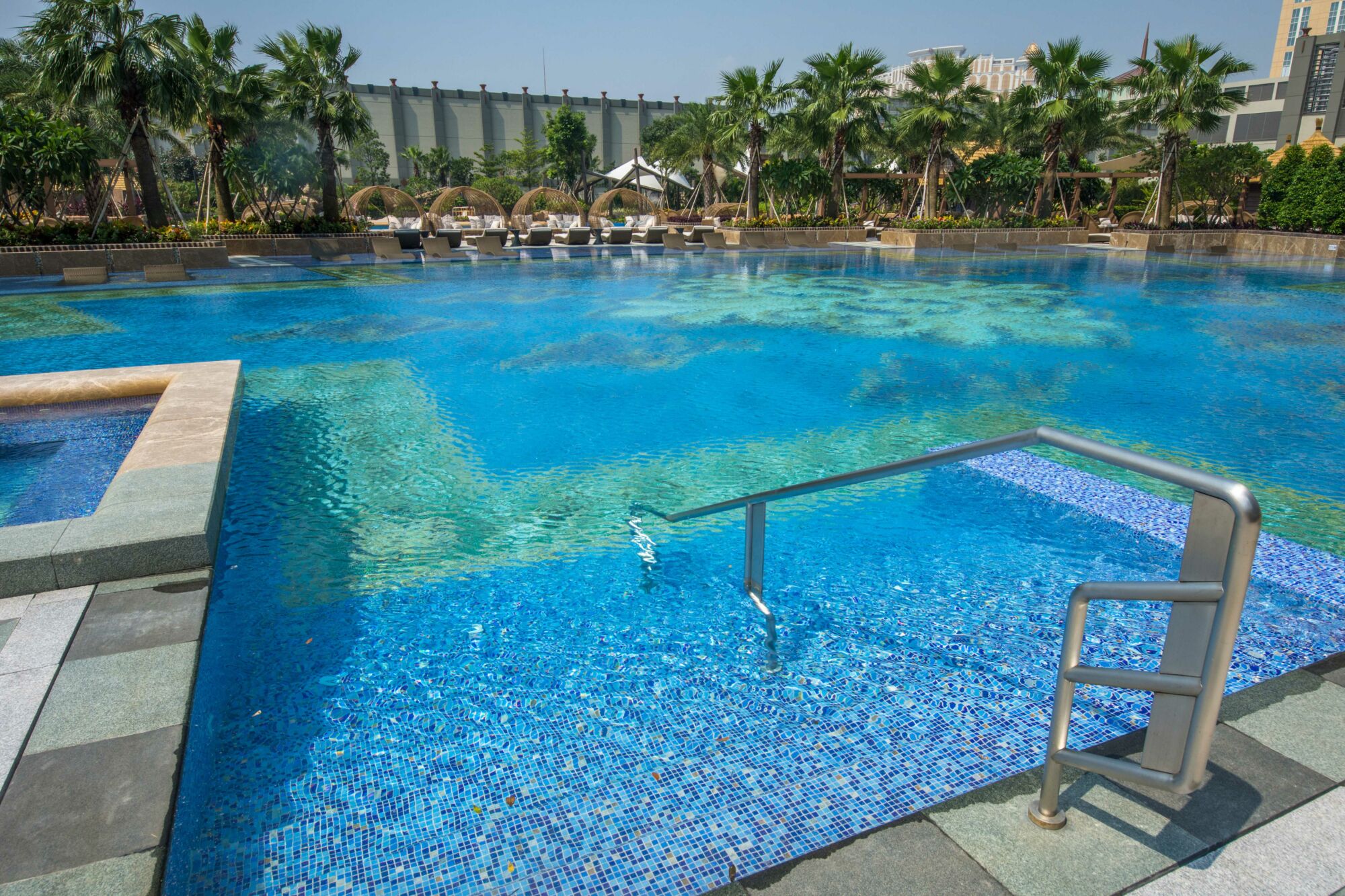 Fun for the whole family 
Some of us can't imagine staying in a hotel without sunbathing by the poolside listening to the summery tunes. Luckily, Studio City Macau boasts one of the most delightful pools in the city, a part of the RiverScape outdoor complex. There are plenty of sunbeds and solariums to chill at after some fun splashing in the water. Whenever you need more privacy, reserve a stylish cabana. Moreover, this pool is family-friendly–it is rather shallow, so you won't need to worry about your kids. Take those water guns with you as well to double the fun!
Macau weather can be unpredictable, especially in the monsoon season, from April to October. Don't worry if there's a thunderstorm on the horizon, head down to the third floor to enjoy the indoor pool. The 25-meter pool is excellent if you wish to do some laps. Plus, it's heated, hence available all year round. After practicing some strokes, relax in the rattan-style beds surrounded by floor-to-ceiling panoramic windows with a garden view.
For the ultimate relaxation experience, head to the Zensa Spa, Studio City Macau's spa salon with a full range of body and facial treatments.
Hidden Amusement Park 
If you or your little ones are not keen on water activities, there are more things to entertain yourself with at Studio City Macau. First and foremost, don't miss a chance to explore the world's highest figure-eight Ferris wheel. The steampunk-styled cabin will take you on a breathtaking journey up to 130 meters in the air. By the way, eight is a lucky number in Chinese culture, so who knows, maybe riding an eight-shaped golden reel will enhance your luck this year! 
For more adventures, head to the tech-based Legend Heroes Park to dive into the world of VR-attractions or embark on the Batman Dark Flight simulation ride for a whole range of emotions. It's great for kids, but adults will equally have a blast. Overall, there is an array of activities for all ages and interests!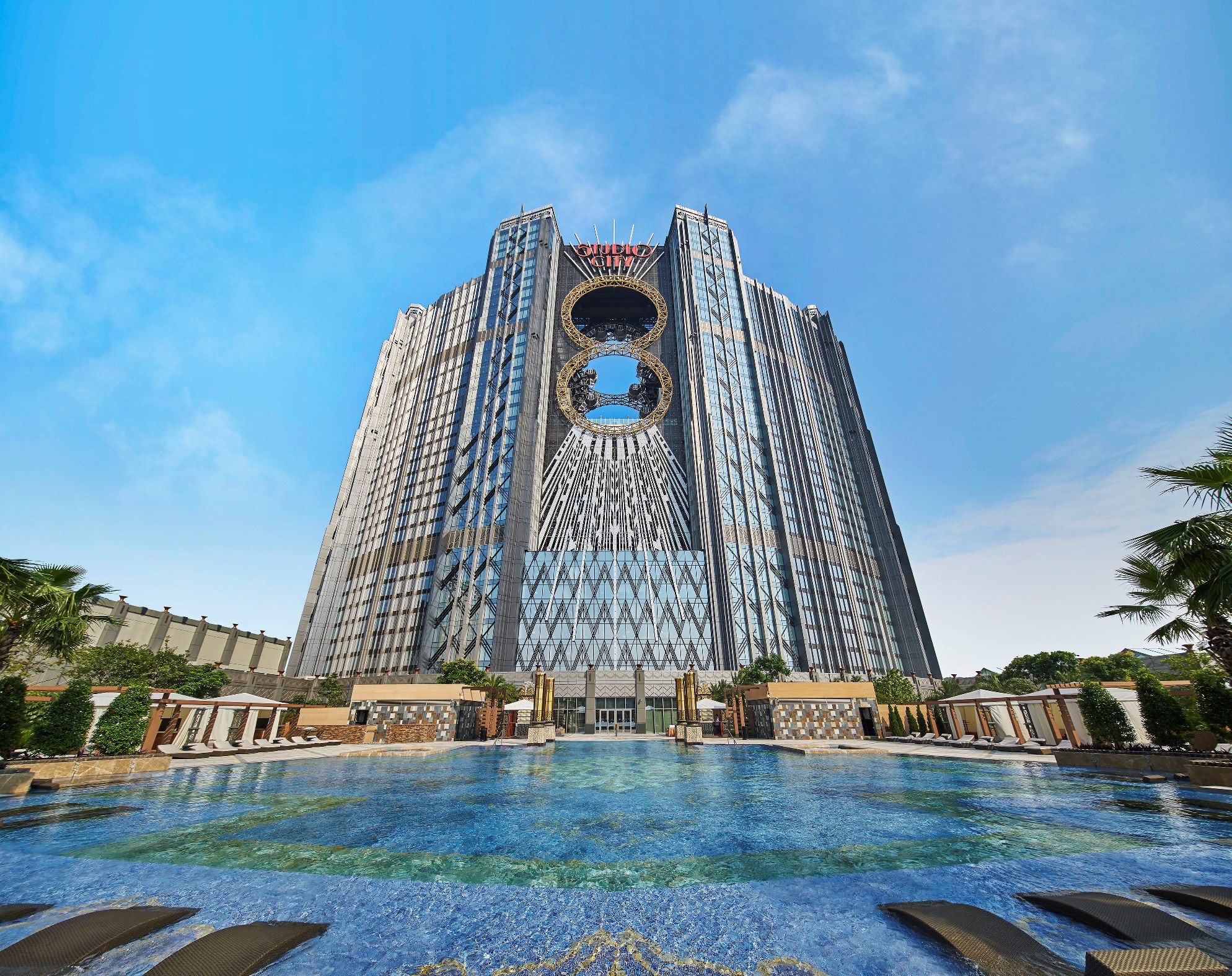 Take a break from your daily routines with a getaway at City of Dreams or Studio City Macau, where the best places to chill out are, during summer with family and friends. You can also enjoy a free room upgrade, late check out and spectacular dining offers with F&B vouchers. What better way to relax and refresh yourself than this limited time offer at not just one but two of Macau's best properties?
Studio City has lavish rooms and suites, while their swimming pool is one of the most enticing ones in Macau, so you'll surely have a blast when staying here, especially during summer! Their Studio City Fun-filled Value Package includes a one-night complimentary room upgrade to a Star Premier Suite, a MOP $400 dining voucher, complimentary access to their swimming pool, free parking during the stay period and an additional 10% discount for the industry's staff members.
On the other hand, Studio City's Cross-pool Exclusive Package allows people to enjoy additional dining credit, late check-out until 6:00pm, two admission tickets for the Golden Reel, and complimentary access to both swimming pools of Studio City and The Countdown. Feel like dancing the night away? This offer also includes entry of a maximum of two guests aged 18 years old or above to Club Cubic (per room card).
When: From now until August 31, 2020
Where: Studio City Macau, Estrada do Istmo, Cotai
How much: Studio City Fun-filled Value Package – Starting from MOP $988
Studio City Cross-pool Exclusive Package – Starting from MOP $1,188
*You can use an exclusive rate of MOP $350 to purchase dining vouchers of MOP $500 in face value
For more information, check the event's official page
Tags
Related Posts