The crown for the most romantic city in the world is held proudly by Paris. And on Christmas day, the travel destination is decked with a kaleidoscope of lights, an atmosphere of joy and nostalgia that is a feast for the senses. Above everything else, it's the whiff of mulled wine, divine dishes, and Yule log cake prepared for the Réveillon—the traditional French dinner shared with the whole family on Christmas Eve.
There can only be one place in Macau to experience a true Parisian vibe and savor fabulous French fare and that's The Ritz-Carlton Macau. The renowned hotel brand has been marked a favorite by many famous personalities for remarkable and extraordinary hospitality. Don't forget Coco Chanel actually made The Ritz-Carlton Paris her home for decades and Sophia Loren dubs it the most romantic in the world. Tucked away at the Galaxy Macau, the Ritz-Carlton upholds the same legacy and this festive season offers a touch of elegance and sophistication with French-themed festivities that you definitely shouldn't miss.
An exquisite afternoon tea that's anything but ordinary, The Ritz-Carlton Café adds a whimsical twist to our favorite pastime. Think Marie Antoinette or Princess Diana and anything royalty-related, the dining space has everything from captivating chandeliers, magical mirrors, and marbles. A well-loved tradition that has been passed on from one generation to another, the afternoon tea buffet is an elegant way to gather your family or friends for a tres chic holiday tea party. Spending time with our loved ones during the holidays is the true essence of Christmas and you can feel all the L'amour at the French-style setting of The Ritz-Carlton Café.
When: 3:30pm–6:00pm, December 24 and 31, 3:00pm–5:30pm, December 25 and January 1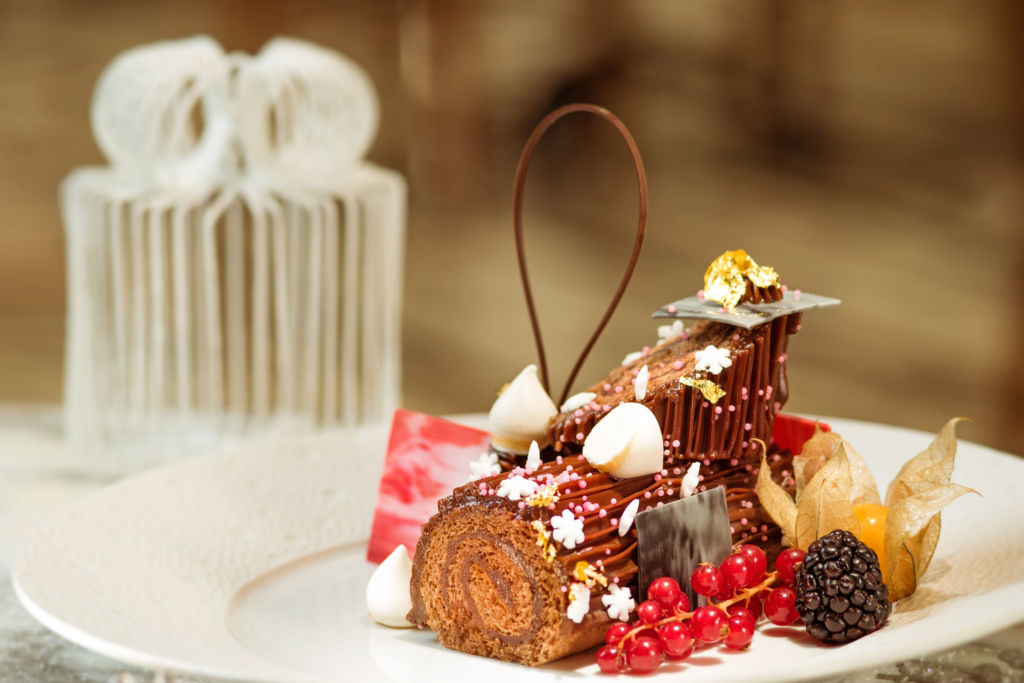 The significance of a traditional French Christmas Eve meal is encapsulating great food with great company and that means having your loved ones at the table on that special day. That is why it is considered a lavish and long feast. Right in the heart of The Ritz-Carlton's "Le Menu de Noël", you can be sure to take on the same journey of gastronomy.
Start with a festive welcome drink and a wine pairing option, savor a modern take on the well-loved roasted marinated turkey, wild mushrooms, chestnuts, with cherry griotte and yellow wine sauce, or beef tenderloin in a crust, paired with potato soufflé and black truffle. Did you know that the first Christmas yule log cake, or buche de Noel recipe was crafted in the late 1800s by a French pastry chef? Through the years, it has transformed into a quintessential Christmas dessert. So, what better way to finish off a decadent meal than with a chocolate yule log cake served with hazelnut crisp. The French are prominent for feasting and splurging on the special occasion of Christmas and Champagne takes the spotlight for a toast to the holidays. "Le Menu de Noël" is available from December 24 to 25. Alternatively, you can also savor divine French dishes with the Christmas Day Set Lunch and Sunday Brunch.
When: 6:00pm to 10:30pm, December 24; 5:30pm to 10:00pm, December 25
When: 11:30am–2:30pm, December 25
When: 11:30am–2:30pm, December 24
---
 The Ritz-Carlton Café G/F, The Ritz-Carlton, Macau, Galaxy Macau, Estrada da Baía da Nossa Senhora da Esperança, Cotai
Reservations & inquiries: +853 8886 6712 or email [email protected]
Tags