All the teams have already arrived in Russia, and the anticipation is growing as the FIFA Worldcup 2018 is just about to start. FIFA fever is finally here. Although Macau national team is not participating in this top world football tournament, certainly Macau football fans will not want to miss it. We have selected the best places to watch Worldcup 2018 for you. Check the schedule, choose the most appealing venue from the list, call your mates and cheer for your team!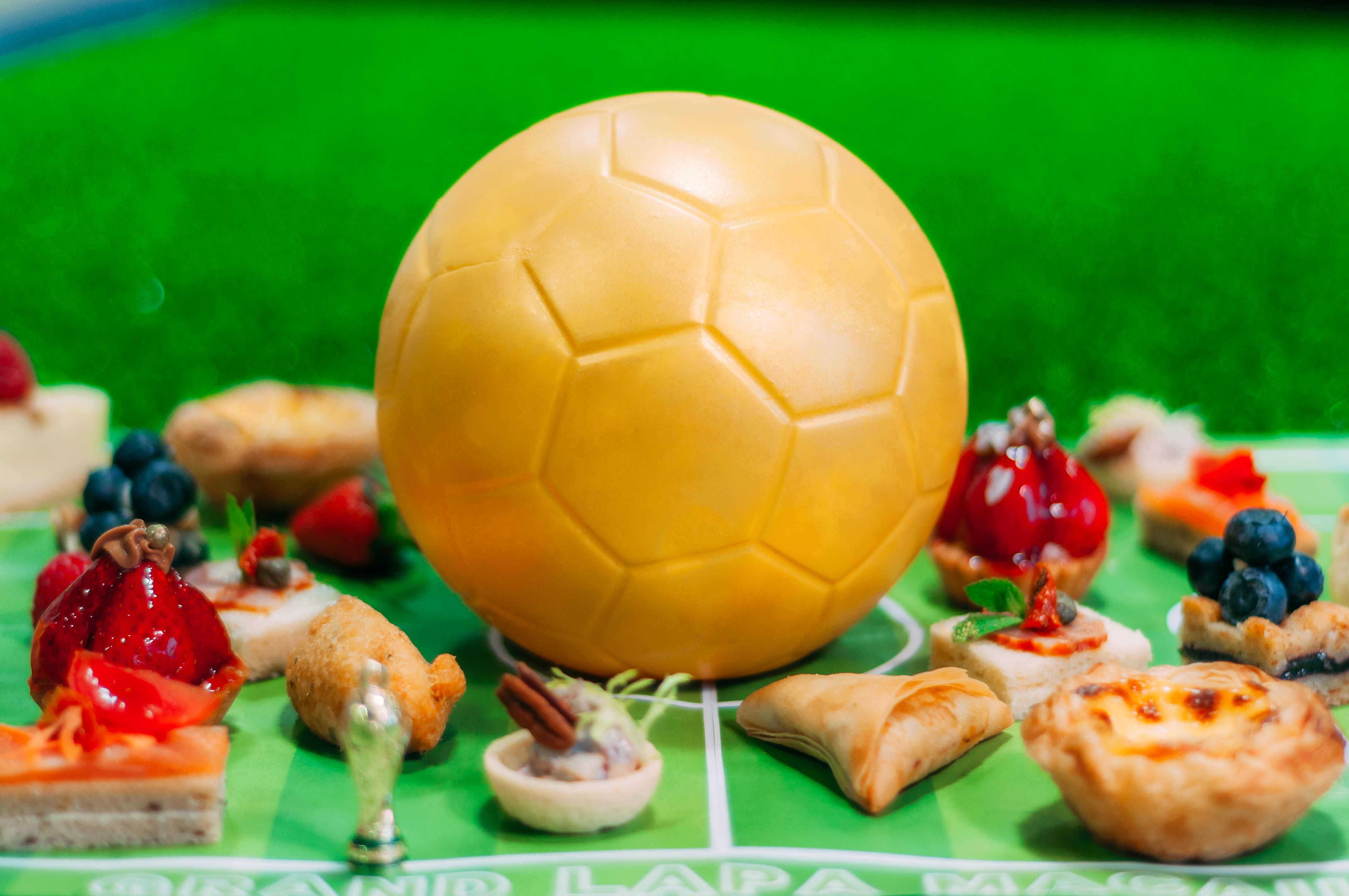 Vasco Bar and Lounge prepared a special football-themed afternoon tea set, a golden soccer ball surrounded with many exquisite savory and sweet treats. Every ball hides a surprise, a chance to win fantastic prizes like restaurants vouchers, T-shirts, and hats.
Watch Friday and Saturday matches live at the Atrium area and take advantage of a special "buy-one-get-one-free" deal for beers, wines and standard cocktails. Seats are limited so make sure you book early and reserve one of their specially made golden soccer balls.
Vasco Bar and Lounge Grand Lapa Hotel, No.956-1110 Avenida da Amizade, Macau
ROADHOUSE MACAU & DUFFY'S IRISH PUB MACAU
These two pubs teamed up and installed a huge 152 inches screen outside to enjoy every detail of the game to the fullest. If you like your football time in a fresh air-conditioned environment,  get a stool inside with 17 TV screens between two places that will stream live. Both bars will extend their opening hours during the competition.
Come early and stay a bit later for their Heineken specials 30 minutes before kick off and 30 minutes after the final whistle, buy-one-get-one-free, on bottles and draught.
The Roadhouse Macau E-G016-G019 Broadway Food Street, Broadway Macau, Avenida Marginal Flor de Lotus, Cotai
Duffy's Irish Pub C-Go02–Go04 Broadway Food Street, Broadway Macau, Av. Marginal, Flor de Lotus, Cotai, +853 2884 5212, www.broadwaymacau.com.mo/duffy-bar

PALMS CAFÉ AND BAR AT SHERATON
Palms will be broadcasting all the pre-midnight kick-offs, as well as the after-midnight Portugal-Spain and all the semi-final matches. To celebrate the diverse culture of the competition, signature dishes from around the world will be offered, from Russian Blinis to Portuguese Empanadas, Argentina Choripan to Brazilian Espetinhos and much more. Make sure to check the specials from the official beer sponsor of the FIFA World Cup, Budweiser –one bottle of beer at MOP $48++ and 6 bottles at MOP $258++.
Palms Café and Bar Sheraton Grand Macao Hotel, Estrada do Istmo, S/N, Cotai
OLD TAIPA TAVERN 
Being so popular among expats, no surprise this pub is on this list. OTT will show all the games that start before 2 am on a big screen. As for the later games, OTT will surely have the ones with England, Australia and Portugal on. If you wish to see any other late game, contact them. Get some yummy homestyle snacks like lamb tikka kabob and a pint of your favorite lager.
Old Taipa Tavern 21 Rua dos Negociantes, Taipa old Village, www.facebook.com/pages/old-taipa-tavern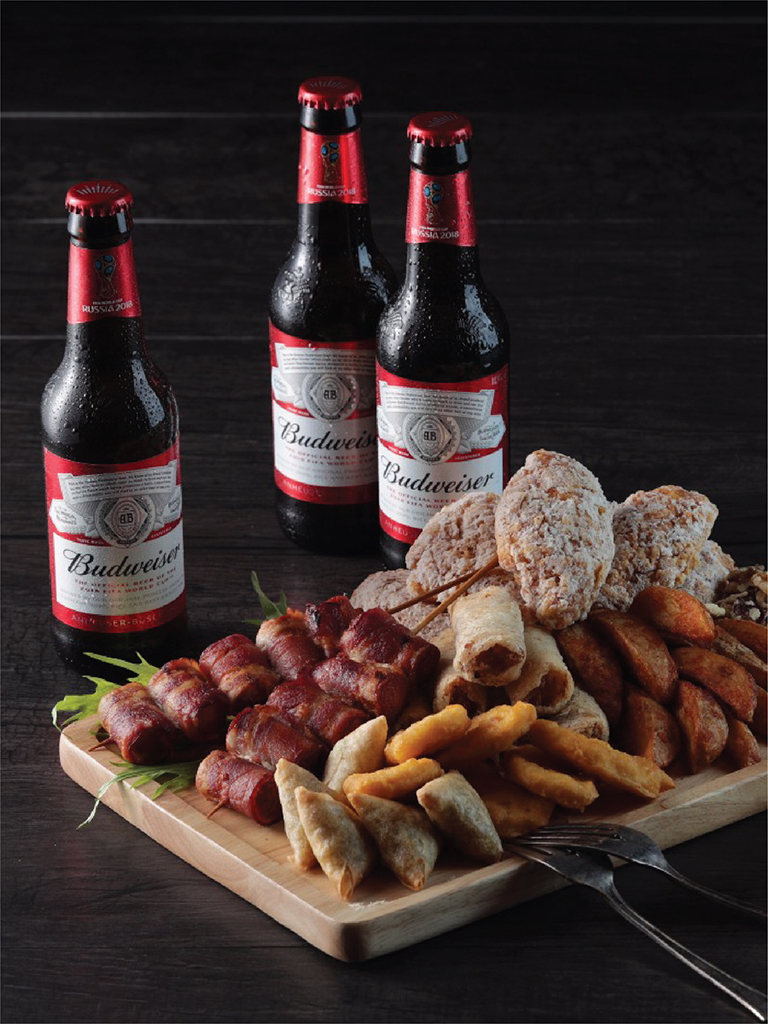 WHISKY BAR AT THE STAR WORLD HOTEL 
Celebrate the opening and closing matches with classy Whisky Bar at their Kick-off Party on 14 June and Finale Party on 15 July. Interactive games with prizes to win and live performances. The bar promises to broadcast all the Tuesday, Friday and Saturday games as well, come to watch the quarter- and semi-finals here with a special price on the Budweiser Beer Combo.
Whisky Bar 203, 2F, StarWorld Hotel, Avenida da Amizade, Macau, +853 8290 8698, www.starworldmacau.com
CATHEDRAL CAFE SAN MALO 
Watch football in the relaxing atmosphere with some comfort food and a nice drink. Cathedral cafe will show all the games, even the late ones.
Cathedral Cafe 12 Rua da Sé San Malo, +8536685 7621, www.facebook.com/macauaussie

ANTICA TRATTORIA
Supporting Italy? Even if not, this would be a perfect spot and lively atmosphere to watch a game. Grab some delicious Tuscan food and Italian wine and enjoy! Antica Trattoria will have the bar operation extended until late. Visit their Facebook page to follow the upcoming deals dedicated to the Worldcup.
Antica Trattoria Avenida Sir Anders Ljungstedt, Edificio Vista Magnifica Court, No 40,42,46, Macau, www.facebook.com/anticatrattoriamacau
DREAM CAFE
Come over to get lucky in the Dream Cafe World Cup lottery. Buy six bottles of Budweiser to get two lucky scratch cards or spend over MOP $200 to get one scratch card. Don't wait too long to get your free Portugal and England T-shirt.
Dream Cafe Avenida Sun Yat Sen R/C, Ed. Tai Keng Un, R/C Loja T, NAPE, Macau, www.facebook.com/dreamcafemacau

MJ CAFE – PONTE 16 
MJ Cafe prepared a whole bunch of tempting offers for the upcoming football extravaganza. Pay MOP $158 to take advantage of a 2-hour free flow of selected drinks and a free starter or MOP $138 for a Moscow Mule combo of 2 cocktails and a starter. First 20 gentlemen and first 18 ladies will get a free welcome Carlsberg or Asahi on every football day between 7 and 8 pm. Don't miss some fun and interactive games with a chance to win a memorable prize.
MJ Cafe Ponte 16 Rua das Lorchas e Rua do Visconde Paço de Arcos, Macau, www.facebook.com/ponte16.mjcafe
SOFITEL MACAU AT PONTE 16
Sofitel Macau suggests you stop by their Rendez Vous Lobby Bar to satisfy your football (but not only football) hunger.  Check their delicious packages of Chinese, Western, Japanese, and Indian cuisines and drinks.
Sofitel at Ponte 16 Rua das Lorchas e Rua do Visconde Paço de Arcos, www.sofitelmacau.com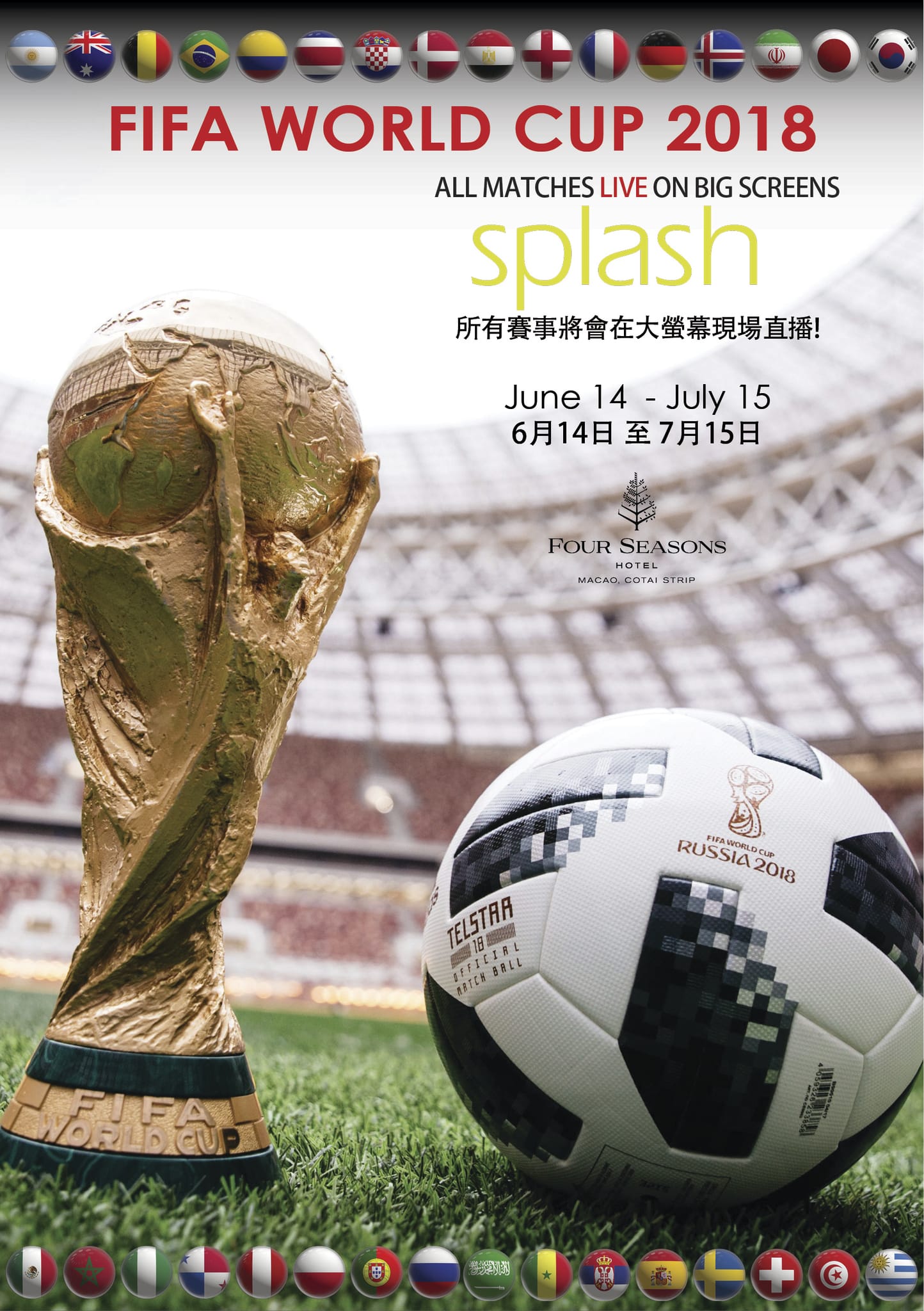 SPLASH POOLSIDE RESTAURANT AT FOUR SEASONS
Visit Splash, especially if you want to watch a game among people that know it best – rumors are local football players prefer this chill poolside place to other spots in Macau. They are also working on a celebration party by the pool before the much anticipated final, mark it in your calendar.
Splash Restaurant, Four Seasons Macao, Estrada da Baía de N. Senhora da Esperança, Taipa
SKY CAFE & BOTTLES BAR
This is an after-work chilling mecca and will be showing the World Cup on big projection screens on both floors, offering some attractive deal on San Mig light exclusively during the tournament.
Bottles Bar Estrada de Seac Pai Van, One Oasis Shop 1, www.facebook.com/pg/bottles.skyconcept
SKY 21 BAR & RESTAURANT 
Get some yummy snack combos when the game is on and adore one of the best views on Macau skyline on the rooftop during the break.
Sky 21 Bar & Restaurant 21/F AIA Tower, 251A – 301 Avenida Comercial de Macau, Praia Grande, skyconceptmacau.com/sky21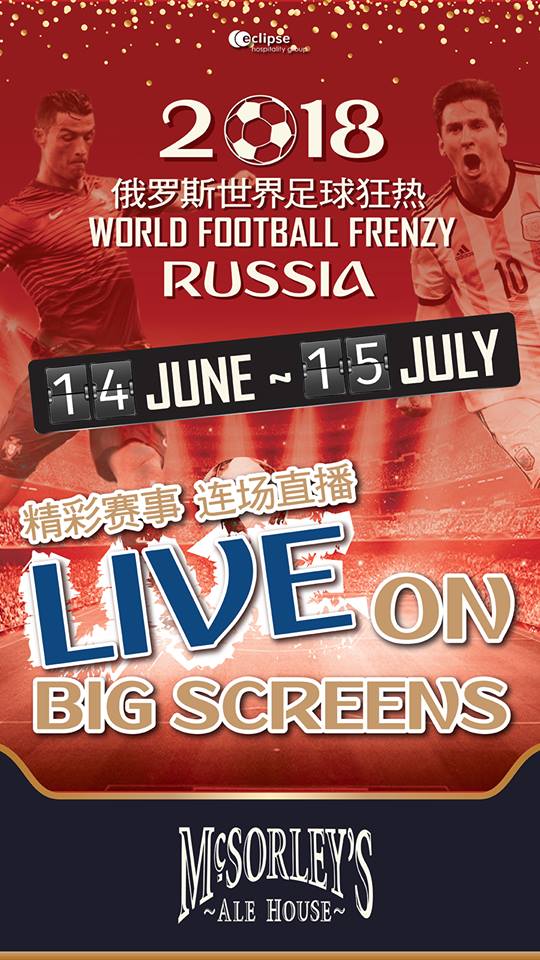 MC SORLEY'S ALE HOUSE AT THE VENETIAN 
Whether you miss the coziness of your hometown neighborhood pub or just found yourself in the Venetian five minutes before the starting whistle, Mc Sorley's is the place to be. Call your friends and have a blast with some Budweiser specials and gifts.
Mc Sorley's Ale House at The Venetian Macao Estrada da Baia de Nossa Senhora da Esperanca, Macau, Shop 1038, www.venetianmacao.com/mcsorleys
FOOD TRUCK COMPANY 
Join a fun crowd of Portugal supporters and grab a Super Bock mini for as little as MOP $10. Try their delicious sandwiches, we especially like Bifana – juicy pork in crusty bread.
Food Truck Company 26 Rua de Nossa Senhora do Amparo, Avenida de Almeida Ribeiro, Macau, www.facebook.com/pg/Food-Truck-Compan
T FOR TAPAS IN SOHO OF CITY OF DREAMS
Mundial special tapas and beer tower sets for MOP $388 and MOP $748 depending on the level of your appetite. Take part in their weekend drinking competition, if you feel adventurous and you might win some fabulous prizes.
T for Tapas, SOHO at the boulevard, City of Dreams, Estrada do Istmo, Cotai, www.facebook.com/pages/T-for-Tapas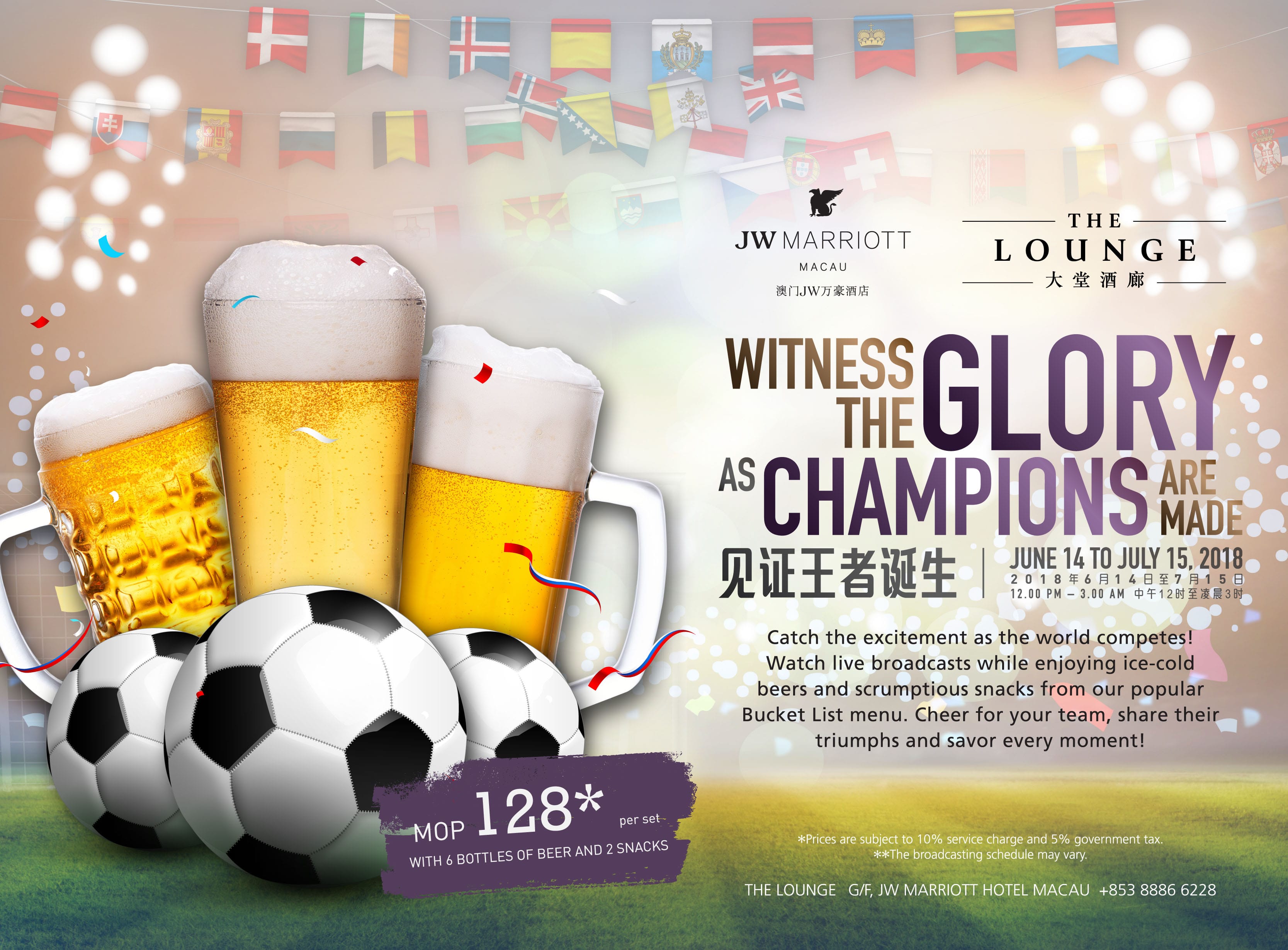 THE LOUNGE AT JW MARRIOTT HOTEL MACAU
Sit back and focus on the goals in the Lounge by JW Marriott Hotel Macau with some beers and snacks set for MOP $128.
The Lounge JW Marriott, Galaxy Macau, Estrada da Baia de Nossa Senhora Esperanca, Cotai
FISHERMAN'S WHARF 
This popular leisure Macanese spot prepared well for this World Cup. Watch the games on a big outdoor screen at Rossio Square and participate in numerous games and draws – "Daily Lucky Draw", "BOC card offer", and "Guess & Win". Come with kids to enjoy some family fun with 7 game booths and bouncy castle installed in the Wharf for the World Cup period. Visit their facebook page for more details. 
Macau Fisherman's Wharf Avenida da Amizade e Avenida Dr. Sun Yat-Sen, NAPE, Macau, +853 8299 3103, www.fishermanswharf.com.mo
THE MACALLAN WHISKY BAR & LOUNGE
Watch football Scottish style in an elegant environment of the Macallan. Choose beer (MOP $488) or champagne package (MOP $1088) with beverages, snacks, and pizza. Guess who's going to be the champion to win some special offers.
The Macallan Whisky Bar & Lounge, 203, 2/F, Galaxy Macau
Tags