2017 is the year of the Rooster, and the festivities have commenced all over Macau to celebrate the new year. The city will be awash with red and adorned with lovely lanterns and restaurants everywhere will take you on a gastronomical journey on this most important tradition also known as Spring Festival.
The Chinese new year is one of the most significant affair for families that includes a reunion dinner, giving of red envelopes, fireworks display, new clothes, divine decorations and more modern celebrations. Big families of several generations sit around a round table and enjoy the food and time together. We've rounded up the beautiful buffets, delightful deals and divine dishes at the most remarkable locations all over Macau.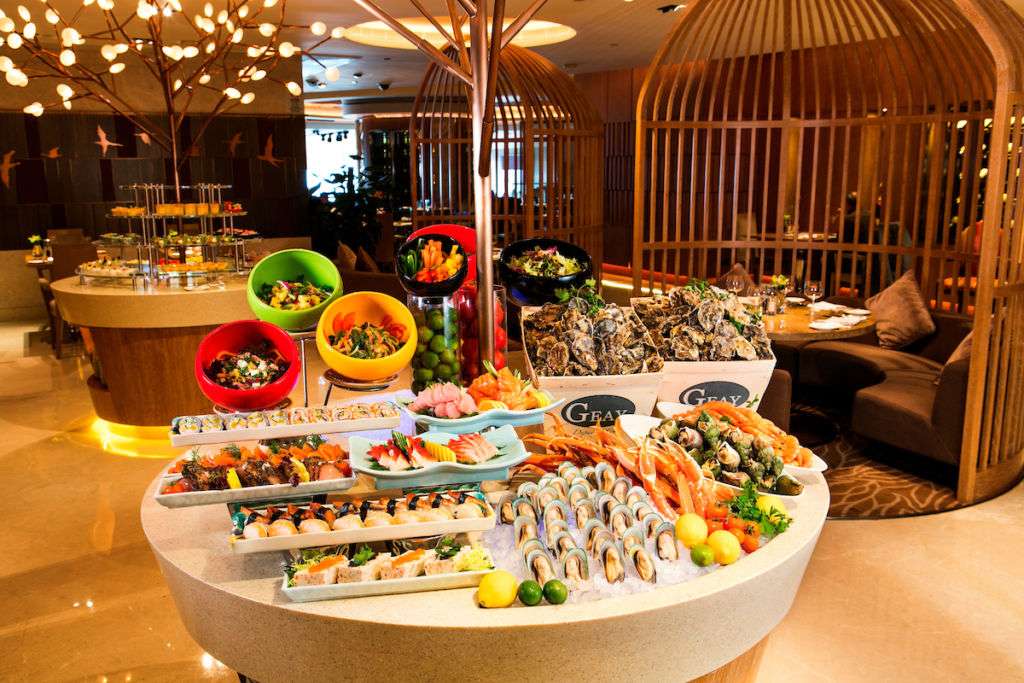 StarWorld Hotel
Sample world-class selection at Temptations in StarWorld Hotel. Their Chinese New Year brunch starts at MOP $438 and the dinner buffet at MOP $468. Each guest is entitled to enjoy one free Lucky Tossed Salmon per table and a half piece of Baked Lobster with Truffle per person. What's even better is that Temptations will offer a complimentary buffet for a child under 12 when two adults enjoy the buffet.
StarWorld Hotel Macau Avenida da Amizade, Macau, +853 2838 3838, starworldmacau.com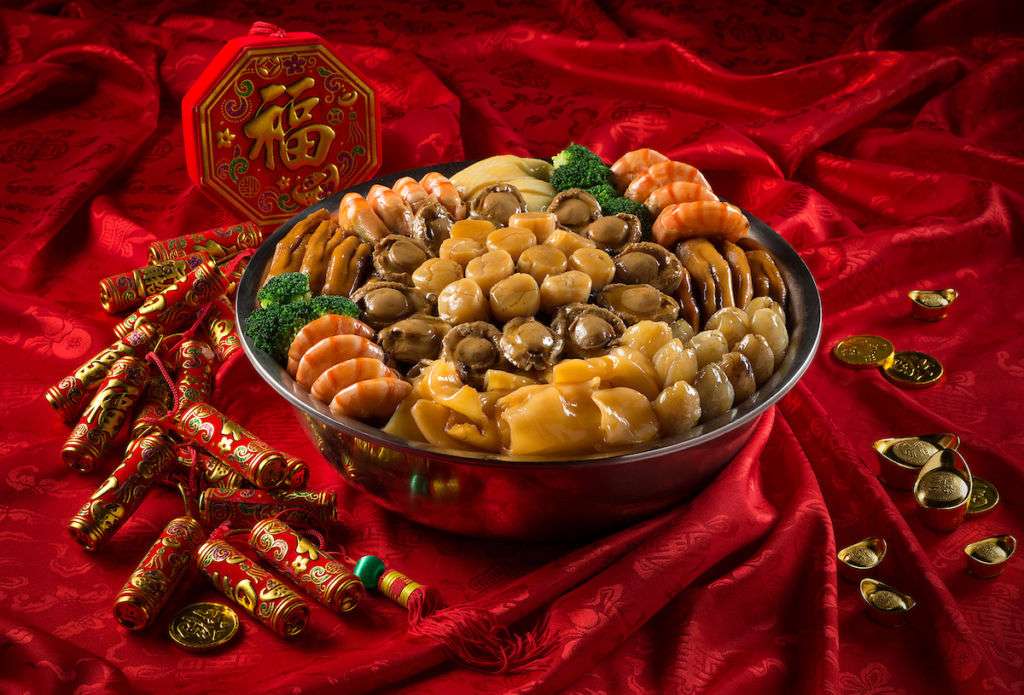 Broadway Macau
Fong Seng Lai Kei restaurant is located at Broadway Macau. It is highly regarded as one of the oldest and most established restaurants in Macau. To celebrate the new year, their menu features Stewed Abalones, Scallops & Sea Cucumbers in "Lai Kei" Style, and a Poon Choi for all guests. All guests can enjoy the special dishes from January 12 to February 12 with prices starting from MOP $88 per dish Poon Choi and MOP $1,188 for 6 persons or MOP $2,288 for 12 persons.
Broadway Macau Broadway Macau, Avenida Marginal Flor de Lotus, Cotai,  +853 8883 3338, broadwaymacau.com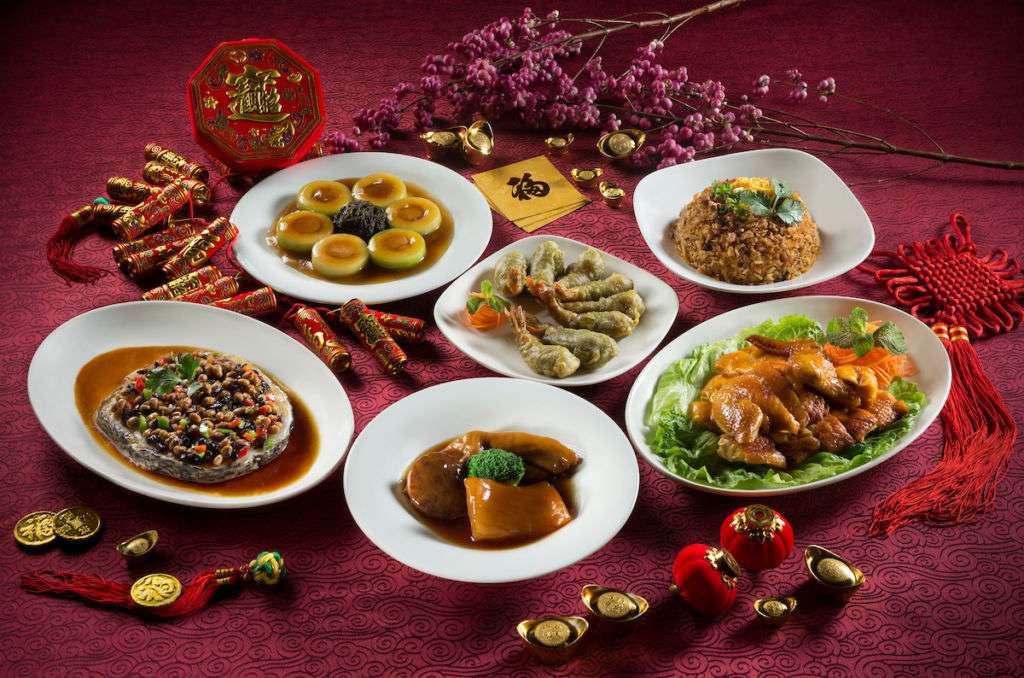 Galaxy Macau
Traditional techniques combined with fresh ingredients make Lugang Cafe, Spicy Garden and The Noodle Kitchen among the most original Chinese cuisine restaurants in Galaxy Macau. This Chinese New Year, the three restaurants will be offering a special menu for guests to enjoy the taste of authentic Chinese fare during the most important festival of the year. From January 21 to February 11, try their delightful dishes starting from MOP $138.
Galaxy Macau Cotai Macau, +853 2888 0888, galaxymacau.com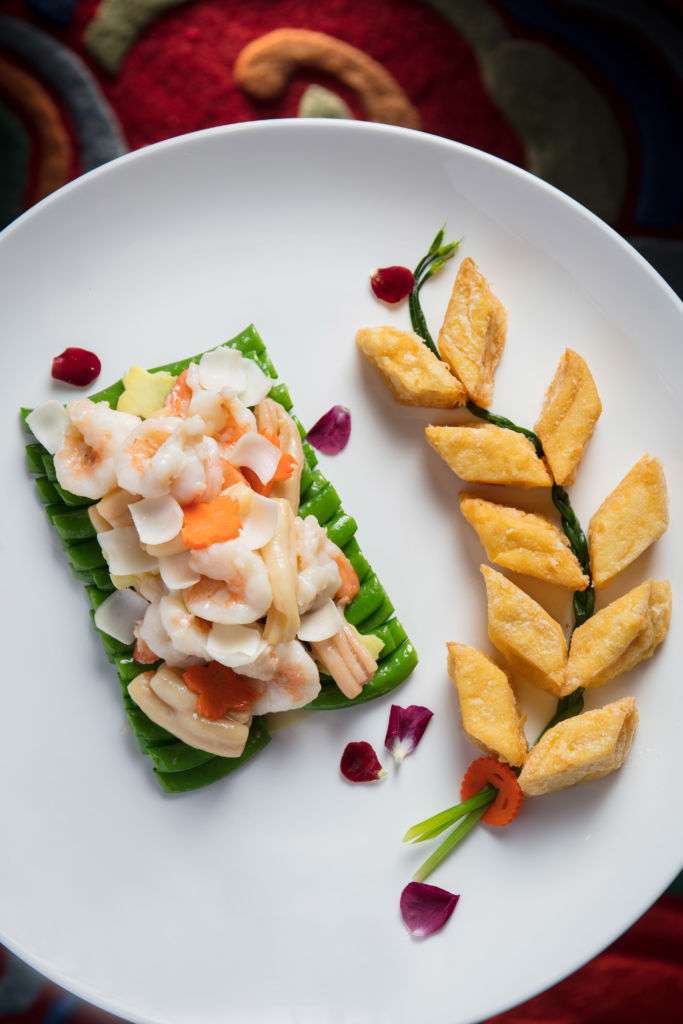 MGM Macau
Paying homage to the Lunar New Year, Imperial Court Chinese Restaurant will be serving two incredible set menus. The perfect place for a gathering with loved ones, guests can avail of the promotion priced at MOP $11,880 per table of 12 persons or MOP $880 per person. One of the dishes is a Cantonese classic cuisine from the late Qing Dynasty, along with other amazing dishes to celebrate the occasion. The Lunar New Year a-la-carte and dim sum menus are on offer between January 28 and February 6, while the two Lunar New Year set menus are available from January 23 until February 6.
MGM Macau Avenida Dr. Sun Yat Sen, +853 8802 8888,  mgmmacau.com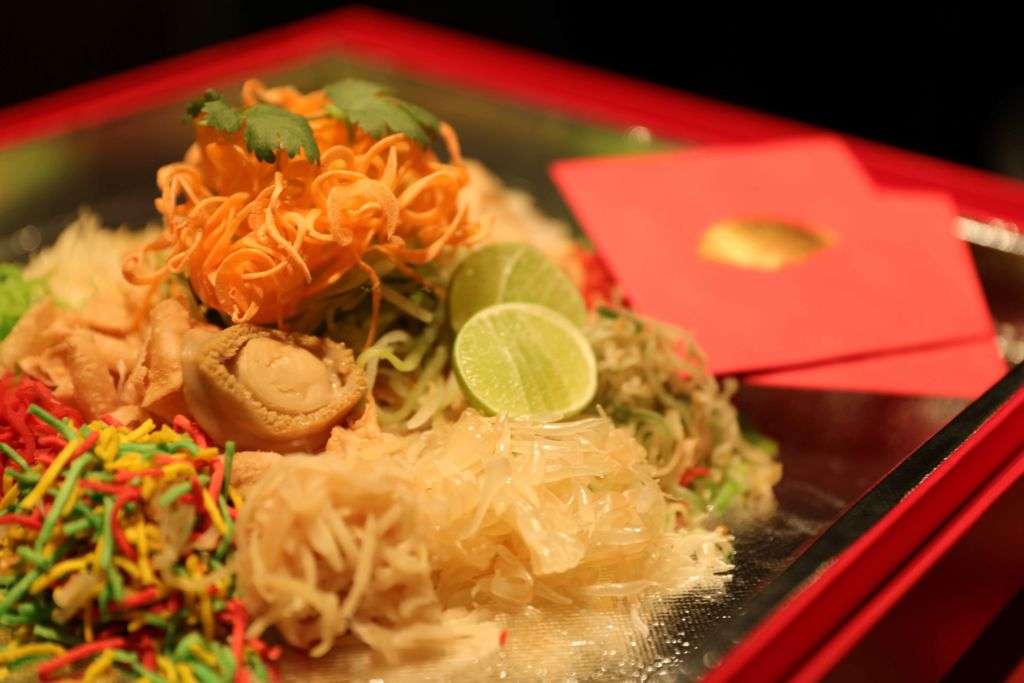 Mandarin Oriental
Embark on a bespoke family reunion at a sophisticated setting combined with essential traditions for a perfect Chinese New Year celebration. From January 21 to February 12, Vida Rica Restaurant will serve up a delectable selection of festive dishes including Dim Sum Lunch, Auspicious Family-Style Set menus starting from MOP $988 for two, eight-course Set Dinner for MOP $1,988 for two and the Festive Set Menu priced at MOP $8,888 for eight. Diners can also savor the three-course Lunar Express for MOP $188 per person, served from January 28 to February 5 at Lobby Lounge.
Mandarin Oriental Avenida Dr. Sun Yat Sen, Macau, +853 8805 8888, mandarinoriental.com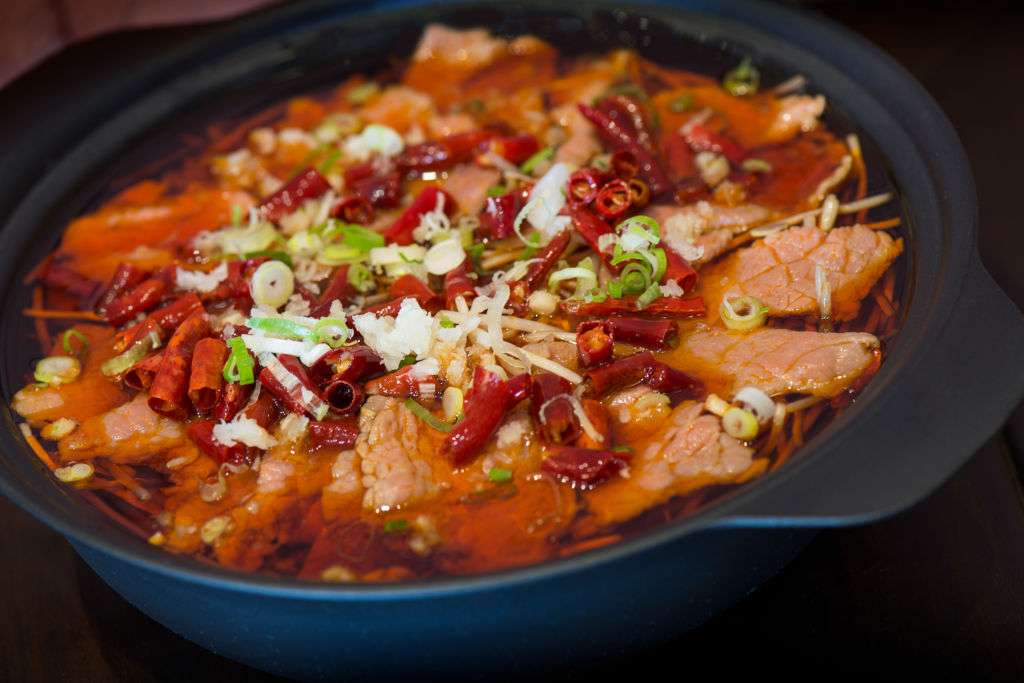 Sofitel Macau at Ponte 16
Set on a stunning view of Macau, Sofitel Macau at Ponte 16 celebrates the lunar new year with a gastronomical journey at Mistral restaurant. Featuring traditional Chinese auspicious dishes with a scrumptious array of seafood buffet, savor divine dishes with your loved ones on the special occasion until February 5.  The special dishes include braised abalone and mushroom with oyster sauce, sampling handmade dumplings, and Xiao Long Bao.
Sofitel Macau at Ponte 16 Rua Do Visconde Paco De Arcos, +853 8861 0016, sofitel.com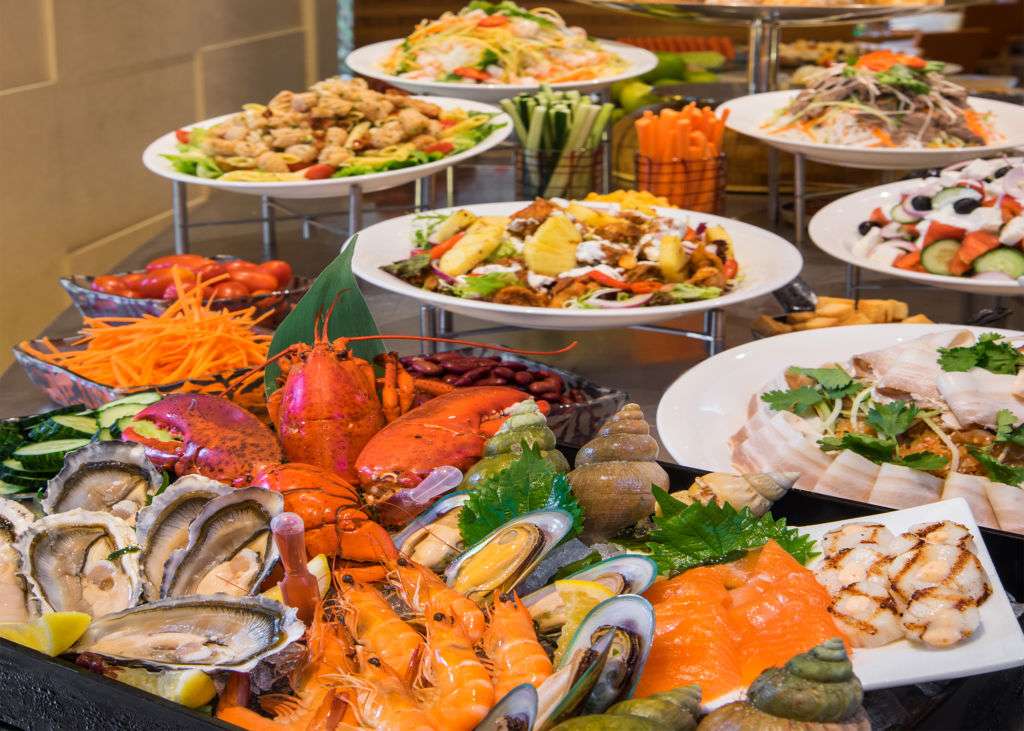 Terrace at Hotel Okura
Usher in the Year of Rooster with a spectacular New Year buffet at Terrace restaurant. Nestled in Hotel Okura, feast a lavish buffet for a joyful gathering. Starting January 27 to February 5, the Terrace restaurant has prepared seasonal seafood selections that will sate your taste buds. The lunch menu starts at MOP $238 per person and the dinner menu is priced at MOP $348 per person.
Terrace at Hotel OkuraGalaxy Macau, +853 8883 5127, hotelokura.com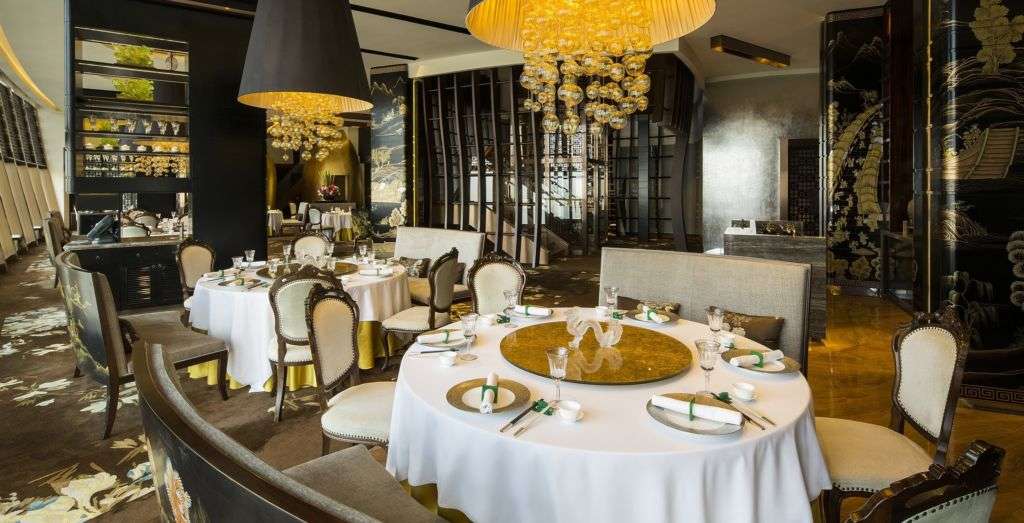 Jade Dragon
Try fine dining at the two-Michelin-starred Cantonese restaurant Jade Dragon with premium menus and a variety of specialties. Starting with Poached Seafood Dumpling in Rich Seafood Tomato Broth, and Crispy Roasted Goose, Celery and Fungus Roll at just MOP $38; and a la carte dishes such as Braised Sliced Abalone with Asparagus in Brown Sauce, and Stir-fried Scottish Razor Clam with Black Truffle at MOP $108, take your loved ones for a special treat.
Jade Dragon's 8-course Chinese New Year set menu offers Tossed Shredded Abalone, Sea Cucumber, Salmon Sashimi and Pickle Salad; Simmered Wild Catch Garoupa with Scallion Oil; and Steamed Free Range Chicken, etc. It is priced at MOP $6,880 for six persons and the promotion runs until February 17.
Jade Dragon at City of Dreams Estrada Do Istmo, +853 8868 6688, cityofdreamsmacau.com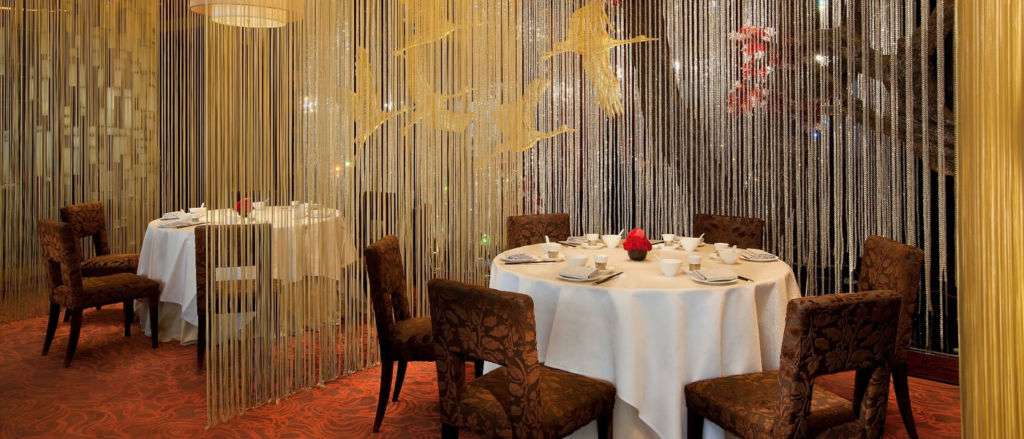 Ying at Altira Macau
From auspicious festive dim sum and delicacies to luxurious "poon choi", Michelin-starred Cantonese restaurant Ying has prepared a series of splendid menus for you to celebrate the Year of the Rooster with your beloved ones. The festive specialties include; Braised Fish Maw Soup with Seafood; Steamed Sliced Chicken with Ham and Mushrooms; Stir-fried Crab Meat and Conpoy with Bean Sprouts; Braised Fresh Abalone with Lettuce; Deep-fried Mandarin Fish with Sweet and Sour Sauce, etc. The prices start from MOP $138.
Ying at Altira Macau Avenida De Kwong Tung, Macau, +853 2886 8888, altiramacau.com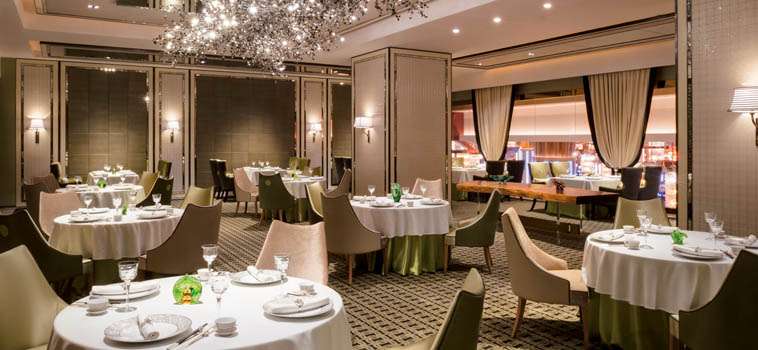 Pearl Dragon at Studio City
Boasting a Michelin-starred culinary team at Pearl Dragon, taste exquisite seasonal delicacies – abalones, sea cucumber, fish maw and more in the New Year. Festive dim sum such as Deep Fried Taro Puff with Diced Abalone and Chicken, and Steamed Scallop Rice Roll with Fungus starting at just MOP $48, and a la carte lucky dishes such as Stir-Fried Brittany Lobster Fillet with Garlic, Chilli and Black Truffle, and Deep Fried Prawn with Pomegranate and Red Wine starting at MOP $198 are also available for a premium celebration with friends and families.
Explore the Chinese new year traditional "poon choi" is priced at MOP $6,888 and comes with 6-head abalones, sea cucumbers, fish maw, poached chicken, roasted duck, conpoy, shrimps, etc. A complimentary Australian jumbo abalone is included and one-day reservation in advance is required. It is available from January 23 to February 5.
Pearl Dragon at Studio City Estrada Do Istmo, Macau, +853 8865 8888, studiocity-macau.com
* Featured image: Le Chinois, Sofitel at Ponte 16
Tags