If you've been to MGM Macau, we're sure you've seen the Octopus Valkyrie hanging from the ceiling. Its colorful and huge form makes for amazing photographs and doesn't seem out of place at all in the opulence of MGM Macau. In fact, the one in Macau is the biggest Valkyrie so far! The talented maker behind it is Joana Vasconcelos, a Portuguese artist whose art is a collection of her personal experiences. We sat down with her to find out more about the art scene and being a female, Portuguese creative.
Could you tell our readers a bit about your path before achieving wide recognition in the contemporary art field? When did your passion or interest in art arise?
I was born into a family of artists, so it was a constant presence and theme in our household. There was a time I actually thought of becoming a karate teacher, as I was very much into martial arts, but when the time came to pursue studies I enrolled in jewelry, drawing and was completely drawn to the art universe.
 
As a female artist, you've reached important milestones in the world of art, such as being the first woman and youngest artist to exhibit at the Palace of Versailles, representing Portugal at the Venice Biennale, just to name a few. How does that feel and what are the challenges you've faced in the process?
It's true, I often find myself as the first woman or the first Portuguese or the first artist ever to get a certain request, exhibit in a particular museum, or achieve a certain recognition. It feels like both a privilege and a responsibility. However, I don't see it as an opportunity to self congratulate. I'm left wondering why the other women before me weren't given that chance and I realize that the work that needs to be done before men and women are treated equally in the art world.
 
Is the art world still male-dominated? What can be done to support rising female artists?
The male dominance of the art world goes to the extent that some materials–such as iron or wood–are considered noble enough for art creation and others–such as textile or embroidery–are not. Considering that all materials and techniques are valid and have a role to play in the art world would be a big step not just to support the rise of female artists but also for the overall benefit of arts in general.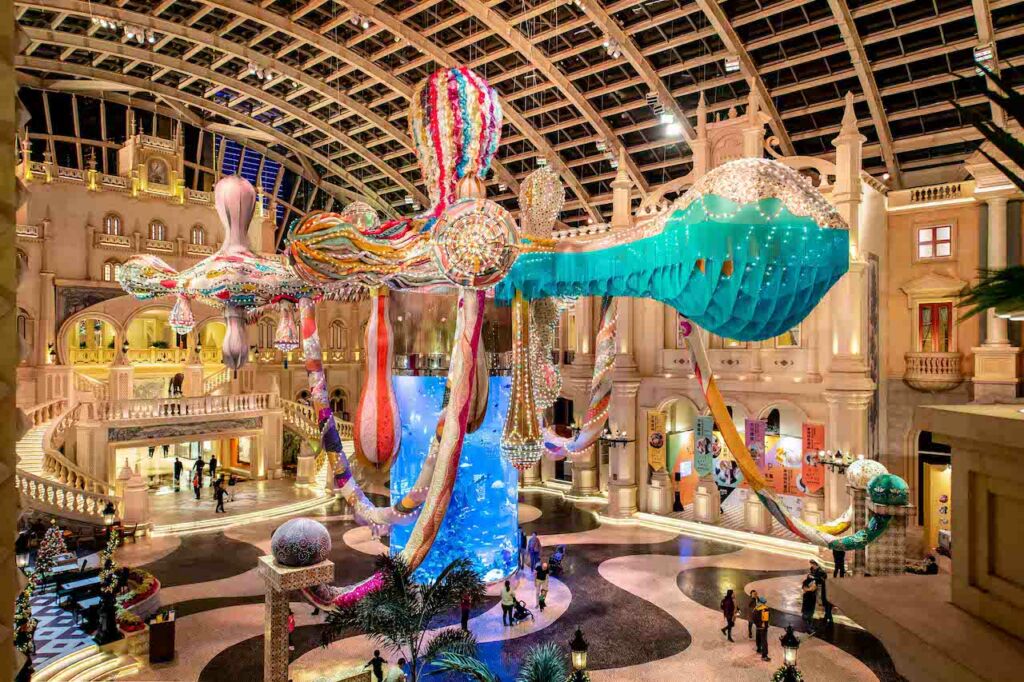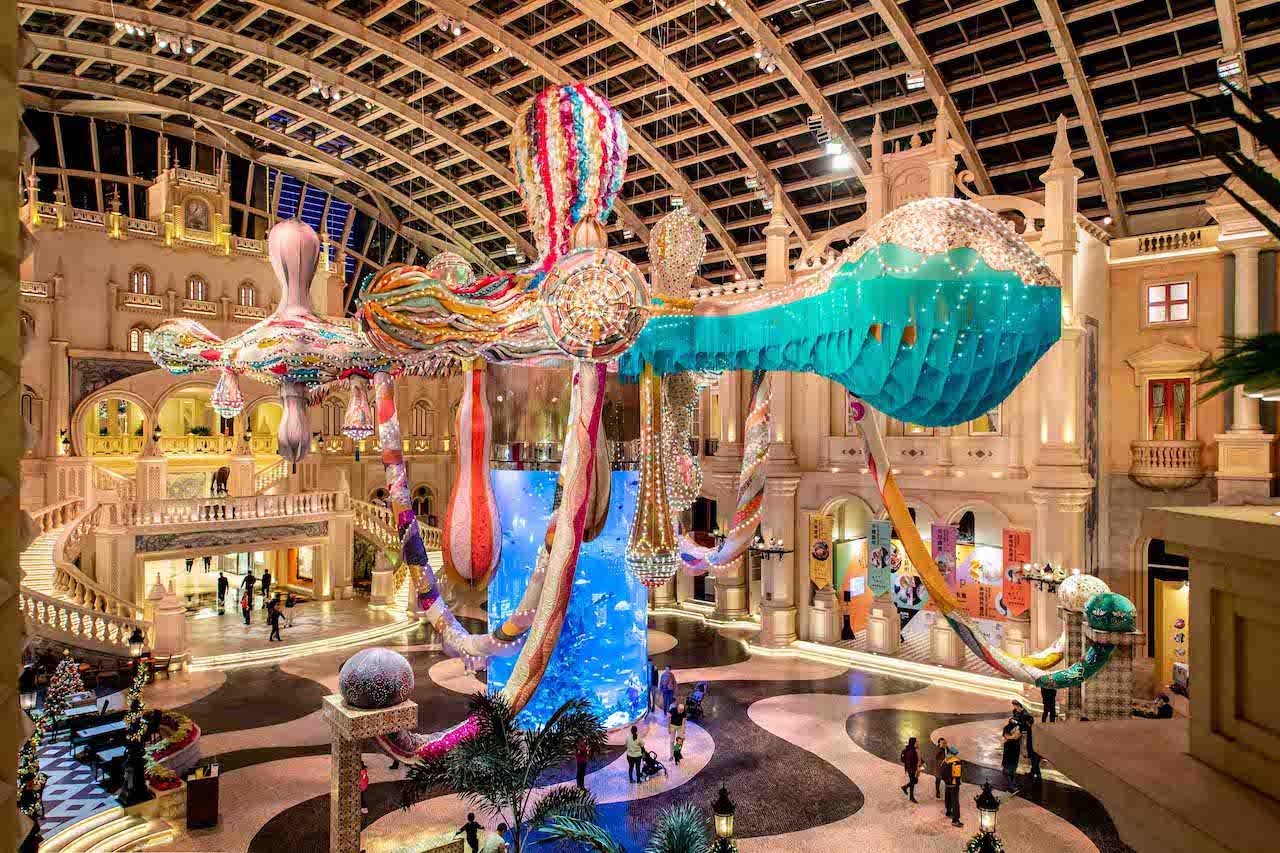 You've created the Octopus Valkyrie in 2015 for MGM Macau. The fact that this artwork is back at MGM Macau says enough about the success it has had and the public's reaction towards it. Can you tell us about the concept behind this masterpiece? Did you have Macau (its history and culture) in mind while conceptualizing the art installation to be exhibited at MGM Macau?
At the moment I have four Valkyries in different locations around the world, one in Boston, one in England, one in Denmark, and this one in Macau. Although they are all inspired by the figures of nordic mythology (they would spread their arms around the battlefields bringing back to life the bravest warriors), they are all very different and this one in Macau was always going to be special. It's the biggest so far and, for the first time, we added LED lights to textile sculpture. It was a site-specific creation and it's also inspired in the historical connection between Macau and Portugal. I brought many of the Portuguese traditions that are somehow present in it and created a dialogue, that our countries have cultivated for centuries.

What is your impression of Macau?
I truly think it is unique in the world. Like nowhere else, it brings together the cultures of China and Portugal, an asset to be kept and preserved, with its special uniqueness. Just the fact that an over 500-year-old relationship, two countries from different continents managed to keep this level of connection, while living and working together, engaging through trade and cultural exchange, establishing a unique bond… It's priceless.
Your creations are completely out of the ordinary. How would you describe your creative process? Do you come up with a conceptual idea first and then move on to selecting the materials to be used in the creation of the piece?
I can honestly say that there is no such thing as one single process. It all depends and varies from one project to the next, either it being site-specific or not, an artwork or an exhibition. Sometimes the idea comes from one particular material but it could also happen the other way around, it varies enormously.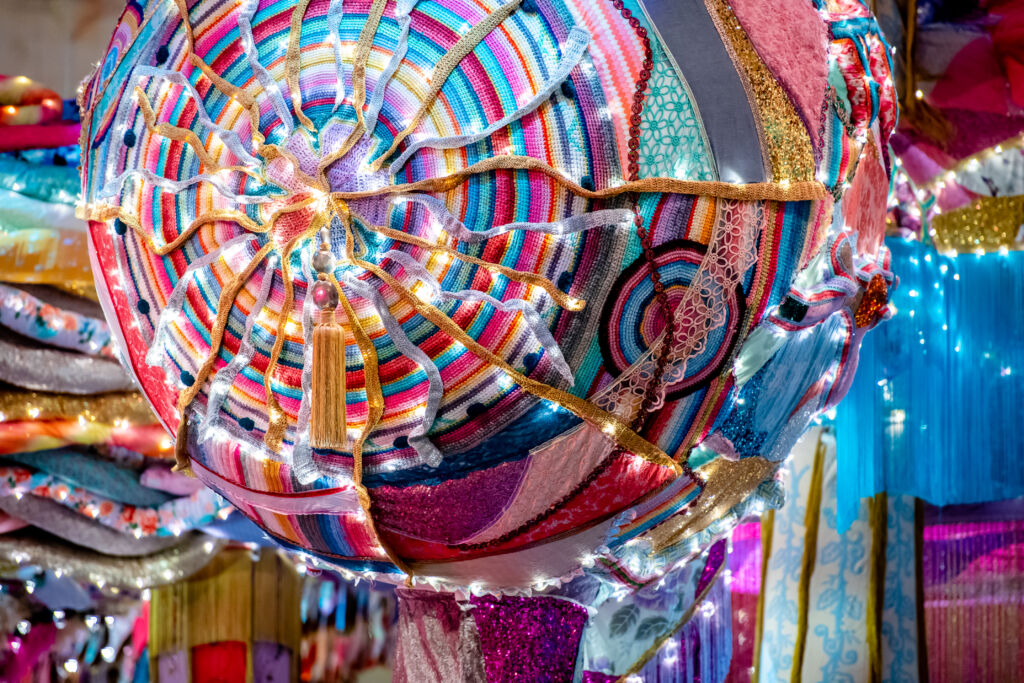 Portuguese symbols are often found in your creations. Can we say your upbringing influences your work? What else influences your work?
Absolutely. My work is deeply influenced by the way I look at the world and the experiences I've had. To the extent that I don't think of my work and life as different things but as one single entity. I do what I do first because I am a woman and also because I am Portuguese. That has an impact on the way I experience the world and the art I create, no doubt.
  
Which would you point out to be your most controversial artwork? What was the audience's reaction to it? Are people still unsure of whatever makes them uncomfortable or puts them face to face with unpleasant issues of our society?
The Bride. People were very shocked by the fact that I picked an item of female intimacy and took it out of the drawer to exhibit it out into the public eye. 14,000 tampons were put together in the piece that was first exhibited at Venice Biennal in 2005 and it wasn't allowed in Versailles for my 2012 solo exhibition. It remains controversial to these days. It's quite surprising that in this day and age it can still evoke this level of shame and censorship, as a taboo.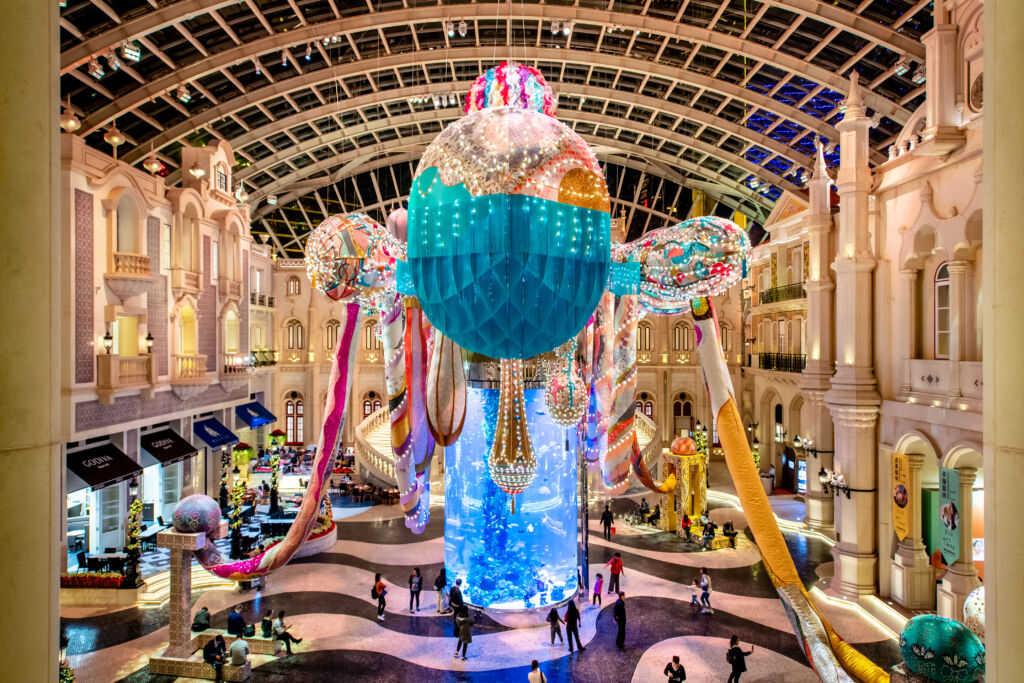 Isn't that one of the noblest "roles" art can take on–to be food for thought or to spark thought?
Yes, I think so, art can make us think, but besides being intellectually stimulating, I believe art can also lead us to fruition, to feel, and enjoy ourselves. To broaden our horizons, in one way or another.
Any future plans that you could share with our readers? Any goals that you have set for yourself and your career that you could share with us?
I am currently working on a huge project, it's a sculpture-slash-architectural piece with four tiers and measures over 12 meters high, shaped like a wedding cake. It combines many Portuguese traditions once again, bringing together the tiles on the outside and a textile installation within. It's a celebration of love that invites people on a special journey. I can honestly say it's my biggest challenge to date.
---
Follow Joana Vasconcelos on her Facebook page and Instagram @joana_vasconcelos_official
MGM Macau Avenida Dr. Sun Yat Sen, NAPE, +853 8802 8888, www.mgm.mo
Tags
Related Posts