Creator, illustrator, musician, business owner, Fortes Pakeong Sequeira is a driven man. A graphic design graduate from the School of Arts at Macao Polytechnic Institute, the local artist has conquered the art scene with his powerful creations. Proudly identifying himself as born and bred in Macau, Fortes is committed to promoting the city through his artworks, never missing a chance to show the world what is being made in this small city that so many know so little about. As Fortes says "There's so much passion here worth being shared!". We couldn't agree more. We spoke to the passionate artist to find out what he has been up to.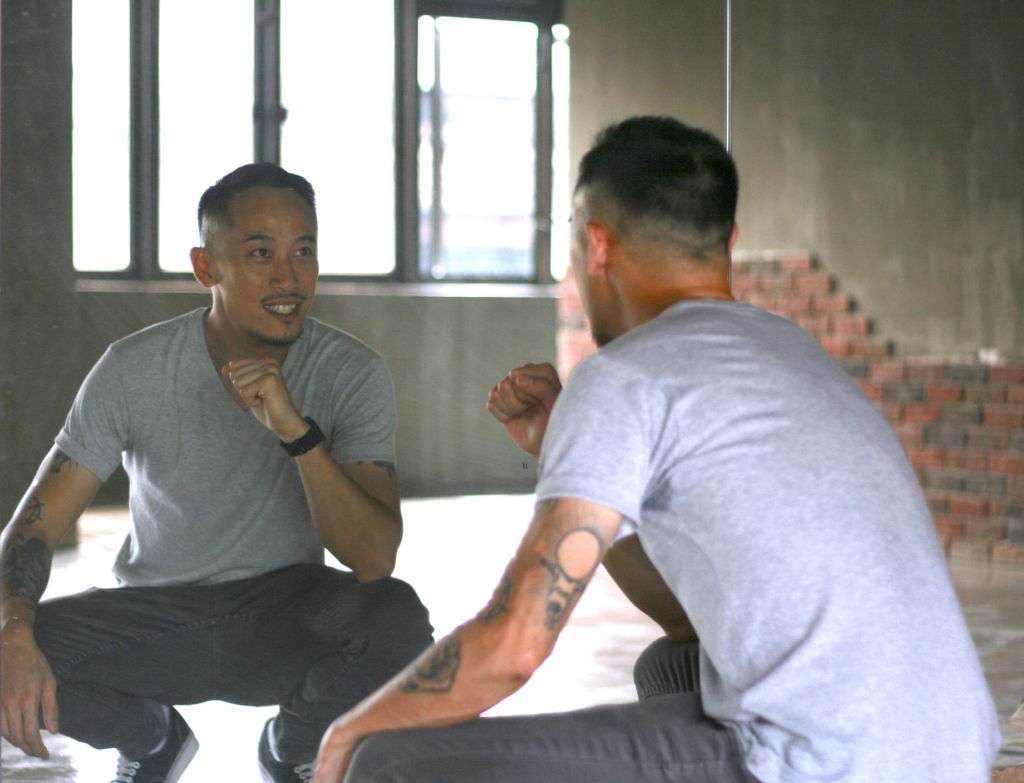 You have Macanese ancestry. Can you tell us a little bit about the history of your family?
The whole story is somewhat mysterious. My mother is Macanese, but she was abandoned by her family. My sister and I know who our grandmother is, but we don't have a deep connection. When we were young we would call our grandmother "Auntie" and my mother barely spoke to her–she felt so angry. But we do have our own "grandma" who we love so much and will be turning 100 years old in April! We don't share blood but she's our grandma.
I didn't grow up with my mother as well. At six years old I left to live with my father, who gave me a tough, very traditional Chinese education, beating me up every day.  At the age of 13, he kicked me out of the house and I ended up living on the streets. I slept at Vasco da Gama garden for a year. That was when I started hanging out with bad guys, which granted me a place to stay and food but in exchange, I had to work for these gangsters. I went to Hong Kong for a while, was dealing drugs and got heavily addicted to ice. Of course, I eventually got caught, which was what happened when I was 17. I was detained by the police for a month. Not like in jail, but staying at the police office because they couldn't find my ID and I wasn't really talking to them. I kept waiting for my mates to get me out but obviously that never happened. By the third week, I started to break down–I was scared and the situation I found myself in sparked a lot of introspective questions about myself and my life. Then something amazing happened. A policeman spent around three days talking to me and took an interest in me. He eventually found my mother and brought her to me. Being reunited with her was a very emotional moment–she barely recognized me.
After that, I got my life back together and went back to school, which wasn't easy because I was older than everybody else and felt unmotivated. After graduation, my teachers recommended me a brand new school which offered technical courses with good chances of employment afterward. I followed their advice and that's when my life got back on track. I was committed to my education, I played basketball every day, which was really positive for my mind. I did an internship at IFT waiting tables and loved it. As I was about to be done with my academic path, some of my teachers started encouraging me to pursue arts, telling me I had talent. That's how I came to enter Macao Polytechnic Institute for a graphic design degree. I was so lucky to come across these wonderful teachers who notice you.
Can you talk a bit about how you got started? 
I started out as a graphic designer. I've always been into illustrations and then, I didn't even realize that it was called illustrating. That was many years ago and the concept was quite new to me. But, the visual world has always been a great aspect of my life. I love drawing and painting! And people around me started to encourage me and support me in several ways. I was given an incredible chance to have my own exhibition. I can never forget my first exhibition in 2005 and it was in Ox Warehouse. It was my first solo show and during that exhibition, I drew on the walls and floors with all my might and from then on I continued in the direction of showcasing my artworks.
What inspires you? And your art in particular?
In my artwork, you find so many details and characters. And to be honest, it is a thing called pain that usually inspires me the most to create art. When you feel pain, it's an intense emotion that will allow you to establish yourself to actually do things. Pain is a strong inspiration along with emotion in music!
You've been venturing into different fields now. Besides being an illustrator, you now have a band and became a business owner. Could you tell us about Blademark, your band? Where can people find you and listen to your jams?
Blademark is composed of five members and each of us is doing something else besides music. We play mostly metal but are influenced by other genres like pop too. Each of us has a personal background and brings in his personal style, which is really positive. But the core spirit is metal, no doubt about that. We have our website, where people can listen to our jams, watch our videos and find out about any updates. We're also quite active on our Facebook page.
This year 2020, we had planned a big tour in China doing with six standalone concerts in three different cities–Shenzhen, Chengdu and Beijing. However, due to the coronavirus outbreak, these are pending confirmation. The logistics involved in organizing a concert are insane so hopefully, we'll get through this and be able to reschedule.
A Porta de Arte seems like a really cool concept of a bar. When did you start managing the place and what plans do you have for it? What happenings at A Porta de Arte should people know about? 
I started managing A Porta de Arte in 2015. To be honest, in the very beginning I did not expect us to be doing as well as we are now. After Typhoon Hato, the place was absolutely destroyed and we lost everything inside, machinery and furniture. It was really hard but something incredible happened, which was the community coming together to fix things up and rebuild. From that moment on, I became friends with other people who own businesses in the street and we have a really strong connection–a sense of community.
At A Porta de Arte sometimes we host wine tasting or coffee tasting, inviting experts to speak. Occasionally, we also host the YMCA's small exhibitions or other small events, art-related or not. It's a great use for a great space.
What are your thoughts on Macau's art scene and its evolution? Art Macao had its first edition in 2019. How do you find it promotes young local artists? 
Everyone is doing something about it which is great. Working hard to create exhibitions and supporting local artists means a lot, but I still think we need more direction. We need a stronger structure.
Art Macao definitely represented a shift in Macau's art scene–now the door is wide open. People came and saw what it's about. However, I believe there wasn't enough room in it for local art. As far as I know, they had some side projects and did a few exhibitions in collaboration with local galleries and curators but still, I feel like we (Macau artists) were not really a part of Art Macao. We have Mio Pang Fei and Chan Hin Io just to name a few who are great artists in town! They didn't get the attention they deserved. When it was first announced that they would be doing Art Macao the local art community and I, in general, were so excited! But then we were not as involved as we hoped. We have to let people know about art being made in Macau!
Do you think your art has concrete space in Macau?
Macau is my home. I live here and I want to die here! But we have to go and explore places in between and I want to tell people I am from Macau. I want to be that person who signifies the essence of Macau.
How's the illustration work coming along? Busier than ever?
Not really. I'm not that kind of full-time illustration professional. I dedicate myself to many different fields: drawing, painting, creating, visual arts, doing music, composing–all the same. All of these are tools as well. The point is I get to express myself. That's what I make a point of. I get my income from here and there. But yes, I have a lot of opportunities and thankfully I get a lot of collaboration requests.
Before I wasn't even aware that I was doing art. I was just doing what I love, doing it for fun. When I create something I don't have a use for it in mind. But people kept telling me that what I do is art. Contemporary artist and curator José Drummond once told me, "Fortes what you do is beautiful and meaningful and you have to show it to people".
What do you want to achieve with your art?
The only way to see it is to be better with each artwork. There is no such thing as the best masterpiece. The next one will always have some elements better than the previous one. This is the only thing I am chasing after and looking forward to in each of my ventures.
If you had a friend over for a visit for the first time, which Macau tourist spots would you recommend?
I'd say, "Go out and explore"! You can go to the casinos but don't forget to go outside. This is a place with so many good stories, a beautiful history to learn about. Explore the streets and dine out.
---
To see some of Forte's projects visit A Porta Da Arte or follow his band, Blademark on their website and Facebook page
A Porta Da Arte 42 R. dos Ervanarios, Macau, +853 6345 6588, www.facebook.com/macau.artdoor
This article was originally written by João Padinha in February 2017 and updated by Sara Santos Silva in February 2020.
Tags
Related Posts