French visual artist Yves Etienne Sonolet currently has an ongoing solo exhibition entitled "City Notes" in AFA Gallery (Art For All Society). Tucked away at Macau Art Garden, the city's first building dedicated to local artistic culture and creativity, I made my way to the first floor where the artists' works are being meticulously showcased. With a demeanor that creates immediate rapport, Yves narrates how a mere three-month workshop visit to Macau has been transformed into a seven-year stay in this vibrant and dynamic place.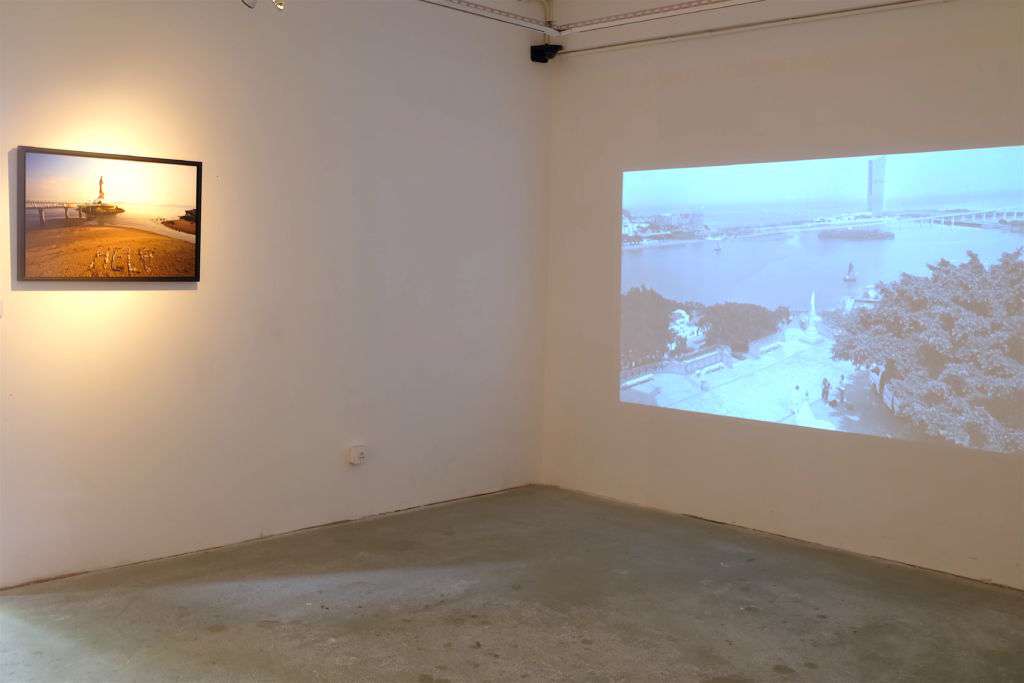 How long have you been in Macau?
It's now my seventh year in Macau. I didn't imagine that I would be here that long. I was living in Paris and I came here in Macau for a supposed workshop deal. Alas – I am making my way to my eight-year mark.
What was your first impression of Macau when you first arrived?
It was kind of different back then. The Venetian Macao just opened but now Cotai strip is lined up with magnificent structures. The city has changed a lot! The shops underwent a major change and an even major upgrade for the city in general. It's a great period for Macau and a key decision for me to stay and continue to live here and witness what was happening all around me.
What do you love most about the city?
It was a time when the city was booming! It was such an interesting transitional period for Macau and I wanted to be present to experience it. It was rapidly evolving and it was a great privilege to watch it change. In comparison to Paris where the aura stays the same and they preserve it as much as they can, Macau was similar too in some ways and yet very different. For example, The Fishermans Wharf or The Venetian aims to recreate spaces to look like somewhere else and I definitely think that's really interesting and worth exploring in an entirely different cultural perspective.
When did you start exploring this art aspect in your life?
I started painting when I was young until I was in my 20's. Then, I went to art school and I was still concentrating on painting but then I shifted to digital photography because it was more convenient. I eventually focused on video installations and I did an art school in the South of France. When I graduated and started working in Paris, the opportunity arose in Macau and I was immediately enthusiastic about it. It's a different atmosphere and in real honesty, it truly feel like its home now.
What inspired you to start this project (City Notes – Works by Yves Etienne Sonolet)?
I have been working on this project for some time now. I have worked on a series of old pictures finding the same point of view and filming it. The series of videos evoke the idea that the city is shedding its skin and changing its identity and becoming something totally new. The people are changing too while consumer habits continue to evolve. Most of all the architecture depicted in this series is an integral comparison of the old and new. The random aspects of the old architecture opposed to new buildings with more uniform standards were intensely fascinating. In Macau, everyone has a new composition in their home like a form of expression of their unit. That's the idea of working with panorama all started to form and be conceived. People might get used to seeing structures they see every day but for someone from an outside view, the perspective is really special. The idea of creating and combining music was to merge and fuse two different spaces together. The building makes the sound and it relays and awakens a message that gives the city melody. The exhibition is also aimed to be interactive and encourage visitors to create their own notes at the exhibition and explore the kind of music you'll be able to produce. The artistic composition of the city is the true aesthetical value of these artworks.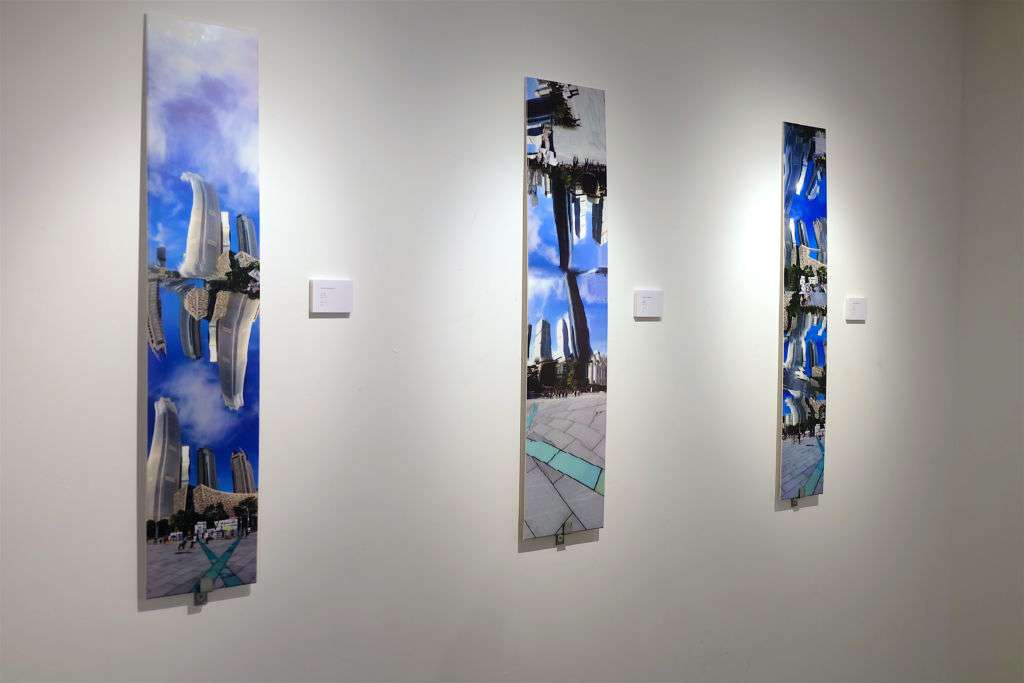 What do you think of Macau art scene?
It's definitely thriving. AFA has been existing for years now and it will mark it's 10th anniversary soon. I have been a member of the association since I arrived. The idea is to develop contemporary art and encourage Macau's art scene. I think the government is trying to improve and they are truly making an effort. People are asking questions even more now than before so it's definitely flourishing.
What do you love most about Macau?
It's a small size city. If you have enemies it's bad too because you can't avoid them. (laughs) It's an interesting mix of east and west. The architecture is unique. I come from a mixed background too my mom is German and my dad is French so I recognize these spaces that don't have a homogenous identity like other cultural cities. People are used to diversity from all over southeast Asia and of course the prominence of Portuguese in the culture.
Where do you go for inspiration?
Every year I go back to Europe. I go back to Berlin. And in terms of art, it's quite proactive. France, New York, Paris, London are also all inspirational locations. There's always something wonderful to see every time you go back. I also like exploring small restaurants in Macau and old districts in Macau. I feel they are truly special and bespoke.
Who had a significant influence in your life?
I think my aunt was a crucial figure. She was an architect the first few women architects in France during that time. She was very headstrong and she continued to pursue her passion regardless of what people would say. She was a great inspiration and she passed away recently. All the people that I have met have had influence in my life in various ways and in terms of ideology regardless of situations. We always invent our barrier when we meet people so when that's broken they inspire us in some ways.
What's the greatest challenge as an artist?
I think being able to understand yourself is the great challenge and just trying to know what you want and expressing that and communicating that . If you're able to achieve that purpose then you're successful and eventually create a dialogue with people.  We're often told what the new trend what to like so it's rare that we ask people to actually think. To express ideas and keep openness is a big challenge in the art industry. To interest people so they can find themselves and appreciate art.
We're often told what the new trend is, what to like and what to even want, so it's rare that we ask people to actually think for themselves. To express ideas and keep openness is a big challenge in the art industry. To interest people so they can find themselves and appreciate art is another one.
Do you have a particular favorite from this exhibition?
All of the art pieces and installation are intertwined and special in their own way.
What words of advice can you give to someone new venturing into the art world? Maybe your own son or daughter someday?
That's a tough one! I guess I would say try to move around and see the most of the different things. If it's my son or my daughter, I would try to pique his or her interest and influence by encouraging them to focus on their own identity and make a dialogue with what you see, what you are and what you want. There's really nothing more but working on yourself!
What would you recommend to a newcomer to Macau?
To see the art form of Macau, go on top of a building no matter where it is you'll see architectural structures from a vantage point. See the city from a great spot and you'll see how impressive the art mesh of everything. The season is changing and it's the best time to enjoy outdoor atmosphere. It's a beautiful city and it's an adventure to explore and discover it's hidden gems.
What's next for you after this exhibition?
I have a few upcoming collaborations soon and I shall continue to rework on my projects.
Make your way to Macau Art Garden and AFA gallery to see and hear what melodies these artworks would play. The entrance is free and the gallery is open from Tuesday to Sunday (12:00pm to 7:00pm) and closed on Mondays and public holidays.
City Notes – Works by Yves Etienne Sonolet AFA Gallery, 1st Floor, Art Garden, Avenida Dr. Rodrigo Rodrigues N. 265, Macau
Tags
Related Posts