2020 did not exactly start as anyone expected but it has made an everlasting impact on our lives going forward. Already, for the past two straight months, we have survived in a world where you must do your best to keep your distance from other people. The very idea of physically greeting someone today seems odd–air kisses only! Fortunately, we have been blessed with almost endless online offerings which even the most vehemently anti-tech of us has had to embrace in the wake of the "New World". Businesses across Hong Kong and the world have been hit hard by the fact that people have rightfully reverted back to a mode of self-preservation. Like many trials and tribulations in the past, businesses have had to find new avenues to connect with their clientele.  
In Hong Kong, March is usually celebrated as Art Month. This month, most galleries here on our shores as well as internationally have rightfully heeded advice and closed their doors to the general public; global art fairs have been canceled and access between countries blocked. Which then comes as no surprise that in an attempt at salvaging something from the almost total freeze on supply, galleries and fairs have taken their offerings online. 
Art online has been growing exponentially over the years. Webpages like Artsy and Art.net, offering an almost endless opportunity to research and locate works by most artists. Independent galleries also have offered beautifully curated webpages, feeding information about their offerings to visitors; Instagram has also grown in significance as part of any business digital presence, allowing a brand to speak directly to their followers at a level unimaginable till recently. 
Just over the past week, both Art Central and Art Basel fairs have been offering their homebound patrons an opportunity to scratch that art buying itch through the creation of online fairs. As with the live versions, VIP guests were invited in first before the masses to get a sneak preview and snap up any of the desirable pieces that are just must-haves. It has been reported that sales have been going well with one well known international gallery selling one piece for over HKD $2 million. (Ka-ching!) 
So what have these art powerhouses created to attract the more online committed buyers?

 
Art Basel's online offering comes in the form of what they have titled The Viewing Rooms, which provides the viewer with an opportunity to flick through the artworks on offer much like a dating app. Viewers can quickly gaze upon works on a virtual wall, behind a virtual museum bench (for scale, presumably). On show over the course of a few days, 18 March to the 25 March; these online interactive art experiences act as some opportunity to claw back some semblance of relativeness.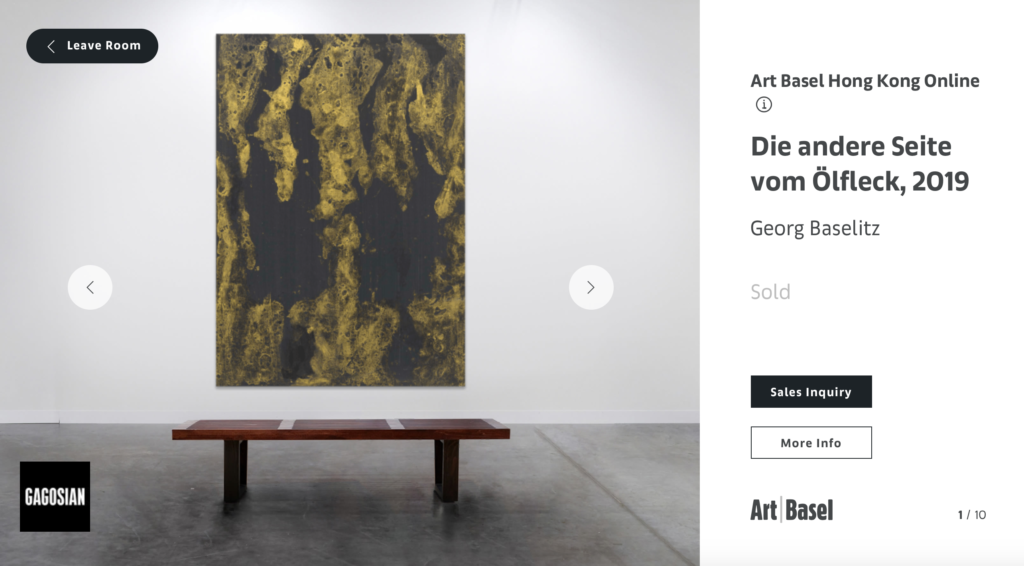 In the past, these online projects have usually been left to lower-priced pieces of art; what differs today is that Art Basel's online offering of household name galleries displaying high-end works, in detail with advertised pricing, which in the art world is quite unheard of. Although intriguing to see such a clear break from the norm, where only the VIP buyers known to the gallery are able to truly request prices with impunity, this move is refreshing.  
Online platform Artsy has once again partnered up with Art Central, offering opportunities for collectors to show support for artists and galleries. Since 2015, the increasingly popular digital catalogs have worked as part of Artsy's ongoing goals to continuously provide support to the art community within the region. While the online catalogs, previously favored by younger users and worked mainly in a capacity complementary to the physical art fair experience, the current situation has now proven itself to be user friendly for all. Considering there is no better time than now, for everyone to try out the "virtual reality" element to the app in the privacy of one's own home. 
The art world is giving online art marketing a shot like never before

 
The birth of ART Power Hong Kong could not have come at a better time. An organically grown, collaborative campaign from the local art community, set to maintain the momentum for the local art scene during these trying times. ART Power has successfully united partners across the Hong Kong art ecosystem, empowering members of the art community to take their activations online, extending programming and reach through pre-recorded or live streamed gallery tours. 
We can all agree that this is the time to embrace change, to explore, and to experiment. Under normal circumstances, when each and every commercial gallery is competing for their share of the pie, it is remarkable to see people from the art community coming together. With the digital world offering endless opportunities, the time is now, to put aside differences, to partner up to launch mutually beneficial collaborative business models. 
While it is understandable that there is the appeal and the lure of potential buyers casually selecting artwork from a virtual inventory, without the absolute need for sales staff, without artworks being needed to be physically hung and with sold inventory being replaced with a click of a button, but will this ever fully replace fairs and physical galleries? We don't think so and surely hope not.
However, this online product will have longevity as a platform for galleries to continuously promote and market pieces of work on display in fairs around the world. It is foreseeable that in the near future, interactive viewing platforms will always be an option and will likely in the short term remain our only source. 
---
Art Basel viewing room is on display until 25 March, 2020. Find out more here.
For more information on Artsy, click here
For more information on Art.Net also known as Art on the Net, check out their website here
Art Central www.artsy.net/art-central-2020
Art Power HK www.artpowerhk.com
Tags
Related Posts