Collaboration is fast becoming the most relevant and prolific trend in contemporary art–the romanticized image of the lone artist being a tortured soul crying and making art in a dark gloomy studio has never been so far in the past. Now more than ever, artists are working together not just with other artists but also with scientists, musicians and people in many other sectors to create work that pushes boundaries. One popular way artists have been doing this in the last decade is to form art collectives, to give their group a name and dedicate their time to making work together rather than alone, and the results have been outstanding. In Asia alone, there are groundbreaking collectives working on an international scale! Here are five key collectives that you need to know about!
From Tokyo: Chim↑Pom
Chim↑Pom is described as the subversive art collective shaking up Japan's art scene and making huge waves internationally. They started making work to respond to present-day issues and make social commentary in Toyko back in 2005, working in film, installation, site-specific work and sculpture. Their work is usually dark but fun–very real issues but bizarre in delivery. Most famous is their piece "Super Rat", which is an eclectic mix of videos and sculptures focusing on the huge "super" rats which plagued Tokyo and the parallels between them and certain people in society. "Build-a-burger" featured above, is another example of how they take what is presupposed as grungy commodities–such as greasy fast food burgers–and represents them in a fine art setting. Their work has been shown in Taiwan, New York, and London as well as having set up their own gallery space in Tokyo, so these guys are definitely ones to watch going forward!
Chim↑Pom www.chimpom.jp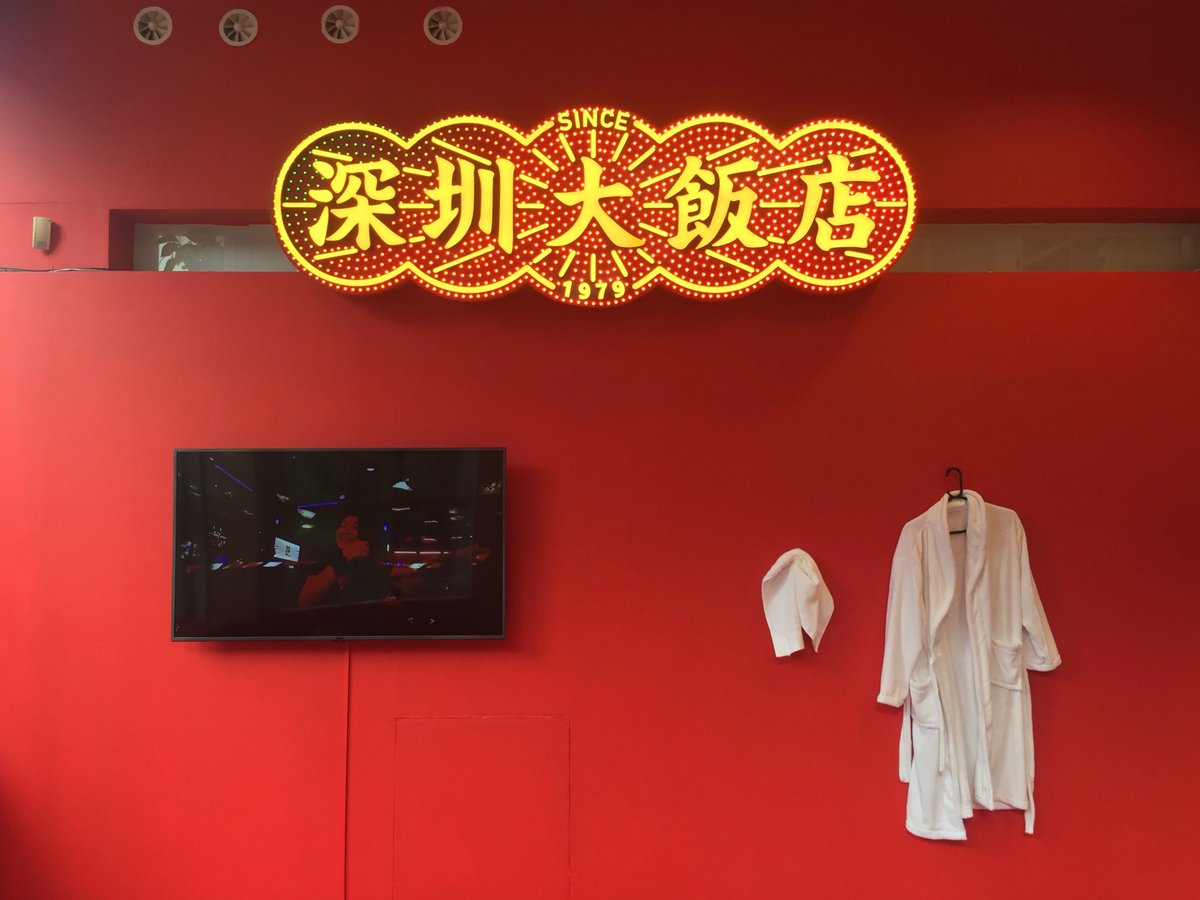 From the Pearl River Delta (Shenzhen): Jiū Society
China has an explosive art scene that is forever growing from strength to strength and is home to this talented art collective. They began back in 2015 making work reflecting the experience of rapid growth and expansion of Chinese cities. The three artists involved are part of the first generation born in the economically reformed Shenzhen, and their work reflects the transformations they have witnessed and their experience of living within it. Their first project Lost in Shenzhen was a tremendous success, showing internationally after first being exhibited in China in 2016. Created out of neon lights, sculptures, short films and photography, the installation is a multidisciplinary extravaganza that pays homage to the beauty, chaos, and marvel of Chinese megacities. You may have seen them at the Hong Kong Art Bazel in 2018, or at this year's Shanghai Contemporary Art Fair. They don't have much of an online presence, but you can follow the hashtag #JiūSociety on Twitter or Instagram to keep up to date with their work.
JiūSociety www.artbasel.com
From Ho Chi Minh City: Art Labour
A collective spanning visual art and social science-based in Vietnam's bustling southern city. Rather than singular artworks or pieces, they create projects which span months or even years usually with a public and social aspect. As well as frequently exhibiting in Vietnam, they have also exhibited at the international level, notably Carnegie International 57th, Bangkok Art Biennale, "A beast, a god, and a line" at the Dhaka Art Summit and Asia Art Biennial as well as both Modern Art in Warsaw as well as Intelligence at Centre Pompidou in Europe. Their latest project, Jrai Dew, which they've been working on since 2016, is exploring capitalism through the lens of Vietnamese myth and tradition and promises to be a thought-provoking piece.
Art Labour www.artlabourcollective.com
From Seoul: Okin Collective
This collective formed in 2009 when the residents of an apartment block in the Jongno District of Seoul were being evicted, and the trio of artists responded with an interactive program of multidisciplinary and genre-bending works that have since been internationally acclaimed. Their artistic responses included partying on the rooftop of the block, film screenings and more. Their unique responses to social issues saw them nominated as one of the four front runners for the Korea Artists Prize in 2018. The collective ceases to make work (as unfortunately, two members have sadly passed away) but their impressive backlog to work and monumental impact on urban development and social art makes their work a must-see.
Okin Collective www.koreaartistprize.org
From Hong Kong: DIMENSION+
Technical art has exploded in the last decade, with artists collaborating with technicians and even artists learning the technical skills themselves! One collective that has excelled in this field is born from just across the water in Hong Kong, DIMENSIONS+ is a new media arts creative scene focusing on interactive design. With awards like the Gold Award of DFAA2013 (Design For Asia Award 2013) and Asia Digital Art Award 2012 at Japan, their work has been internationally recognized for quite some time, with exhibitions appearing in Italy, Austria, Japan, Beijing, Shanghai, Guangzhou, Hong Kong, Taiwan and many more. Their latest work Soybean Futures examines the effects globalization has had on soybean–a staple protein within Asian diets that has risen in popularity in the west due to increased veganism. Transforming financial data into vibrations, they reflect the fluctuating fluidity of trends upon the market and is a prime example of their unique use of technology to create an artwork.
DIMENSION+ www.dimensionsplus.com
Tags
Related Posts