How do you explore a city? Some prefer touring famous eateries or even traversing the trekking sites available. However, some explorers enjoy finding and of course, photographing famous monuments or statues! At a first glance, the traffic, lights, hotels and noise of Macau can be overwhelming, but once you get past it all, you will notice that this city has much more to offer! History is one of Macau's strongest traits and here, we will explore the city's most interesting statues, including religious (Asian and European), historical and others. Read on and come on a journey with us through the region's best ones!
Kun Iam Goddess 
(See featured image above. Source: Wikimedia Commons. Credits: Diego Delso)
Leading the way to the Kun Iam Ecumenical Centre, a golden, 20 meters-high statue of a goddess with the same name welcomes all. An ecumenical centre is a meeting place for major religions. Ecumenic is used to describe something without any distinctive ethnicity. The figure was created to represent a message of solidarity and proximity between people, worshipped even beyond the scope of the Buddhist religion. It is, by far, the best and most "friendly" symbol of union in Macau.
From the mind of Portuguese sculptor, Cristina Rocha Leiria, comes a feminine shape with a peaceful face inaugurated in March, 1999. The construction of the centre with added UNESCO's support is aimed to promote "mutual respect and friendship among" all civilizations, according to the centre's official website. Kun Iam (Guan Yin, in Mandarin) is a goddess embodying love, mercy and compassion. The lotus flower-shaped base of the statue–where one enters the worshipping areas–includes a contemplation room and lots of information on different religions. With some art pieces inside as well, one goes there not only to appreciate Kun Iam's beauty, but also to learn more about other religions. In a lower level, there is also a media centre, multipurpose room, and a library. Sometimes, it hosts conferences and even concerts. To know more, click here.
Kun Iam Statue (Ecumenical Centre) Avenida Dr Sun Yat Sen, Nape, Macau, +853 2875 1516
Friendship Statue
The Portuguese had a strong presence in Macau for centuries. In 1999, the region's sovereignty returned to China. This statue embodies the friendship between these two countries: Portugal and China. Offering a lotus flower–Macau's symbol–to a Portuguese boy, the Chinese girl's face is sculpted with strokes of happiness and friendship. The circle of metal acting as a frame shows the union between both regions. Combining people and symbolism, this statue speaks volumes about the city.
Friendship Statue Largo da Companhia de Jesus, Macau
Matteo Ricci Statue
Made in bronze, this is a very respectable statue. Matteo Ricci was a Jesuit missionary who lived in Macau for several years and there is even an institute in his name: the Macau Ricci Institute. Besides a huge library full of great, ancient and informative titles, this non-profit organization welcomes students and investigators doing research mainly on religion, but also other matters related to the presence of missionaries and Catholics in Asia.
This statue represents the presence and the importance of missionaries in China for the development and religious education of the locals. Erected in 2010, this bronze figure is human-sized and created by Chinese local sculptor, Wong Ka Long. It is also a symbol of combined cultures. Matteo Ricci's statue is located close to St. Paul College, the first Western-like type of university to be founded in the Orient, sometime in the 16th century, the same day Ricci arrived in Macau, in a Portuguese caravel boat.
Matteo Ricci Statue Calçada de São Paulo, Mount Fortress Garden, Macau
Luís de Camões Statue
Camões was one of the greatest writers of all time, at least when it comes to Portuguese and European literature. Having written thousands of texts on the Portuguese Discoveries and his own travels through the silk road and the Orient, his stories and literature are very well-known in Macau. There is even a garden named after him!
Here is where the statue is located. A human-size bust gives way to a cave full of history, with parts of his poems written on the walls and other places. Camões garden is not only extremely rich historically speaking, but also very beautiful and minimalist, perfect for an afternoon stroll.
Luís de Camões Garden Praça de Luís de Camões, Macau
Sun Yat Sen Statue
Coined as one of China's most important and renowned doctors, Sun Yat Sen has several statues throughout the city, but also in other regions of China. We chose the one in the garden with his name because the surroundings are worth seeing as well. Appreciate nature and learn some history here! Erected in 1990, it keeps the medic's memory alive. Well known for his contributions to contemporary medicine, he is also one of the "fathers" of modern China. Born in 1866 in Hawaii, Sun Yat Sen became a politician and activist fighting for a non-imperial China.
His major legacy is the creation of the theory of "the three principles of the People": nationalism, democracy and people's means of life". The statue is definitely worth snapping photos of, but most importantly, it holds an important part of China's history, not to mention Macau's as well.
Sun Yat Sen Statue Sun Yat Sen Park, Avenida do Comendador Ho Yin, Macau, China
Forever Handshake
Also located at Sun Yat Sen Park, this is literally called the "Forever Handshake". This statue was erected to honor the friendship between Portugal and China. Even if you are completely clueless about Macau's history, some of these statues give one a pretty good and clear notion that there is an eternal and strong connection between East and West in this region. Portuguese elements are present everywhere from the street names, monuments, art pieces and, as we mentioned, statues. This is a great example of it. Its size is astonishing and makes for great photographs.
Forever Handshake Statue Sun Yat Sen Park, Avenida do Comendador Ho Yin, Macau, China
Fernão de Magalhães Statue
Tired of roaming around hotels, casinos and luxury shopping? Stop by this amazing Fernão de Magalhães statue located at the Shoppes at Four Season Hotel Macao, in Cotai. It's a great visit for those looking for something to contrast with all the glitz in this area. Fernão de Magalhães was a crucial figure in Portuguese history, more specifically, the Discoveries epoch. At the beginning of the 16th century, he traveled to India and other parts of Asia, being one of the first Europeans to establish a connection and relation between the East and the West.
Fernão de Magalhães Statue Shoppes at Four Seasons Hotel Macao, Cotai Strip Estrada da Baía de Nossa Senhora da Esperança, Taipa
Jorge Álvares Statue
This is one of Macau's most relevant statue when it comes to the connection between the Portuguese and this city. Jorge Álvares, whose statue is located in front of New Yaohan shopping mall (city center), was the first European (and Portuguese) to dock in what is now known as Hong Kong, then settling down in Macau. He sailed from Malacca to China in 1513 and his adventures are now eternalized through this monument.
Jorge Álvares Statue Avenida da Praia Grande, Macau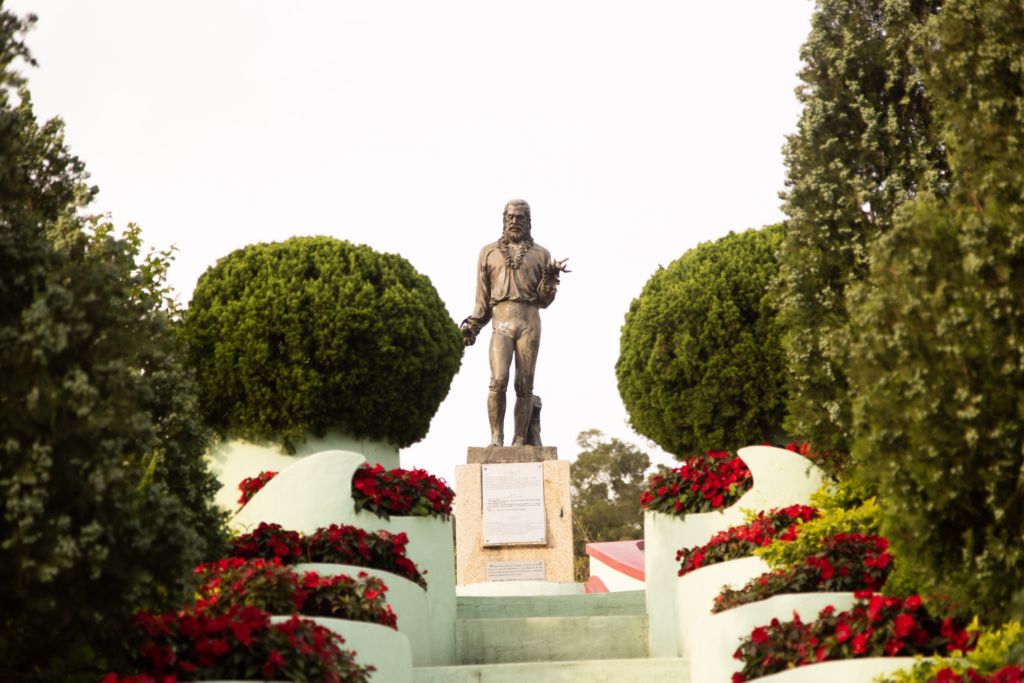 Luís Vaz de Camões Statue at Carmo Garden
At the garden with its name, you can only see a bust, but here, at relaxing and calming Carmo Garden, there is a life-sized statue of one of the greatest Portuguese poets and writers of all time. Built in 1999 to keep the memory of the Portuguese alive in Macau, it has an explanatory plaque aside. It was made by Wong Ka Long, a then student who was challenged by a teacher to do so. He took inspiration after reading the Chinese version of Lusíadas, Camões' masterpiece. There also some poems close to the piece of art. Also, visit the museum-houses and the beautiful garden, 3,500 square meters of flowers and culture!
Carmo Garden Avenida de Carlos da Maia, Largo do Carmo, Taipa
Tags
Related Posts